The Chanel Classic Flap Bag: What to Consider Before Buying
SACLÀB ICONS
From finding the right size to decoding your colour options, we will guide you through all the (delightful) decisions to make when buying your first-ever Chanel Flap bag. And who better to ask for advice than Chanel-connoisseur and acclaimed VOGUE Scandinavia handbag-expert Marianne Theodorsen?
The Chanel Classic Flap Bag: What You Need to Know
Perhaps the most recognizable bag style in the world, the Chanel Classic Flap Bag truly is an icon. Insipired by Coco Chanel's initial design, the 2.55, the Timeless Flap Bag became the epitome of elegance and Parisian chic. It was created by the late Karl Lagerfeld in the logo-centric '80s, and is more sought-after than ever. If you're planning to purchase your first-ever Timeless, read on for our Flap Bag fact-check.
Before going into detail, what's your love story with the Chanel Timeless and how did you come to collect it? 
Marianne: I can't really put my finger on exactly when it was, but I've been drawn towards handbags for a long, long time. For me, it's just the ultimate accessory, and it really makes or breaks the outfit. My first Chanel was pre-loved, and I guess once you get that first one there is no way back. I would spend hours online looking for pre-loved Chanel bags at great prices, and with patience, I found some really great ones and my collection just keeps growing.
Flap Bag Sizes 
Unsurprisingly, the Chanel brand continued to expand its collection, including a variety of Flap Bag sizes to meet all your needs. Starting off with the aptly named Extra Mini, a tiny rectangular crossbody version. Take into account that some larger smartphones might not fit, so it's worth double-checking the measurements.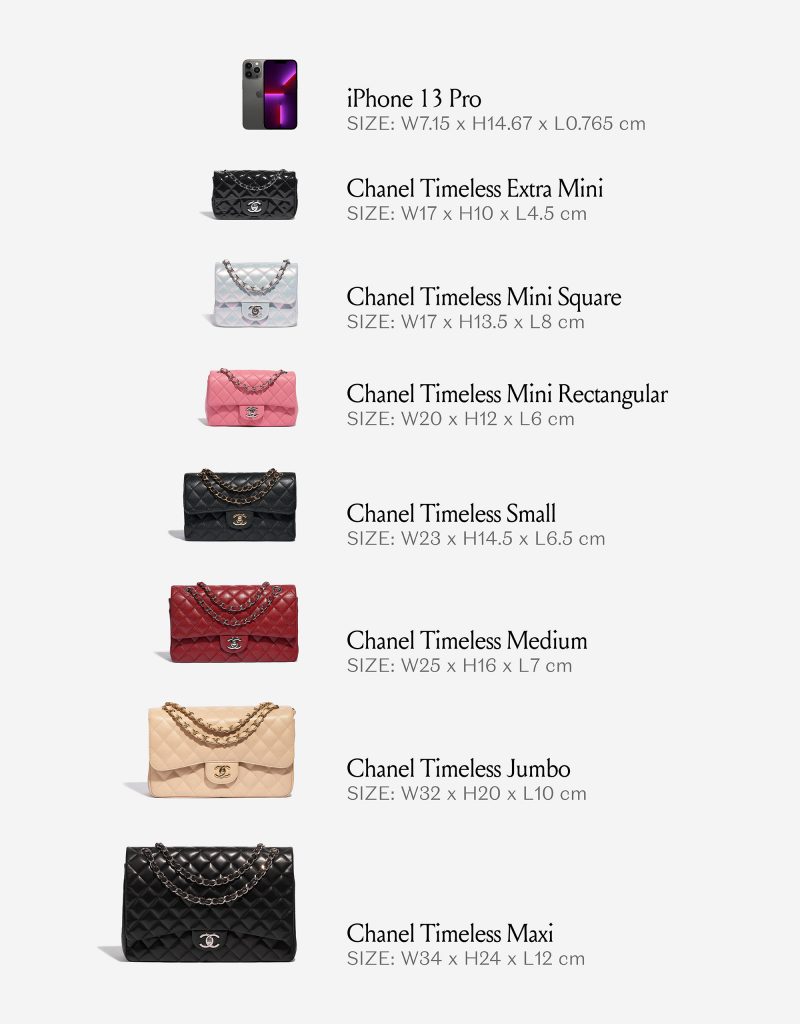 One size up, you can choose between the Mini in a square or rectangle format. Despite the different shapes – one being wider, the other slightly taller – they don't differ in space, so it all comes down to your personal preference. Notably, the Timeless Minis are equipped with a single flap and chain, meaning you wear the chain strap at full length either on your shoulder or crossbody.  
Moving on, opt for Small or Medium if you're looking for a bag that holds your daily essentials while still being compact enough for the evening. A piece of advice: The Medium size is particularly hard to come by at the moment, so don't wait too long if you spot one on the resale market. The Jumbo and the Maxi are the largest in this collection, and both come as a single or double flap design. Fit your phone in the 'Mona Lisa' back pocket and store the rest of your belongings in their large compartments. Without a doubt, both Chanel bags fit a lot. Consider your frame and height if you're undecided and be aware that the Jumbo and Maxi Flap Bags are not well suited to be carried crossbody. 
You have all kinds of different sizes in your collection, from Mini to Medium and Jumbo. Which size do you find yourself using the most? 
Marianne: For everyday use, I definitely use the Medium the most, but I also think the Jumbo is a great size. The Mini is such a great evening bag, so I would love to add some more of those to my collection.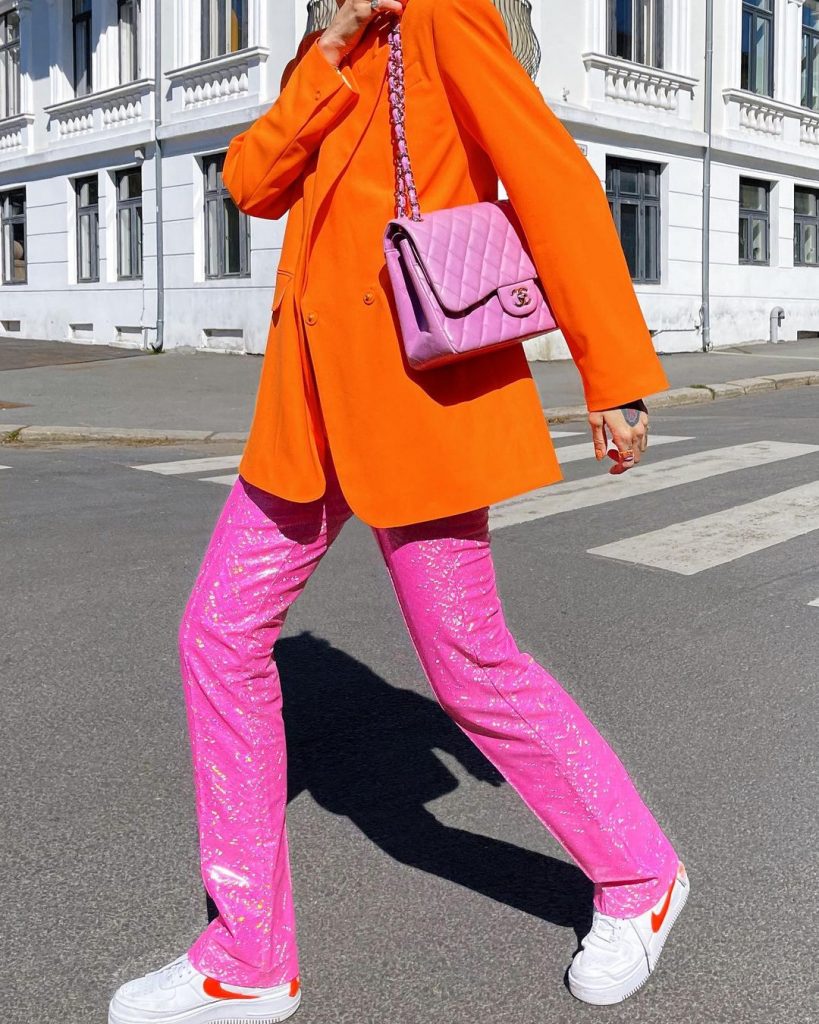 Materials & Leathers
Once you're settled on the right size, the fun part starts: Diving into the fashion house's awe-inspiring material. Naturally, there's the buttery-soft Chanel lambskin and scratch-resistant pebbled caviar leather. Both have their own appeal, but if you plan to use your bag daily (and don't want to put much effort into leather care), caviar might be the smarter beginner's choice. 
But turning to Marianne's collection, you'll soon realize that leather is by no means a must. From painted canvas to bedazzled tweed and raw denim, you can find iterations of the Chanel Timeless Flap Bag in all kinds of whimsical textiles and textures. Released seasonally, the secondary market holds plenty of options from past collections – given you're up for a little treasure hunt. Read our complete guide to Chanel leathers and materials for a detailed rundown. 
Why do you love non-leather Flap Bags and "funky" seasonal styles so much? 
Marianne: There are just so many fun and different designs to choose from when you look at the non-leather styles, and I also often find them to be more reasonable in price. Which, in turn, leaves room for more bags!
Colour Options  
Following your decision on leather or material, it's time to dive into Chanel's colour library. With lambskin and caviar leather, many first-time shoppers choose to go with one of Chanel's most iconic core shades, black and beige. Both colours show consistent demand on the secondary market and hold their value extremely well, regardless of season or trend.
However, if you're looking for a little more pizzazz, there is a whole kaleidoscopic range waiting for you on the second-hand market. From blues to pinks to surreal patterns, we recommend looking at past runway collections for inspiration – and at your own wardrobe. After all, you can instantly upgrade your go-to jeans and blazer with a pop-bright handbag.
Do you have a favourite piece in your collection? 
Marianne: That's like asking me to choose my favourite baby (laughs)! But I do love the black and white splatter tweed bag that took me 5 years to finally track down. I also adore my latest addition which is the rainbow-coloured fabric bag from the 21k collection – I'm so happy I got my hands on it!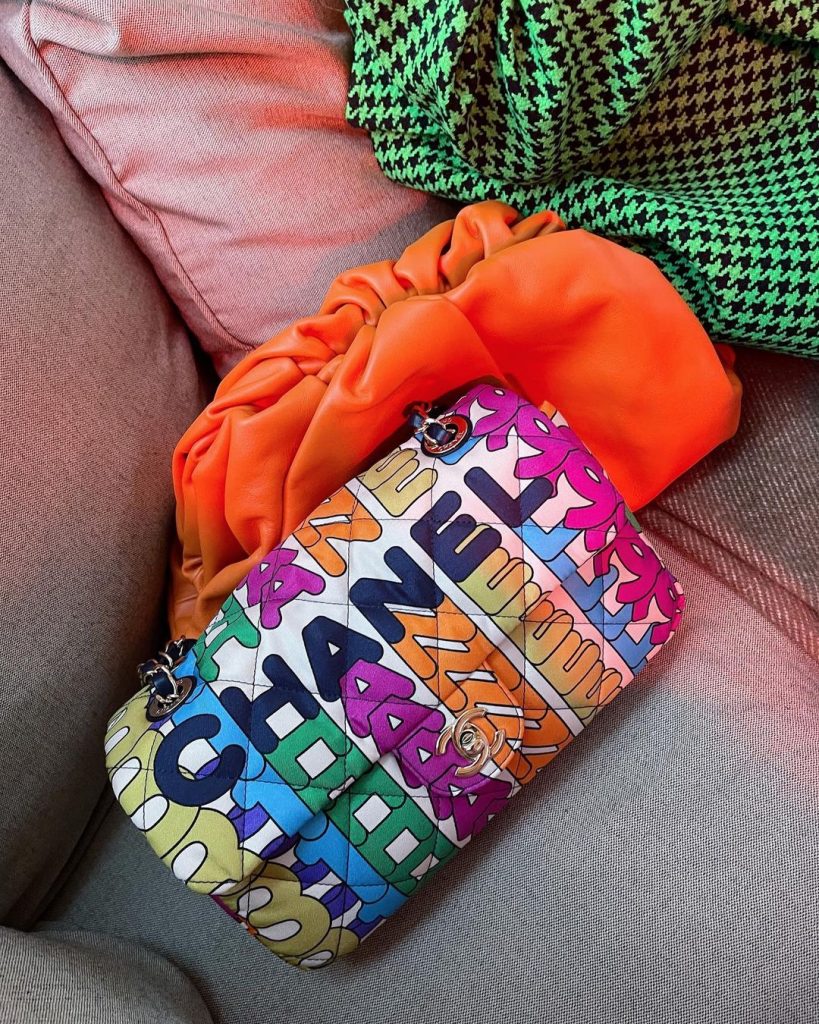 Chanel Hardware
Finally, the iconic "CC" twist-lock is the icing on the cake. While you might just consider the classic polished silver- and gold-tone option, there are many more styles to choose from. Matte or brushed hardware, for instance, has a softer, less dramatic look, whereas Ruthenium, Antique Gold, and So Black finishes exude extra coolness. 
How to buy a Chanel Classic Flap Bag
Following Chanel's latest price hike in March 2023 and news of limited bag supply per customer, the Chanel Flap bag might soon match the investment potential we so far only knew from luxury giant Hermès. Consequently, many are drawn to the secondary market on the lookout for less pricey options and the sheer opportunity to buy their first-ever Chanel handbag. Find out more about pricing and value growth in our Chanel bag investment guide. 
Would you recommend looking for a Chanel Classic Flap bag on the pre-loved and vintage market?
Marianne: Yes! I love hunting for pre-loved scoops. It's a great way of finding special Chanel bags, and in many cases, you can find vintage bags at great prices too. Of course, I recommend only dealing with trusted resellers as there, unfortunately, are many fakes on the market. And having a list of keywords to start your search is also a great idea. Think about what kind of bag you want: what fabric, colour, style. And then search from there. It makes it so much easier to track down your dream bag. Also, don't be afraid of some wear and tear. Scratches are memories! Some of my best bargains have been pre-owned bags with flaws – I adore a bag that's lived a little!
Ready to find your dream Flap bag? Shop our complete selection of pre-owned Chanel bags, from Mini to Maxi. 
Looking to sell your designer handbag?
Get an offer today and start selling
Sign up to our newsletter
Be first in line for our latest arrivals, alongside journal updates, exclusive treats and more.
Please confirm your subscription in the email you've just received.
Thank you! You've successfully subscribed.
It seems you are already signed up!
Please enter the correct email address
By subscribing I accept the privacy policy and the indications specified on data handling.
Make a Request
We do our best to find bags for our customers on request. However, this might take up to 6 months.
Warning!
You have reached the limited requests per customer.
Thank you for your enquiry!
Please check your email for further instructions.
You have reached the limited requests per customer.