All About The Boy
SACLÀB ICONS
Along with the 2.55 and Timeless Flap, the Boy Bag is one of Chanel's most iconic models. Think of it as the rebellious princess who's third in line to the Chanel throne: it has all the good design genes of this illustrious fashion dynasty, with an added dash of youthful insouciance.
As to be expected from Chanel, the different permutations of the Boy Bag are awe-inspiring to behold, from exotic skins to iridescent hardware, ombre leather to embellishments. So, before you begin the search for your dream Boy, we've broken down everything you need to know about the Chanel Boy Bag.
The Boy's beginnings
The Chanel Boy Bag was first introduced by then-creative director Karl Lagerfeld for the house's autumn/winter 2011 collection. Drawing on the classic rectangular Chanel handbag silhouette, the new bag oozed punk attitude (especially when compared to the ladylike 2.55), with motocross-style ribbed edges, a chunky chain strap and distressed antique-bronze clasp. Named after Arthur Edward 'Boy' Capel, an English aristocrat and accomplished polo player who was Coco Chanel's first love, the design had been inspired by a hunter's cartridge bag that Coco herself used to carry.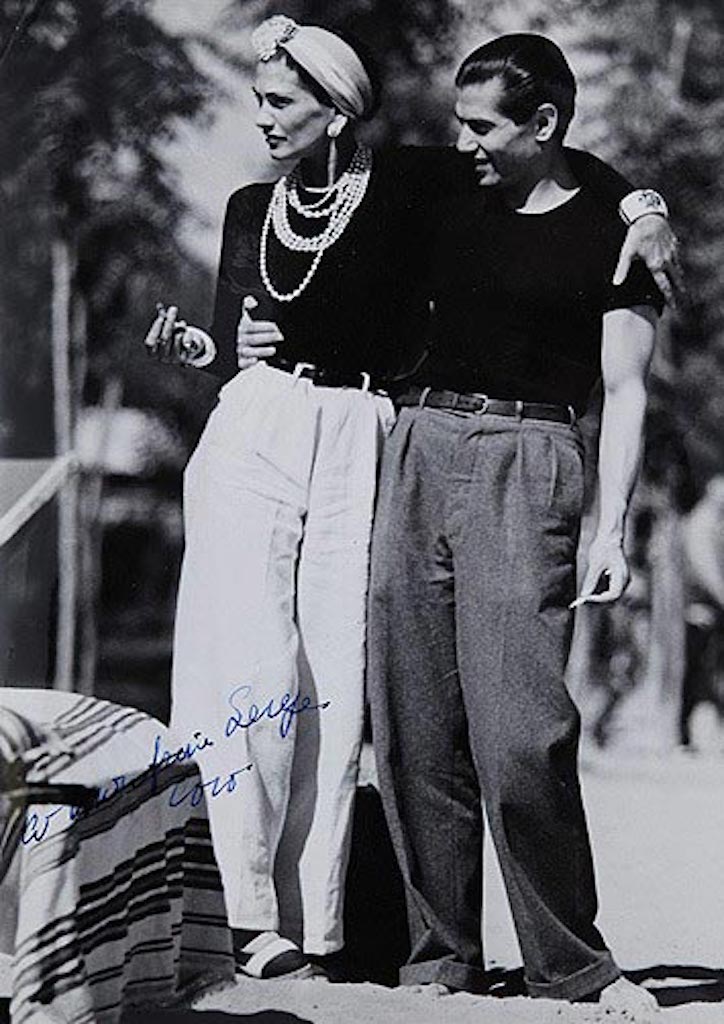 The Boy Bag was aimed at a younger generation of fashionistas: an androgynous style that celebrated Coco's pioneering masculine-feminine aesthetic. Karl declared: 'Chanel used men's underwear to make dresses. She had this boyish attitude, in fact it is the very spirit of Chanel. She got it from Boy Capel, the great love of her life…' With a campaign fronted by cool-girl model of the moment Alice Dellal, the Boy Bag was an instant hit.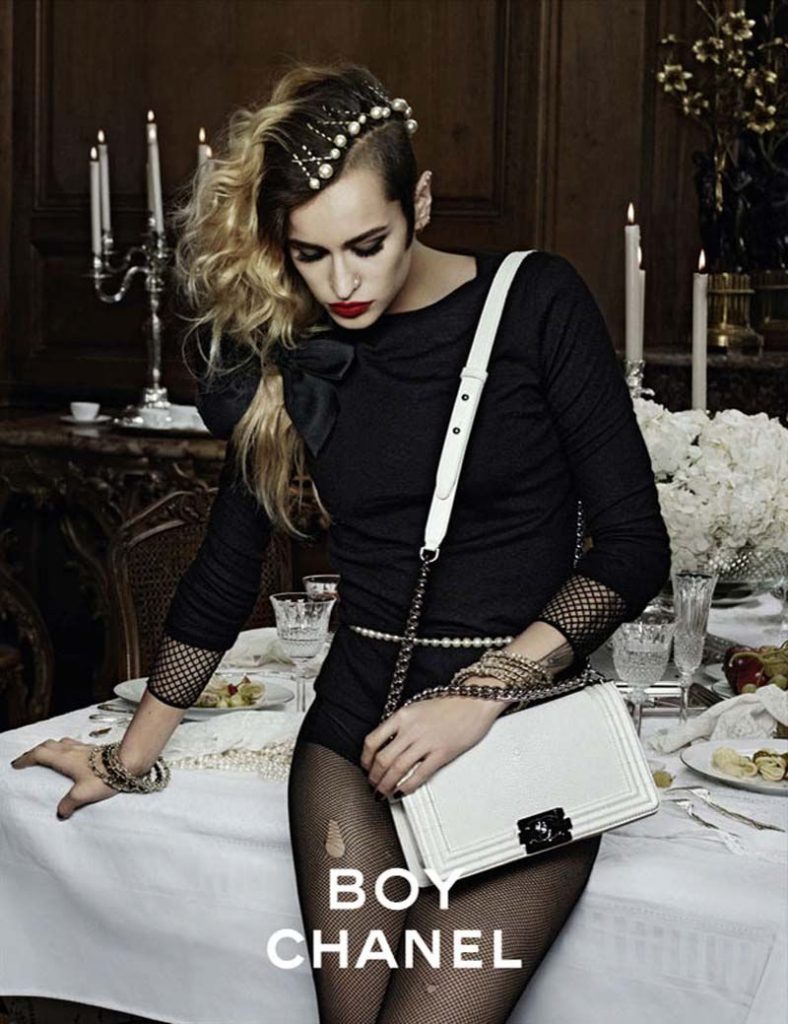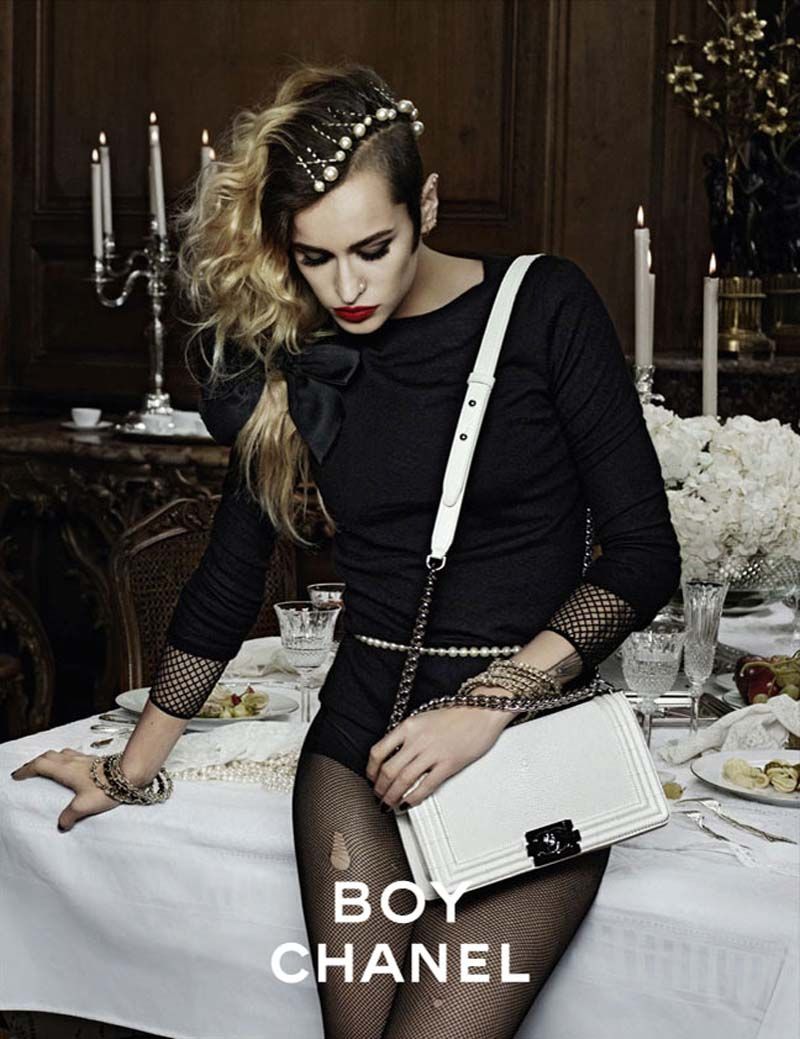 Boy oh boy…
Let's get down to the details. The Boy Bag has a bold, boxy silhouette, with a flap that folds over the entire front of the bag, providing ample room for creative improvisation. A thick rectangular frame of raised leather ribbing acts as a contrast to the central body, which is usually decorated with either classic Chanel diamond quilting or chevron panelling. You'll also find some Boy Bags with 'reverso' quilting, where the frame is quilted instead. Because the Boy Bag only has a single flap, and a fabric lining, it's both roomier and lighter to carry than its 2.55 and Classic Flap equivalents.
The hardware of a Boy Bag is one of its most distinctive features: the large square CC squeeze-lock clasp at the front gives it an industrial, Brutalist vibe. Its strap consists of a satisfyingly chunky metal chain punctuated with a leather panel, and can be worn doubled up as a shoulder strap or alternatively as a long cross-body strap. Some editions of the bag also come with a short chain-embellished top handle for carrying it by hand.
The most common leathers for the Boy Bag are calfskin and lambskin, however Chanel has released so many different variations over the years that the world is truly your oyster when it comes to materials. As an alternative to leather, tweed and velvet Boy Bags both make regular appearances. In terms of colour, Chanel treats all shades as seasonal, although in recent years black leather with either ruthenium or antique gold hardware has become a more permanent fixture in Chanel boutiques.
Find your perfect match
The Boy Bag comes in four regular sizes: small (measuring 8 inches across), old medium (9.8 inches across), new medium (11 inches across and taller than the old medium) and large (11.8 inches across). With its diminutive dimensions, a small Boy Bag makes for an ornate cross-body option for evening, while the large style, with its satchel-esque silhouette, is perfect for carrying all your daily essentials and is best worn as a shoulder bag. If you're stuck choosing between the old and new mediums, consider your proportions: collectors have suggested that the new medium works well on taller frames (it also has an additional interior pocket and can accommodate a little more).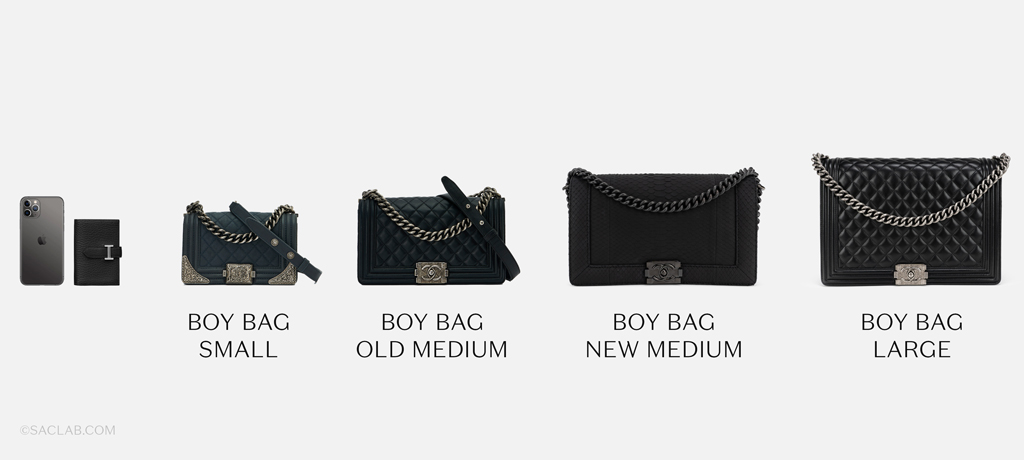 Alongside the classic Boy Bag, Chanel has released a variety of Boy iterations that carry its design hallmarks, including wallets, wallets on chain, clutches and totes.
Hard-to-get styles
Each season sees a plethora of enticing new Boy Bag varieties debut in boutiques, with a few of these styles ascending to cult status due to their desirability and rarity. As mentioned, the Boy Bag's large front flap is a blank canvas for incredible embellishments, and any chain, pearl or sequin-festooned Boy Bags are reliably in demand on the secondhand market.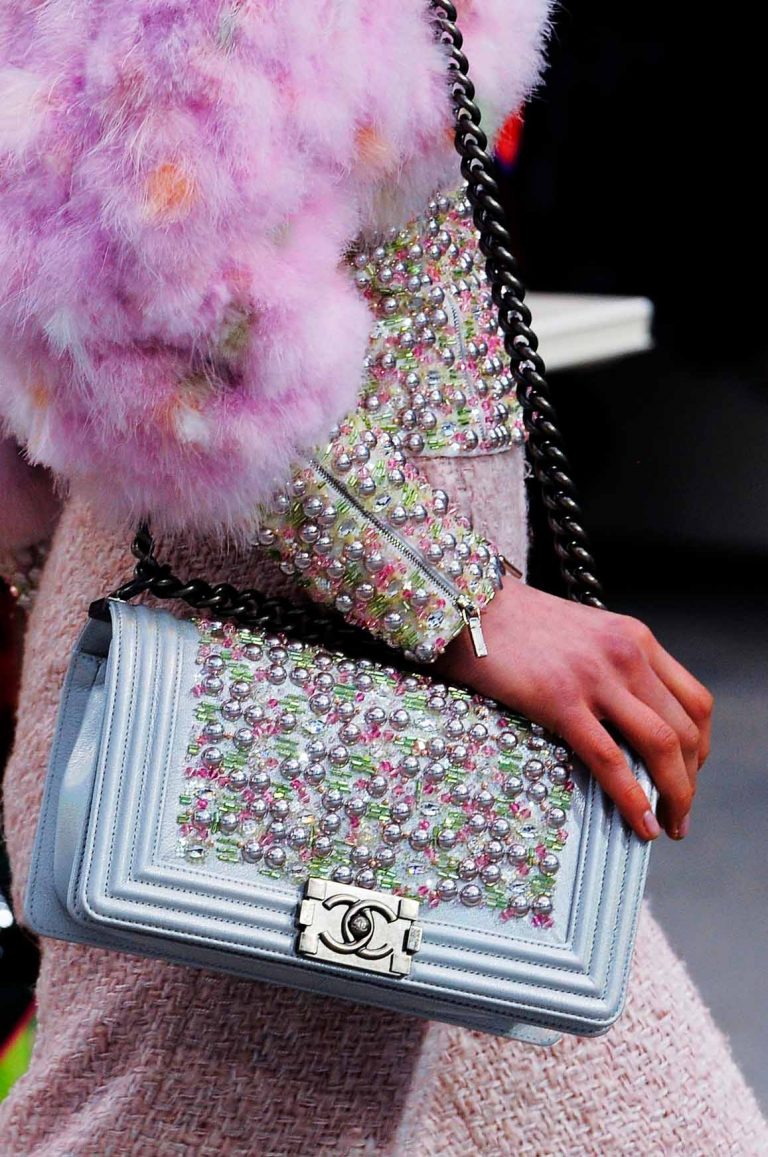 Top of our list of rare editions is the Rainbow Boy Bag, a pastel dream of ombre sorbet shades that first appeared on the runway as part of Chanel's Cuban-inspired Cruise collection in 2017. If you prefer an edgier look, seek out a So Black Boy Bag, which combines blackened hardware with matching inky leather.
When Kylie Jenner stepped out with a shimmering green Boy Bag with iridescent rainbow hardware, handbag collectors instantly snapped to attention. These 'Mermaid' Boys come in metallic green, purple, bronze and black, and command sky-high prices on resale websites.
For a truly unique purchase, add 'Métiers d'art' to your search terms: these annual runway shows by Chanel celebrate the artisans behind the fashion house, with a different theme each year that showcases their craftsmanship. From Tyrolean embroidery to prairie-inspired engraved hardware, Métiers d'art Boy Bags are true collector's items.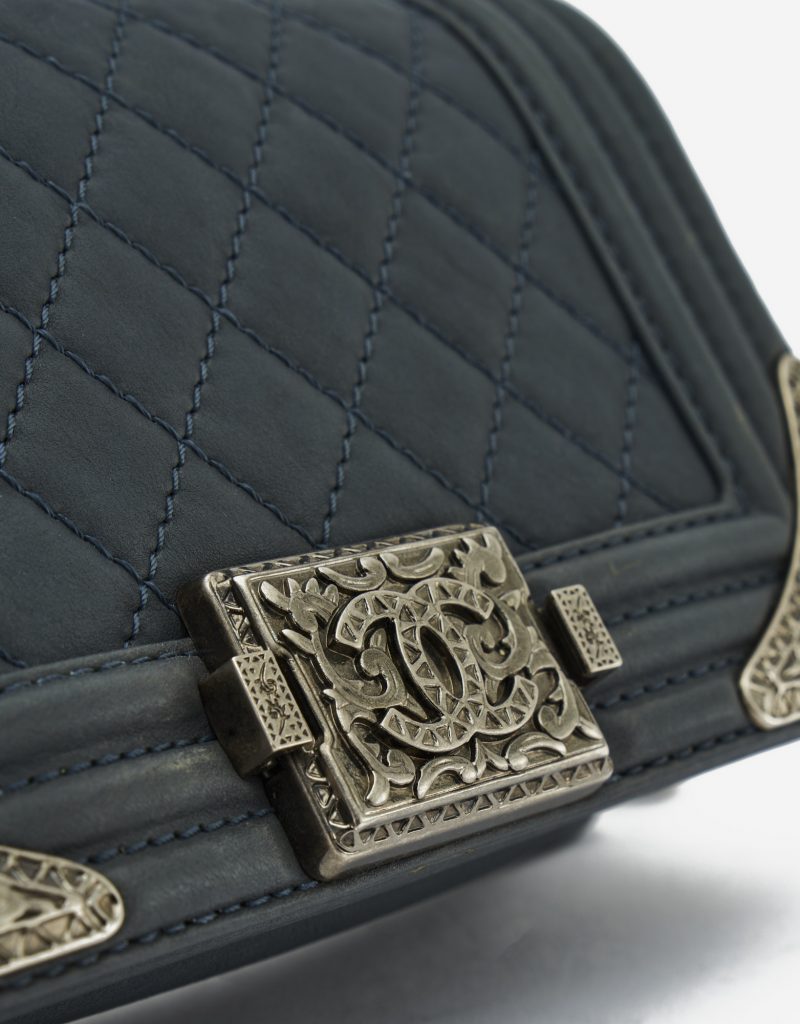 Finally, exotic-skinned Boy Bags tend to lead the market in terms of rarity and price, especially now that Chanel has discontinued the use of exotic leathers for new collections – so if you come across a python or lizard Boy Bag, snap it up!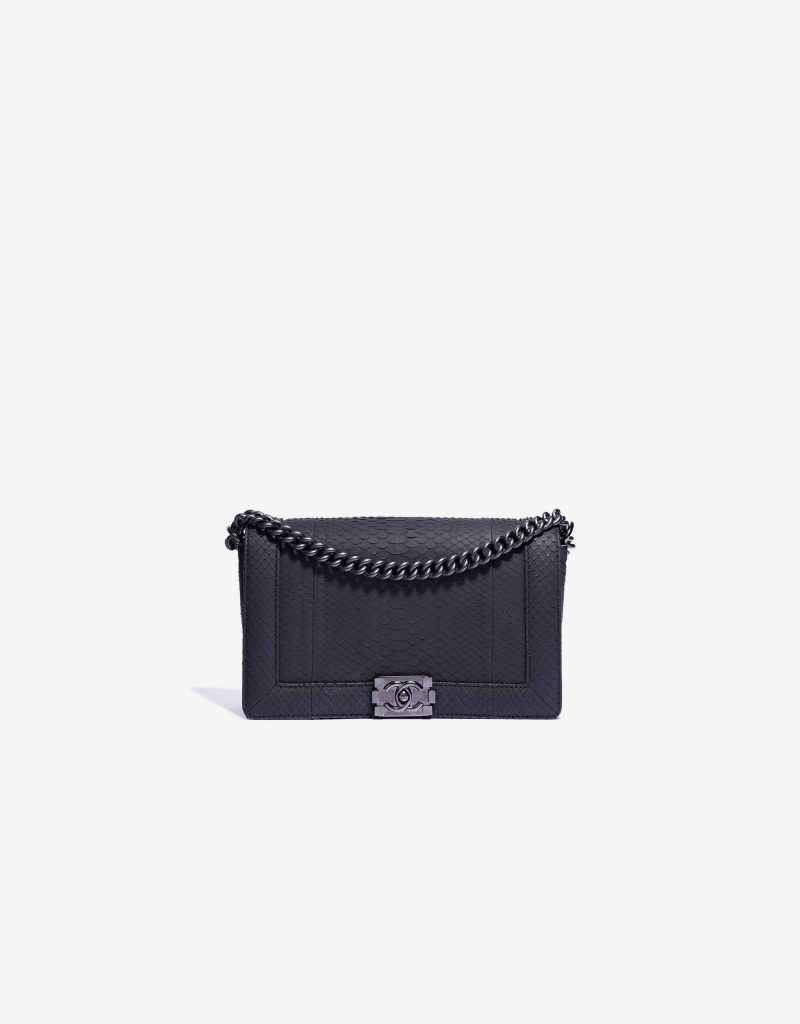 Budgeting for a Boy Bag
If you're buying your Boy directly from a Chanel boutique, expect to pay around €4,500 for a small style, rising to €5,200 for a large. Chanel has become notorious for increasing its prices each year, so watch out for seasonal hikes – they have soared past the rate of inflation in recent years.
On the secondary market, budget €2,500–5,000 for a good quality medium leather Boy Bag, or €5,000–8,000 for something extra special – exotic leather, or rainbow hardware, for instance.
Ready to find your dream Boy Bag? Let us know what size, material and colour you've got your eye on, and we'll take care of the rest.
Looking to sell your designer handbag?
Get an offer today and start selling
Sign up to our newsletter
Be first in line for our latest arrivals, alongside journal updates, exclusive treats and more
Thank you! You've successfully subscribed.
Thank you! You've successfully subscribed.
It seems you are already signed up!
Please enter the correct email address
By subscribing I accept the privacy policy and the indications specified on data handling.
Make a Request
We do our best to find bags for our customers on request. However, this might take up to 6 months.
Warning!
You have reached the limited requests per customer.
Thank you for your enquiry!
Please check your email for further instructions.
You have reached the limited requests per customer.