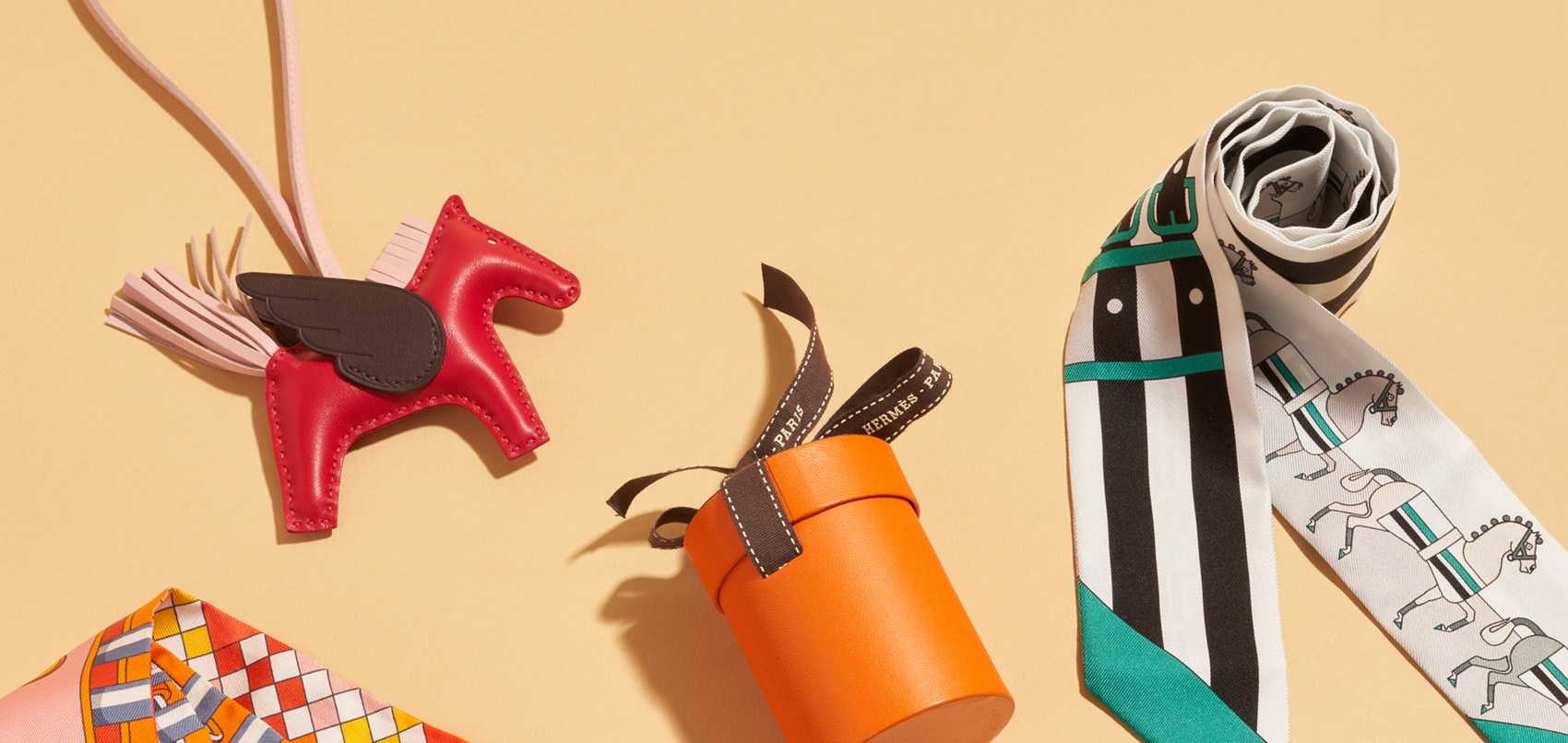 An Essential Guide to Hermès Handbag Charms and Accessories
SACLÀB ICONS
You'd be forgiven for thinking that an Hermès handbag is a fully-formed thing of beauty, just as it is. And while we of course agree, the fashion house's delightful bag accessories have steadily risen in popularity over the last decade – and have become one of our most searched-for categories on SACLÀB.
Typically whimsical in design, and modelled from a pop-bright palette of exquisite materials, an Hermès Rodeo charm or silk Twilly can add a dash of individual flair to a Kelly or Birkin bag. Eminently collectable, this is SACLÀB's guide to the most desired Hermès handbag charms and accessories.
History and Craftsmanship
Hermès has long produced charms to add a personal touch to its bags. In the past, these have ranged from leather circles playfully resembling a variety of animal faces, to metal pendants and even horsehair tassels. However, it was the introduction of the Rodeo in 2013, a colourful and exquisitely crafted horse in miniature, that saw Hermès charms soar to the top of wishlists. Ever since, the fashion house has offered a new array of delicately constructed leather accessories each season, ranging from tiny handbags to sandals and saddles.
Hermès charms are often crafted in Milo lambskin, a material traditionally used for the brand's gloves, which gives them a smooth finish with a subtle sheen. These dainty, detailed accessories are the perfect showcase for the exquisite needlework of Hermès artisans, who employ highly precise glove-making techniques to create them. You can also find totally unique charms produced for the house's sustainable 'Petit H' line, which uses leftover materials from Hermès workshops as a starting point for creative improvisation.
The Rodeo
By far the most popular of Hermès charms, the Rodeo horse is a nod to the fashion house's equestrian origins. It comes in three different sizes: PM, measuring 9.7 x 7.8cm; MM, measuring 12.7 x 10.5cm, and GM, measuring 13.5 x 11.1cm. As you might expect, it's best to match the size of your Rodeo to the size of your bag – for example, smaller Kellys and Birkins measuring 28cm and below will best suit a PM charm.
Rodeos most commonly come in a tricolour palette of contrasting shades, and some even have a different colourway on either side. We have a soft spot for Rodeos saturated in one shade only, like this MM in Rose Mexico – and extra props go to the Rodeo So Black, an extremely collectible version crafted in all-black leather. For a dose of additional luxury and visual texture, search for a Rodeo Touch, which uses exotic leather such as crocodile on the saddle. Another iteration is the Rodeo Pegase, where the Rodeo is transformed into a winged pegasus – a flight of fancy to loop onto your handbag that's even rarer than the original.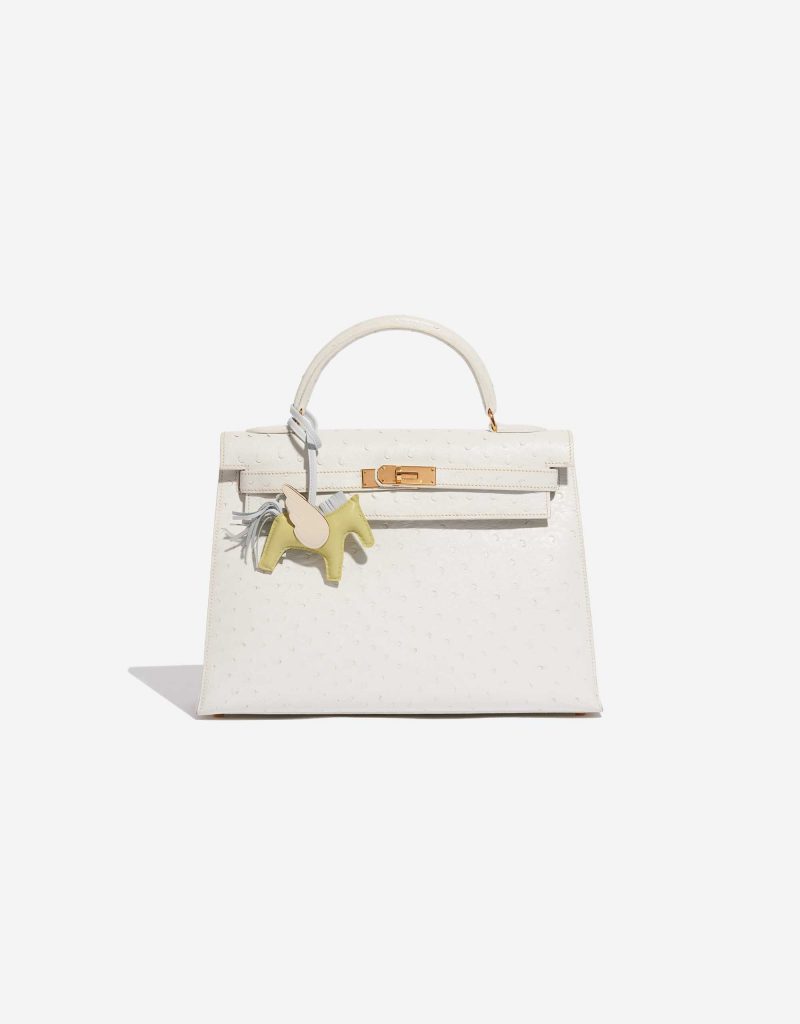 The Oran Nano
Originally designed by Pierre Hardy in 1997, Hermès' Oran sandal is now considered the brand's signature shoe. A lesson in minimalism, it uses the 'H' of Hermès as a leather cutout across the foot for a simple yet stylish look. The Oran Nano charm reimagines the sandal in micro perfection, and is a particularly fabulous accompaniment to holiday or summer outfits. Look out for versions that use lizard as a material – the Oran Nano is an ideal vehicle for this notoriously fragile exotic leather, which is best used on smaller accessories.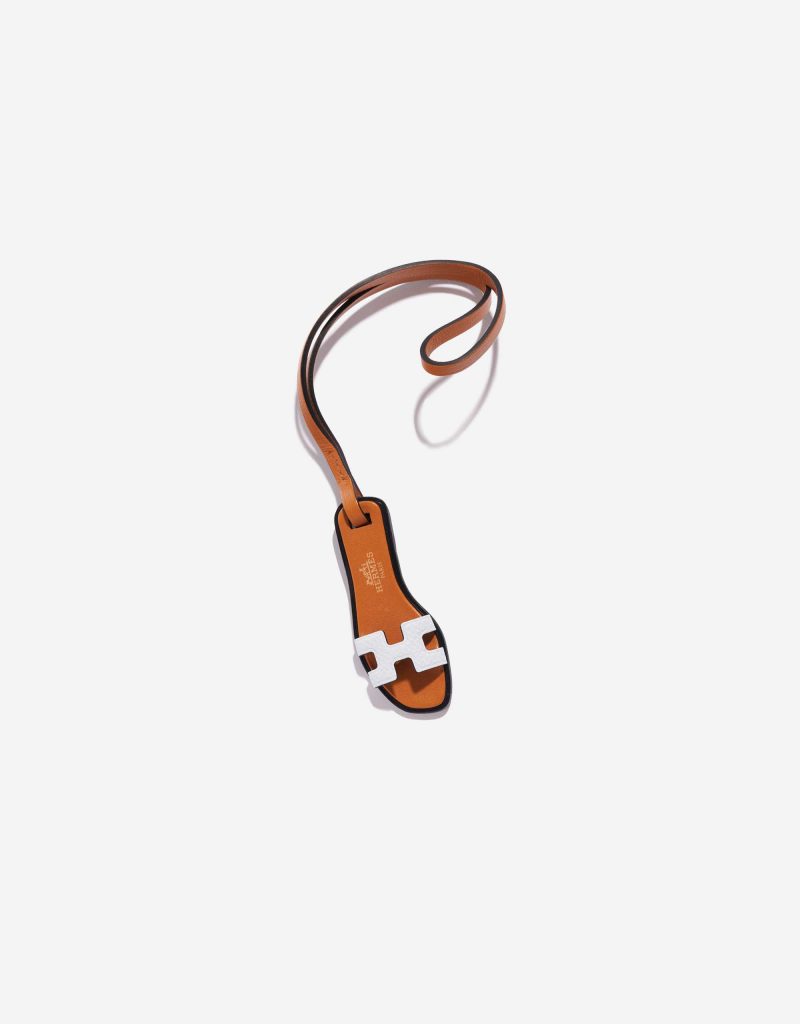 Micro Handbag Charms
Introduced as part of an expansion of its charm offering in 2019, Hermès' ultra-rare micro handbag charms represent the pinnacle of precision craftsmanship – and accordingly command sky-high prices (sometimes even as much as a full-sized designer handbag!). The Kelly Twilly charm evokes Alice-in-Wonderland-esque delight, especially when hung from its matching full-size counterpart. Every aspect of the Kelly is scaled down to a fully-functional mini masterpiece in Swift leather, with additional fun and colour coming from its printed Twilly-style ribbon strap. Similarly, the Kelly Idol bag charm reimagines this cult collector's item in incredible detail. Hermès also recently introduced a Sac Orange micro shopping bag in the brand's iconic hue.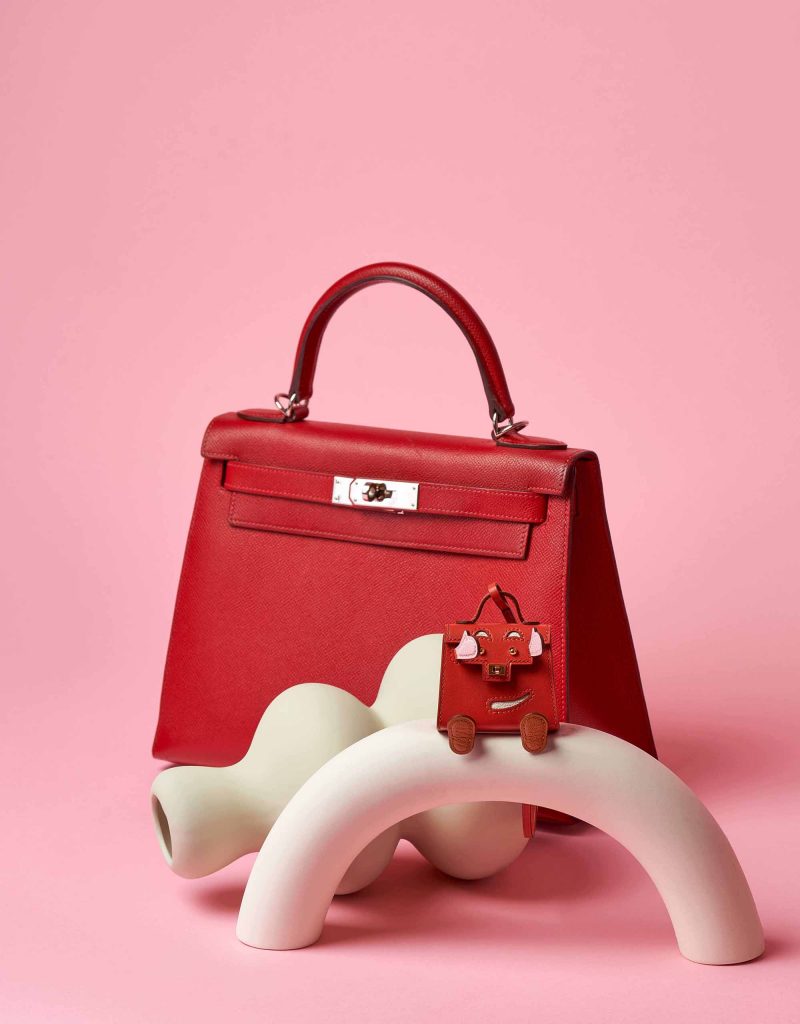 The Roo Roo
Hermès' tiger-inspired Roo Roo prowled into boutiques as part of the brand's aforementioned charm offensive in 2019. The Roo Roo is the perfect accessory for those who prefer a slightly quieter colour palette compared to the Rodeo, as the tiger's body is rendered in one continuous colour, with small flashes of contrasting hues seen in its eyes, strap, and the claw-like cutouts on its torso. Less playful, extra chic.
The Twilly
Launched in 2003, an Hermès Twilly is a wearable work of art. A long and narrow printed silk-twill ribbon measuring 86 x 5cm, Twillies are decorated in the same elaborate patterns as the fashion house's legendary scarves. Every season, Hermès selects different artists to design motifs, resulting in an extraordinarily diverse range of prints. You can wear a Twilly wrapped around your neck, wrist or head, but we love them most tied to an Hermès handbag for a splash of colour.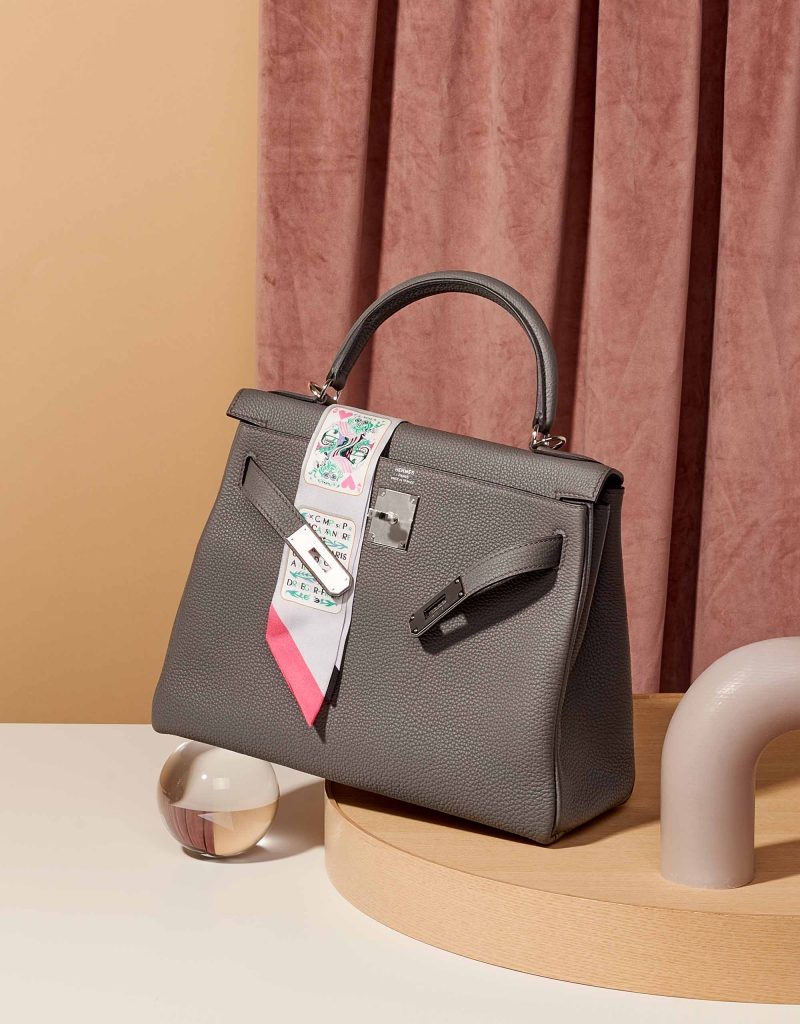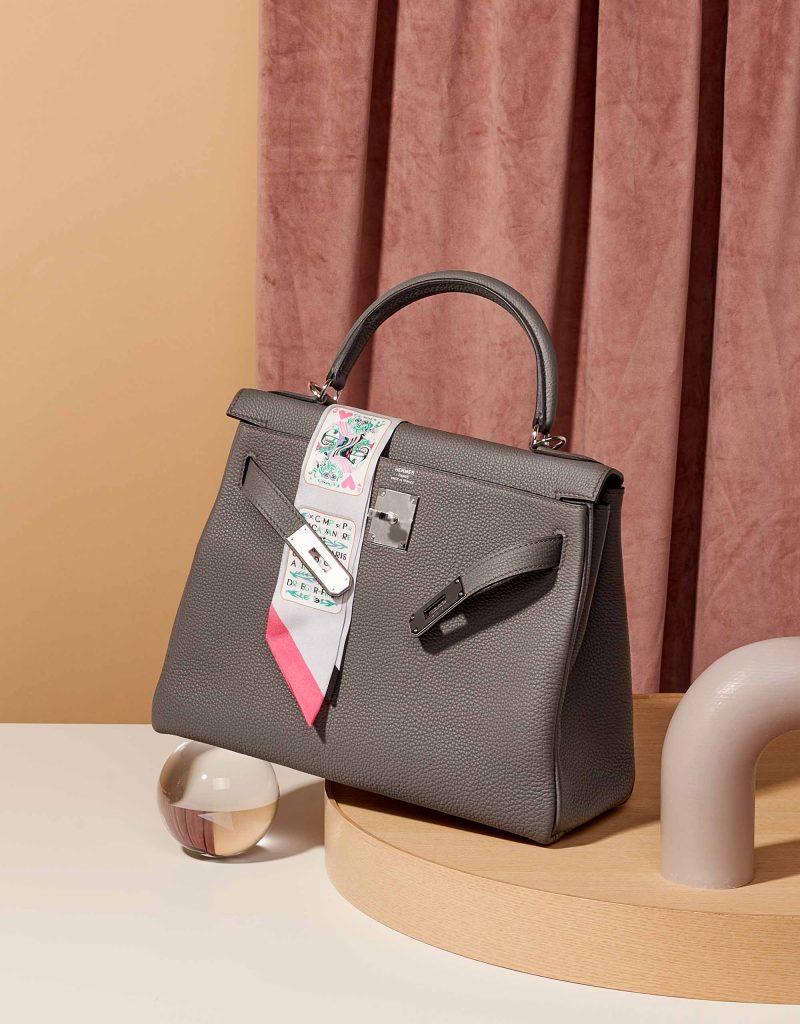 There are a number of ways you can personalise your handbag with a Twilly. If you've chosen a style in a light-coloured leather, a Twilly wrapped around the top handle can help protect it from staining – an important benefit, especially if you are hoping to retain your handbag's value on the secondhand market. You can wrap a Twilly either symmetrically around the handle, with two ends poking out, or asymmetrically, with just one end showing. You can also tie a Twilly in a bow at one side of the handle for a whimsical flourish, or loosely knot it for a more casual look.
Ready to accessorise your Hermès handbag? Let us know what's on your wishlist, and we'll take care of the rest.
Looking to sell your designer handbag?
Get an offer today and start selling
Sign up to our newsletter
Be first in line for our latest arrivals, alongside journal updates, exclusive treats and more.
Please confirm your subscription in the email you've just received.
Thank you! You've successfully subscribed.
It seems you are already signed up!
Please enter the correct email address
By subscribing I accept the privacy policy and the indications specified on data handling.
Make a Request
We do our best to find bags for our customers on request. However, this might take up to 6 months.
Warning!
You have reached the limited requests per customer.
Thank you for your enquiry!
Please check your email for further instructions.
You have reached the limited requests per customer.