The Birkin Bag Becomes a Fashion Favourite for Both Men and Women
SACLÀB ICONS
"Handbags are for women" - A stigma that persisted for decades. But for some time now, men like Harry Styles have been showing that clothes and accessories are for everyone – regardless of gender. Bags, in particular, have made their entrance into the male domain and are now no longer the exclusive preserve of women.
The story behind the Hermès Birkin bag
What bag would be better suited to pave the way into the world of luxury bags for men than the Birkin bag, which has always been a symbol of craftsmanship and luxury? When Hermès CEO Jean-Louis Dumas sat next to Jane Birkin on a plane and watched her wicker bag topple over and over, the idea for the Birkin bag was born. Dumas spent the entire trip sketching a bag with a locking lid. In 1984, he gave the actress the first black leather Birkin bag. Since then, it has been the holy grail for all bag lovers.
The Birkin bag may be stored in the minds of many as predominantly feminine, however, its namesake Jane Birkin was already known for her gender-neutral fashion style. She often combined feminine elements with men's pants or sports jackets.
Birkin bags for men
As in any trend, there are some trailblazers. In the case of Birkin bags for men, for example, this was the boxer Floyd Mayweather, who made headlines with a Hermès Croco Birkin bag on his arm. But also Drake, who is rather known for his number-one songs and emotional lyrics, reportedly collects Birkin Bags for his (very lucky) future wife – including an ultra-rare Himalaya and bright-yellow crocodile edition. The number of men, especially athletes and musicians, who wear the bag has been growing ever since.
But on social media as well, Instagram accounts like @birkinclub4boys are dedicated to men who have a love for the bag. @stormmy_jerry regularly shows off his impressive Birkin bag collection on Instagram, and @thebirkinboy inspires with street-style photos to style after. They all do their part to break down stereotypical mindsets.
And even looking at the runways, the Birkin bag already plays a permanent part in the high fashion scene. For FW 2022, Hermès has introduced a new utilitarian Birkin style on the men's runway in Paris. Aptly named "The Rock", the tall Evercalf leather Haut à Courroies bag is finished with an external zipper compartment and chunky palladium chain. Seek a fresher look? For SS 2023, the brand imagined abstract check patterns on oversized Gold and Black leather HACs.
But where does this hype about the Birkin bag for men come from? It can be assumed that the renewed interest in men's fashion in combination with more gender-neutral collections plays a role in this. Men are no longer forced to wear traditionally "masculine" clothing and are able to express themselves in areas of accessories. Besides luxury watches, sneakers are commonly known to serve as collector's items among men. But handbags are rapidly catching up as smart investment tools, a "unisex" collectible that usually withstands recessions.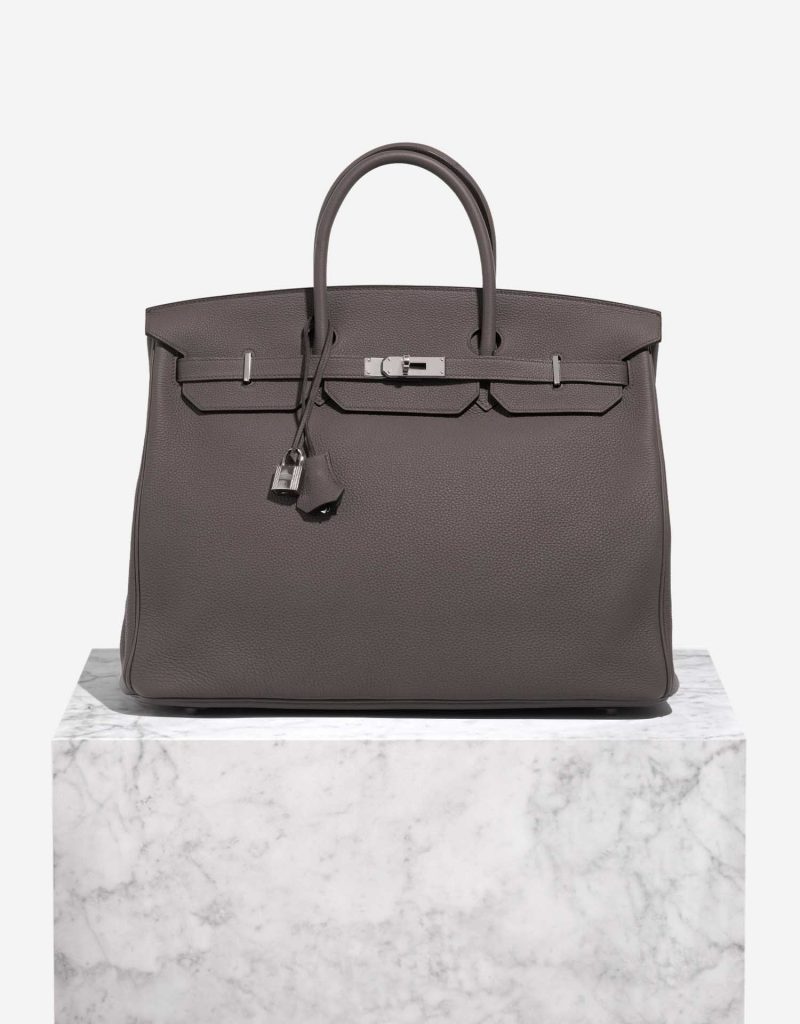 The most popular Hermès bags for men
Some models have proven to be particularly popular with men. We have compiled the most wanted models for you.
The Hermès Birkin 40
"The Birkin 40 is particularly popular with our male clients. Many opt for neutral shades like Hermès Gold or Black and use it as a travel or office carryall," Jan-Oliver Stück, co-founder of SACLÀB, explains. With its "unisex" size, which offers space for everything from a laptop to a water bottle, it can be worn both on the forearm and in the hand. "However, we also see a rising interest in exotic skins and bright colours, matte alligator has a particularly cool and edgy appeal. If you prefer a more structured and formal look, the Kelly 40 or Dépêches make a timeless briefcase."
The Hermès Haut à Courroies
Originally, this model was designed by Hermès to carry saddles and riding boots. Today, this is no longer necessary, however, the Haut à Courroies offers enough space to accommodate all essentials. The mix of canvas and leather offers an interesting play of textures for the otherwise plain-coloured bag.
Hermès crossbody bags
Crossbody and messenger bags are also becoming increasingly popular with male customers – perhaps because of their functionality, but perhaps also because they still don't lack elegance. The Kelly Danse can be worn around the waist or as a mini backpack, whereas the Mini Kelly can be worn casually as a crossbody bag and the Roulis impresses with its sculptural-sleek clasp. But they all have one thing in common – your hands are always free.
Which bag has caught your eye? Discover our full selection of pre-owned Hermès bags and enjoy free express shipping.
Looking to sell your designer handbag?
Get an offer today and start selling
Sign up to our newsletter
Be first in line for our latest arrivals, alongside journal updates, exclusive treats and more.
Please confirm your subscription in the email you've just received.
Thank you! You've successfully subscribed.
It seems you are already signed up!
Please enter the correct email address
By subscribing I accept the privacy policy and the indications specified on data handling.
Make a Request
We do our best to find bags for our customers on request. However, this might take up to 6 months.
Warning!
You have reached the limited requests per customer.
Thank you for your enquiry!
Please check your email for further instructions.
You have reached the limited requests per customer.