The Bottega Veneta Cassette Bag: A Modern Classic
SACLÀB ICONS
Transcending trends with the timeless appeal of a sleek design and an artisanal production method... Yet, able to maintain its relevance in a fast-paced industry – the Bottega Veneta Cassette Bag is a true modern classic. So store away your thoughts and concerns and discover the world of Bottega Veneta.
Exuding timeless sophistication with a trendy edge, Bottega Veneta has seen a surge in popularity in the past couple of years. Due in particular to the brand's innovative use of materials and its avant-garde approach to fashion design under the creative direction of Daniel Lee. The experienced fashion designer's ideas resonate with consumers and fashion critics alike, attracting a younger and more diverse audience to the brand.
Most notably, Daniel Lee's pre-fall 2019 introduction, the Cassette bag, has won over a global audience and continues to be a tried-and-true. The genderless fashion must-have adorned the shoulder of Euphoria heartthrob Jacob Elordi in last year's autumn/winter 2022 show, while model Rosie Huntington-Whiteley posted a selfie with a chalk-coloured one on her socials.
Characteristics of the Cassette Bag
For Bottega Veneta, branding often takes a backseat to its beautiful and intricate design, solidifying its under-the-radar appeal. Instead, the brand lets the quality and unique craftsmanship speak for itself.
Subtle but Famed Hardware
The Bottega Veneta bag whispers luxury, with some iterations sporting a subtle initial on the adjustable strap's hardware. But the brand's signature plaited look speaks volumes for the fashion aficionado. Moreover, its magnetic closure allows for easy access, while some versions have a zipper in addition to (or instead of) the magnetic closure.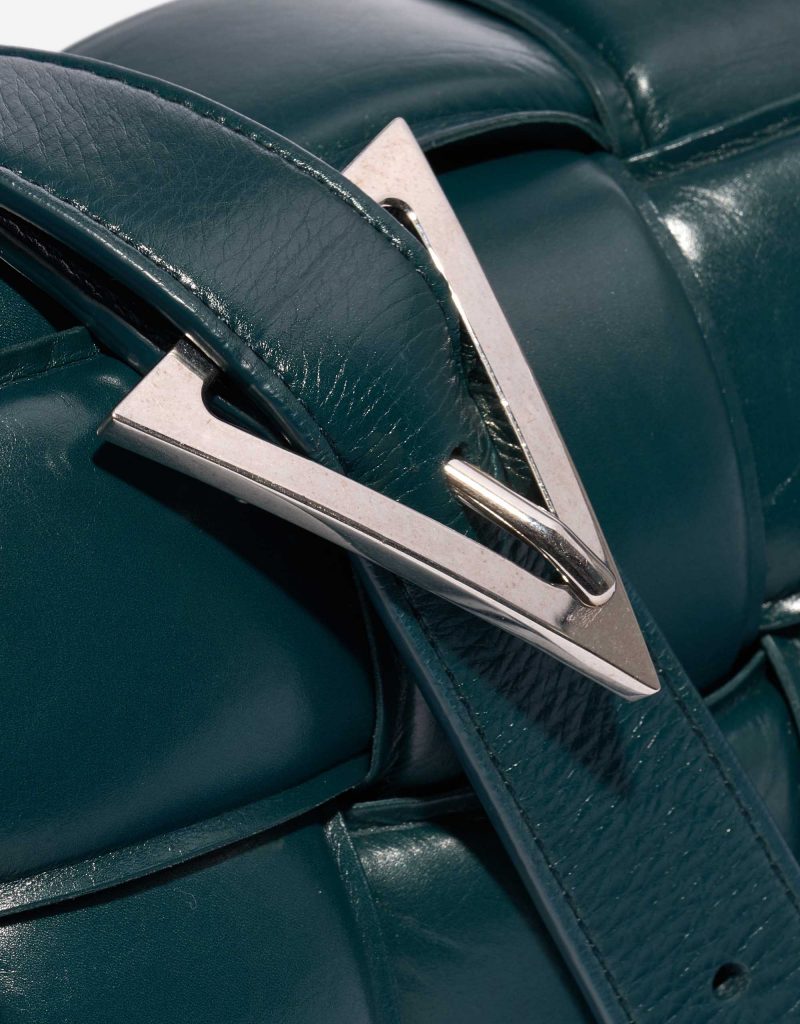 Latticed Leathers
Elaborating on this signature design, the Italian fashion house is known chiefly for its artisanal technique of woven leather: the Intrecciato method. The story behind the brand goes that by sheer fortuitousness, long strips of double-faced leather were woven into aesthetically pleasing and structurally strong pieces, which the sewing machines would not allow. This method has become a staple design for the Bottega Veneta brand.
The Bottega Veneta weave has various types, such as the Classic, Raffia, or Cervo Intrecciato. However, the Cassette bag features a more pronounced Maxi weave, which accentuates the bag's modern look. This weave contains thicker strips of leather and a more open pattern.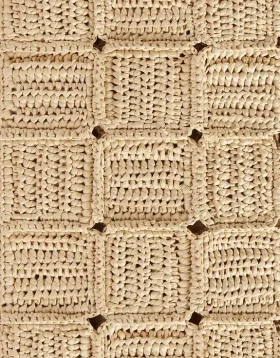 1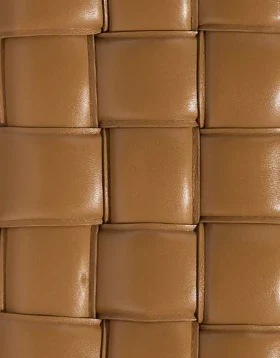 2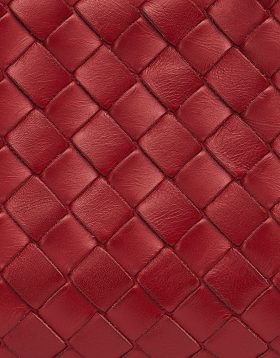 3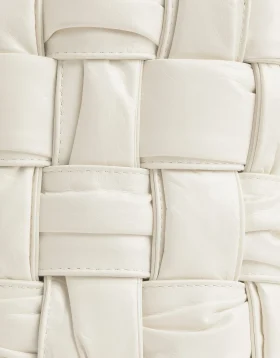 4
The inflated weave, now a hallmark of excellence and craftsmanship, is commonly crafted with the highest quality Nappa leather, characterised by its softness and pliability. Leathers vary from lambskin to calfskin and suede; however, the leather iteration has had to make way for Cassette bags in denim, canvas, and even plaited nylon.
Bold or Beige-toned 
Another staple feature of Bottega Veneta bags is their almost unparalleled array of colours. Typically the Cassette bag comes in a variety of shades depending on the season. Rihanna is a perfect example of this, often spotted sporting a Cassette bag in myriad hues.
Still, many will opt for one of the neutral shades, including chocolate brown, an elegant beige or polished black, all bringing a refined air to your look.
Nevertheless, a fan favourite is undeniably the poison green variant, as seen on the arm of Victoria Beckham. But also, a bright red or purple is not misplaced in the collection. You'd be surprised what shades go together when styled just right.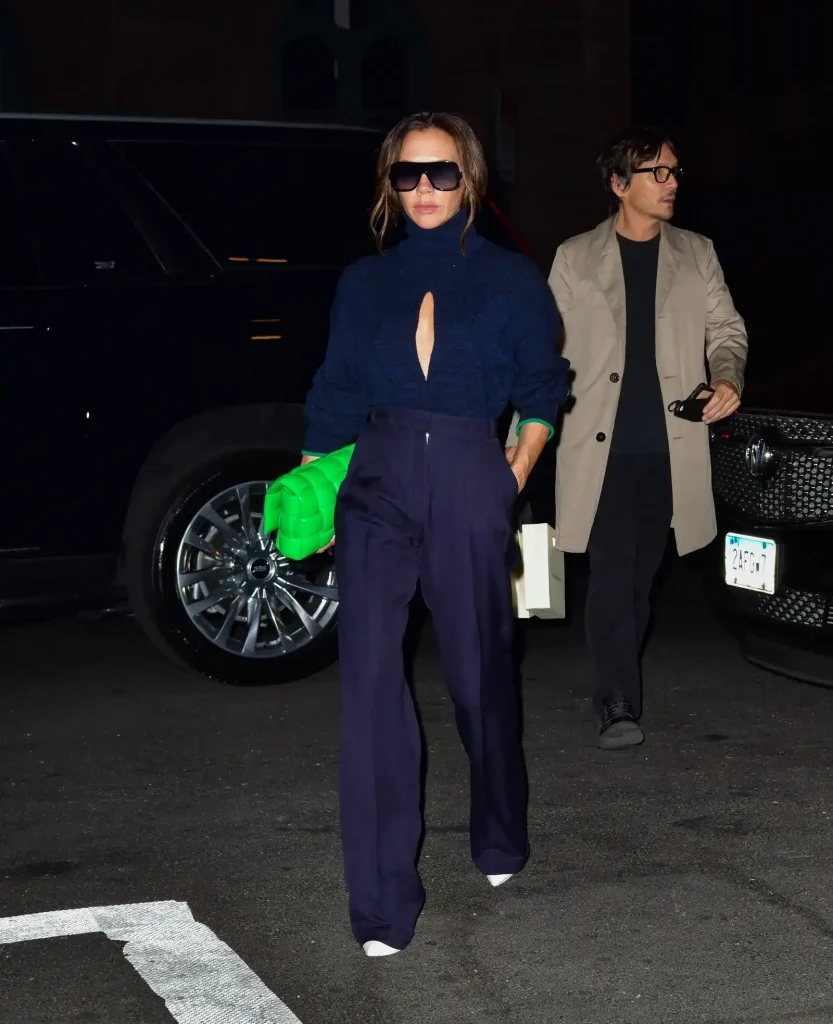 Apart from the monochrome design, the Cassette bag may also feature colour blocking or contrasting colour accents. These details can appear on the shoulder strap or interior lining peeking through the exterior, giving the bag a quirky appearance.
Browse Saclàb to find a Bottega Veneta bag in your favourite colour and finetune your look.
What Will It Carry?
What fits inside this Bottega bag depends on the size and style you pick. Nevertheless, the Cassette will easily accommodate your daily essentials while being small enough to be comfortably slung over your shoulder or worn cross-bodied.
In a classic-sized bag, basic necessities such as your phone, cardholder, key pouch, wireless headphones, and several make-up articles such as a lip balm or lipstick, an eye pencil or a compact mirror will easily fit. When neatly arranged, you can place some sunglasses in its case on top of your other appurtenances.
One thing to note: the Padded Cassette, known and loved for its squishy texture, is not the most spacious. The generously sized bag has a relatively small main compartment, and the puffy exterior that flows into its interior will make it seem even smaller.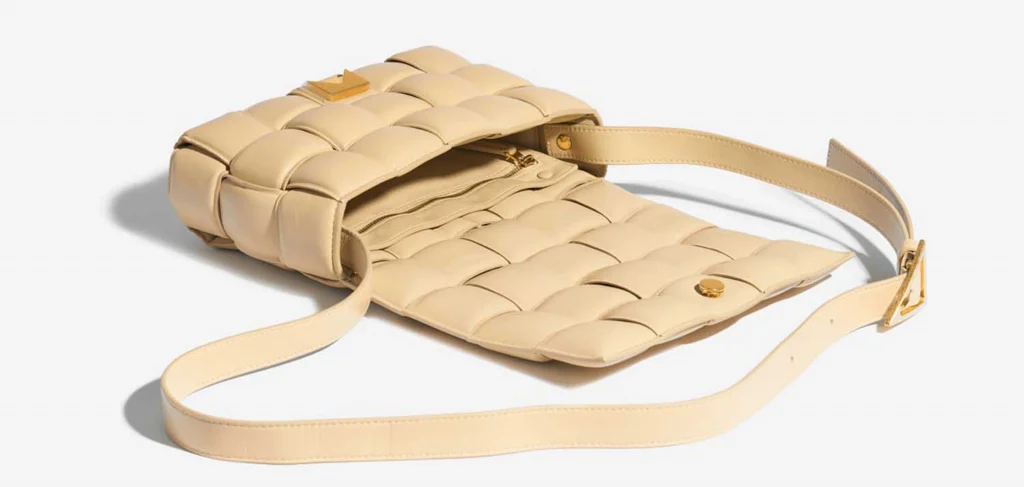 5 Types of Cassette Bags
The Cassette is a truly versatile accessory with a unique rendition for everyone. We will lay down five of our favourites.
The Classic Cassette 
The original version features the Intrecciato weave made from high-quality Nappa leather. The soft, unstructured silhouette gives this luxury designer bag a relaxed, casual feel.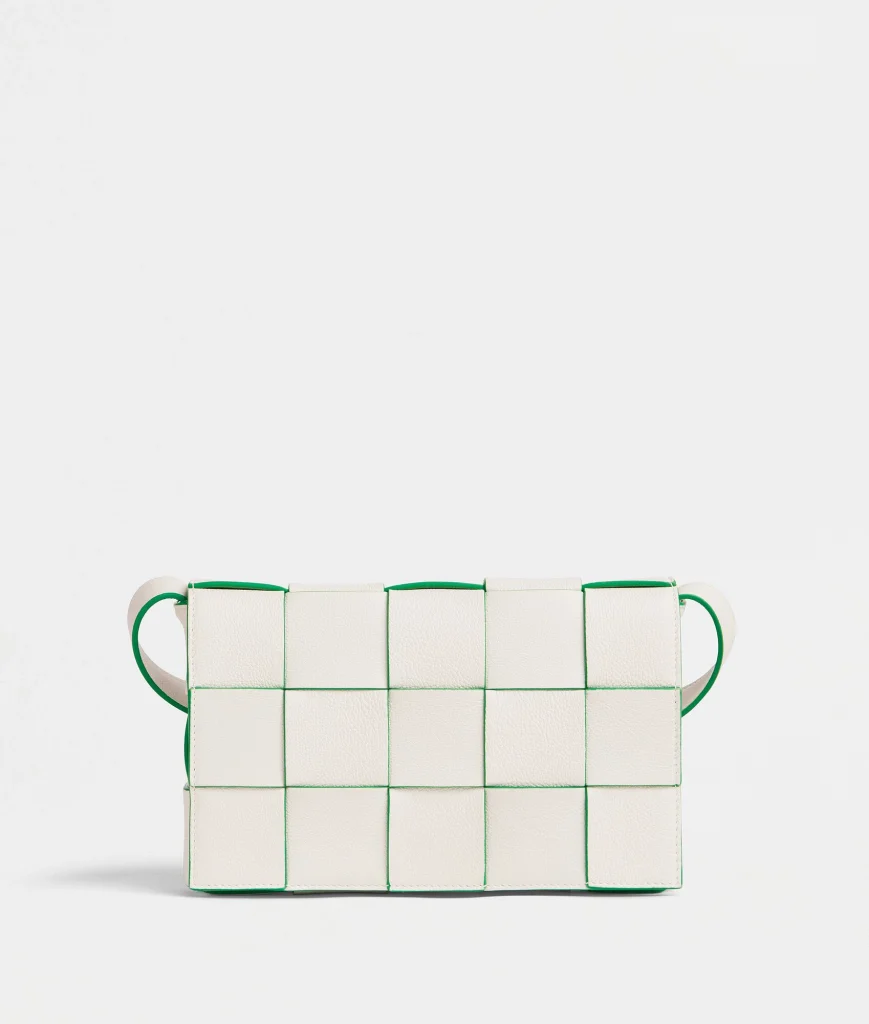 The Padded Cassette 
The padded version is undoubtedly the most popular iteration in this collection, rocked among others by Hailey Bieber in a sleek black version. Its quilted design gives the bag a plush appearance. Made from padded Nappa leather, its squishy fabric can swap out your pillow when on the go.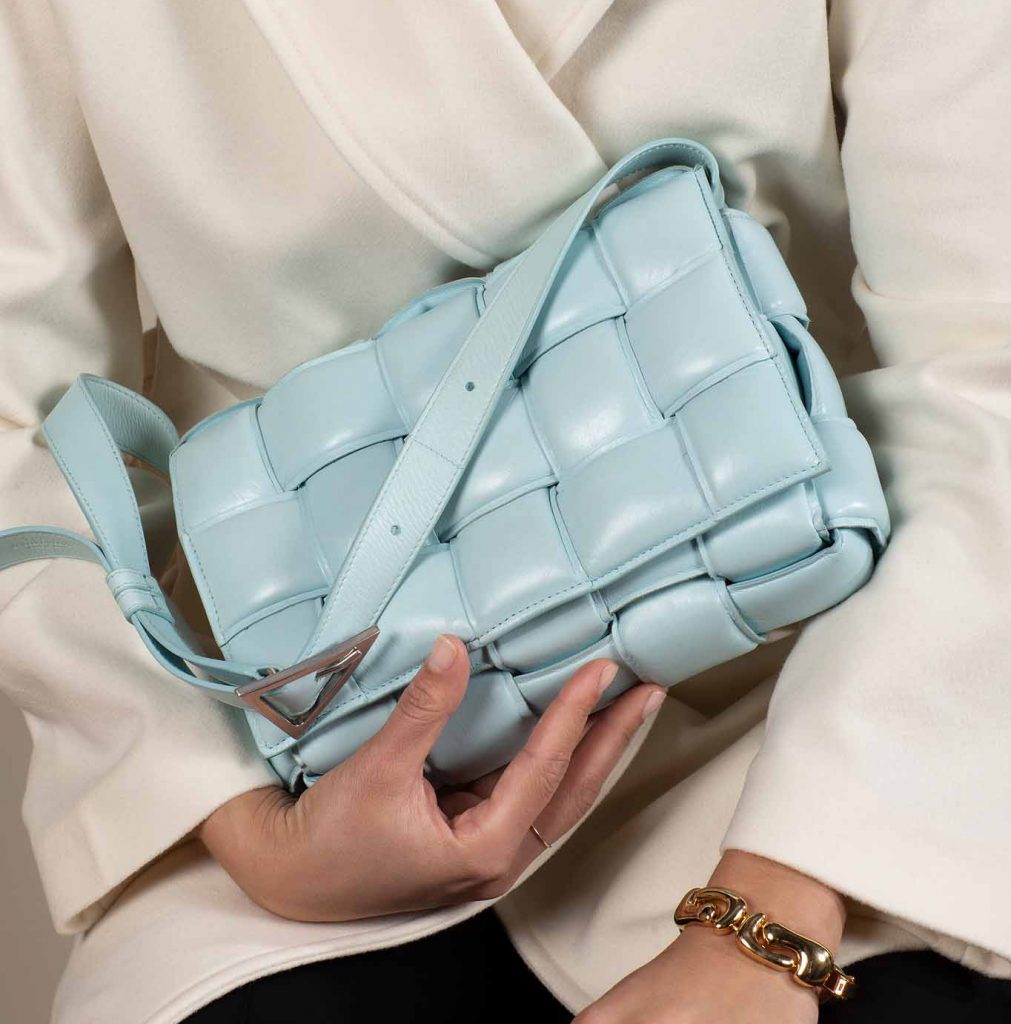 The Belt Cassette
As the name suggests, the Belt Cassette is designed to be worn around the waist or as a cross-body bag, hanging flush against your back or chest. The bag has a detachable, adjustable leather belt strap – meaning you could even opt to wear the Belt Cassette as a clutch for a more formal evening look.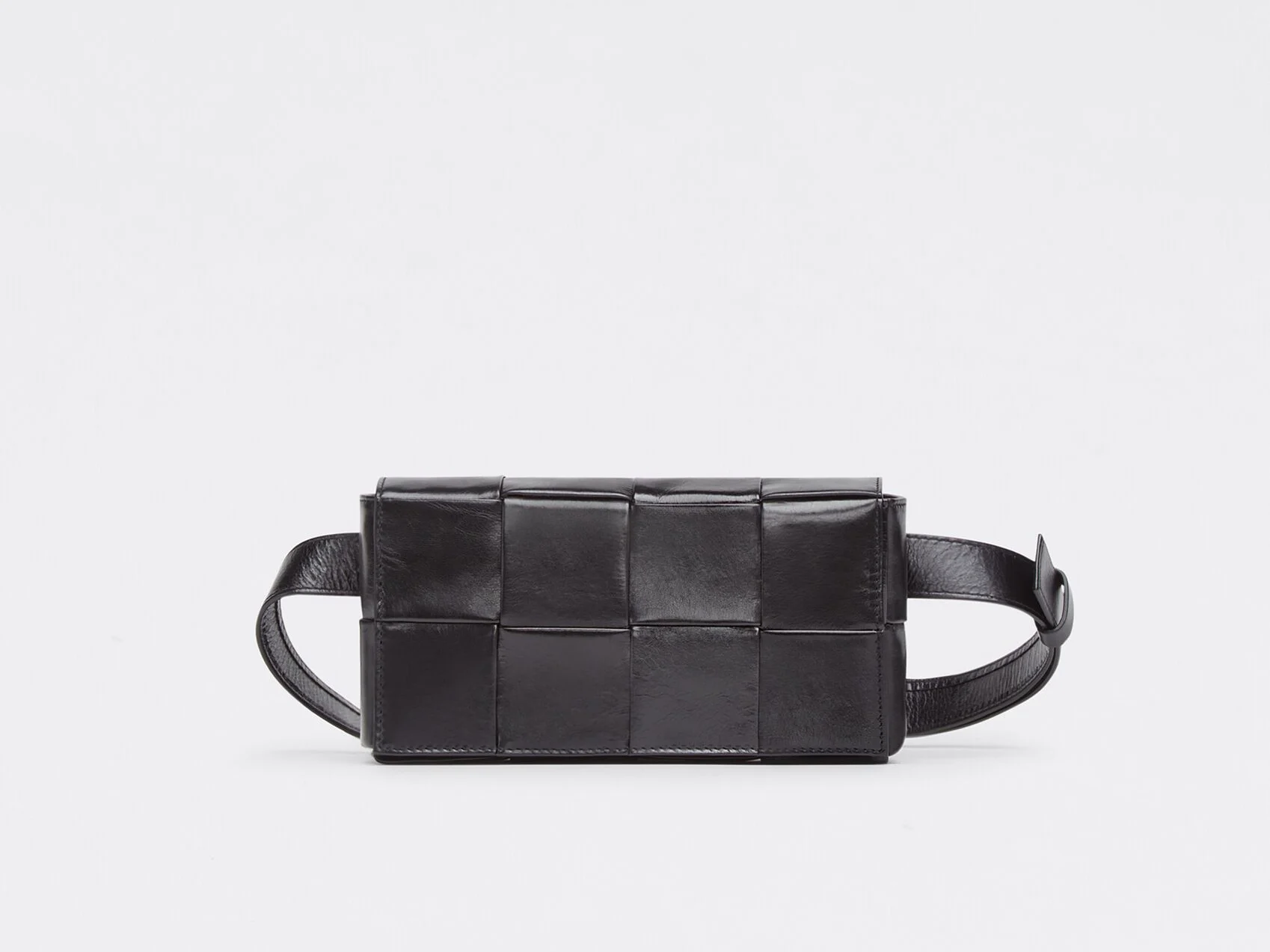 The Chain Cassette 
While all Cassette bags have adjustable straps, they are usually made of leather. The Chain Cassette features a (chunky) chain strap in gold or silver hardware and is available in several variations, including the classic and padded versions. The chain detail simply adds a touch of elegance to the otherwise casual style.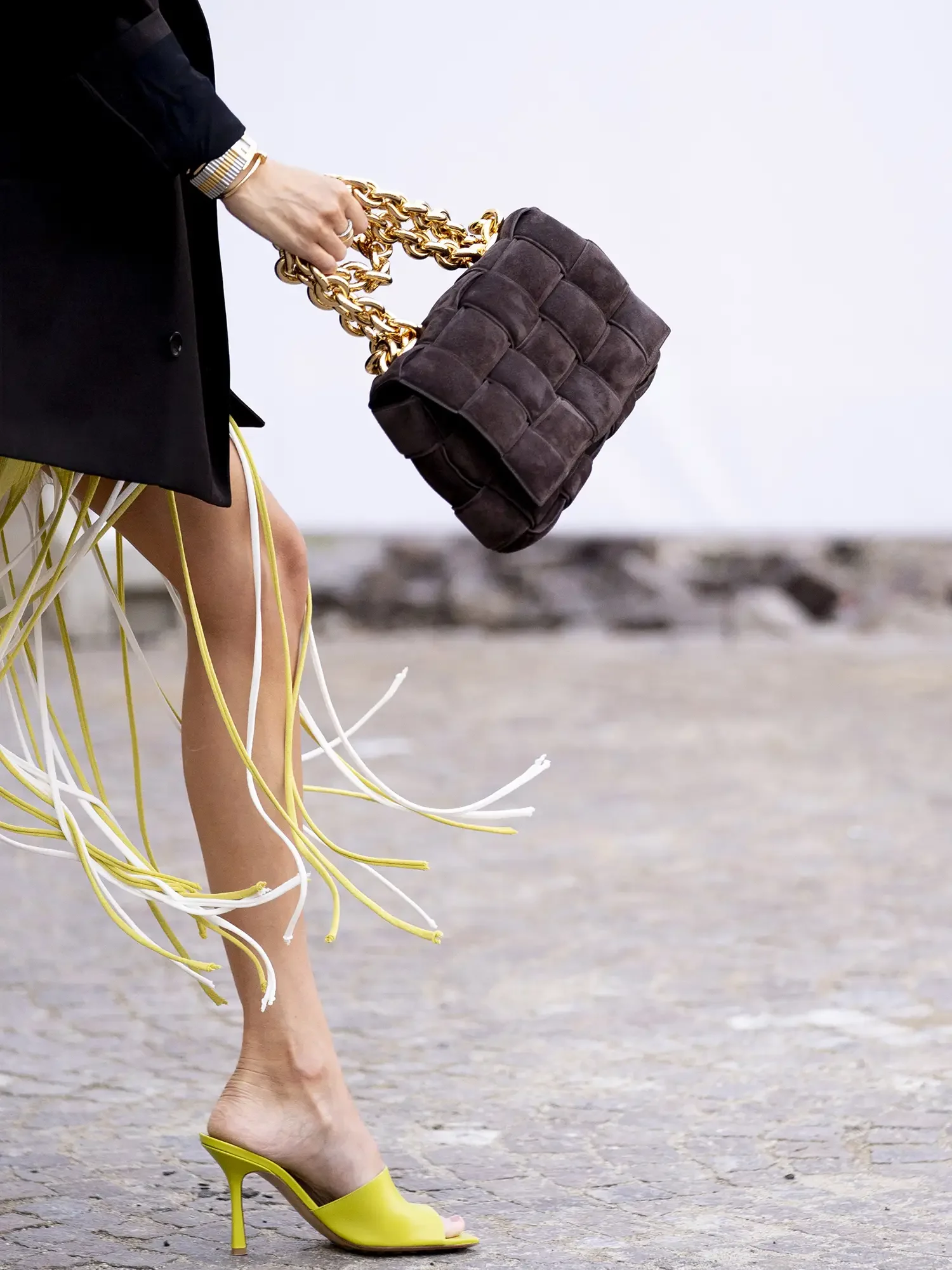 The Bucket Cassette
In essence, this bag is the vertical variant of the Classic Cassette, preferring height over width. It may look a little unconventional, but sporting this spacious bag in a boisterous colour says fashion extravaganza.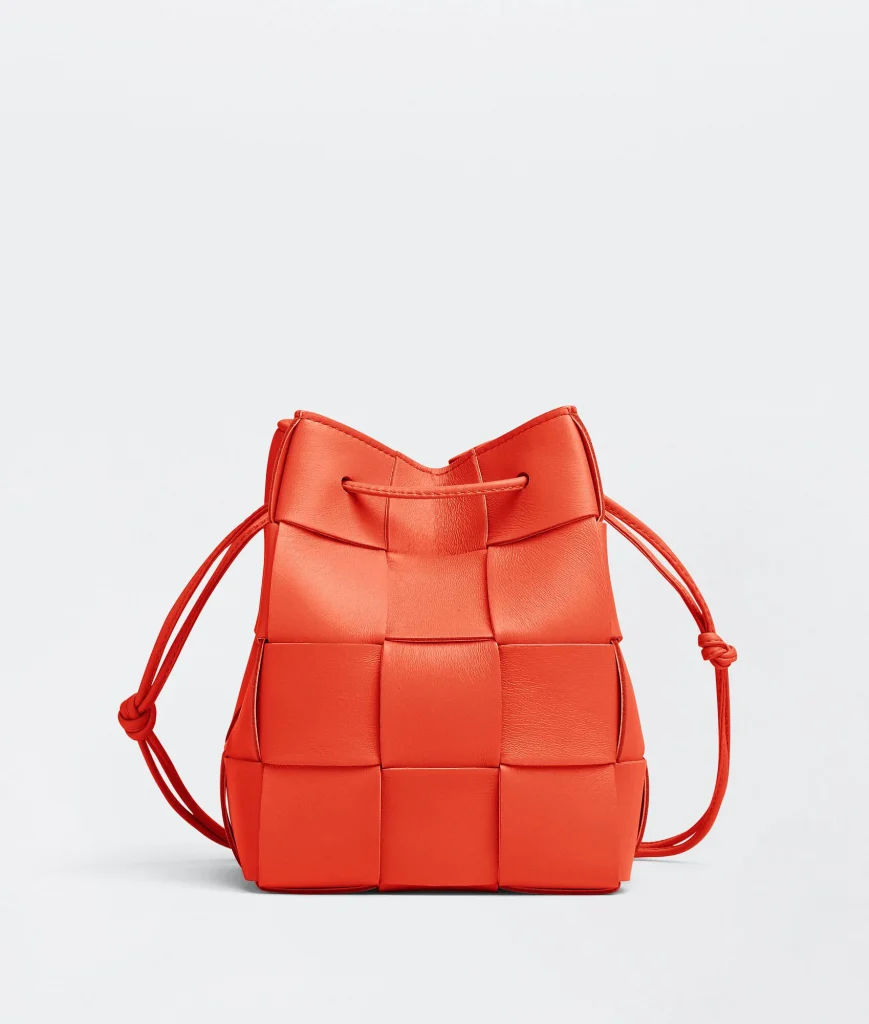 All versions of the Cassette Bag come in varying sizes, usually ranging from small to normal to maxi.
Although after three years, Daniel Lee has entrusted Parisian talent Matthieu Blazy with Bottega Veneta's creative vision, the Cassette Bag will forever be synonymous with the revival of Bottega Veneta.
Looking to sell your designer handbag?
Get an offer today and start selling
Sign up to our newsletter
Be first in line for our latest arrivals, alongside journal updates, exclusive treats and more
Thank you! You've successfully subscribed.
Thank you! You've successfully subscribed.
It seems you are already signed up!
Please enter the correct email address
By subscribing I accept the privacy policy and the indications specified on data handling.
Make a Request
We do our best to find bags for our customers on request. However, this might take up to 6 months.
Warning!
You have reached the limited requests per customer.
Thank you for your enquiry!
Please check your email for further instructions.
You have reached the limited requests per customer.