Handbag Dilemmas: Chanel Caviar or Lambskin?
LÀB REPORT
Whether you're a first-time buyer or a seasoned collector, you'll understand the struggle of choosing between Caviar or Lambskin leather for your Chanel bag. There are ride-or-die Caviar leather fans who wouldn't dream of investing in delicate Lambskin leather, and Lambskin lovers who believe it's the one true look for a Chanel bag. While deciding which of the different leathers is better comes down to your personal taste, after all, there are distinct pros and cons for each which should make your decision easier. So, get ready to embrace your inner handbag geek — let's get down to the details of Caviar vs Lambskin.
What is Caviar leather?
Caviar leather is one of Chanel's staple bag materials. It's made from calfskin that has been treated and given a pebbled finish. Thanks to this, it's known for being reliably durable and sturdy and is a popular choice for the first Chanel bag. It comes in a few different finishes, with the most common being matte, shiny and textured/rigid. You'll also come across Caviar bags in soft, iridescent, suede and washed finishes.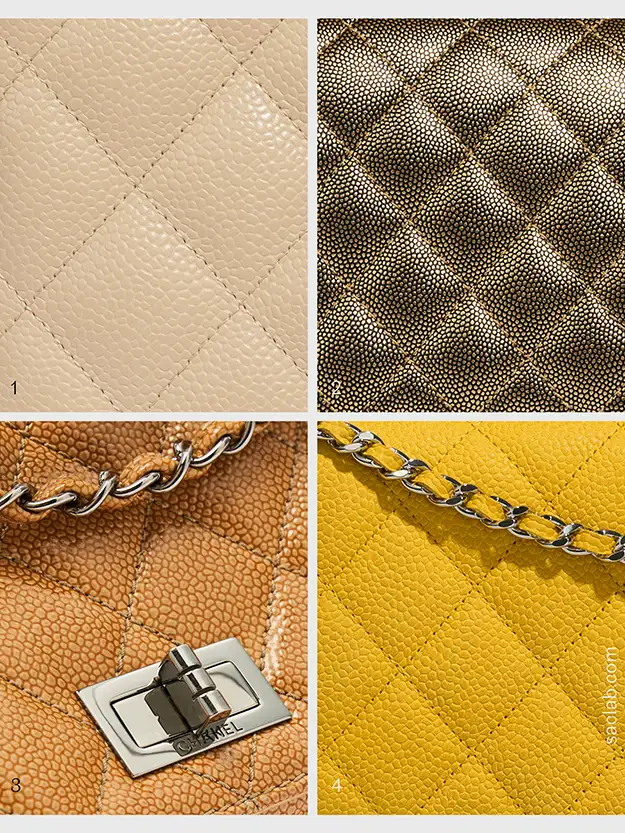 What is Lambskin leather?
In comparison, Chanel Lambskin is a fine, smooth leather. Untreated, the skin's natural suppleness is the star of the show, offering a velvety softness with a beautiful sheen. Lambskin doesn't have the same variation in finishes due to its au naturel ethos, but you can find Chanel bags crafted in iridescent lambskin, which has a mesmerising shimmer.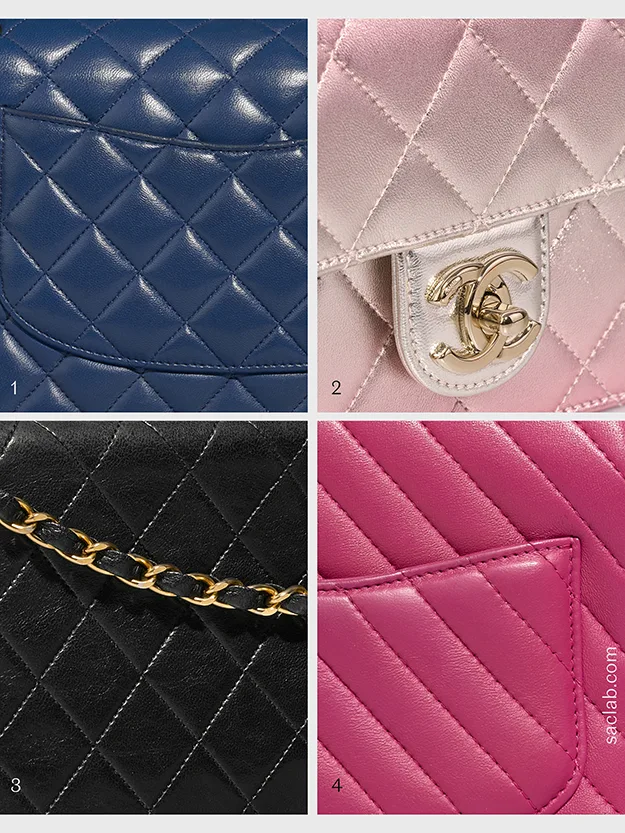 Comparing Caviar and Lambskin leather
Overall aesthetic
When you're choosing between Caviar and Lambskin, consider how you normally style yourself. Are you all about off-duty chic, or do you relish any opportunity to dress up? Caviar leather errs towards the more casual end of the scale, making it a great choice for your everyday bag. The grained calfskin and boxy structure lend it a contemporary edge. In contrast, Lambskin's opulent luminosity and buttery tactility ups the glamour stakes of a classic Chanel bag. There's no denying that Lambskin encapsulates that timeless Chanel aesthetic.
Scratch resistance
It's true — if you run your nail over a Chanel Lambskin Flap bag, or accidentally catch your keys on it, there is a chance it will leave a mark. This is what puts some people off buying Lambskin, despite its beguiling appearance. It should be noted though that most small surface scuffs like this can be easily buffed out of Lambskin. Gently rub your finger over the scratch in a circular motion, and the natural oils in your skin will repair it (or you can use a buffing cloth). Even so, if you invest in a Chanel Lambskin bag, you may need to make peace with the reality of a few scratches here and there. It's the price you pay for such beautiful, delicate leather!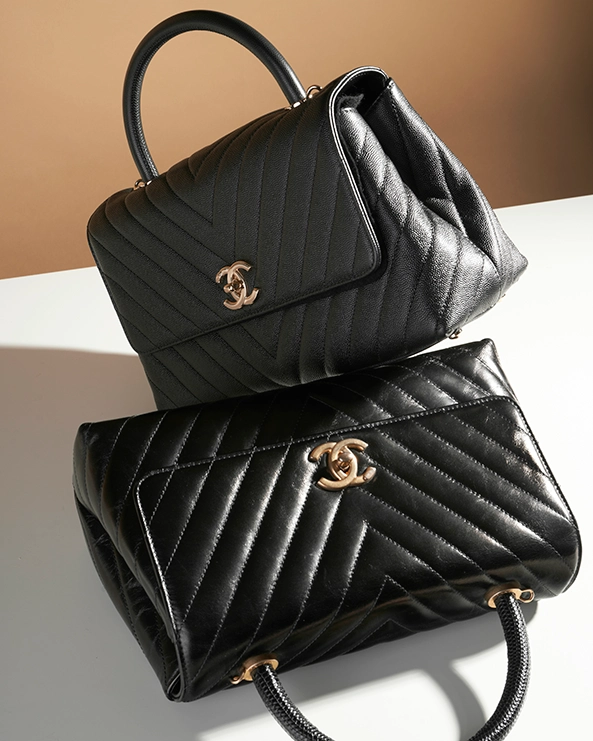 If the idea of scratches fills you with horror, that's where Chanel Caviar comes into its own. Due to its treated finish, it's a far more durable leather than Lambskin, so it doesn't have to be 'babied' as much. A Caviar Chanel bag isn't totally indestructible though. It's just as vulnerable to corner wear as Lambskin, and deep scratches on a Chanel Caviar bag can be tricky to repair.
Water resistance and colour transfer
Chanel recommends that you avoid getting your bags wet, no matter the leather type. If you do get caught in a rain shower (it happens), just dry your bag as quickly as possible. Caviar leather is known for being more water resistant than Chanel Lambskin, however. Because Lambskin hasn't been treated, it's also more prone to colour transfer, where clothing dye can rub off onto the bag. This is something to be really careful of, especially when you have a Chanel Lambskin bag in a light colour and wear it against something like dark denim.
Which Chanel leather ages better?
With its durable structure and relative scratch resistance, Chanel Caviar leather certainly ages well. Look after a Caviar bag and it can still appear as good as new 10 years later. This is particularly noticeable for quilted Chanel handbags. Caviar quilting will retain its puffiness over the years, while Lambskin leather quilting may deflate slightly due to its softness.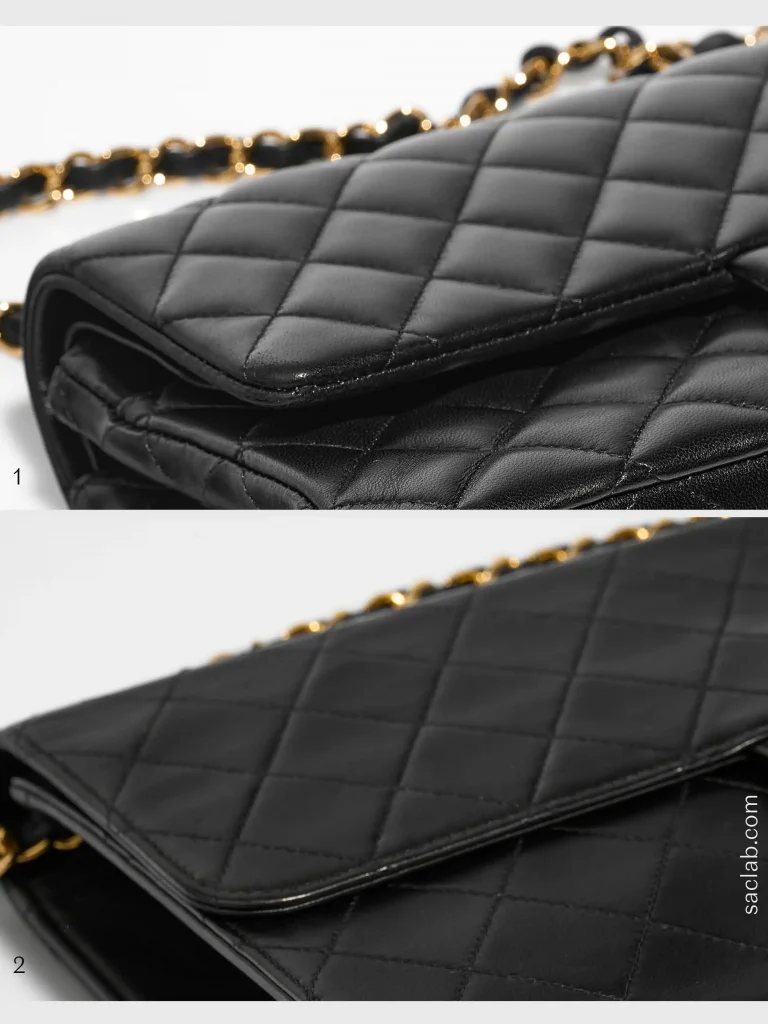 That's not to say Lambskin leather doesn't age well itself. While Caviar bags remain pristine, a Chanel Lambskin bag matures like a fine wine. It gains a beautiful lustre, becoming softer and shinier as it takes on the natural oils in your fingers — so the leather looks even more luxe. Well-cared-for, a vintage Lambskin bag is highly prized for its quality.
Colours
Lambskin has the advantage when it comes to colour saturation. Compare black Lambskin leather and black Caviar leather side by side and you'll see the difference: Lambskin takes on a richer pigment from dyes than Caviar. Blacks are more profound, and brights more vibrant. Caviar leather can almost appear dull in comparison. Some collectors opt for a black bag in Lambskin leather and a light-hued bag in Caviar — black Lambskin doesn't show scratches, while Caviar bags aren't as vulnerable to colour transfer.
If you're hunting for the latest trending colours rather than a classic shade such as black, beige or red, it's worth noting that Chanel produces more seasonal bags in Lambskin leather than Caviar leather. Case in point, this Chanel Timeless Flap Bag in iridescent pink. Some new Chanel bags just aren't available in Caviar leather either, such as the sumptuous Chanel 19. Dive into the world of Chanel colours in our expert guide.
Sizing
Still in decision paralysis? A practical element to consider is the size of your Chanel bag. If you're treating yourself to a small accessory such as a Chanel wallet or cardholder, Caviar leather could be your best option: these high-traffic items need to be able to withstand everyday wear and tear. Similarly, a large tote or shoulder bag might be suited to Caviar leather — it's inevitable that one day you might accidentally scrape your Grand Shopping Tote, Flap Bag in the Jumbo size or Deauville shopper on a wall or door.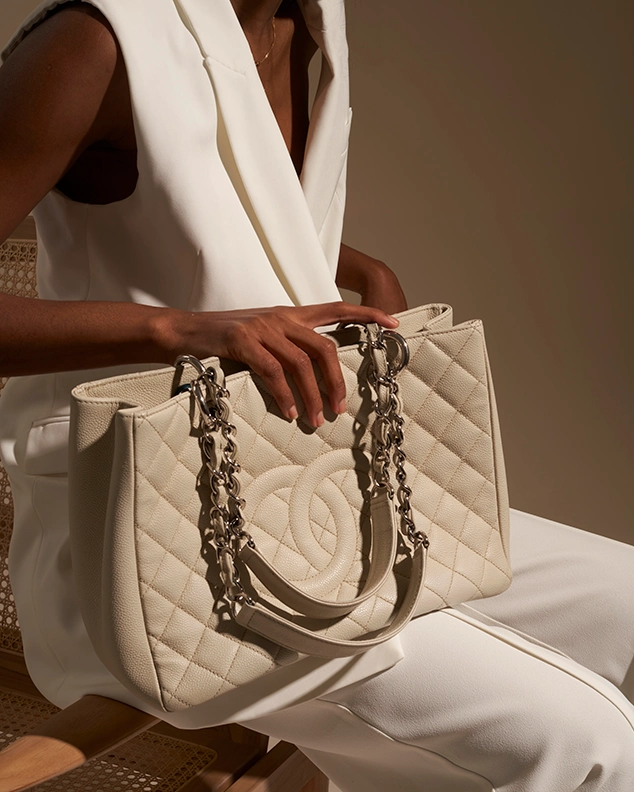 It's those medium-sized bags, such as the Chanel Classic Flap Bag and the Boy, that are Lambskin's sweet spot: dainty enough to tuck under your arm in a rainstorm and generally keep out of harm's way.
Pricing and resale value
So, which leather is more expensive — Caviar or Lambskin? On the primary market, there's little difference in retail cost. While Caviar can command higher prices on the resale market, we find it's always down to the individual bag and its condition and rarity. There's no denying that your safest bet as a Chanel investment piece might be a classic Chanel bag in black Caviar leather, as it has a much better resale value. These handbags are always popular on SACLÀB, hold their value well, and are relatively easy to keep pristine over the years. Ultimately though, we say follow your heart, not your head, and choose the designer bag that you'll cherish wearing today.
Ready to make your decision? LET US KNOW if you're in the Caviar or Lambskin camp, and we'll take care of the rest.
Looking to sell your designer handbag?
Get an offer today and start selling
Sign up to our newsletter
Be first in line for our latest arrivals, alongside journal updates, exclusive treats and more
Thank you! You've successfully subscribed.
Thank you! You've successfully subscribed.
It seems you are already signed up!
Please enter the correct email address
By subscribing I accept the privacy policy and the indications specified on data handling.
Make a Request
We do our best to find bags for our customers on request. However, this might take up to 6 months.
Warning!
You have reached the limited requests per customer.
Thank you for your enquiry!
Please check your email for further instructions.
You have reached the limited requests per customer.