Find Your Chanel Flap Bag Size
SACLÀB ICONS
Coco, or "darling" in French, is the nickname for the brilliant lady behind the beloved Chanel handbags, which have become a true classic among fashion lovers. The recognisable diamond quilting, quintessential interlocking CC turn-lock, and bubbly-textured appearance make it an iconic fashion accessory for every occasion. 
The timeless design of any Chanel bag is firmly imprinted in most of our minds. Especially the Chanel Classic is an unwavering favourite. One striking feature of this beloved bag is its long leather-and-chain strap that can be worn crossbody or single-chain as a shoulder bag. Choosing how to wear it depends on your personal style, but it will bring a sense of refinement to everyone's ensemble.
The versatility of the Chanel Classic is what makes wearing it so effortless. However, this practicality was not always as self-evident as we now expect it to be.
To cue you in on a little history lesson: In February 1955, appropriately named after the date of its conception, the 'Chanel 2.55' was introduced, ushering in a new movement in the fashion sphere – the shoulder strap. Women were no longer bound to walk around holding a clutch but could freely hang their newly acquired luxury Flap Bag on their shoulders.
However, this is not the only remarkable feature of this bag.
The Era of Change
The original 2.55 Flap Bag was the first of many, with several tweaks and changes added over the years. The bag was first redesigned by Karl Lagerfeld, Chanel's Creative Director, circa 1984. He changed the Mademoiselle lock to the interlocking CC turn-lock we know and love today. Introducing these first few changes, the Chanel Classic Flap Bag was born.
Its most current transition is the name change from the Chanel Classic Flap Bag to the 11.12, named after the original style code of the Medium Classic Flap – A01112.
Find out more about the original Chanel 2.55, its Reissue, and the Classic Flap Bag to understand the myriad changes this iconic bag has lived through.
Coco Chanel was indeed a revolutionary fashion designer, but if you're on the brink of your Chanel journey, choosing between the different Chanel Classics might feel overwhelming. Alas, seize your worries. We will guide you through an extensive analysis of the different sizes of one of Chanel's most iconic handbags: the Chanel Classic Flap Bag.
The 7 Chanel Classic Flap Bag Sizes
This style of Chanel handbag is available in seven different sizes and a range of different colours changing with the season.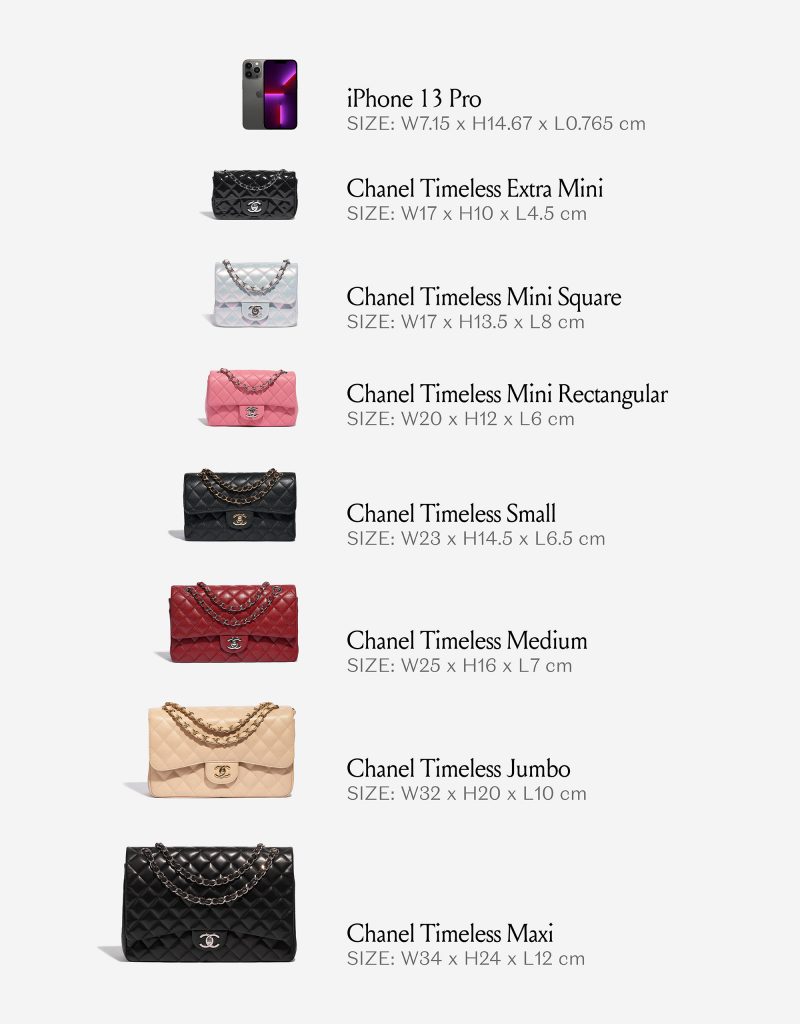 Every individual bag is distinct from the others in the sense that they will each give a unique look to your ensemble; likewise, what a particular Chanel Flap Bag will carry ranges from a simple phone and wallet to your MacBook to an extra arsenal of makeup.
We've set up a quick overview to give an impression of the seven Chanel Classic Flap Bag sizes and their distinct features. The sizes below are in width x depth x height, provided in centimetres. Listed alongside the dimensions are the bag's strap length, the strap drop (distance between the strap's top and the bag's top edge when worn on the shoulder), and the strap drop when doubled. Beware that all dimensions are approximated, as specific sizes vary with the leather type and production date.
Chanel Classic Flap Bag sizes
The 7 different sizes in cm
| | | | |
| --- | --- | --- | --- |
| Size | Dimensions | Shoulder strap | Shoulder drop  |
| Extra Mini | 17 x 10 x 4.5 cm | 127 cm | 57 cm |
| Mini-Square | 17 x 13.5 x 8 cm | 118 cm | 54 cm |
| Mini-Rectangle | 20 x 12 x 6 cm | 132 cm | 58 cm |
| Small | 23 x 14.5 x 6.5 cm | 119 cm | 54 cm |
| Medium | 25 x 16 x 7 cm  | 121 cm | 49 cm |
| Jumbo | 32 x 20 x 10 cm | 140 cm | 60 cm |
| Maxi | 34 x 24 x 12 cm | 142 cm | 59 cm |
How to Style the Flap Bag's Strap?
You can wear all Chanel Classic Flap Bag sizes crossbody or as a shoulder bag. When doubling the strap over your shoulder, the bag falls a little higher on the ribcage. However, there are some exceptions depending on your personal preferences and body type.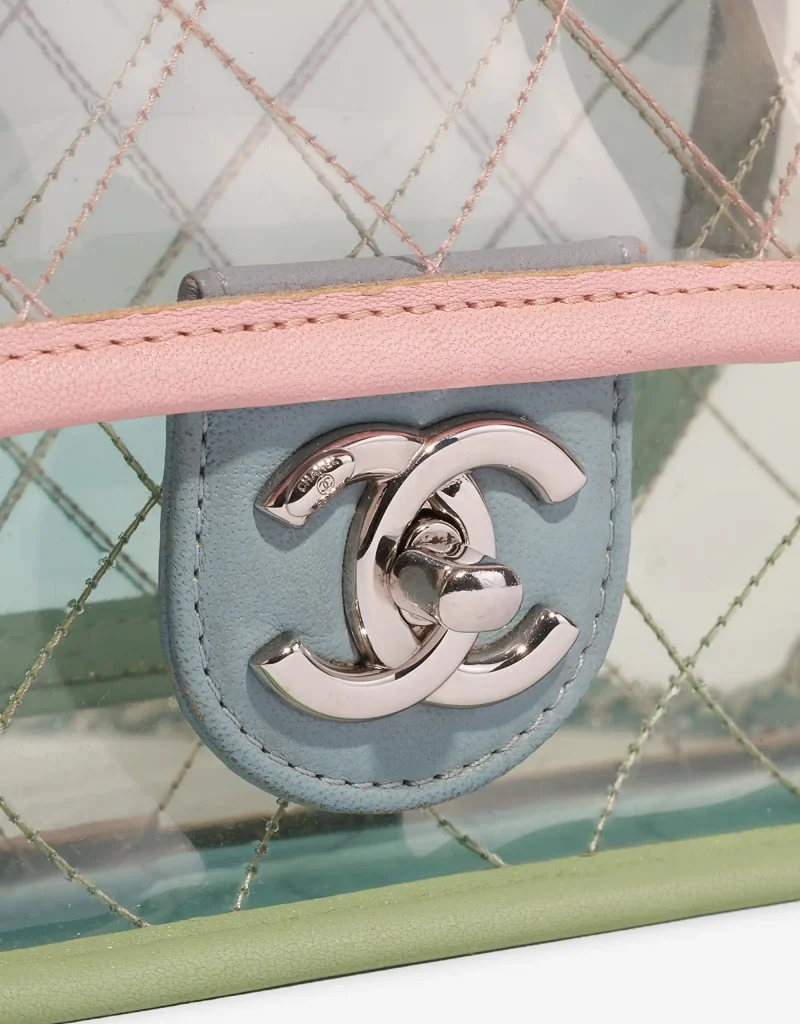 Cross-bodied, the Small size might feel on the tight side on top of puffier winter coats, and the Jumbo and Maxi Chanel can fall a little awkward on the hip. Moreover, the shoulder strap of the Extra Mini, Mini Rectangular, and Chanel Mini Square Flap Bag can be tucked into its compartment, moulding the Chanel bags into a formal evening clutch.
However, whether as a shoulder bag or crossbody for an on-the-go look, it all depends on personal preference. Read on to discover which kind of Chanel Classic Flap Bag is best for you!
The EXTRA MINI Flap Bag (Discontinued)
Good things really do come in small packages. The series of mini handbags in this collection give your appearance a softer, more casual look. Whether this size is part of the 'Classic Flap' line by Chanel is widely disputed by fans. However, since it's so similar in appearance to its larger counterparts, we have included the Extra-Mini in our list. Still, a clear distinction becomes apparent in its lower price tag and a sole single flap as opposed to a single or double flap in larger sizes.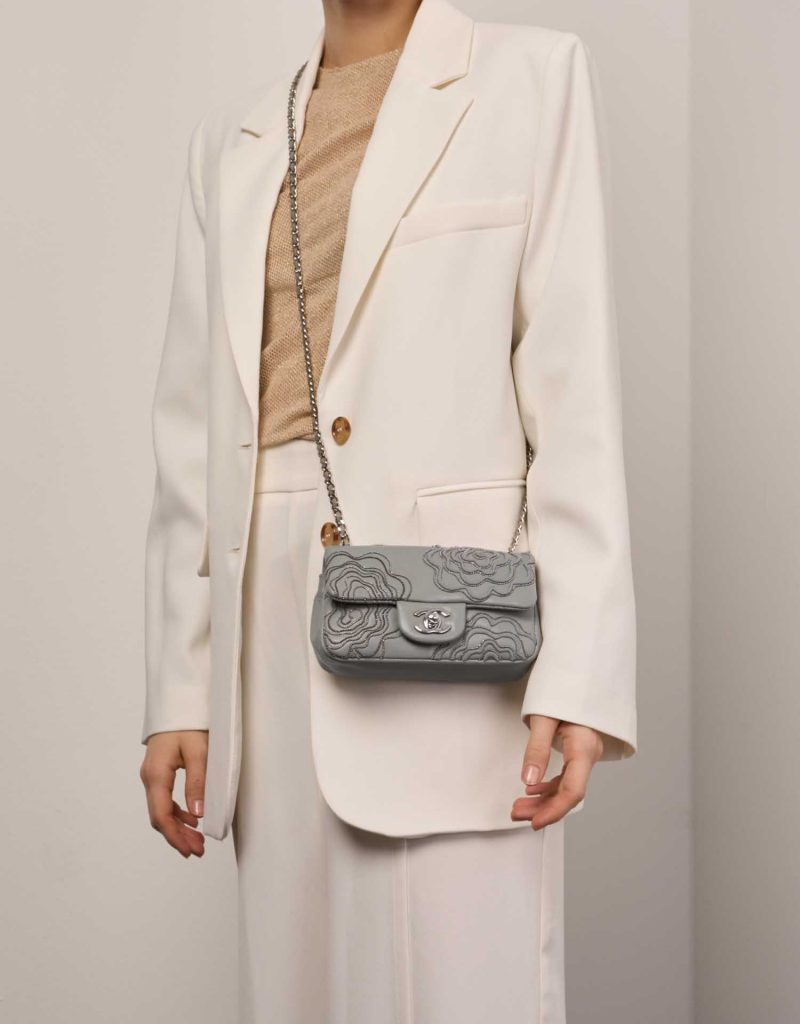 If you were to find the Classic Extra Mini Flap Bag in your grandmother's wardrobe, you would be one of the lucky few to obtain this hard-to-find statement piece. The first and smallest design in this list has been out of production since 2019.
What Fits Inside the Extra Mini Flap?
With two main compartments, a central divider, and a front pocket, the Extra Mini Flap is great for holding your cards, a key pouch, lipstick for touch-ups, and potentially some wireless headphones. When you swap out the key pouch and headphones, most phones smaller than 15 by 7 cm will fit as well.
With a bit of love and patience, you can arrange your most beloved belongings in this tiny bag.
The MINI-SQUARE Flap Bag
Reissued in 2010, this boxy version of the Classic Chanel bag has a more avant-garde look to its design. Unlike its rectangle Mini counterpart, the distinct demeanour of the Chanel Mini-Square is contemporary yet classic. If you're a fan of the fabulous tiny-bag rage that comfortably carries your lipstick and keys -but nothing else, this bag will be a marvellous addition to your collection.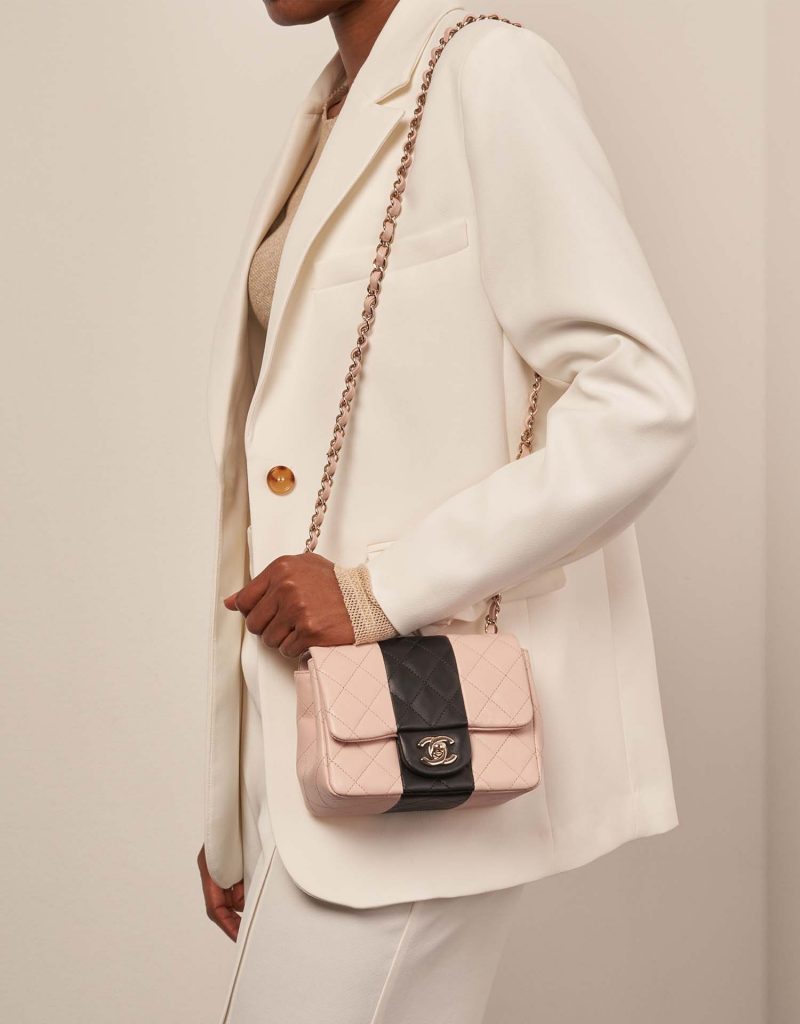 Only available with a single flap, the Chanel Mini-Square has one large compartment, a flat zippered section inside, and a flat 'Mona Lisa' pocket on the back. This back compartment is prevalent in all Chanel Classic Flap Bag sizes and is reminiscent of the famous model's wry smile, hence the name.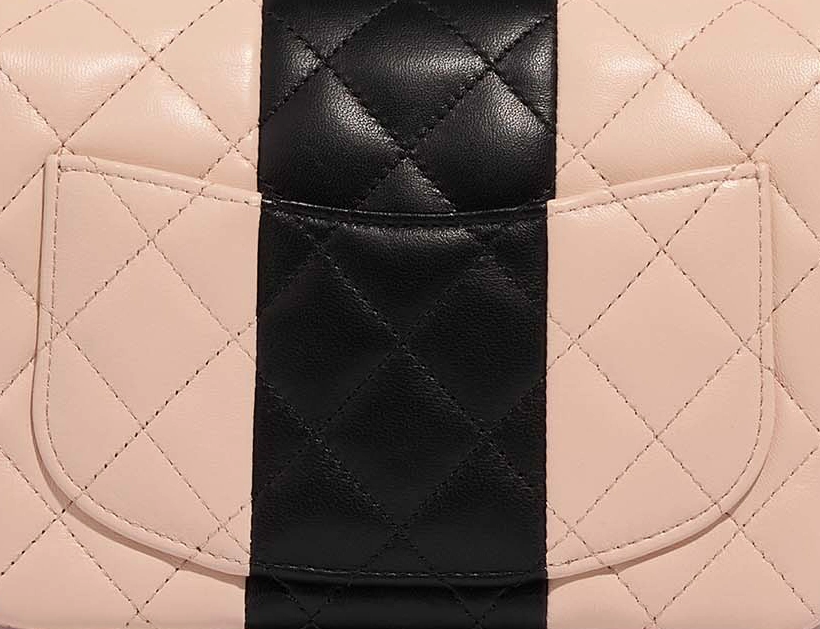 What Fits Inside the Mini-Square Flap?
Unlike the Mini-Rectangle, be sure to measure your phone against the dimensions of the Mini-Square, as it might not fit in this tiny bag. Similarly, your wallet might be too big, but some pocket change in one of the bag's zipped compartments will undoubtedly fit next to your other appurtenances. Either way, donning this playful Square Mini will make you stand out against the crowd.
The MINI-RECTANGLE Flap Bag
The Mini-Rectangle Flap Bag is the most similar to its larger counterparts. Buying this luxury designer bag in a snow-white caviar leather look conveys simplicity and elegance, while an exotic pink in a light-reflecting patent fabric is a bona fide head-turner. Learn more in our guide to Chanel leather types and materials.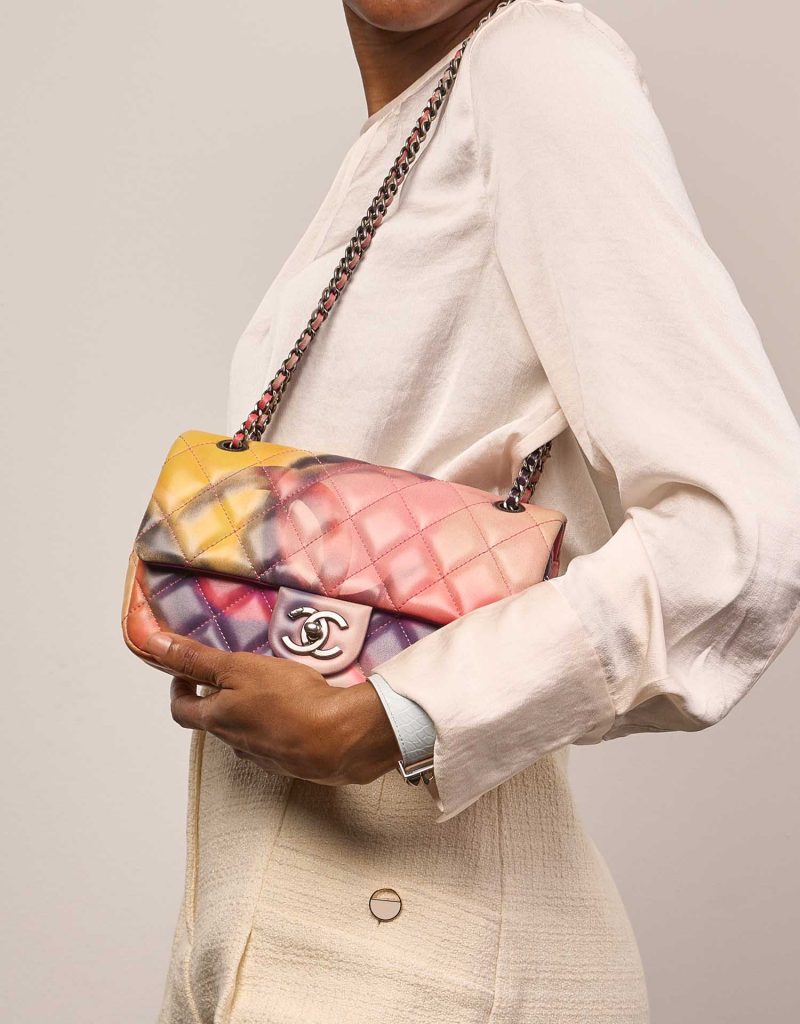 If you prefer a more timeless look, sporting this classic Chanel in one of its classic shades of white, beige, red, or gold finish will surely do the trick.
What Fits Inside the Mini-Rectangle Flap?
While small and dainty, this single-flap bag fits your phone, a set of keys, and a lipstick. As this rectangular Mini will not carry a full-sized wallet, a cardholder is a viable alternative if you wish to treat your friends to drinks on a night out.
The SMALL Flap Bag
Consistent with the other styles in this collection, the Small Flap Bag features classic Chanel hardware. You can identify the Small Chanel Flap Bag by counting seven diamonds stitched across the flap.
What Fits Inside the Small Flap?
The Small Classic Flap is the first of this series to contain either a softer single- or the more rigid double-flap currently in production. The modest compartment will carry all your compact necessities, varying from your phone, wallet, and keys, to several makeup articles and tissues, for a touch-up at the end of a long day.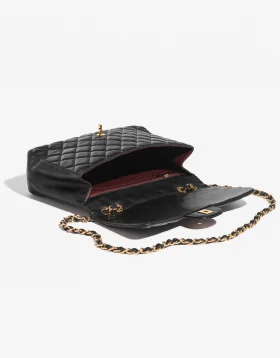 1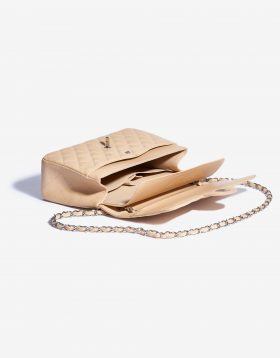 2
Naturally, the zip pocket located discreetly underneath the handbag's outer flap can also be used to carry love letters to your significant other. Coco is rumoured to have used the double-flap in the 2.55 for this reason when she first designed the predecessor of this Timeless Classic.
The MEDIUM Flap Bag
Undisputedly the most popular style in this Timeless Chanel collection, the Medium Flap Bag brings an opulent flair to your look. With its familiar single or double flap, Chanel lovers and loyalists pick this bag out of the wide range of designs as a fabulous everyday bag.
What Fits Inside the Medium Flap?
The timeless Medium Classic carries an abundant array of personal belongings. Its seven pockets are convenient for storing your small essentials, such as your phone, wallet, keys, and headphones. Additionally, varying items depending on the occasion, like sunglasses, hand sanitiser, a compact mirror, and lipstick, will fit as well.
If you're looking for a classy luxury designer bag as a first-time investment, the Medium Flap Bag is a perfect way to ease into the world of high-end, sought-after handbags. To understand what considerations you should make before buying your first Chanel Timeless Flap Bag, SACLÀB has developed a simple guide for your convenience.
The JUMBO Flap Bag
Produced at the end of the last century, the Chanel Jumbo is a little larger than the originator of this series. It carries more than the average luxury handbag while still being a viable everyday handbag.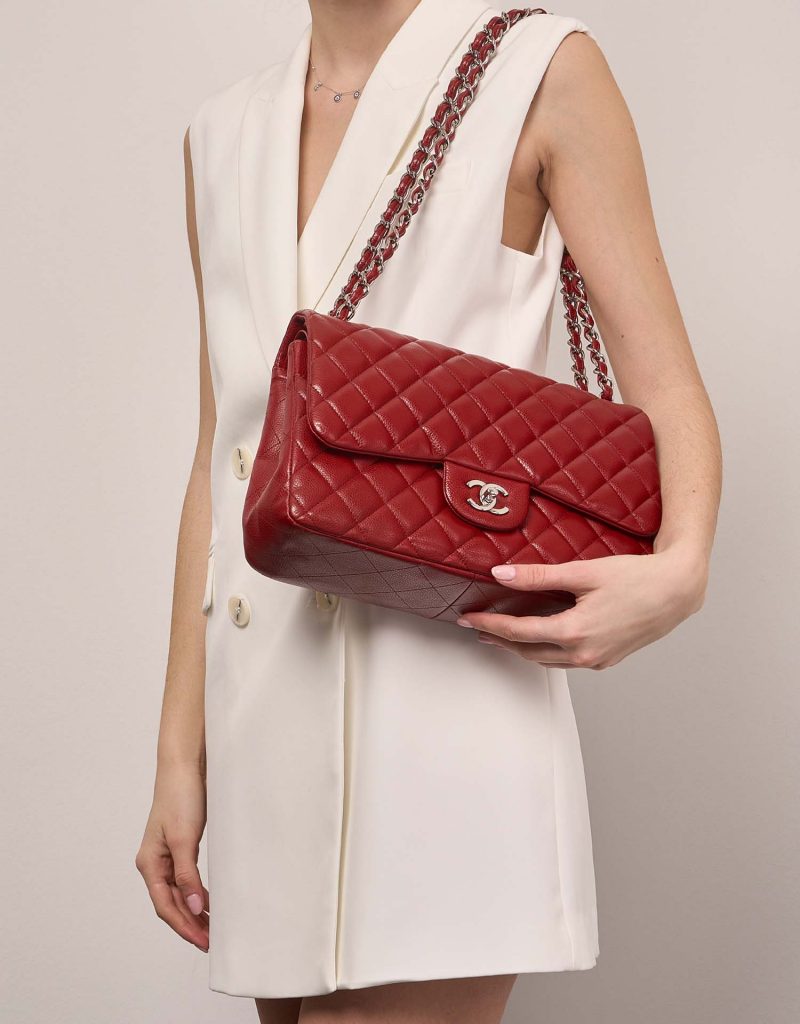 What Fits Inside the Jumbo Flap?
If you're a busy bee who likes to have all their daily essentials – and perhaps some non-essentials – always readily available, the Jumbo Classic Flap might be for you. Fitting an iPad, a full wallet, a portable charger, a phone, glasses, and toiletries, but also a camera and hair straightener or a small bottle could be stationed neatly in this sizable bag.
Another unique feature of the Jumbo Classic Flap Bag is its one-of-a-kind stitching in vintage Chanel handbags in this series. Found only in older Jumbo renditions, this luxury handbag was made with edge stitching – similar to "Sellier" for Hermès bags. Their counterparts: all lambskin Maxi, Medium, Small and Mini Classics (not caviar), were made with stitching hidden on the inside.
The MAXI Flap Bag
Created a mere year before the Jumbo Flap Bag and the largest designer bag of this Timeless series is the Chanel Maxi Classic Flap. While not as immensely popular as the Medium sized Flap Bag, it is a largely underrated bag style that should definitely be added to your collection.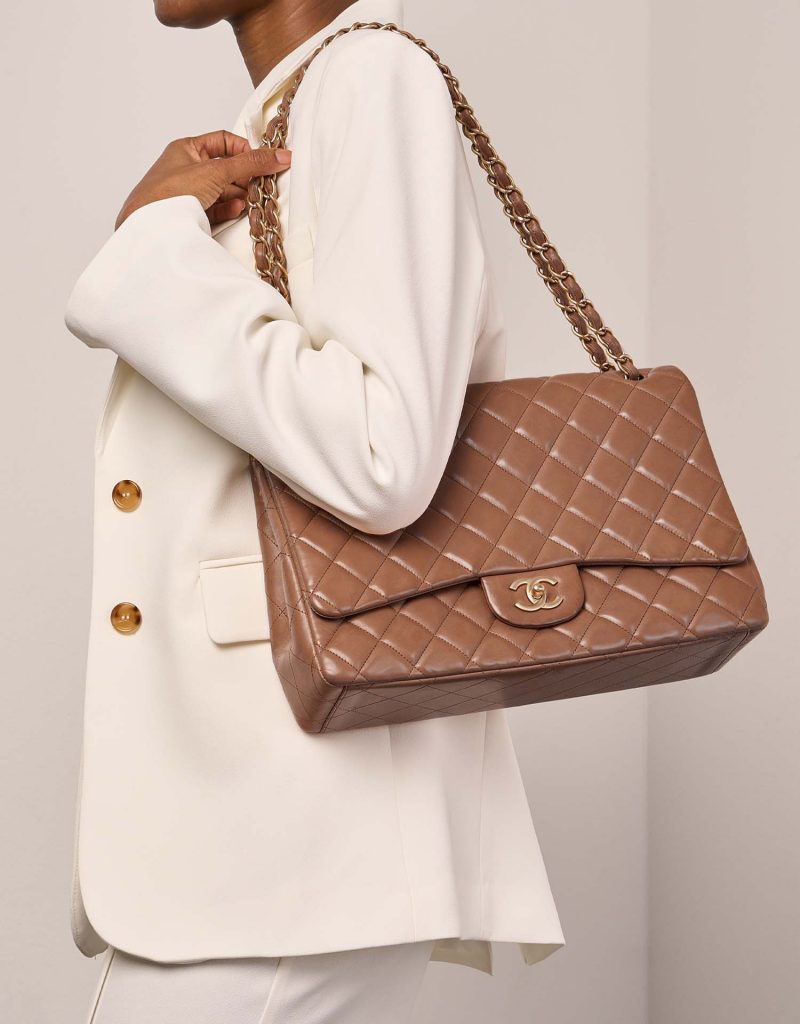 Like all Chanel Flap Bags (excluding the minis), this style comes with a double flap – consisting of an exterior and interior flap plus a spacious compartment. Alternatively, you can opt for a single flap, making the generous-sized bag a bit lighter. However, Chanel discontinued production of the latter style as a double-flap will hold its form better, making the designer bag more durable. All Flap Bags have several pockets to store your belongings, providing enough space to keep things organised.
What Fits Inside the Maxi Flap?
This spacious Chanel Flap Bag comfortably fits a laptop, phone, wallet, keys, a compact umbrella, and a travel-sized makeup bag or book. It is essentially the chic version of a backpack, so perfect for a glamorous getaway.
If you're an experienced Tetris player, you might even be able to fit in an extra pair of Louboutins. One remark: filling this spacious bag will make it significantly heavier than the smaller Chanel bags.
Now that you're all caught up on the seven Chanel Classic Flap Bags, it is time to find a handbag that fits your personality, fashion style, and body frame best.
Peruse SACLÀB's website for the Chanel Classic Flap Bag of your dreams!
Looking to sell your designer handbag?
Get an offer today and start selling
Sign up to our newsletter
Be first in line for our latest arrivals, alongside journal updates, exclusive treats and more
Thank you! You've successfully subscribed.
Thank you! You've successfully subscribed.
It seems you are already signed up!
Please enter the correct email address
By subscribing I accept the privacy policy and the indications specified on data handling.
Make a Request
We do our best to find bags for our customers on request. However, this might take up to 6 months.
You can only create 3 requests at a time
Please remove one of your current bag requests to submit a new one.
Thank you for your enquiry!
Please check your email for further instructions.