The Hermès Herbag: An Appreciation
SACLÀB INSIDERS
Is an Hermès Kelly on your dream bag wishlist, but outside your budget? Meet the Hermès Herbag. Featuring a familiar trapezoid silhouette but costing a fraction of the price of a Kelly, this low-key hero of the Hermès family is the perfect entry point for starting your collection — and incredibly chic in its own right! As its star continues to rise, here's our essential guide to the Hermès Herbag.
A potted history of the Herbag
Sometimes referred to as the 'Kelly Country', the Hermès Herbag is remarkable in that you can completely detach the leather top of the bag and swap the base for a different design. The exact launch date of the bag isn't known, but vintage styles can be found from both the '80s and '90s. Some Herbags from this period even come with two interchangeable bodies — a true two-in-one bag!
Hermès discontinued the original Herbag in the early 2000s, before reintroducing it in 2009 as the 'Herbag Zip'. The design remained largely the same, with two key differences for added practicality: an external zipped pocket, and an internal removable pouch. It stayed relatively under the radar throughout the 2010s, until 2019, when Herbags featured prominently in Hermès' SS19 runway show. Since then, the bag has steadily grown in popularity, thanks to its cool utilitarian aesthetic and accessible price. It's a non-quota bag, meaning it doesn't count towards the annual allowance set by your SA, and at times you can even purchase it straight off the shelves in boutiques or on Hermès' website.
The details
What makes the Herbag so alluring? It's a combination of the bag's versatile construction, contemporary materials and classic design. The Herbag has the same ladylike shape as the Kelly Bag: a sophisticated trapezoid with a short top handle for carrying in the crook of your arm, as well as a longer shoulder strap. However, unlike the Kelly, the main body of the Herbag is crafted from heavy structured Officier or Berline canvas, while the top flap and straps are made from Hunter leather, a stiff and durable cowhide. This lends the Herbag an air of understated practicality. It's not a handbag that you have to 'baby' in the same way as one of Hermès' trophy bags.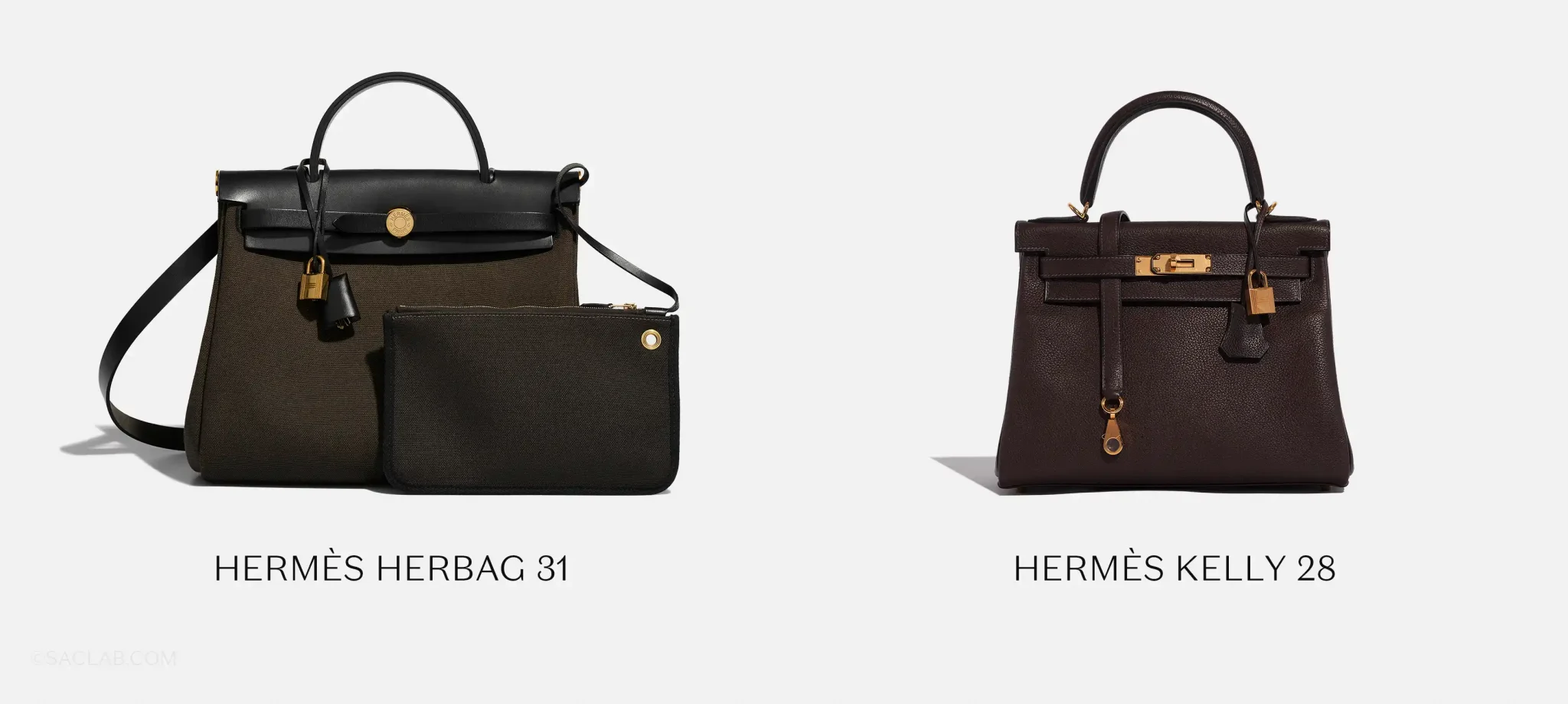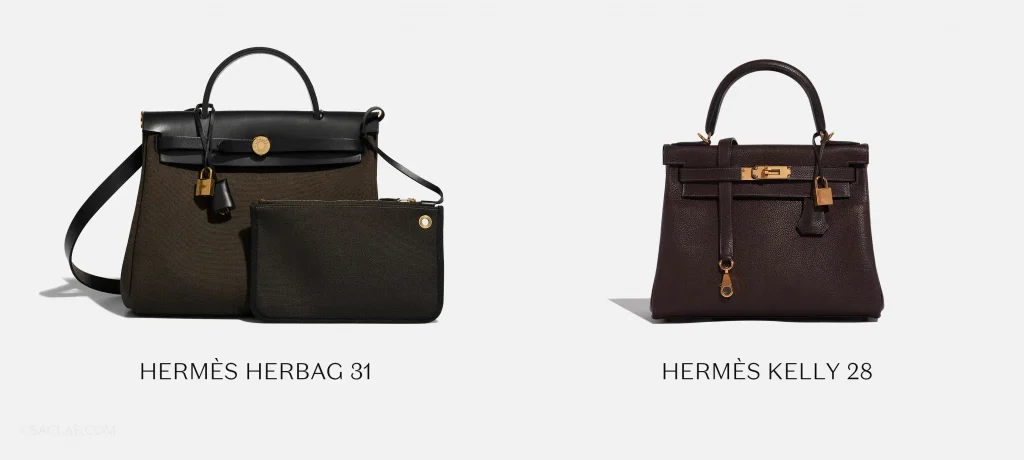 This unassuming character continues in the fact that it's not a logo-centric design: subtle Hermès branding can only be spotted on the two ends of the top rod of the bag and on the central clasp. You could say the Herbag is an accessory for those 'in the know'. It's no surprise that this is one of Hermès' most popular unisex styles too, especially for the larger sizes.
The back of the Herbag has an external zipped pocket, which is perfect for storing items such as your phone or cardholder. Inside, you'll also find a detachable zipped pouch. The top flap features two leather sangles and a 'Clou de Selle' fastening. This is perhaps the most controversial element of the Herbag, as some find it fiddly to open and close. To fasten, you need to push the top flap over the Clou de Selle and then thread the two sangles through it. Our suggestion? Keep your high-use necessities in the external zipped pocket, or leave the bag open for a more casual look.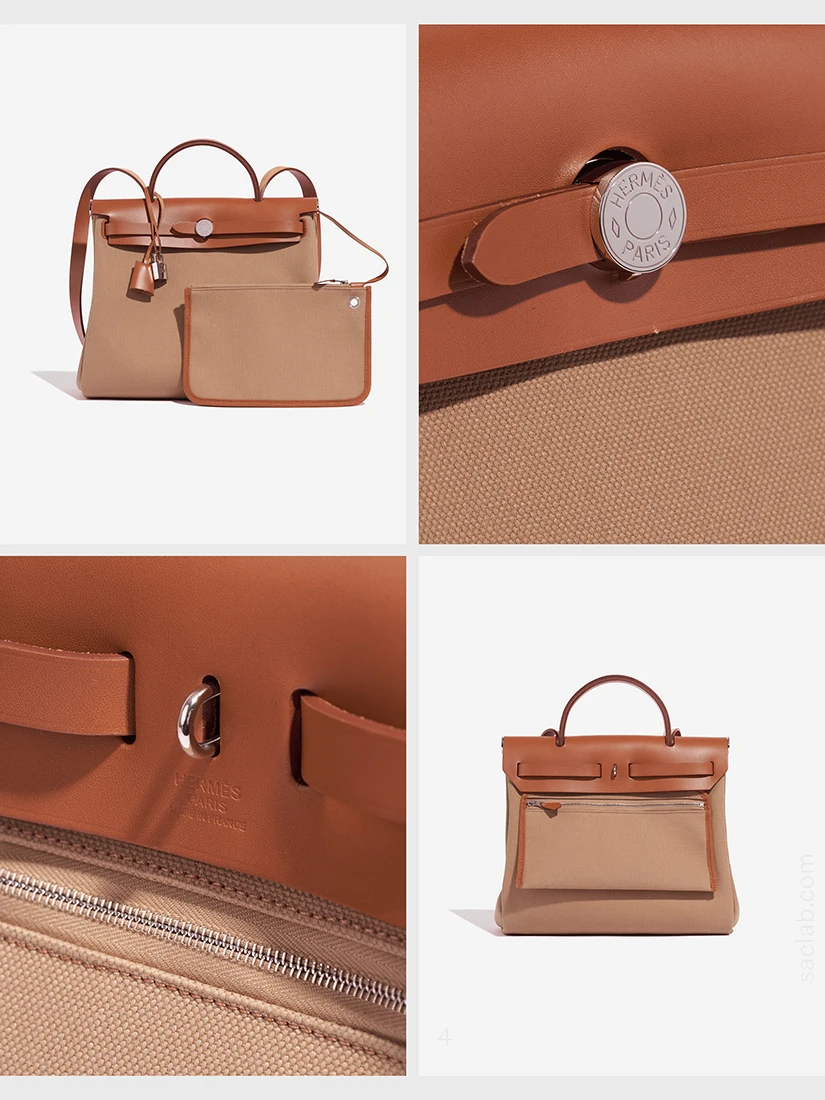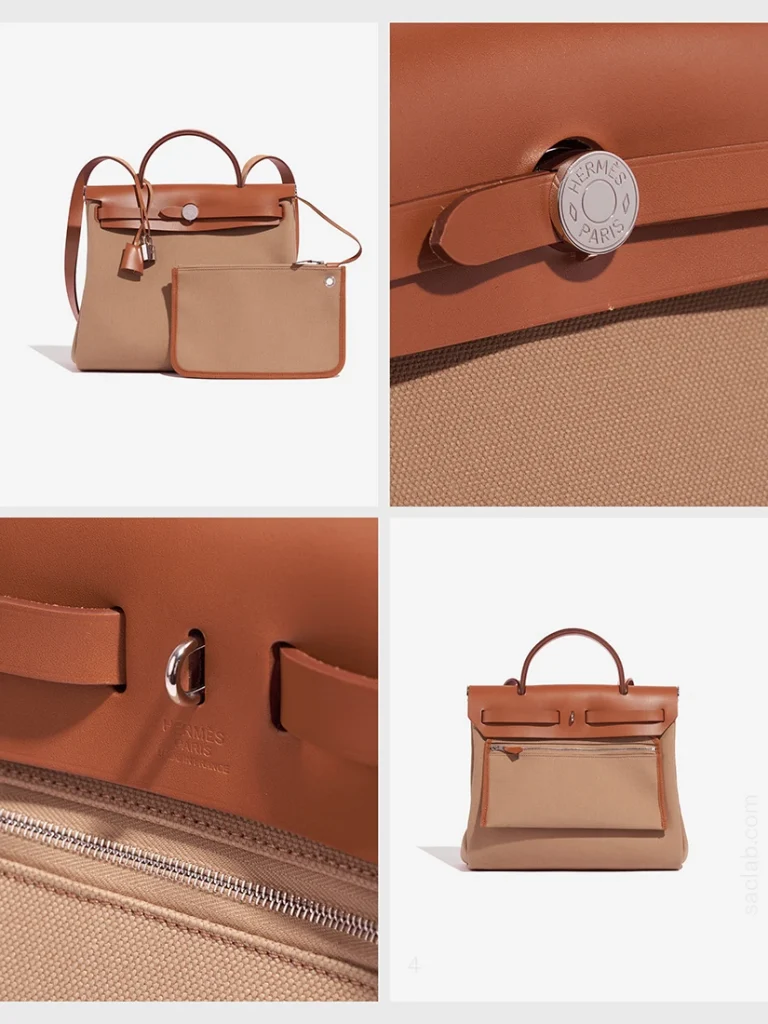 The Herbag comes with a padlock and a clochette. You can loop this around the top handle, or fasten the padlock to the metal ring at the back of the bag. You can also, of course, use it to lock the bag for extra security — one of the sangles has a small hole to thread the padlock on.
Sizes
The Herbag comes in four standard sizes. The Herbag 31 (measuring 31 centimetres at the base) is the smallest style and a great size for everyday use. However, if you'd like to use your Herbag for work, opt for a Herbag 39, which can easily carry a laptop and notebook too. Looking to upgrade your overnight bag? The ultra-capacious and unisex Herbag Cabine 50 or Herbag 52 are just the ticket. Hermès also produces Herbag backpacks, which measure 30 centimetres at the base, with a taller frame — we love this style in Orange H.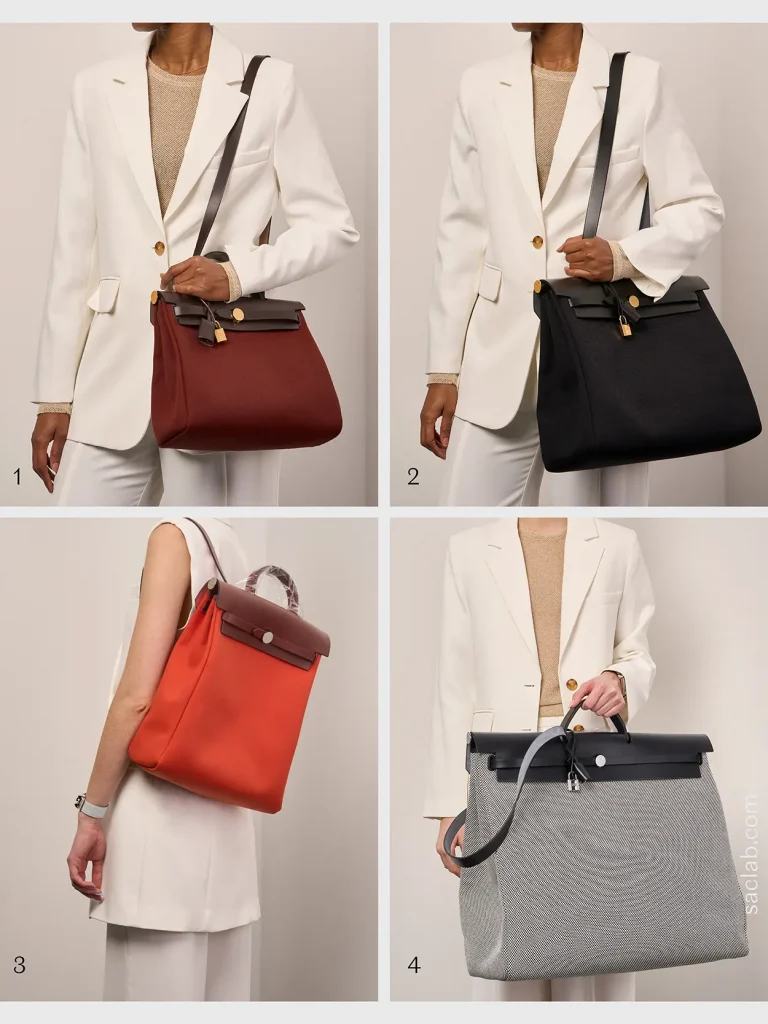 Special editions
The Herbag is a delightful bag to shop for on the secondary market due to the sheer variety of Hermès colours available. You can choose between tonal Herbags, where the top and body match, or search for bicolour, tricolour (and even quadricolour) Herbags for more of a statement.
Rarer to find are patterned Herbags. Launched in 2019, the limited-edition Herbag Pegase Pop features a canvas body with a Pegasus design by Hermès artist Dimitri Rybaltchenko woven onto Ecru canvas, with the leather top coming in shades of Black, Rouge Piment or Nature.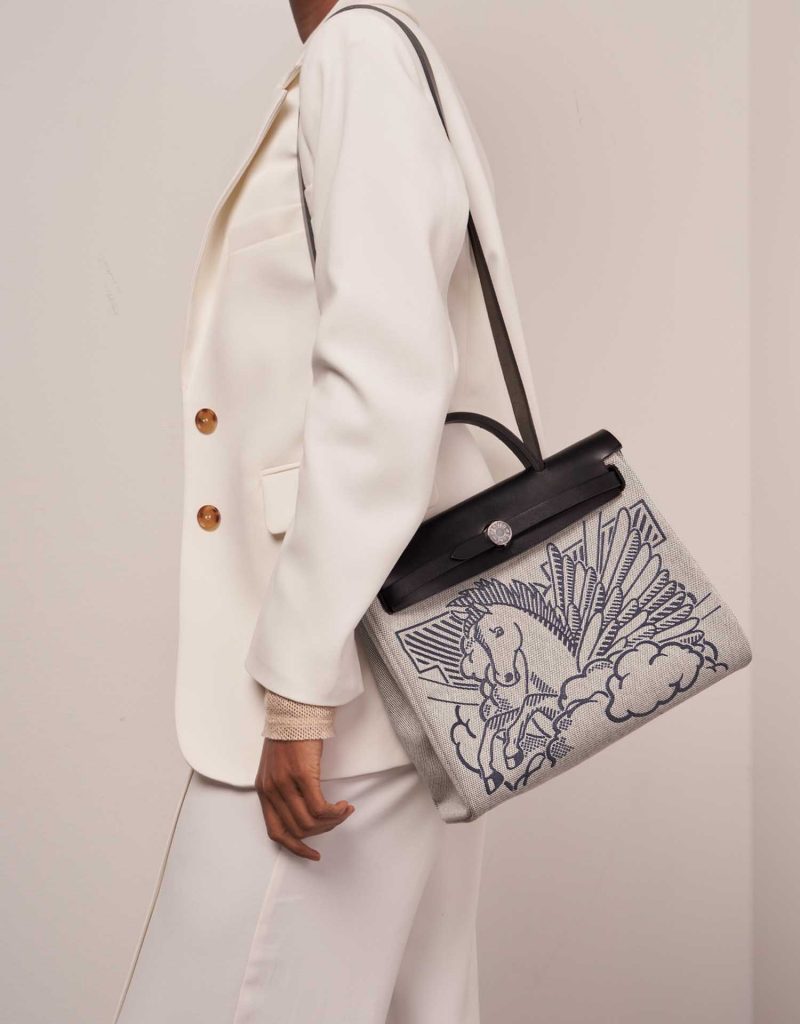 Also released in 2019, the H Vibration Herbag is crafted from canvas printed with Hermès' signature H motif. With a distinctively '70s feel, this graphic bag again comes in tonal shades of Black, Rouge Piment or Nature.
In recent years, Hermès has also produced Herbags with a coated Berline canvas body, which are in high demand in collecting circles as it makes the bag very durable and waterproof. The glossy finish of the coated canvas adds an extra dash of glamour, too.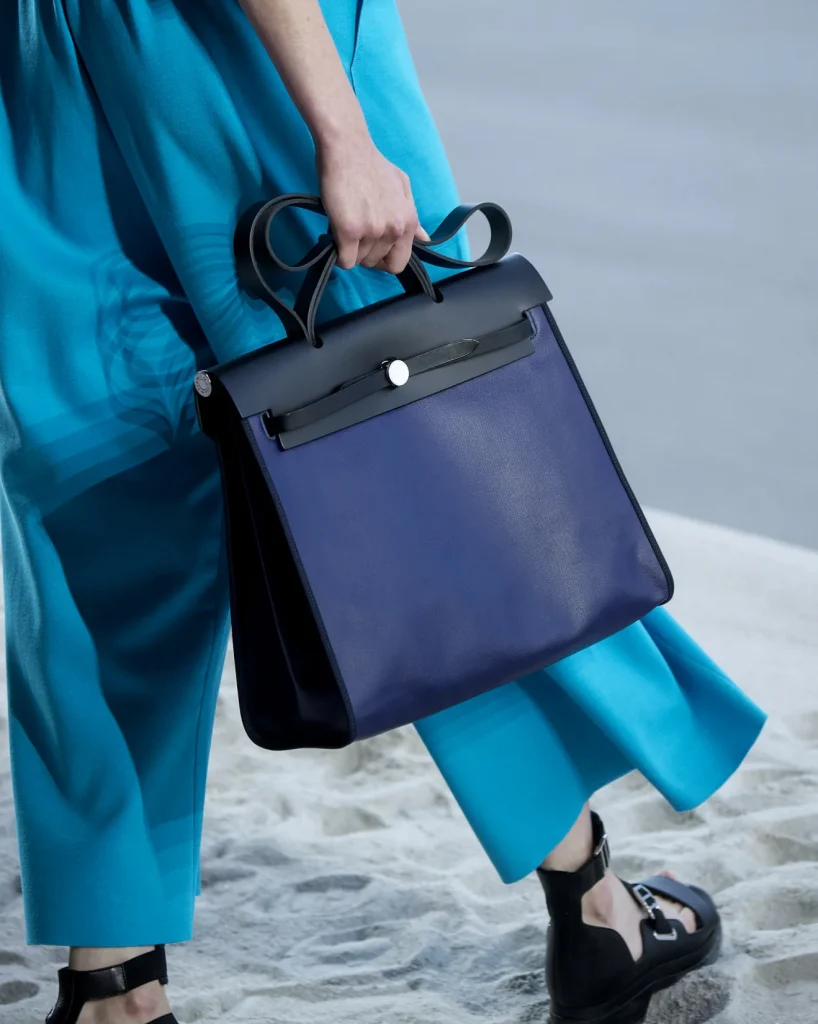 Herbag hacks
Thanks to its multi-talented design, the Herbag has the potential to become the hardest-working bag in your collection. As mentioned, being able to detach the top flap is a game changer — you can mix and match your Herbag bodies to your heart's content!
If you prefer sharp Sellier edges as opposed to Retourne, another great hack for the Herbag is that it's completely reversible. Remove the top and turn the body inside out for a more structured and minimalist shape, hiding the exterior zipped pocket and exposing the inside seams (some of which have contrasting piping, which can look very striking). To note, you can only turn regular canvas Herbags inside out, as the coated styles are too stiff.
Finally, due to its canvas body, the Herbag has a slightly slouchier look than its Kelly sibling. Some collectors like to add a bag insert, which can give additional structure and more pockets for organising your essentials.
Pricing
A Herbag 31 bought fresh from Hermès will currently set you back around €2,170 (a 10% increase year on year from 2022). For a good quality Herbag on the secondhand market, you can budget similarly, with most styles ranging between €2,000–3,500. While the Herbag currently doesn't grow in value as much as a Kelly or Birkin (yet!), we're confident it will be a bag you'll use and treasure for years to come.
Ready to source your perfect Herbag? Browse our complete selection of pre-owned Hermès bags.
Looking to sell your designer handbag?
Get an offer today and start selling
Sign up to our newsletter
Be first in line for our latest arrivals, alongside journal updates, exclusive treats and more
Thank you! You've successfully subscribed.
Thank you! You've successfully subscribed.
It seems you are already signed up!
Please enter the correct email address
By subscribing I accept the privacy policy and the indications specified on data handling.
Make a Request
We do our best to find bags for our customers on request. However, this might take up to 6 months.
You can only create 3 requests at a time
Please remove one of your current bag requests to submit a new one.
Thank you for your enquiry!
Please check your email for further instructions.