Hermès Kelly Picnic: The Ever-Summer Bag
SACLÀB ICONS
With summer in full swing, we can't help but venture out into the world. And what better companion than a truly unique statement bag – meet the Hermès Kelly Picnic bag, our favourite eternal summer style.
Summer Style Design
The Hermès Kelly Picnic bag is a unique and exclusive design that draws inspiration from traditional wicker picnic baskets. It features the familiar structured rectangular Kelly shape with woven Osier wicker exterior and resilient leather accents, making it a structurally sound bag. Paired with crisp and fresh palladium Hermès hardware, it's a sought-after treasure.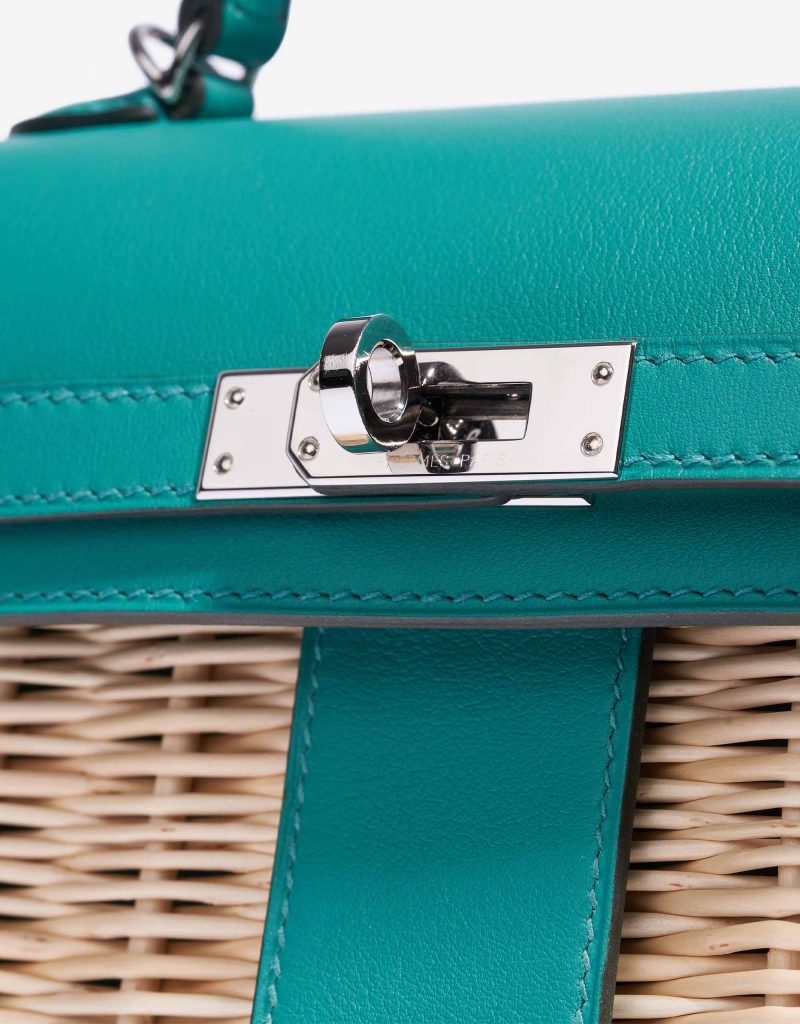 Since this summery incarnation of the Kelly bag is intricately crafted from two very different materials, the Kelly Picnic stands out as one of the few bags that necessitates not only a master saddler for the leather but also the expertise of a basket weaver for the body. While a tediously 10-hour time span is needed to make this summer statement piece, the end result is definitely worth it.
Origins
First introduced in 2011, the then-creative director Jean-Paul Gaultier designed the limited edition Hermès Kelly Picnic 35 in Fauve Barenia as part of his last collection for Hermès. The warm brown colour perfectly captures the sun-kissed landscapes we all hope to explore this year.
Mid-2023, the multifaceted singer and actress Jennifer Lopez was spotted in a gorgeous floral Zimmermann dress carrying the Picnic 35 in the classic colours of Fauve Barenia.
The Mini Picnic versus the Picnic 35
However, if all you need is the bare essentials, the 2019 miniature version might be for you. The Mini Kelly Picnic was initially produced in classic Barenia leather. Only later, a supple Swift version in White, Jaune de Naples, Blue du Nord, Rouge de Coeur, and Vert Verone was introduced. 2021 brought the additional Blue Brume, which is a particularly hard-to-find colour.
This smaller version measures 22 x 11.4 x 6.3 centimetres, and unlike the Kelly Picnic 35, the Mini Kelly Picnic comes with a detachable strap for effortless strolls along the Monte Carlo coast.
Yet whatever the bag makes up for in aesthetics is starkly contrasted with its departure from practicality. This tiny bag may fit a phone, a flat card holder, or several compact makeup articles. However, if you want to go on a full-fledged picnic luncheon with friends, the Mini Picnic might be better as that statement piece slung across your shoulder.
The Hermès Kelly Picnic 35 dimensions are 35 x 28 x 18 centimetres, with 10 cm tall top handles. The larger size makes it optimal for housing a bit more than your basic necessities, and some personal belongings or small electronics can be nicely tucked inside. Nevertheless, the bag's sturdiness still makes it relatively compact. But really, the charm is all in the craftsmanship.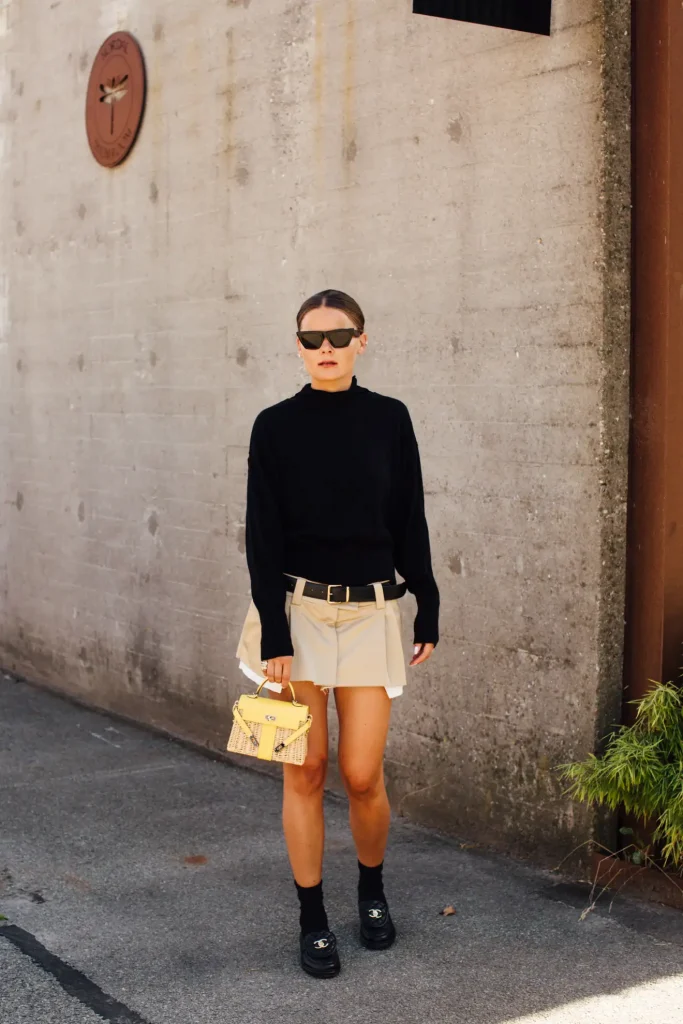 Price range
Since the Picnic is quite a rare collector's item, the Mini Kelly Picnic prices can range between € 40k to € 100k on the secondary market. The Picnic 35, while a bit less coveted, still sells for a price between € 30k to € 50k.
Picnic à la Hermès
Suppose you do plan to go on an elaborate picnic. In that case, we recommend investing in some handbags from Hermès' Summer Picnic Party collection, such as the Garden Party Picnic 36.
A later iteration of the Picnic bag is a reinterpretation of another iconic design: the Birkin Picnic 25. Essentially a Birkin 25 with a wicker body, it exudes the same classy but light-hearted feeling of the Kelly Picnic.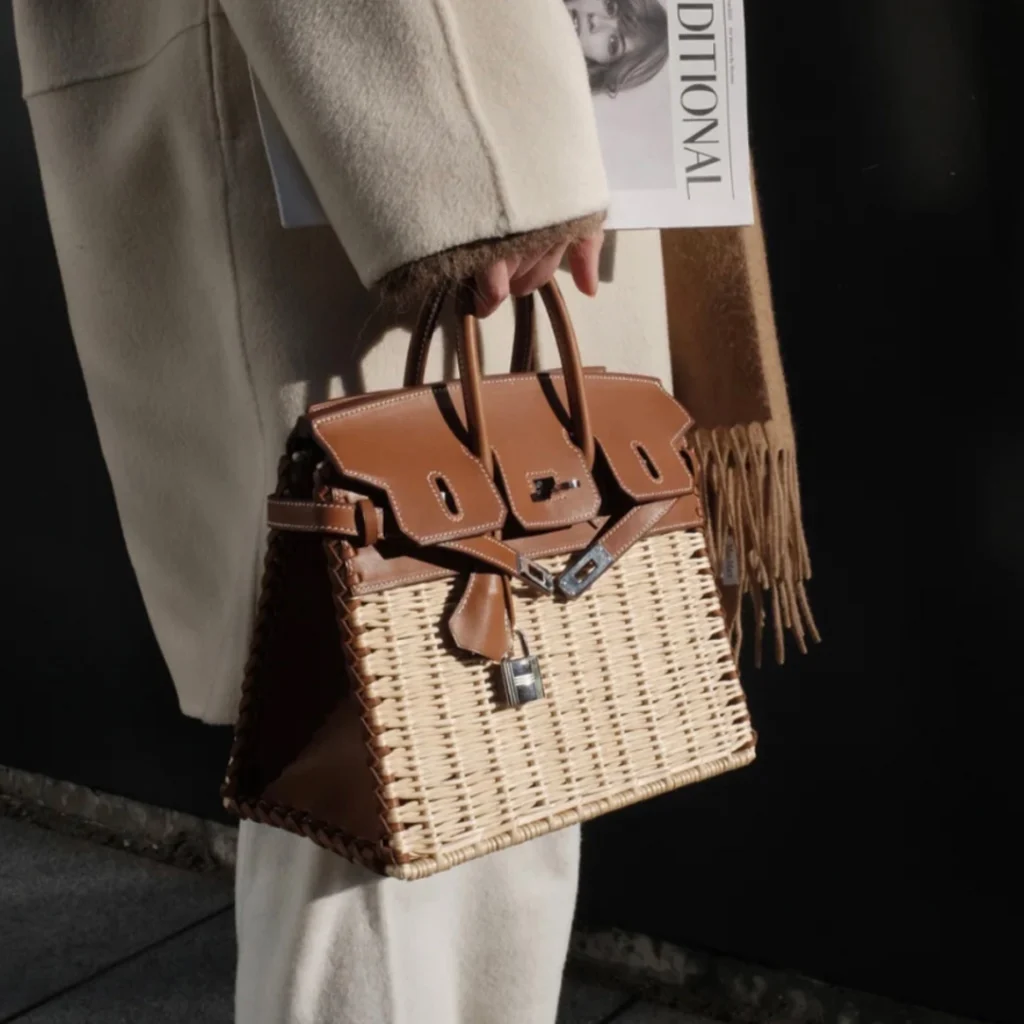 All in all, if you want to roam some sun-soaked seaside destination with an impeccable little handbag in hand, the Hermès Mini Kelly Picnic is the excellent choice for you! You're looking for the perfect piece? Book a personal appointment with our consultants, and we'll source it for you.
Looking to sell your designer handbag?
Get an offer today and start selling
Sign up to our newsletter
Be first in line for our latest arrivals, alongside journal updates, exclusive treats and more
Thank you! You've successfully subscribed.
Thank you! You've successfully subscribed.
It seems you are already signed up!
Please enter the correct email address
By subscribing I accept the privacy policy and the indications specified on data handling.
Make a Request
We do our best to find bags for our customers on request. However, this might take up to 6 months.
Warning!
You have reached the limited requests per customer.
Thank you for your enquiry!
Please check your email for further instructions.
You have reached the limited requests per customer.