Inside her Closet with Olga Löffler
SACLÀB INSIDERS
Step inside the closet of Olga Löffler, a Munich-based photographer, handbag enthusiast and InStyle Fashion Influencer of the Year 2022.
Trendy, fashion-forward and bold, Olga (@munich.with.us) loves breaking traditional fashion rules. With charming edginess and affection for quality pieces, the influencer regularly opts for pre-loved luxury designer bags as a form of creative expression.
«Bags have always been such an important part of my styling because they complete the look, and on the other hand make a statement.»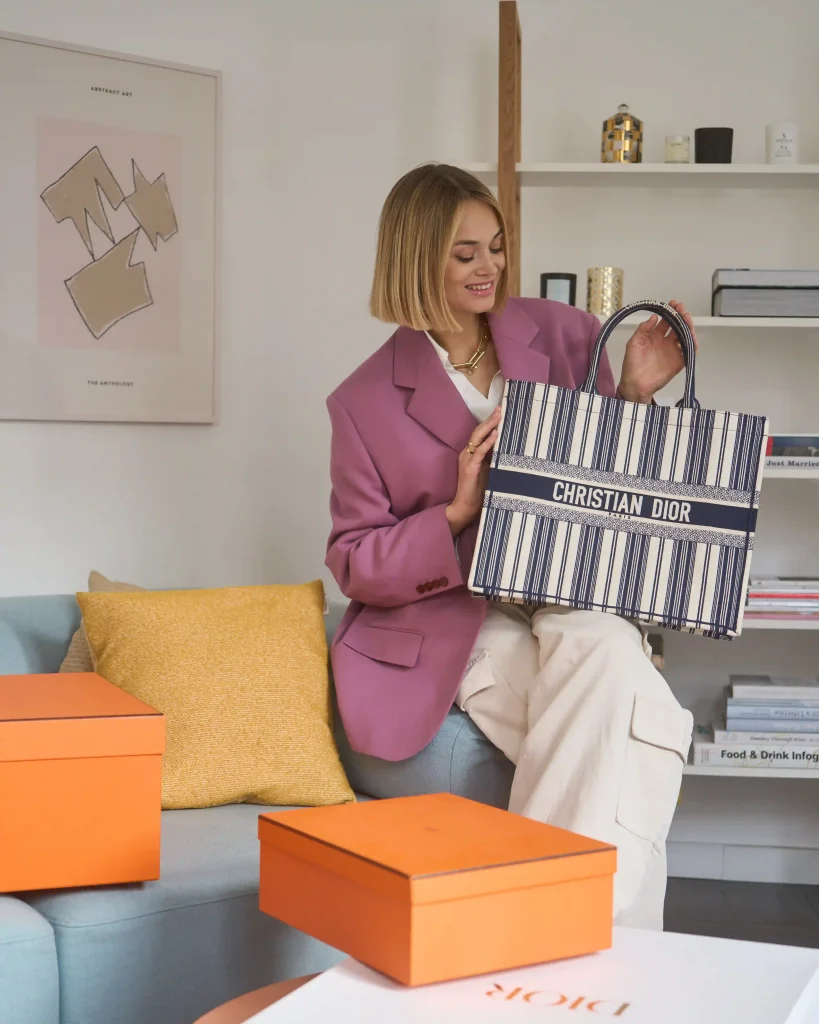 Practising the buy one, sell one rule, she regularly mixes up her wardrobe and rotates (old and new) investment pieces. Watch on to discover Olga's style secrets, and how selling handbags is essential for keeping her immaculate style.
«One bag I am not wearing anymore is this beautiful Chanel Timeless Classic bag. It is in excellent condition and has these beautiful, iconic logos.»
As a mother of two running her own business, Olga doesn't have much time – one of the reasons she decided to sell with SACLÀB. "I just need to upload a couple of photos, then they pick it up and basically sell it for me," she explains.
Are you also looking to sell your designer handbag? Get an instant price recommendation and let our experts take care of everything. At SACLÀB, you enjoy low consignment fees, our free at-home courier pick-up and a €200 shopping voucher to spend in-store. Our experts will help you achieve the highest price and super-swift sale – 48% of Chanel bags listed on SACLÀB sell out within 7 days.
«I love finding pre-loved designer bags, they are such a gem. Circularity is really important to me because I can give a second life to high-quality products.»
Ready to shop? Follow Olga's fashion playbook and browse her curated favourites from SACLÀB's current selection of pre-owned designer bags.
Looking to sell your designer handbag?
Get an offer today and start selling
Sign up to our newsletter
Be first in line for our latest arrivals, alongside journal updates, exclusive treats and more.
Please confirm your subscription in the email you've just received.
Thank you! You've successfully subscribed.
It seems you are already signed up!
Please enter the correct email address
By subscribing I accept the privacy policy and the indications specified on data handling.
Make a Request
We do our best to find bags for our customers on request. However, this might take up to 6 months.
Warning!
You have reached the limited requests per customer.
Thank you for your enquiry!
Please check your email for further instructions.
You have reached the limited requests per customer.