The Chanel Conversation Piece
SACLÀB INSIDERS
Why Chanel bags are a timeless choice for connoisseurs and collectors.
Founded in 1910, Chanel is a byword for effortless Parisian chic. As the house's founder Gabrielle 'Coco' Chanel declared, 'Fashion passes, style remains' ­– and no place does this ring truer than at Chanel. From gamine bouclé jackets and pearl-strewn jewels to a quilted 2.55 bag or the heady scent of Chanel N°5, the signatures of the brand are instantly recognisable – and eternally glamorous.
From cabaret to the rue Cambon
The global brand power of Chanel today is all the more extraordinary for the story of its founder. Gabrielle 'Coco' Chanel was born in 1883 in the French town of Saumur, and experienced a childhood of poverty and tragedy. Coco was illegitimate, and when her mother died of tuberculosis when she was 12, she and her two sisters were abandoned by their father and sent to live in a strict Catholic orphanage. It was Coco's enduring ambition, talent and charm which saw her reroute her destiny. After several years working as a seamstress and part-time cabaret singer, she opened her first millinery shop, Chanel Modes, on the rue Cambon in Paris in 1910, aided by her lover of the time, Boy Capel (after whom the Boy Bag is named). Coco's refreshingly modern designs, compared with the old-fashioned frippery of traditional couture houses, instantly made their mark on the streets of Paris.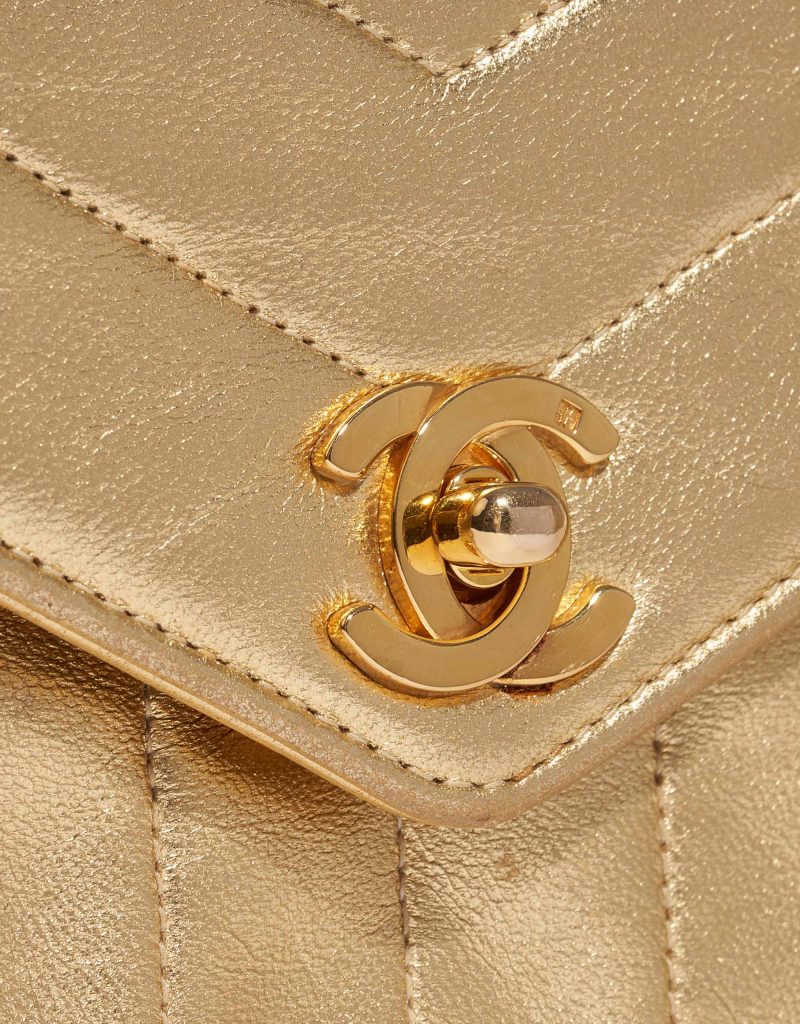 The tale of the 2.55
Although Coco had previously designed bags (her first was released in 1929), it wasn't until February 1955 that she cemented Chanel's place in handbag history with the invention of the aptly named 2.55. Fashioned in a neat rectangular box shape, the 2.55's revolutionary long chain shoulder strap – a design first – gave its wearer an insouciant hands-free independence, especially when compared to the cumbersome clutches of before. Its practicality extended to the details too, with a back slip pocket, hidden zip pocket – added by Coco to store secret love letters – and a surprisingly roomy central compartment. So many stories from Coco's history are lovingly interwoven into the 2.55's design – from the deep burgundy interior, inspired by her uniform at the orphanage, to the diamond quilting, a throwback to her fondness for equestrian sports. Think of the 2.55 as the Little Black Dress of the bag world (which, coincidentally, Coco also invented) – a perennial favourite on the secondary market, and always in style.
Along came Karl
Chanel is a unique fashion house in that it is synonymous not only with the legend of Coco Chanel, but also with the genius of the late, great Karl Lagerfeld, who joined the company in 1983 and remained as creative director for nearly 30 years. This dual brand persona can be seen in the evolution of the 2.55. The original 2.55 carried the 'Mademoiselle' twist-lock clasp (so named because Coco never married). It was only upon the arrival of Karl, fresh from working at Chloé and Fendi, that the bag gained its iconic double CC lock as part of a 50th-anniversary reissue – an inspired innovation during the logo-centric decade of the '80s.
Collectors take note: Karl's reinterpretation of the 2.55, with the double CC lock and interwoven chain strap, is now referred to as the Timeless Classic Flap. The Reissue 2.55 harks back to Coco Chanel's original design, with a Mademoiselle lock, chain-link strap, and often a slightly more 'worn' finish to the leather. The majority of both Reissue 2.55s and Timeless Classic Flap bags all have double flaps (an exterior and interior closure), however the Timeless Classic Flap was also once offered in a single flap version (with no interior closure) – this has now been discontinued, so look out for them on SACLÀB as a collector's item.
Other models to invest in
Alongside the aforementioned Reissue 2.55 and Timeless Classic Flap, there are a number of other iconic Chanel styles to watch out for on the secondhand market.
With a dash of rock 'n' roll attitude, the Boy Bag is an edgy alternative to the 2.55. It offers a boxier cut, outlined in ribbed leather, with tough-luxe chain detailing and a double CC brick lock clasp. It's a bold style, which Chanel has reinvented in many incredible limited-edition colourways, materials and embellishments over time – all highly collectible.
Runway special editions from Chanel are a joy to behold, and where the house's imagination truly runs wild. Highlights from the archives include a silver leather 'Lait de Coco' milk carton, a transparent Perspex N°5 perfume-bottle clutch and graffiti-sprayed canvas Boy Bags and rucksacks.
Exotic evolution
In 2018, Chanel made a surprising announcement – they would no longer be using exotic skins in any of their products. A longtime prolific user of the likes of snakeskin, alligator and even sharkskin, the brand's president of fashion Bruno Pavlovsky CITED that 'it has become more difficult and complex to be able to source and have the right ethics'. Whether ethical concerns were the real reason for the move, or issues with Chanel's supply chain were simply too debilitating, it has had a marked effect on the secondary market for the brand. A lack of supply naturally translates to an increase in rarity, so a Chanel bag made with exotic skins should be snapped up if you see one on SACLÀB.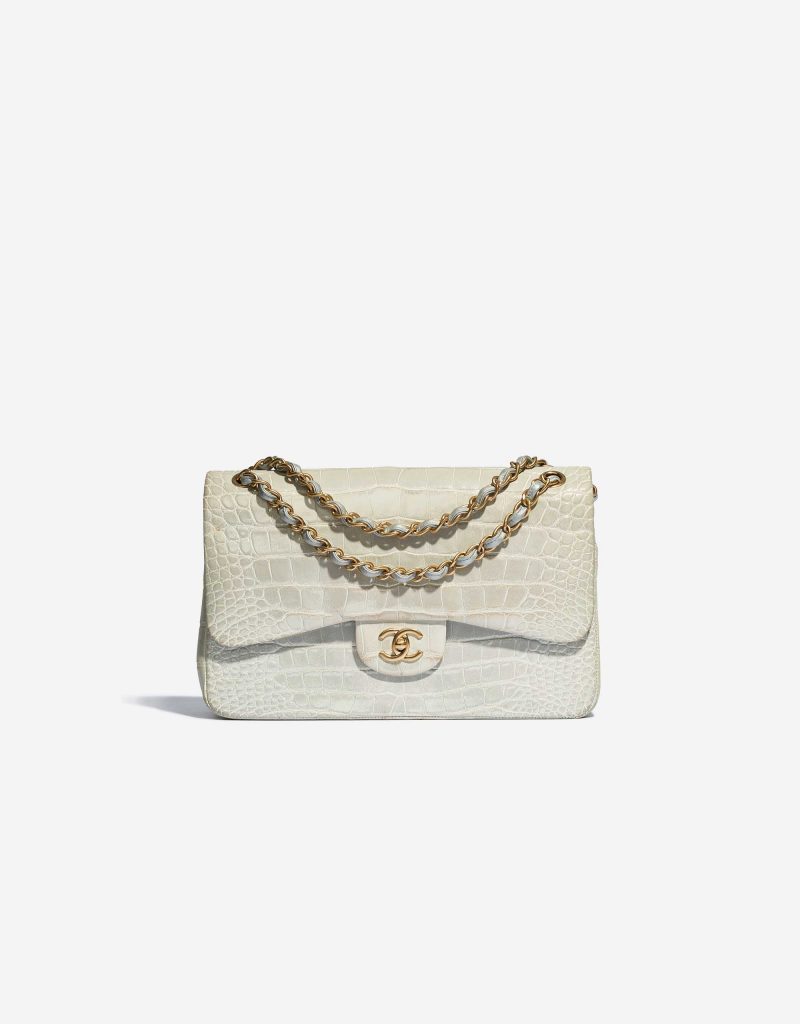 On the hunt for a particular Chanel model? LET US KNOW what's on your wishlist and we'll make it happen.
Looking to sell your designer handbag?
Get an offer today and start selling
Sign up to our newsletter
Be first in line for our latest arrivals, alongside journal updates, exclusive treats and more
Thank you! You've successfully subscribed.
Thank you! You've successfully subscribed.
It seems you are already signed up!
Please enter the correct email address
By subscribing I accept the privacy policy and the indications specified on data handling.
Make a Request
We do our best to find bags for our customers on request. However, this might take up to 6 months.
Warning!
You have reached the limited requests per customer.
Thank you for your enquiry!
Please check your email for further instructions.
You have reached the limited requests per customer.