The Chanel Deauville Tote: Your Coastal Companion
SACLÀB ICONS
Picture yourself on your next outing on the Normandy coast, where the sun renders form-over-function obsolete the moment you need to carry all your essentials for a day by the beach. From sunscreen and a chic wide-brimmed hat to beach towels and a good book. You stuff all of it and more in your bigger-than-life Chanel Deauville Tote and are prepared for every seaside adventure in style while embracing the sun-kissed shores in this charming coastal town.
The Deauville's Origins
The Chanel Deauville Tote, which gained instant popularity among buyers, takes its name from Coco's first boutique, which opened in 1913 on Rue Gontaut-Biron in Deauville. The bag, however, was only released years later for Chanel's Spring Summer 2012 collection. But we're glad Chanel did not keep us waiting any longer because the Deauville is the perfect everyday Tote turned ideal beach bag in summer.
Details
Unlike the diminutive-in-comparison Timeless or WOC, the Deauville is quite a large Tote. The bag can be worn as a shoulder bag by its two leather-and-chain intertwined straps or in-hand by its additional leather handles (note: only older small sizes don't have the extra handles).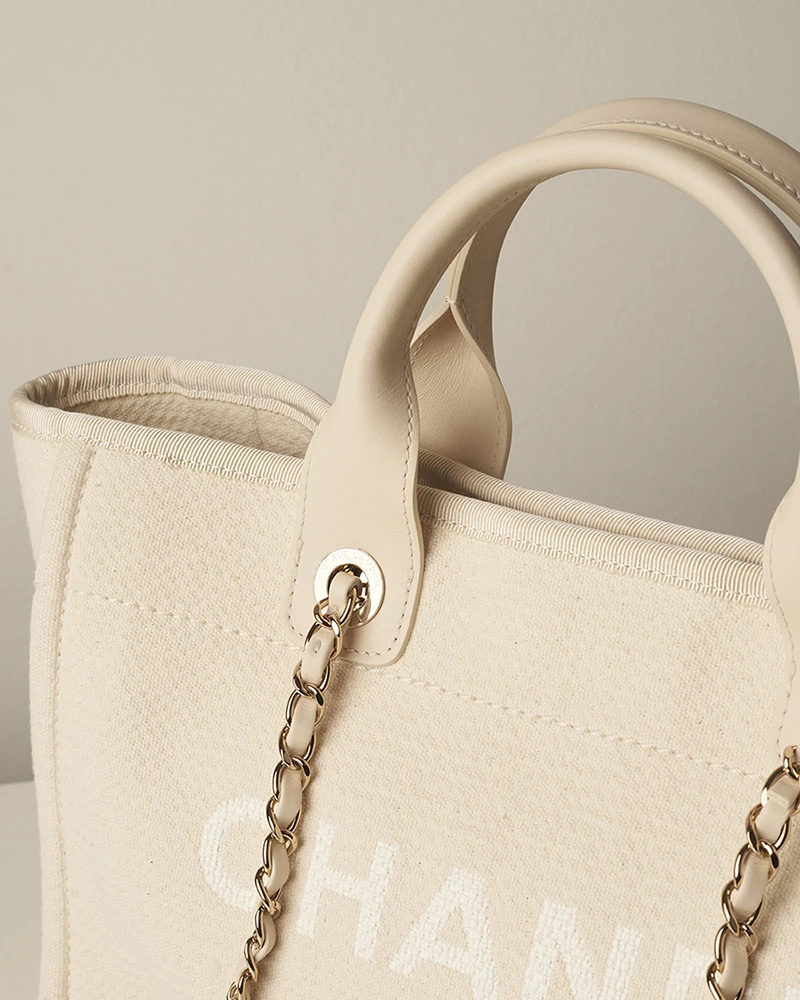 The shoulder straps are adapted with small leather strokes at the top to prevent the chain from digging into your shoulder when the bag is packed to the brim for a busy weekend.
The front of the Tote is adorned with the brand name and the familiar interlocking CC logo. An extra detail is the addition of the "31 Rue Cambon" on the base of the bag, referring to its place of origin.
As for how to pack your spacious bag? She's equipped with a magnetic clasp that clicks together at the top – but be aware: since there is no large zipper, the bag's content may get wet with heavy rain. As for the inside, the large compartment has two open slip pockets and a large zippered compartment to store more precious appurtenances.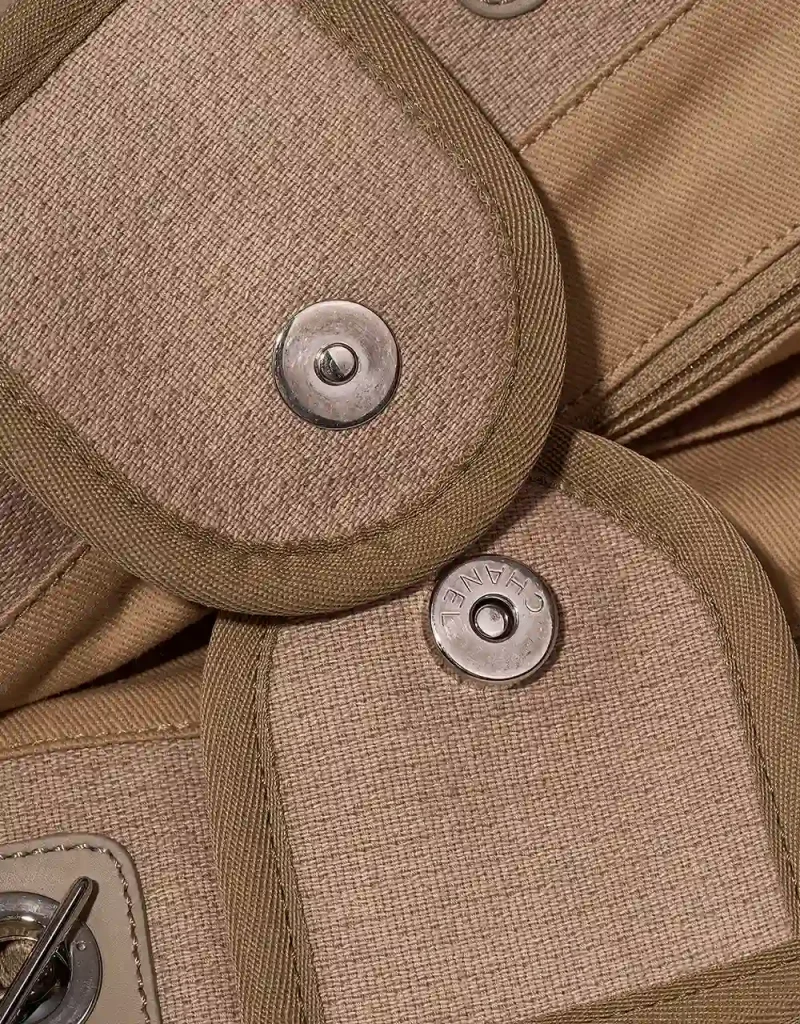 Materials
Like most other Chanel bags, the Deauville comes in a choice of Calfskin or Caviar Leather. Nevertheless, it's Chanel's leathers and materials like Canvas, Denim, and a blend of fibres such as Viscose, Tweed, and Cotton that often take centre stage and evoke that distinctive beach-like, seaside resort aesthetic.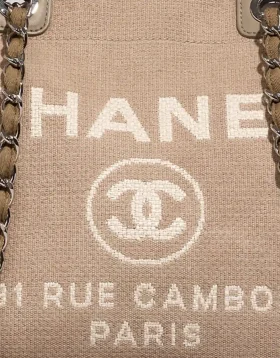 1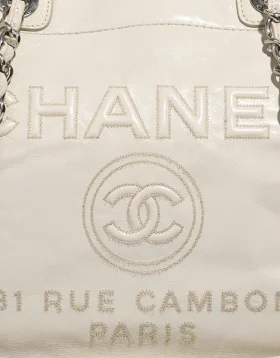 2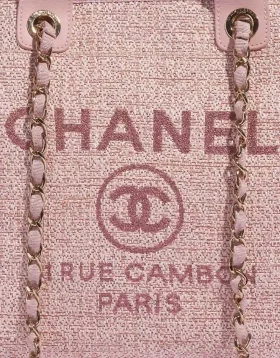 3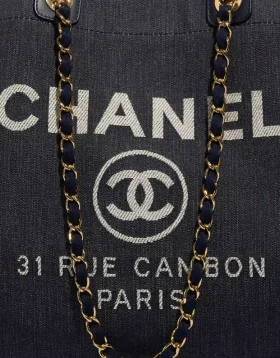 4
These lightweight blended materials slouch more which makes them conform easily to the bag's contents, making the already-large bag fit even more.
If you aspire to embrace this aesthetic to the fullest in life, the collection also features Raffia, a natural fibre sourced from palm leaves that will certainly whisk you away to the palm-tree-littered beaches of the Maldives.
Colours
In true Chanel fashion, the Deauville also comes in many a colour. Initially released in red, denim blue, dark grey and ecru, the line has expanded to include a plethora of beautiful neutrals like off-white, coffee, and washed pink.
Some editions come in a mix of shades, like this beige-striped canvas version or this two-toned beige and blue one, where the soft blend of colours perfectly fits against the backdrop of the idyllic French seaside on a summer's day. Truly, the colours of Chanel never cease to amaze.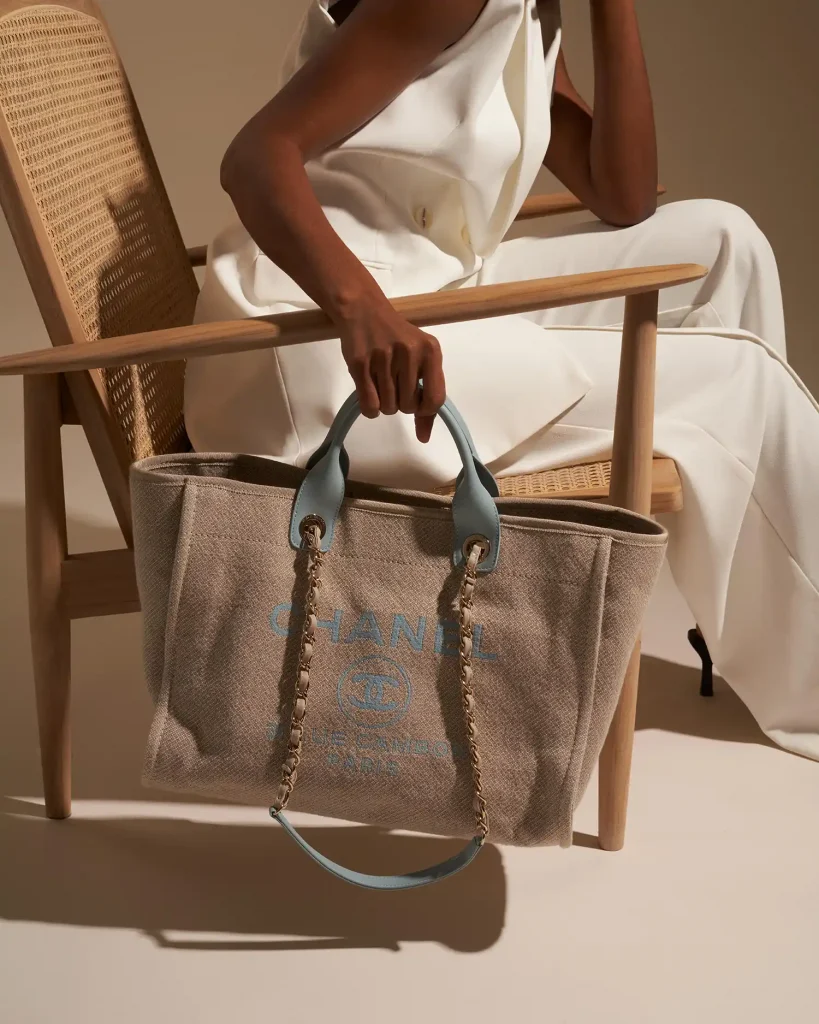 Hardware
The Chanel Deauville bag typically comes in silver-toned hardware, complementing its casual and beachy style. However, on occasion, Chanel releases special editions or variations of the Deauville Tote with different hardware finishes.
Some noteworthy ones are gold and matte silver. But also, the rarer pale gold and rose-gold plated hardware are exquisite Chanel hardware choices, giving a more unique and luxurious feel to an otherwise casual bag.
New In! Pearly Chanel Deauville Handbag
In 2020, Chanel unveiled a unique and limited edition of the Deauville Tote bag, characterised by an eye-catching design element: the iconic Chanel logo embellished with imitation pearls prominently adorning the front.
This distinctive rendition of this Chanel Deauville handbag comes in two elegant colour options, classic Black and the sophisticated Ecru beige, adding an extra touch of luxury to the already iconic bag. Notably, this pearl logo version swiftly gained immense popularity among influencers and fashion enthusiasts, becoming a coveted must-have accessory this season.
However, it's important to note that the Pearl Deauville Tote bag occupies a premium price tier compared to its standard counterparts, with a price of € 3300 in a fashion boutique but closer to € 6000 on the secondhand market. As of now, this exquisite pearl-adorned version of the Deauville tote is exclusively available in the medium size, offering both style and practicality for those who appreciate the finer details in their fashion choices.
Sizes
The spacious Tote comes in four sizes: Small, Medium, Large, and Extra Large. And if you're wondering what fits? Spoiler alert: it's a lot.
Chanel Deauville Size Chart
Deauville Size
L x D x H Dimensions in Centimetres
| | |
| --- | --- |
| Deauville Small | 34 x 15 x 30 cm |
| Deauville Medium | 39 x 22 x 30 cm |
| Deauville Large | 44 x 21 x 32 cm |
| Deauville Extra Large | 51 x 20.5 x 38 cm |
Compared to a Small Timeless, the Small Deauville is relatively large and designed to fit all your daily essentials in addition to a 13-inch laptop, a water bottle, a notebook, a makeup pouch and other care products. The Medium sizes will additionally carry your work lunch, hairbrush and hand mirror, perfect if you don't need too many items for work.
The larger sizes are perfect for a day of shopping and house not only the essentials for the day but also easily accommodate your newly acquired purchases. For the Extra Large, getting a liner with compartments is recommended to keep your stuff from disappearing into the dark crevices of your Deauville. Apart from the aforementioned products, the Extra Large Tote fits a 15-inch laptop, an iPad Pro, your camera, and a change of clothes.
The Deauville's range of sizes suits everyone's needs, from everyday essentials to shopping sprees and more, making it a versatile and stylish companion for any occasion.
How to Style
The carefree nature of the bag compliments your beach attire perfectly. Wear it on your shoulder with a summer dress or even your swimwear!
However, if you want to dress up a bit more while still carrying a bag that's big enough for all your appurtenances, you can pair this beautiful Lamb Cream Deauville with a white flowy dress or suit with sneakers.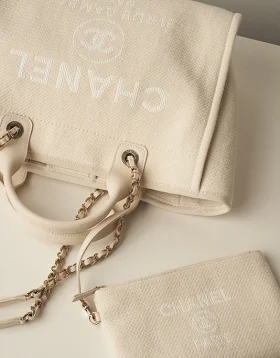 1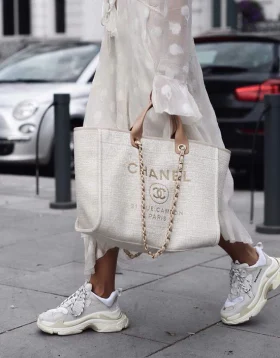 2
The wide leather top handles of this bag mean you can carry this bag in your hand or in the crook of your arm. If your bag is too heavy or you prefer to have your hands free, you could opt to use the chain straps.
While a pink or beige Deauville will typically cater to a female audience, choosing a Deauville in a more neutral or darker tone, such as this Chanel in black Calf and Cotton material, can transform this bag into a slightly more gender-neutral accessory.
Pricing
As for its price, the general rule for the Chanel Deauville is: the larger you go, the pricier it gets. The new retail price in-store is around €4000, but it rises annually with the regular Chanel price increase.
The Chanel Deauville is the ultimate bag add to channel coastal elegance wherever you go. But during the off-season, she will just as quickly transform into your everyday bag companion.
Are you inspired to find your casual-chic Deauville Tote on SACLÀB or buy any of the most coveted Chanel bags?
Looking to sell your designer handbag?
Get an offer today and start selling
Sign up to our newsletter
Be first in line for our latest arrivals, alongside journal updates, exclusive treats and more.
Please confirm your subscription in the email you've just received.
Thank you! You've successfully subscribed.
It seems you are already signed up!
Please enter the correct email address
By subscribing I accept the privacy policy and the indications specified on data handling.
Make a Request
We do our best to find bags for our customers on request. However, this might take up to 6 months.
Warning!
You have reached the limited requests per customer.
Thank you for your enquiry!
Please check your email for further instructions.
You have reached the limited requests per customer.