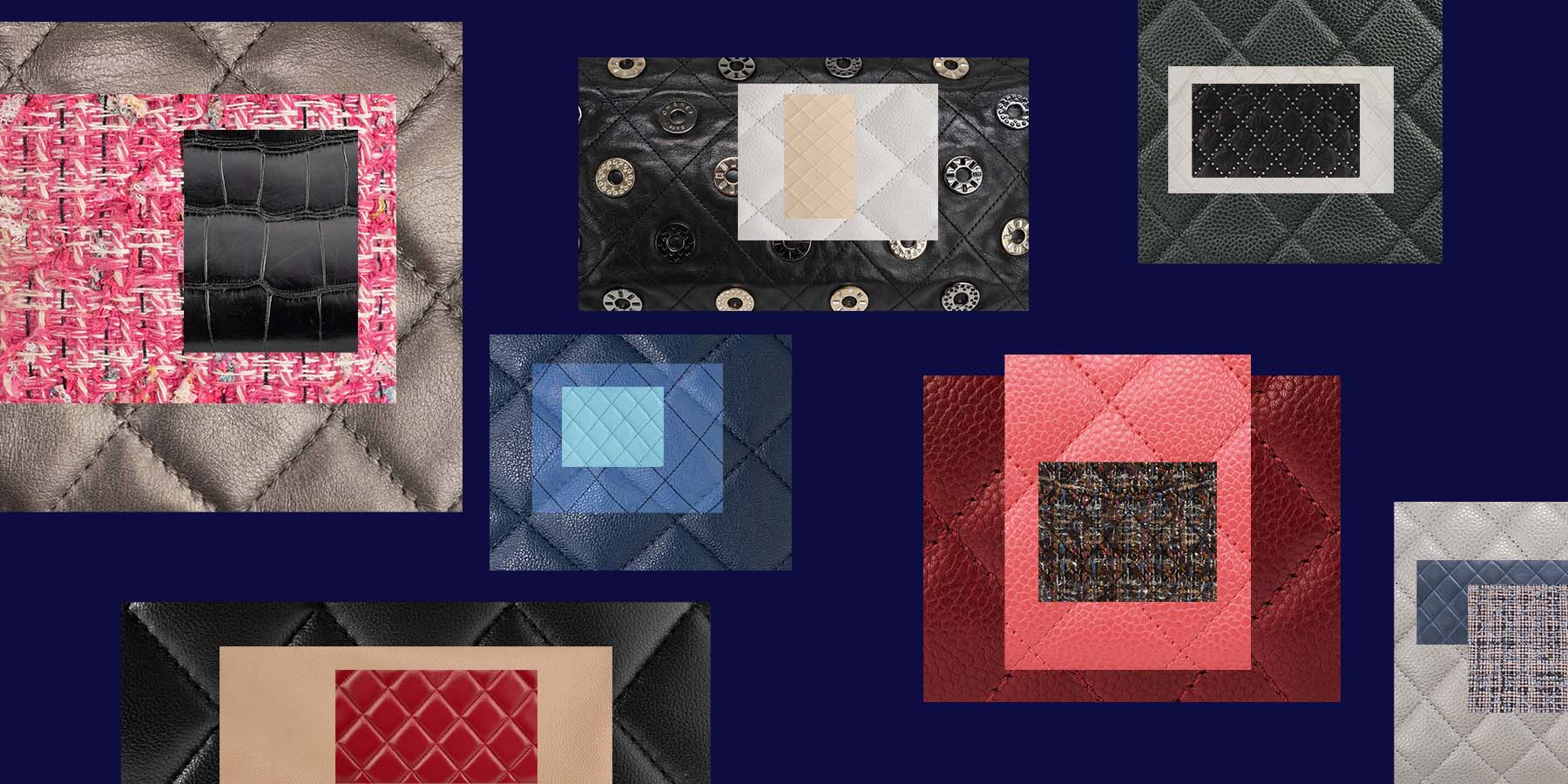 The Colours of Chanel
LÀB REPORT
For the fashion-obsessed, the word Chanel instantly conjures up a colour palette. From a simple black dress to a string of ivory pearls, a pair of beige ballet flats to a dash of red lipstick, it's a brand whose signature shades have become synonymous with chic. But what decisions should you factor in when choosing the hue of your next Chanel handbag? From classic to cool, read on for our guide to the colours of Chanel.
Before you begin
Unlike Hermès, Chanel colours are not named, and new hues are often only produced for one season, with the exception of five core brand colours. This makes it harder to search for an exact shade, so when secondhand shopping, it's best to decide on the general tone that you'd like, what type of bag, and then cast your net wide — you'll be delighted with what treasures you find!
Classic colours
For many bag collectors, their Chanel journey begins with a classic colour. More than any other fashion house, Chanel's brand story is an integral part of its aesthetic — so choosing a bag in one of their five official colours is like investing in a piece of fashion history.
Black
'I imposed black and it reigns still because black trumps all', declared Coco Chanel. It's hard to imagine now, but before Coco's designs rose to prominence in the 1920s, black was symbolic of servitude and mourning. Inspired by the severe uniforms she wore when growing up in an orphanage, Coco repurposed the sombre colour as a statement of elegance, designing the little black dress in 1926. When it was featured in American Vogue, the magazine aptly predicted that it would become 'a sort of uniform for all women of taste', and ever since the colour has been a hallmark of Chanel. A black quilted leather Chanel 2.55 bag will always stand the test of time, both as a classic accessory, and as a wise investment if you ever wished to sell it on the secondhand market.
On the hunt for a classic? Shop our selection of black Chanel bags.
White
For Coco, white was the perfect colour for capturing light and illuminating a face. Reminiscent of her childhood memories of a nun's cornette, and her communion dress, the purity of white is prized in many Chanel designs — from the aforementioned signature pearls, to camellia motifs and tweed. There's nothing quite as luxurious as a snow-white Caviar leather Timeless Classic Flap bag, is there? White also acts as the perfect counterpoint to black, and indeed the monochrome look is quintessential Chanel. As Coco put it, in combination 'their beauty is absolute. It is the perfect harmony'.
Shop our selection of white Chanel bags
Beige
In modern-day lexicon, you'll sometimes hear the word 'beige' used to describe a certain unadventurous aesthetic. But in the Chanel universe, beige is anything but boring. Beige is beautiful. A warm, natural tone that for Coco evoked glowing skin, golden honey, or a sun-dappled beach, it's a stylish accompaniment to stark monochrome looks. The fashion house holds this understated shade in such esteem, they even named an eau de parfum after it. Like a camel coat, a beige Chanel handbag goes with everything: it's a must for modern sophisticates.
Shop curated Chanel handbags in beige tones
Red
Look inside most 2.55s and you'll discover a rich, burgundy leather lining — a reference once more to Coco's Aubazine Abbey orphanage uniform. It's just one of the ways the fashion house uses red, which it sees as the colour of passion, courage and energy. In the same way that a slick of red lipstick can bring an instant boost, a red Chanel handbag is a sartorial pick-me-up, whether paired with blue denim or a little black dress. It's the only bright hue that the house relies on as a core colour, and you'll find it appearing again and again in collections.
Shop our selection of red Chanel bags
Gold
The final core colour in the Chanel family is gold. Drawing on inspirations ranging from religious iconography to Byzantine ornamentation, this gleaming metal is mainly found in Chanel handbags via its hardware, such as the iconic chain strap. However, metallic gold leather handbags are also treasured by Chanel aficionados, especially considering how well gold pairs with the other core brand colours — imagine it as a gilded accent to beige for daytime looks, or a dramatic contrast with black at night. Glorious!
Shop handpicked golden-tone Chanel bags
Seasonal colours
Looking for a bag that will stand out from the crowd? When it comes to Chanel, the world's your oyster. From supermarkets to the streets of Havana, Chanel is renowned for its thematic runway shows, which each season bring a dazzling new array of colourful, embellished iterations to its 2.55, Classic Flap and Boy Bags. As mentioned previously, the brand doesn't follow a strict naming system, nor does it like to repeat itself, so each of these vibrant varieties can be treated as a limited edition in its own right.
Pop brights
From tangerine to shocking pink and cobalt blue, Chanel's palette of pop-bright colours is extensive. If you're looking for a bag in a statement shade, a light-reflecting patent leather or PVC finish can be your best friend — it shows off the vibrant hue and keeps its colour well. Alternatively, invest in an exotic skin in a jewel tone: Chanel stopped working with exotic leathers in 2018, so you'll only find python, lizard and crocodile Chanel bags on the secondhand market (and prices are naturally on the rise).
Rainbow pastels
If you want to embrace the ladylike side of Chanel, opt for a pretty pastel shade instead, such as baby blue, lemon yellow or rose lilac. Softer leathers such as lambskin or Caviar complement these delicate hues beautifully. To the delight of many pastel lovers, in 2017 Chanel went one step further and produced the Rainbow Boy Bag for their Cruise collection, crafted from kaleidoscopic ombré leather. They have since released the Rainbow Boy Bag in paler shades in 2018, and in 2020 launched a 'Mermaid' collection of iridescent rainbow bags. As you can imagine, these multicoloured creations are now all collector's items.
Metallics
Alongside their core colour of gold, Chanel's metallic leather bags regularly top secondhand shopping lists. From pearlescent silver to shimmering emerald, metallic leather brings an extra dose of luxe to a look — day or night. Look out for Chanel's iridescent metallics, which often combine two shimmering tones in one, as well as iridescent ruthenium hardware.
Tweeds
Texture can play an important role in your Chanel colour decision. As well as leather, you should also consider whether the house's signature fabric, tweed, could be a contender for your bag. Often interwoven with two contrasting colours, a tweed Chanel handbag presents an entirely different look: more understated in tone, and evoking a retro aesthetic (unless you're lucky to come across one of their neon tweed varieties!).
Colour care
Take note: If you are looking to invest in a Chanel bag, one point to bear in mind is that some leathers are more prone to colour transfer than others. A pale bag in a soft leather like lambskin or Caviar, if rubbed repeatedly against darker clothes (such as jeans), can at times take on some of the colour. To preserve your light-coloured bag, make sure to only wear it against similarly light-coloured clothing. And remember, if your bag needs a refresh, SACLAB offers a complimentary spa treatment with every purchase.
Read on for our Chanel Care Guide to discover more expert tips on how to make your handbag last.
What Chanel colour have you set your sights on? Let us know what's on your wishlist, and we'll take care of it.
Looking to sell your designer handbag?
Get an offer today and start selling
Sign up to our newsletter
Be first in line for our latest arrivals, alongside journal updates, exclusive treats and more.
Please confirm your subscription in the email you've just received.
Thank you! You've successfully subscribed.
It seems you are already signed up!
Please enter the correct email address
By subscribing I accept the privacy policy and the indications specified on data handling.
Make a Request
We do our best to find bags for our customers on request. However, this might take up to 6 months.
Warning!
You have reached the limited requests per customer.
Thank you for your enquiry!
Please check your email for further instructions.
You have reached the limited requests per customer.