First Time Purchase: The Hermès Kelly
SACLÀB ICONS
Buying your first Hermès Kelly is a milestone for any bag lover – this sophisticated style is a true design icon, after all. From choosing which Kelly shape suits your style to setting a budget, savour the moment and get your purchase right with guidance from SACLÀB.
Decisions, decisions…
The first step in your Kelly journey is to decide what shape you want to go for. The Kelly comes in two styles: Sellier or Retourné. The Sellier is the original Kelly, first made famous by Princess Grace Kelly in 1956. It has sharp edges and visible stitching, with a rigid, ladylike structure, often crafted from harder leathers. Alternatively, the Kelly Retourné is turned inside out during its making, giving it a softer appearance at the edges.
Which one should you pick? Reflect on your personal style, and where you picture yourself with your Kelly. The Sellier has a formal elegance – it looks wonderful carried in the crook of your arm for work or a lunch engagement, for example – whilst the Retourné suggests a more contemporary frame of mind, especially worn with its detachable shoulder strap.
Size
Kelly bags range from Micro – just 15 centimetres across – to the travel-ready Voyage and Relax editions, which measure 50 centimetres, so size is an important factor. With the most common Kelly sizes being K28, K32 and K35, landing somewhere in the middle could be just right for a first-time purchase. Something to bear in mind with sizing is that Kelly Sellier styles often fit a little less than their Retourné equivalent, due to their firm construction.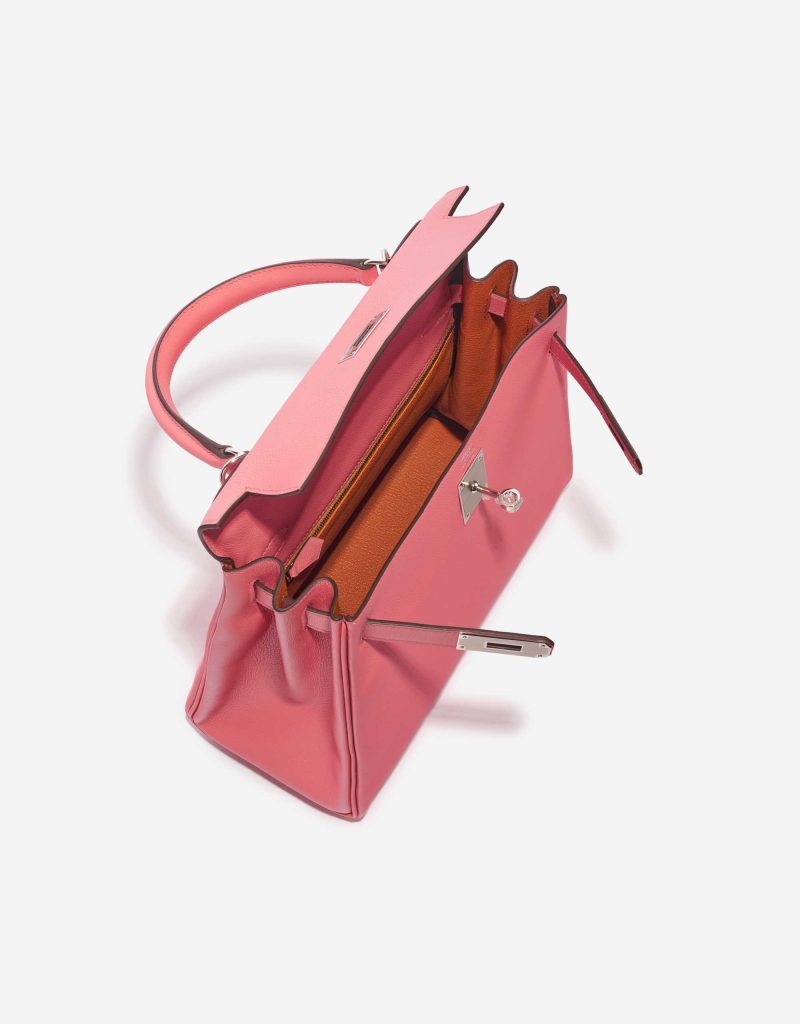 Colour
The colour of your first Kelly bag is perhaps your most enjoyable decision to daydream about. From sunshine-yellow Saffron to sleek blue-black Ink, the Hermès colour spectrum is dazzling and delightful in equal measure. Consider this – is your Kelly an investment piece, or are you buying this just for you? Classic colours such as Noir, Rouge Hermès and Gold will always be in style, and can be used decade after decade – even passed down to your daughters. They are long-term wardrobe staples, as the colours will never date. A neutral colour makes your Kelly easy to wear with any outfit, and remember, you can always add a dash of colour with an Hermès Twilly.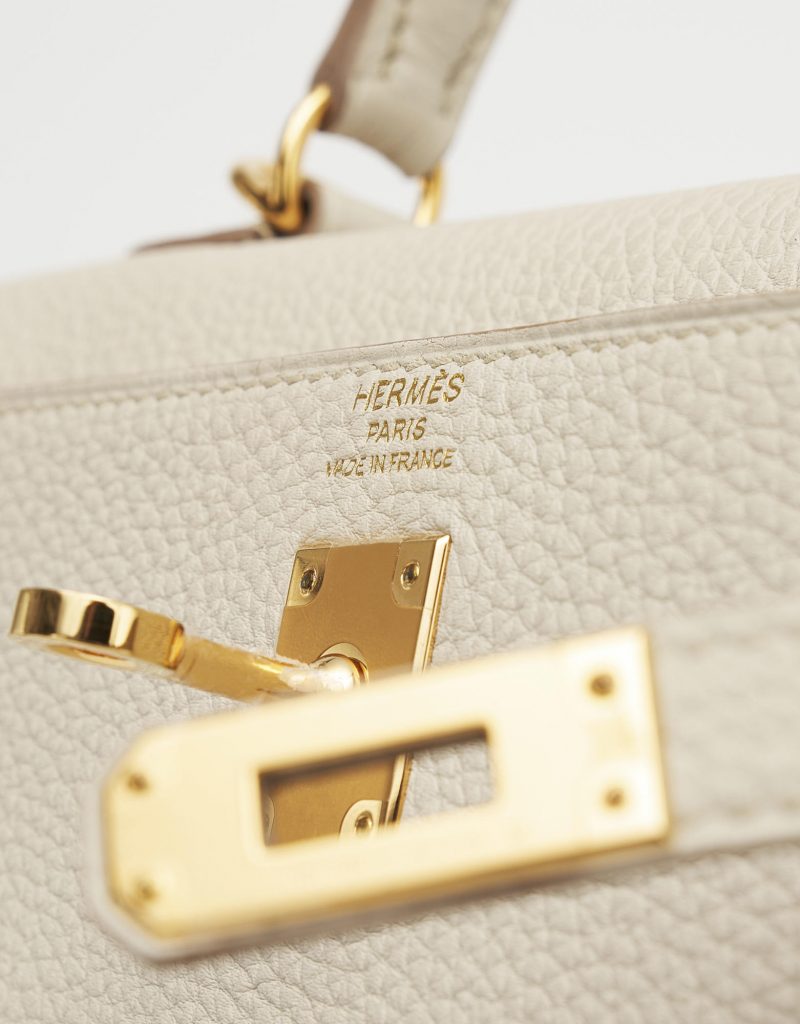 However, as a short-term investment, it's prudent to choose a new or seasonal colour – spring-summer 2020 shades include Curry, Vert Criquet and Sesame – or opt for pink or blue, both of which tend to perform well at auction or resale. Picking a pop-bright colour for your Kelly will make it the focus of your look – and that's never a bad thing, when the bag is this beautiful!
Finally, for hardware, take inspiration from the jewellery you wear the most – perhaps your favourite pair of earrings, or your wedding band – and match accordingly.
Material
Hermès uses a vast array of leathers in their ateliers, so it's important to understand each variety's unique characteristics. Some of the most popular leathers, including Clemence, Epsom and Togo, are textured, meaning they are more protected from everyday wear and tear. On the other hand, smoother leathers such as Calf or Gulliver are butter-soft to the touch, but perhaps more prone to the occasional scratch. Exotic skins like crocodile, lizard and ostrich can be high maintenance (for example, you should keep crocodile leathers away from water), however, there's a reason they often carry a higher resale value – they are incredibly desirable in terms of their aesthetic.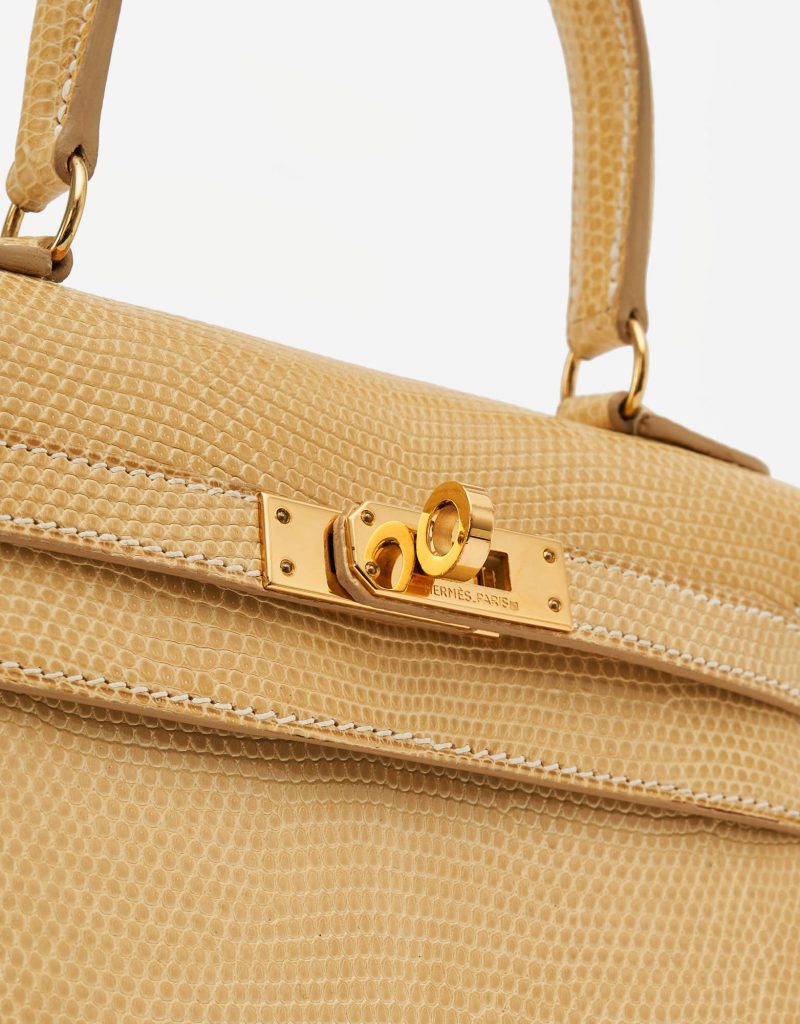 SACLÀB offers a complimentary bag spa service to all of our first-time clients, so whichever you choose, you can ensure your bag's leather will get the care it needs to stay immaculate for decades to come.
Budget
You've got your dream Kelly in mind, but what about the cost? New in-store from Hermès, Kelly 28s are currently retailing from around 7.300€ (and this reliably increases year-on-year). Bought on the secondhand market, prices can range by anything from 2.500€ to 80.000€, depending on its condition, material and rarity. The preloved market therefore offers a much wider variety of prices, giving you the flexibility to browse bags according to your budget.
Buying in-store
As you may know already, buying a Kelly bag directly from an Hermès boutique is not as straight-forward as you'd hope. Hermès cultivate an air of rarity around their bags by not having them readily displayed on shelves, or available via systematic waiting lists – instead, these bags are cloistered away in a boutique's private showroom, and are often only offered to clients once they have built up a loyal relationship with a sales associate.
Buying online
As such, the most realistic route for your first-time purchase is best found by shopping pre-owned Hermès bags online, or via an auction house. An online secondhand shop like SACLÀB has the advantage of being entirely transparent, with incredibly thorough methods of authentication, so you can shop with confidence and ease. You also have sustainability on your side – read our mission statement on sustainability to find out more about joining the luxury circular fashion revolution.
Although some can feel squeamish about not buying 'brand new', rest assured, Hermès bags are one of the few secondhand items that truly hold their value, if cared for correctly. If you have your heart set on a 'fresh out of the box' bag, sign up to our newsletter, where we'll inform you of our latest uploads via a weekly email – including some like-new bags – or make a wish on our website.
Shopping time!
Ready to take the plunge? Here are a few of our Kelly crushes from SACLÀB's online shop.
Sign up to our newsletter
Be first in line for our latest arrivals, alongside journal updates, exclusive treats and more.
Please confirm your subscription in the email you've just received.
Thank you! You've successfully subscribed.
It seems you are already signed up!
Please enter the correct email address
By subscribing I accept the privacy policy and the indications specified on data handling.
Make a Request
We do our best to find bags for our customers on request. However, this might take up to 6 months.
Warning!
You have reached the limited requests per customer.
Thank you for your enquiry!
Please check your email for further instructions.
You have reached the limited requests per customer.