A Deep Dive Into the Dior Saddle Bag
SACLÀB ICONS
With its undulating curves, short strap and dangling D buckle charm, the Dior Saddle Bag is one of the most unmistakable designer handbags of recent decades. Launched into boutiques at the turn of the millennium, the Saddle Bag encapsulated a certain late '90s/early '00s aesthetic that quickly took the world by storm – before falling out of fashion in 2007. Now back in the spotlight as an It-Bag reborn courtesy of Dior creative director Maria Grazia Chiuri, we take a deep dive into what makes the Saddle Bag stand out from the crowd, and the points you need to consider when buying one secondhand.
The Saddle Story Begins
Picture the scene: it's 1999, and John Galliano has held the creative reins at Dior for three years. The moment has come for him to design his very first bag for the house. Following a decade of grunge-chic, minimalism and urban athleisure trends, it's no surprise that the avant-garde Galliano chose a different path for his first collection for the new millennium. Trotted out onto the catwalk as part of his SS00 show, packed with cowboy denims and equestrian-themed jockey silks, Galliano's new saddle-shaped bag was a breath of fresh air.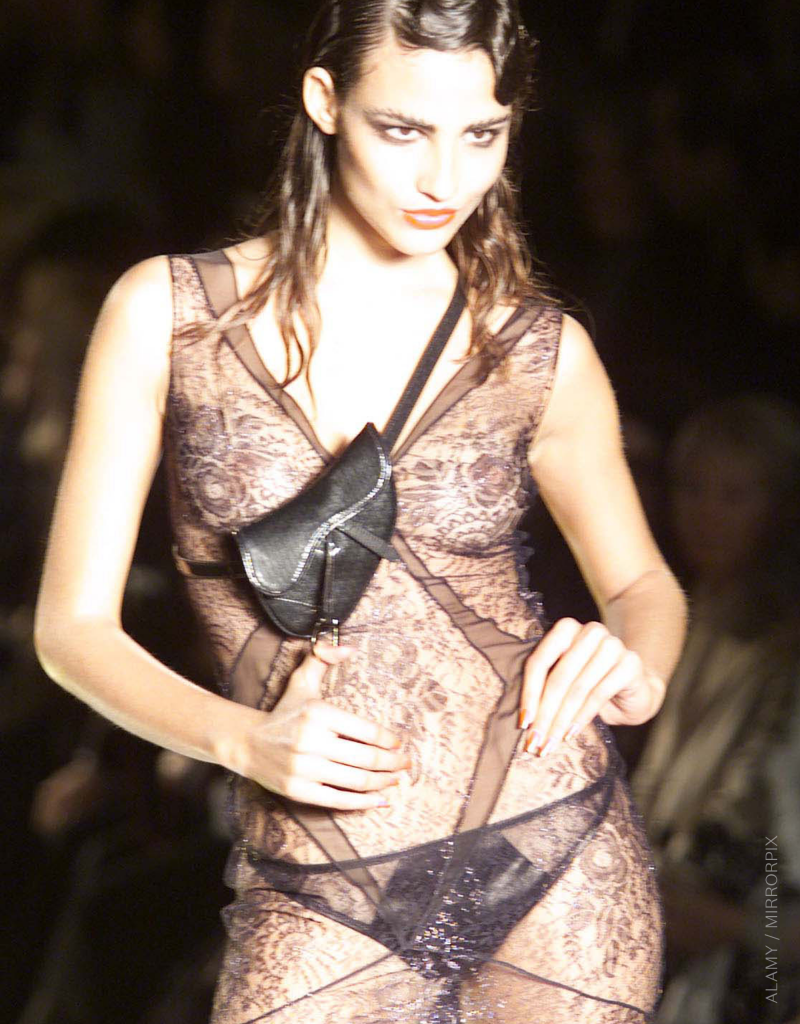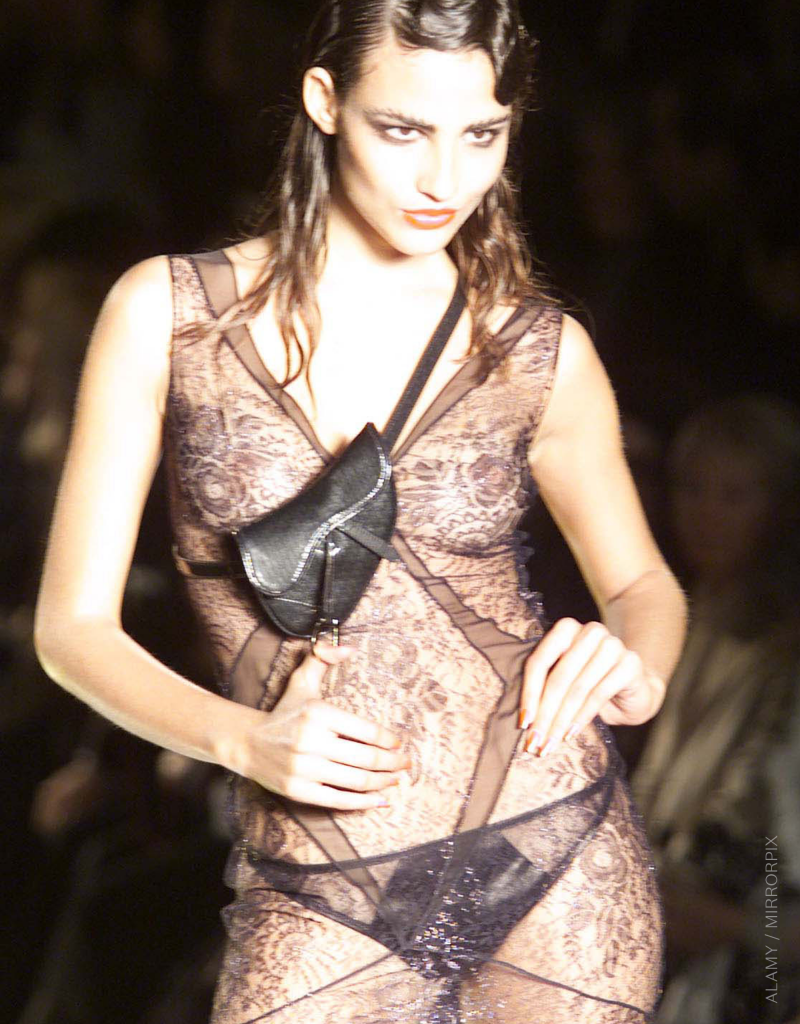 With a silhouette rumoured to have been inspired by a Helmut Newton photograph, Saddle I, it had a touch of sexiness about it, too, and instantly caught the attention of the media. When it became a favourite of Sex and the City's heroine Carrie Bradshaw, featured prominently in the episode No Ifs, Ands or Butts, its celebrity status was cemented.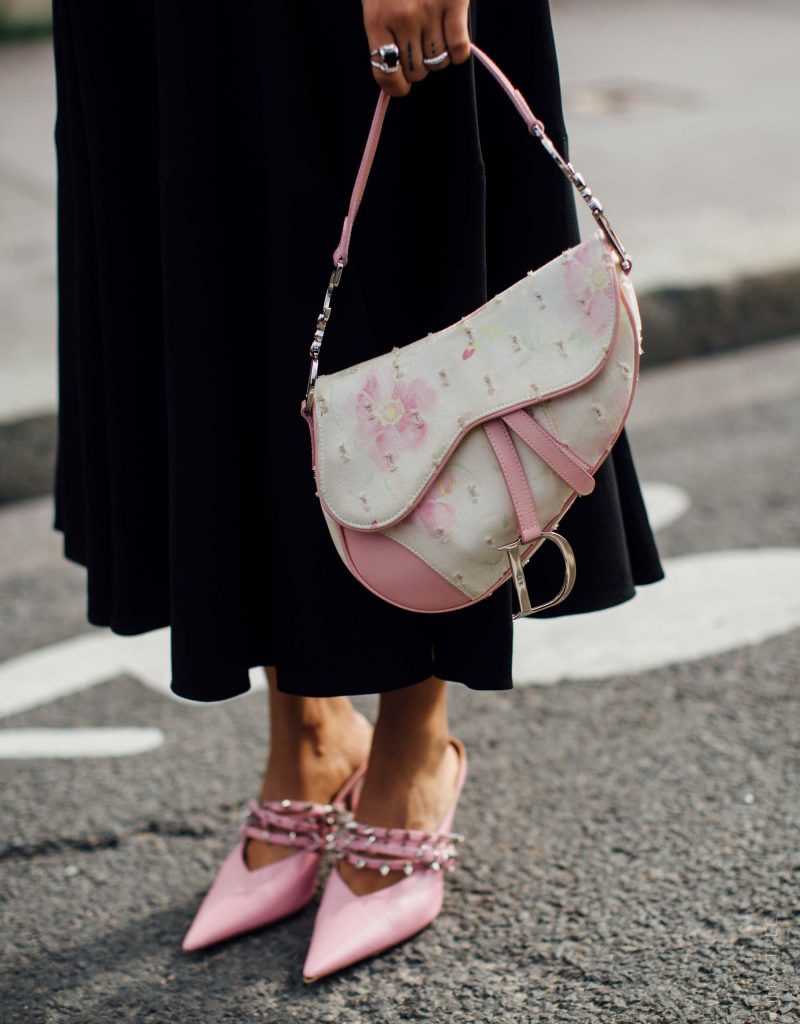 The Saddle Bag was the frontrunner in a new wave of '00s It Bags, toted by the likes of Paris Hilton, Nicole Richie and Mischa Barton and paired with low-rise jeans, scarf tops and pop-bright colours. Soon, other brands were chasing It-Bag status, such as Balenciaga's Motocross, the Fendi Baguette and Louis Vuitton's Stephen Sprouse collection. But the Saddle Bag's numerous desirable iterations, from newspaper-splashed prints to tricolour Rasta styles, made it top of every fashionista's wishlist. It's hard to maintain that level of popularity, though: by 2007, our obsession with the Saddle Bag was waning, and Dior gradually dropped it from its runway shows and boutiques.
Back in the Saddle
All was quiet on the Western front for the Saddle Bag until 2014, when Beyonce was papped carrying a vintage Saddle bag in New York. A ripple of recognition went through the fashion set, but it was in 2017, when Bella Hadid was spotted in a white corseted shirt, light-blue denim and a rare vintage jean-print Saddle Bag, that the style truly re-entered our collective psyche. Amongst a wave of '90s and early '00s nostalgia, the time felt right for a reboot.
For Dior's Autumn-Winter 2018 collection, creative director Maria Grazia Chiuri officially relaunched the Saddle Bag into boutiques, reimagined for a new generation of Millennial and Gen Z shoppers. Chiuri commented 'I thought this collection would be an opportunity to revive its timeless beauty. I consider this icon of the house's recent history the perfect accessory to deal with this battle that is daily life'. Catapulted back into headlines with a 100-strong influencer campaign, including the likes of Chiara Ferragni and Bryanboy, the Saddle Bag 2.0 is reigning supreme once again.
The Details
The Original Saddle Bag
If you have your eye on an original Saddle for some extra vintage kudos, here's what you can expect. Galliano's design features kidney-shaped curves, and a short detachable strap that was designed to be worn tight under the arm, embellished with horse bit-style CD buckles. The front flap fastens with velcro, and inside you'll find a fabric lining. It has a back slip pocket, and an interior zipped pocket. These early '00s originals are delightfully varied in style and very much of their time – think feminine floral embroidery, denim, camouflage and logo-tastic prints.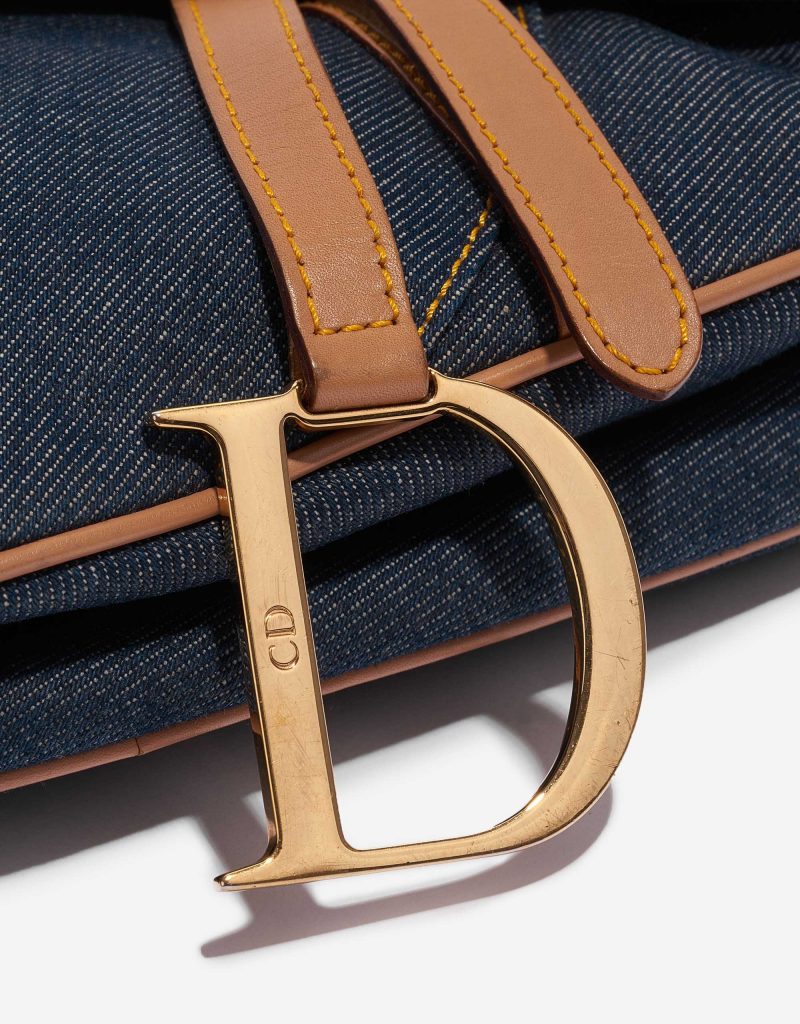 The Reissued Saddle Bag
Chiuri's reinvented Saddle Bag is a vehicle for Dior's artisanal craftsmanship. Almost identical in shape to the original, although slightly enlarged in order to fit today's smartphones, the reissued Saddle is distinguished by its array of super-luxe finishes. For a classic investment, opt for grained calfskin leather in black or amber, or for a twist on '90s logomania, we love the canvas Saddle Bags printed in the house's newly updated Oblique pattern. For an extra special purchase, search for Saddle Bags with exquisite embroidery or bold all-over beading and fringing.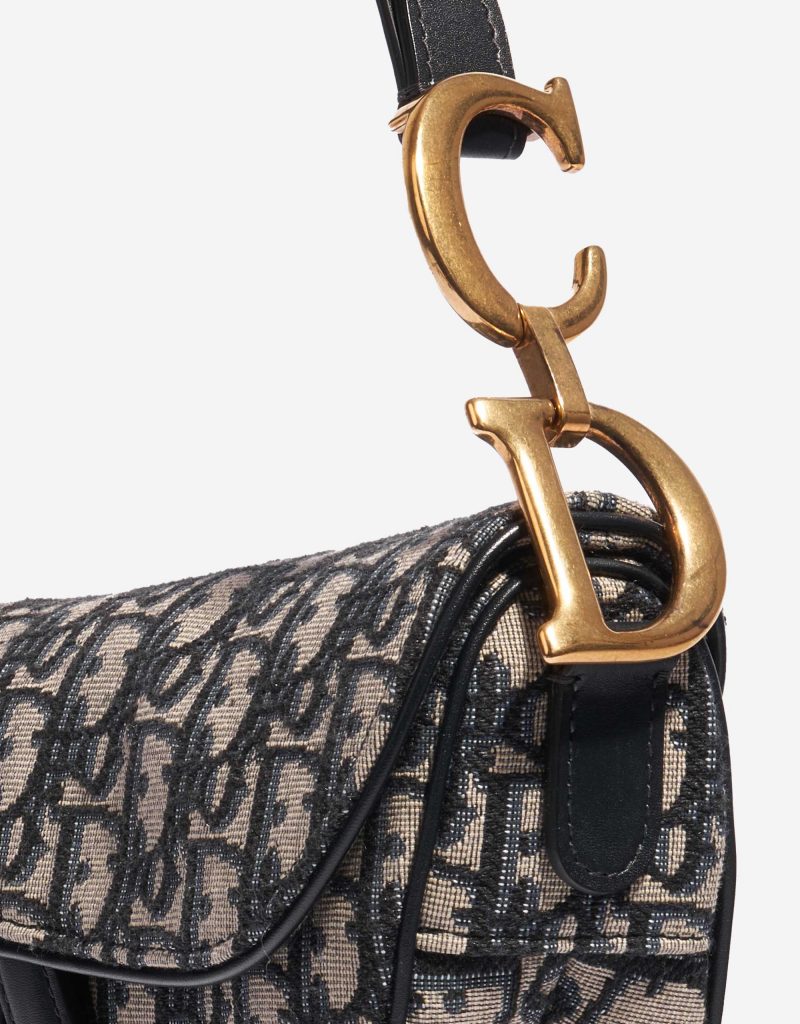 Unlike the original, the reissued Saddle fastens with a magnetic snap closure, and is lined in suede. As a contemporary twist, Dior now offers a range of striking long straps to customise your Saddle, meaning you can wear it cross-body if the mood takes you.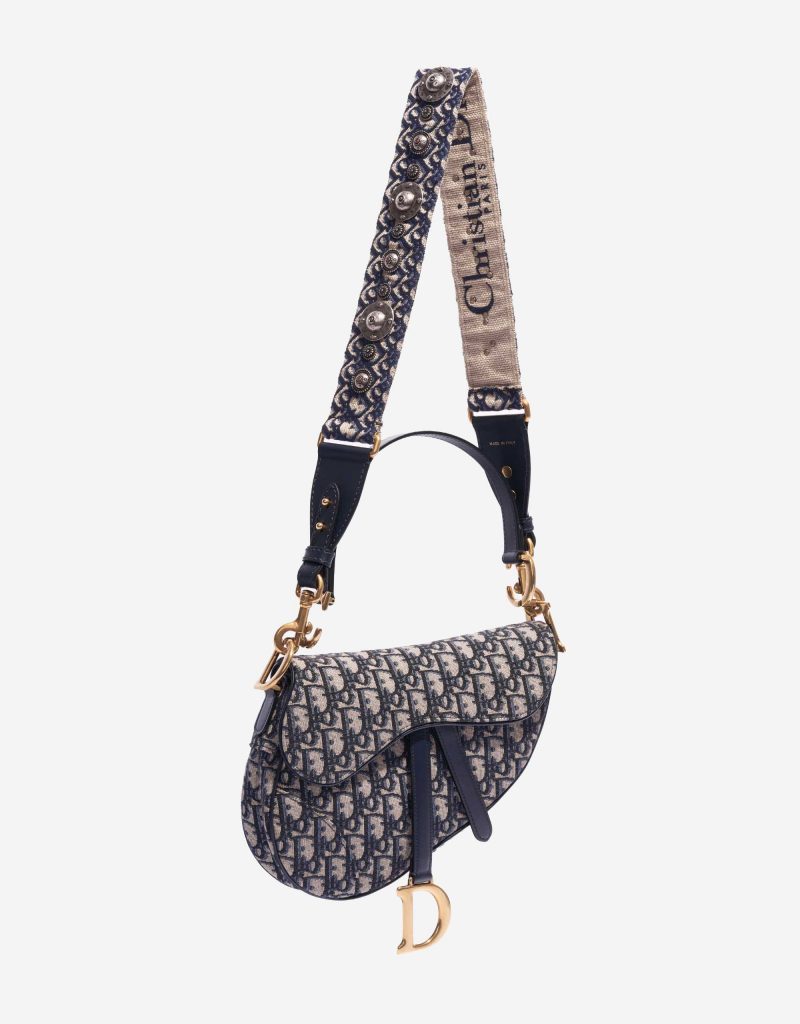 Capitalising on its popularity, Dior has also released a dainty micro version of the Saddle, and a number of accessories that emulate the original's curves, from wallets and card holders to belt bags.
Pricing
Since its re-release, original vintage versions of the Saddle Bag have naturally skyrocketed in value on secondhand websites. It's a lesson in looking after your handbag collection, even if you think a bag has gone out of fashion! For a vintage or reissued Saddle in good condition, you can now expect to pay around €1,000–3,000 on the secondary market. However, with regular Saddle Bags ranging from €2,900–4,700 when bought new from a Dior boutique, secondhand remains a savvy option. This classic 2000 version in denim sold for €1,230 on SACLÀB, while this embroidered camouflage version from 2020 was snapped up for €2,490. For rare versions such as the aforementioned newspaper-print and Rasta bags, expect to pay upwards of €3,000.
Ready to shop for your Saddle Bag? Original or reissue, let us know what's on your wishlist or shop our current selection of pre-owned Dior bags.
Looking to sell your designer handbag?
Get an offer today and start selling
Sign up to our newsletter
Be first in line for our latest arrivals, alongside journal updates, exclusive treats and more
Thank you! You've successfully subscribed.
Thank you! You've successfully subscribed.
It seems you are already signed up!
Please enter the correct email address
By subscribing I accept the privacy policy and the indications specified on data handling.
Make a Request
We do our best to find bags for our customers on request. However, this might take up to 6 months.
Warning!
You have reached the limited requests per customer.
Thank you for your enquiry!
Please check your email for further instructions.
You have reached the limited requests per customer.