All About The Hermès Evelyne
SACLÀB ICONS
As a fellow bag aficionado, you'll already be familiar with the holy trinity of Hermès: the Birkin, the Kelly and the Constance. But there's another under-the-radar model, available in Hermès boutiques since 1978, that's steadily grown in popularity over the past decade: the Evelyne. A pared-back messenger bag, the Evelyne has become a sleeper hit for the fashion house and, due to its easy-wearing practicality and comparatively lower price, is a great entry-level style for new collectors. Trust us – once you invest in an Evelyne, you'll never look back. Here's SACLÀB's guide to everything you need to know about this timeless carryall.
Equestrian Beginnings
While many of Hermès' modern-day designs take inspiration from the house's equestrian roots (Hermès was originally founded as a harness workshop in 1837), the Evelyne was created specifically with horseriding in mind. Named after Évelyne Bertrand, who was head of Hermès' riding department, the bag was designed for carrying grooming equipment – indeed, the 63 perforations that form the 'H' were added so that brushes and sponges could easily dry inside (technically, this is the side you are meant to wear next to your body, but nowadays many understandably prefer the H to be visible!).
Once only found in the equestrian section of Hermès boutiques, it was after the 2009 recession that the Evelyne gained new momentum. Fashion editors noticed that shoppers were leaning towards more low-key, affordable handbag styles to avoid looking ostentatious: the Evelyne, with its minimalist lines and fuss-free design, was just the ticket. As Refinery 29's Christine Barberich told the New York Times in a 2012 feature about the Evelyne, 'in this economic climate, you don't want to be all blinged out'. Now, you'll find the Evelyne pride of place in boutiques as one of Hermès' most popular styles.
The Details
Completely unlined with no internal pockets, the Evelyne has an air of chic simplicity which lends itself well to casual outfits. In contrast to other classic Hermès bags, it has an open top with just a small leather tab and press-stud fastening to secure it. The Evelyne's wide, detachable canvas strap makes for a comfortable cross-body experience, and is a design nod to a horse's girth (the strap which helps secure its saddle). Thanks to its clean, utilitarian aesthetic, many consider the Evelyne to be a unisex bag – the perfect partner to everyday life, whatever your gender.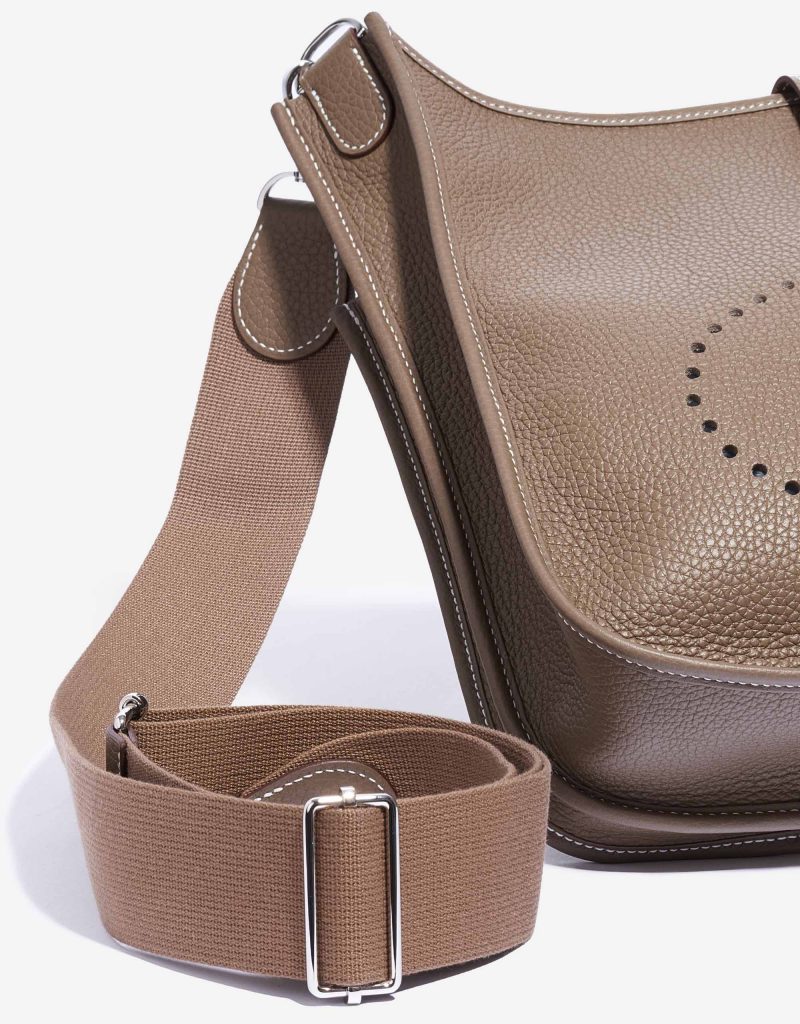 The Evelyne is crafted in durable leather that will weather the ages: on the whole, you'll be choosing between styles made from Epsom, Clemence or Maurice leather. Epsom is a stamped-grain calfskin which is lightweight and structured, making it very easy to care for (it also fares well in the rain). Epsom also shows colour beautifully, if you have your eye on a brightly-hued Evelyne. For a less rigid appearance, Clemence leather is made from baby bull and gets slouchier with age, with a heavier skin and wide natural grain. Maurice is a newer addition to the Hermès leather library, also crafted from baby bull hide, and is similar in appearance to Clemence but with a little more structure.
The Eve-olution
Since its release in the late '70s, the Evelyne has gone through three key iterations, with some small differences to take note of if you're shopping secondhand. The first generation of the Evelyne has no external pocket, and a non-adjustable strap. Second-generation Evelynes have an external pocket, and a non-adjustable strap. The Evelyne III, which remains today, has an external pocket and an adjustable strap. Hermès also introduced the Evelyne Sellier in 2016, a sleek variation crafted from Hunter leather with an embossed logo at the front, rather than perforations.
Sizing Up
Comparing Evelyne sizes is a major talking point amongst Hermès obsessives. The bag is available in four different permutations: TPM, PM, GM and TGM (short for Très Petit Modèle, Petit Modèle, Grand Modèle and Très Grand Modèle). You'll also find these models referred to as Evelyne 16, Evelyne 29, Evelyne 33 and Evelyne 40 – the number corresponds to its width in centimetres.
Hermès Evelyne
The different sizes of the Hermès Evelyne
| | |
| --- | --- |
| Bag size | Measurements in cm |
| Hermès Evelyne TPM | 16 x 18 x 5 cm |
| Hermès Evelyne PM | 29 x 30 x 8 cm |
| Hermès Evelyne GM | 33 x 31 x 8 cm |
| Hermès Evelyne TGM | 40 x 44 x 10 cm |
In line with our current obsession with all-things-mini in the bag world, the tiny TPM is unsurprisingly popular, particularly amongst the Instagram generation. The TPM can fit your daily essentials for running about town, such as a phone, keys, lipstick and cardholder – but not much else beyond this! In comparison, the PM (which despite being only the next size up, is nearly double the width of the TPM), is far more capacious – many consider it a great style for the office. The next two sizes up, the GM and TGM (the latter of which is rather rare), can both usefully accommodate a laptop, however those with a smaller frame may prefer to stick to the PM to keep things in proportion.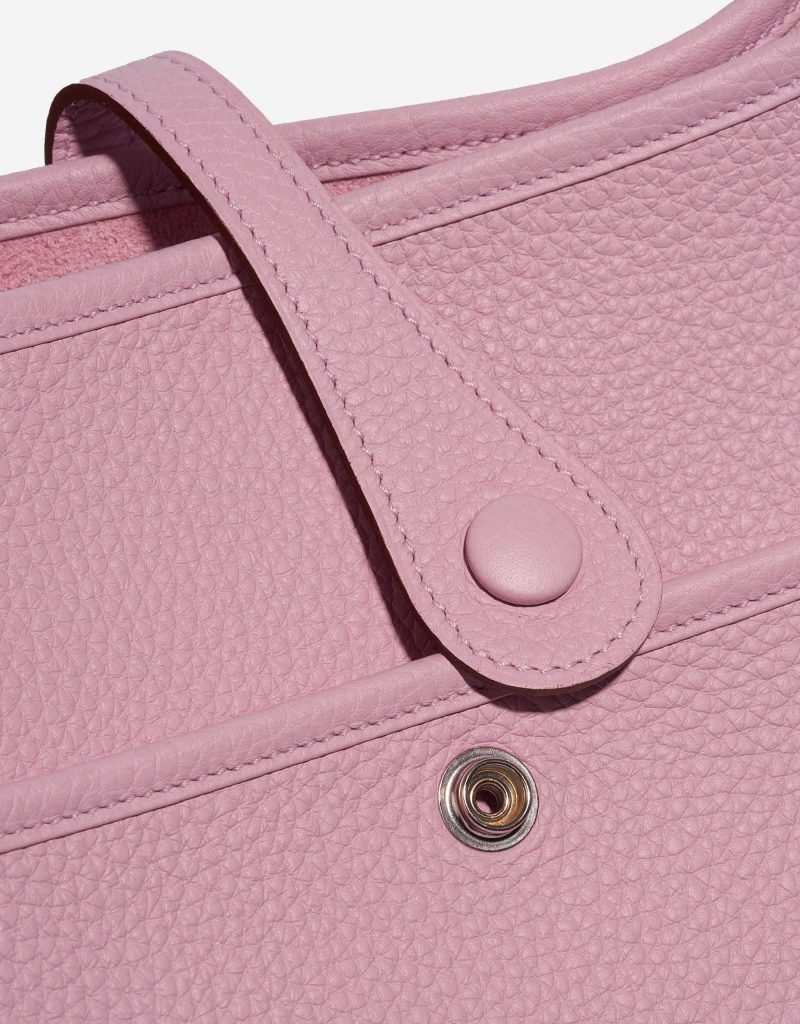 If you have your eye on a PM or above, bear in mind that the Evelyne does not have any internal pockets, which can at times make it difficult to find things without some digging around. This needn't become a concern though – if it's important to you, there are many third-party providers who make internal pouches for Hermès bags to help organise your items.
Pricing
As with all Hermès handbags, prices are always in flux (and always on the up) in boutiques, but you can expect to pay around €1,400 for a TPM, ranging up to €3,200 for the TGM. Prices are currently only slightly higher on the secondhand market for a good-quality style, such as this TPM in Rose Extreme, but we expect that this will also increase, as Evelyne's star continues to rise.
Ready to invest in an Hermès Evelyne? Let us know which size, leather and colour are on your wishlist, and we'll take care of the rest.
Looking to sell your designer handbag?
Get an offer today and start selling
Sign up to our newsletter
Be first in line for our latest arrivals, alongside journal updates, exclusive treats and more
Thank you! You've successfully subscribed.
Thank you! You've successfully subscribed.
It seems you are already signed up!
Please enter the correct email address
By subscribing I accept the privacy policy and the indications specified on data handling.
Make a Request
We do our best to find bags for our customers on request. However, this might take up to 6 months.
You can only create 3 requests at a time
Please remove one of your current bag requests to submit a new one.
Thank you for your enquiry!
Please check your email for further instructions.