Hermès Birkin Bag: Your First-Time Purchase Guide
SACLÀB ICONS
Investing in your very first Hermès Birkin is an unparalleled sartorial achievement - financially and style-wise. To find the perfect fit for you, we have asked blogger, YouTuber and Hermès-connoisseur Eileen from Colourful Noir for her advice on what to consider when choosing your first Birkin.
A brief history of the Birkin bag
The Hermès Birkin bag was first imagined by chief executive Jean Louis Dumas and British actress Jane Birkin, who met on a flight from Paris to London in 1984. Unable to find a bag to fit all her essentials, the young mother expressed her frustrations to the Hermès CEO. And together they created a functional but chic bag that serves as an everyday accessory but just as easily transitions into a sturdy travel bag. The first Birkin bag created for Jane Birkin was a classic style: A black Birkin 35 detailed with gold-plated hardware. And while it may not be the most popular size today, you can find vintage editions for fair prices on the resale market.
Since its release, the Birkin bag has risen to pop-cultural fame, unlike any other accessory. Regularly spotted on A-listers, the collections of Victoria Beckham (rumoured to own more than 100 Birkin bags), Cardi B and Kylie Jenner regularly make headlines. The most expensive Hermès Birkin bag ever sold at auction? In 2022, Sotheby's sold an extremely rare Diamond Himalaya Birkin 30 for over $450,000 USD. On the German-speaking market, this Hermès Birkin 20 Sous La Neige currently holds the record – it was sold here at SACLÀB for € 265,000 in 2022. The epitome of exclusivity.
Hermès Birkin vs. Kelly bag
Before diving into the details, a quick side note on another Hermès icon and famed older sister of the Birkin bag: the Hermès Kelly. Both bags share elements distinct to the Hermès DNA – two crossover buckle straps (the "sangles") and the classic precious metal turn-lock. But the easiest way to differentiate the two bag styles is by looking at the handles and flaps. Note that the Birkin bag is designed with two rolled handles whereas the Hermès Kelly comes with a single top handle and detachable shoulder strap. Additionally, the edge of the Birkin bag's leather flap is three-part, and the Kelly bag's flap has a clean-cut straight finish.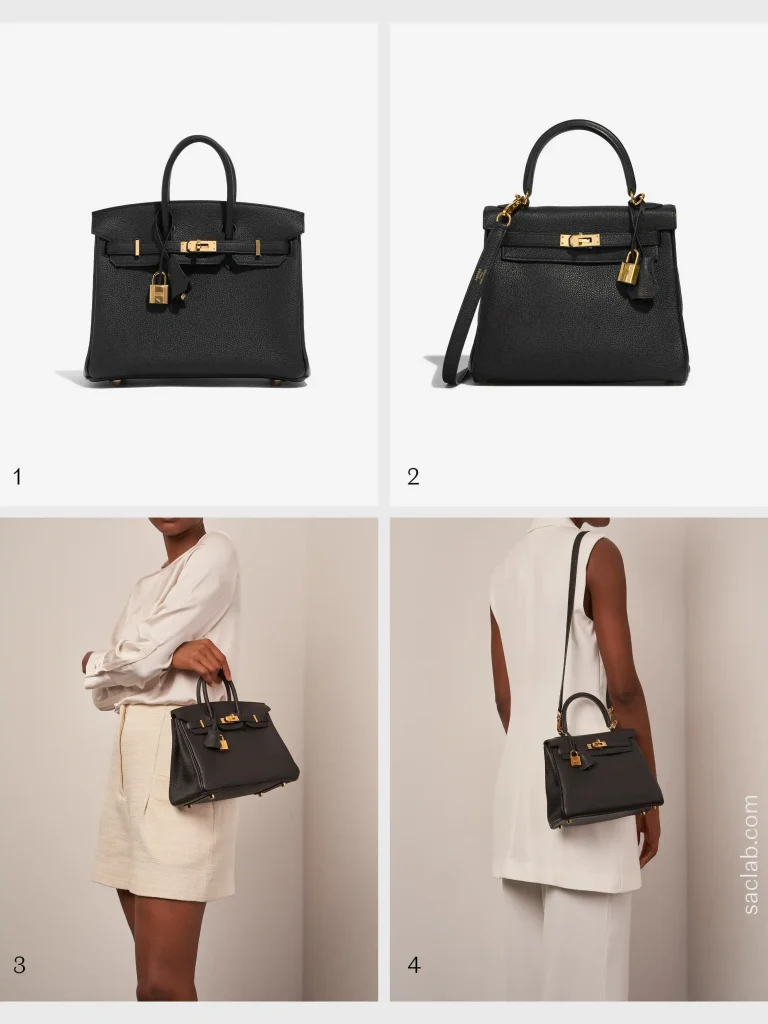 Craftsmanship
Every Birkin bag is a unique work of art hand-sewn by a single artisan, following Hermès' "one bag, one artisan" ethos. Merely 200 craftspeople are trained each year in the intricate skills needed to craft a Birkin. A personal process deeply rooted in the History of Hermès since its foundation in 1837. It's this elaborate approach to production that inevitably results in limited quantities available in boutiques. But more on that later.
Here's what you need to know
To guide you through your first Birkin bag investment, we have put together a comprehensive overview of decisions to take along the way. Following the motto "Work hard, spend smart", Eileen believes in mindful luxury shopping and is here to share her personal experience and valued tips.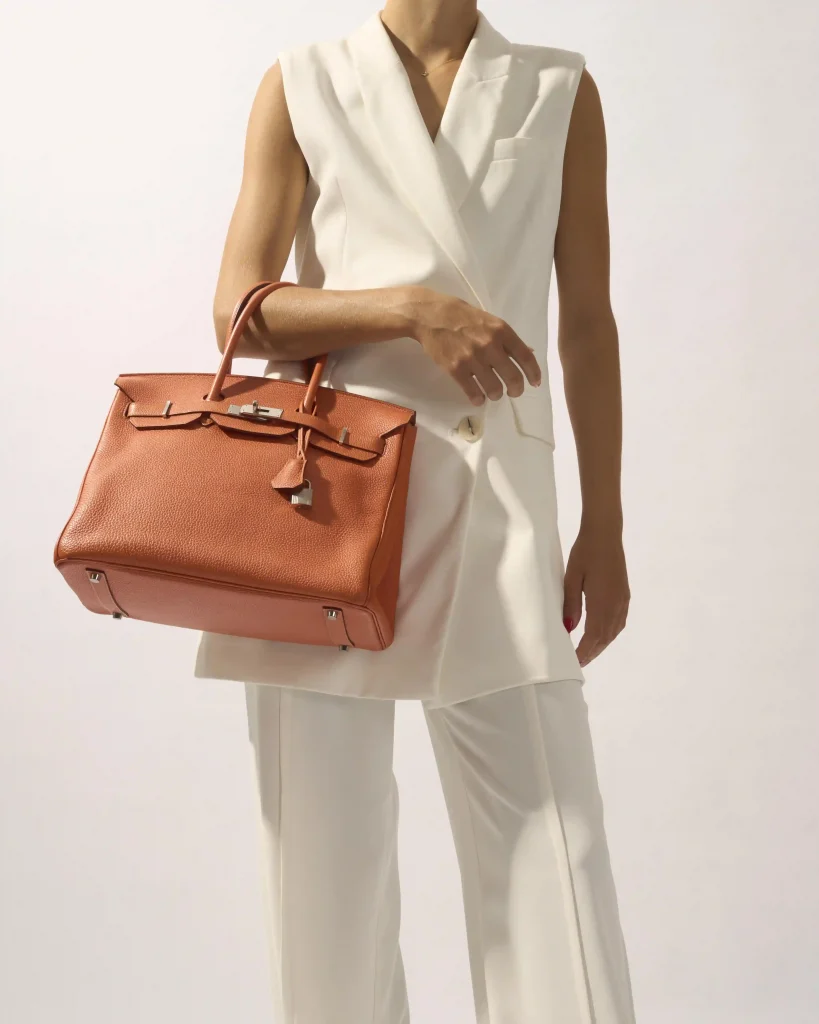 Size
The Hermès Birkin comes in four different sizes – 25, 30, 35, and 40. Conveniently, each size indicates the model's measurements. The Hermès Birkin 40, for instance, is the most voluminous version and measures 40cm in width. It offers enough space to pack for a weekend away, whereas the Birkin 30 is a much-coveted everyday option.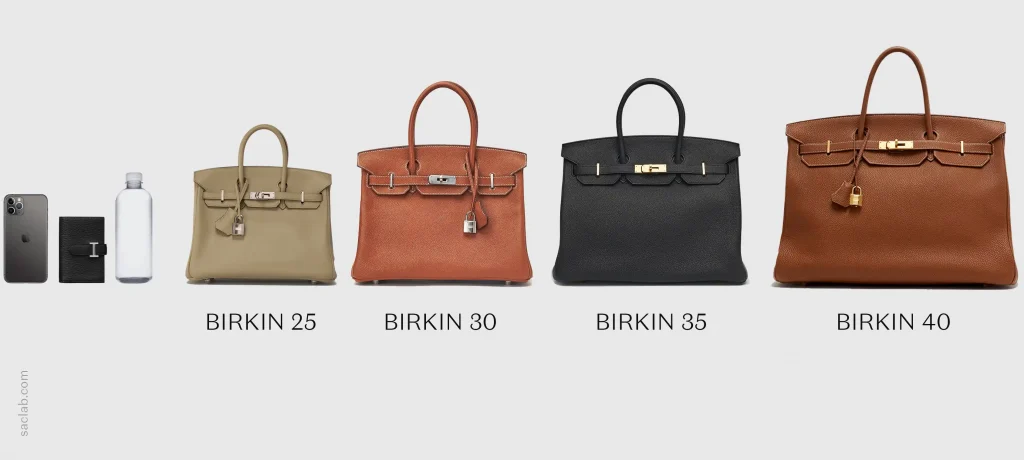 The hand-stitched bag has no outer pockets (with the exception of the very rare Cargo Birkin) but several compartments on the inside. A piece of advice on the style: If you're gravitating towards a sought-after Sellier Birkin, be aware that it offers slightly less space inside due to its rigid structure.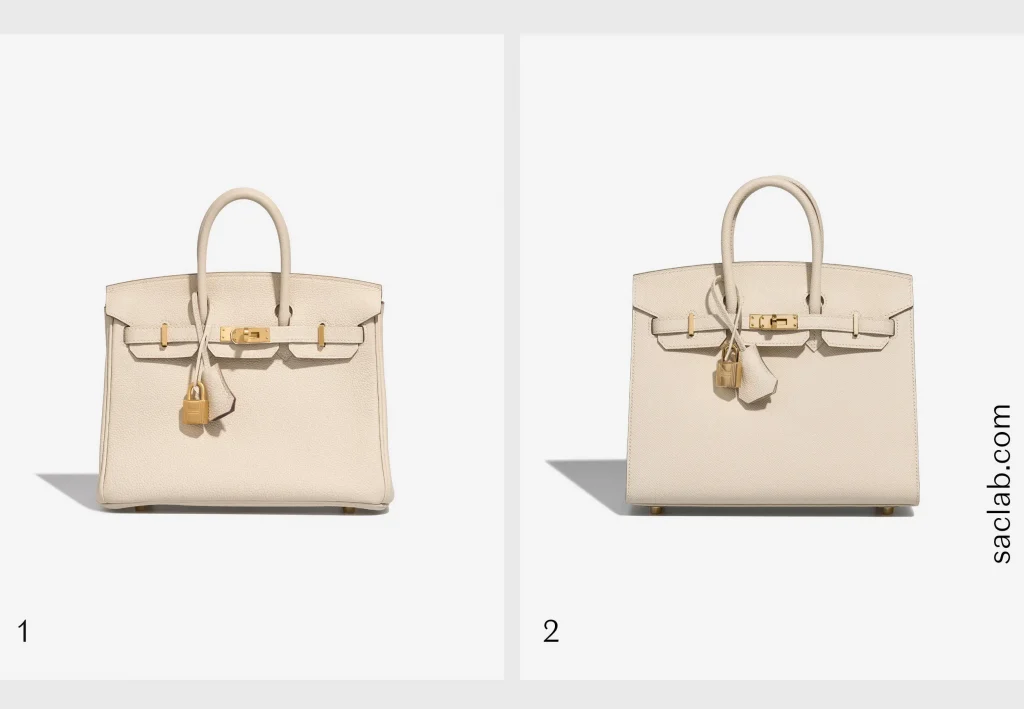 To decide on the right fit, you should also consider how you prefer carrying your Birkin bag. While the Birkin 40 might be too large and heavy to be worn in the crook of your arm, the two handles of the dainty Birkin 25 might be too tight to fit your wrist.
You own an absolutely stunning Birkin 25. What were your thoughts on choosing this size?
Eileen: "Definitely lifestyle and personal needs! When I first looked into Birkin bags, the most popular size was 30. However, I always knew a size 30 would be too big for me, seeing I really don't carry a lot. So, to be honest, I had always been very sure that size 25 would be the perfect choice for me."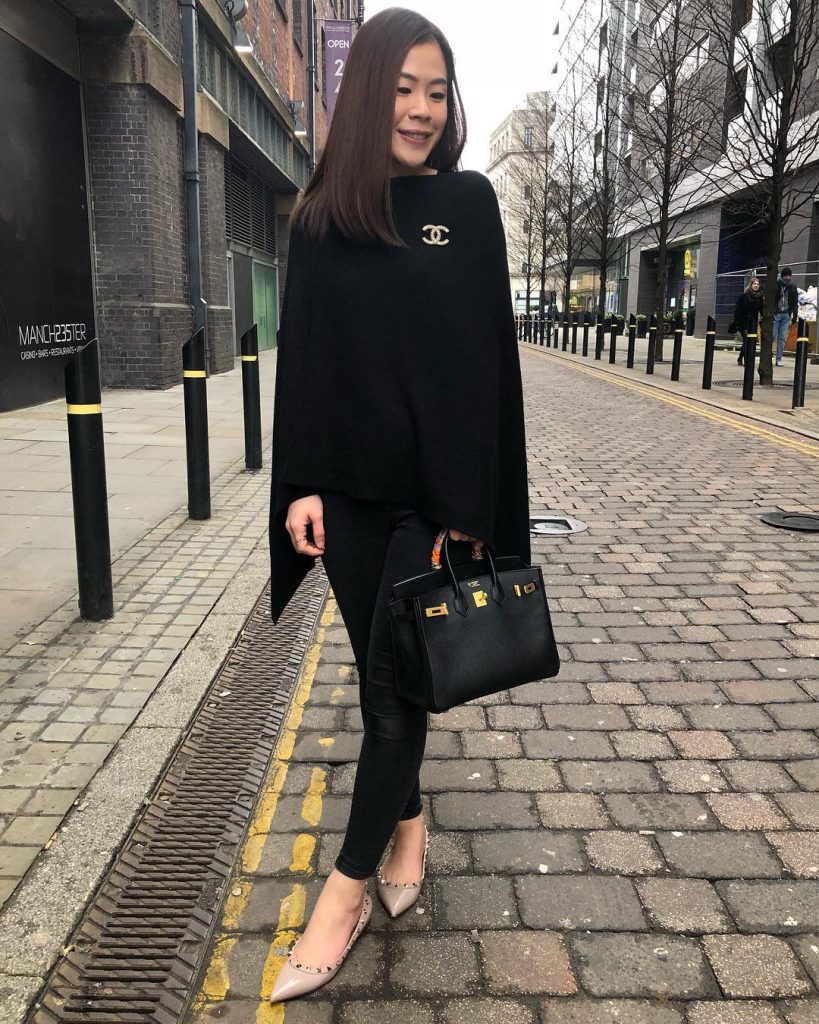 "It's big enough to carry all my essentials and it looks so very cute! When it comes to handbag sizes, it's never a good idea to compromise. I am a firm believer in choosing my bags to fit my lifestyle, not the other way around."
Leather
There is a plethora of beautiful Hermès leathers to choose from, from smooth vintage Barenia and resilient Epsom to very sensitive EXOTICS, like Ostrich or Lizard skin. Crocodile and Alligator skin rank particularly high among collectors as they are the rarest and most precious leathers used by Hermès artisans. When choosing the right leather for your first Hermès Birkin bag, you should keep its susceptibility to damage and MAINTENANCE REQUIREMENTS in mind.
Which leather would you recommend for a first-time Birkin purchase?
Eileen: "At least for your first Birkin, I would recommend leathers which are a bit more durable to wear and tear. If you own a Birkin, chances are you'll be using it for decades and might even pass it down as a family heirloom. So my advice will be to avoid very delicate leathers, such as box leather. My preferences include Togo and Epsom, both are very scratch resistant and worry-free. Clemence is a lovely leather as well, although it tends to look a bit more slouchy and can be more prone to water blisters."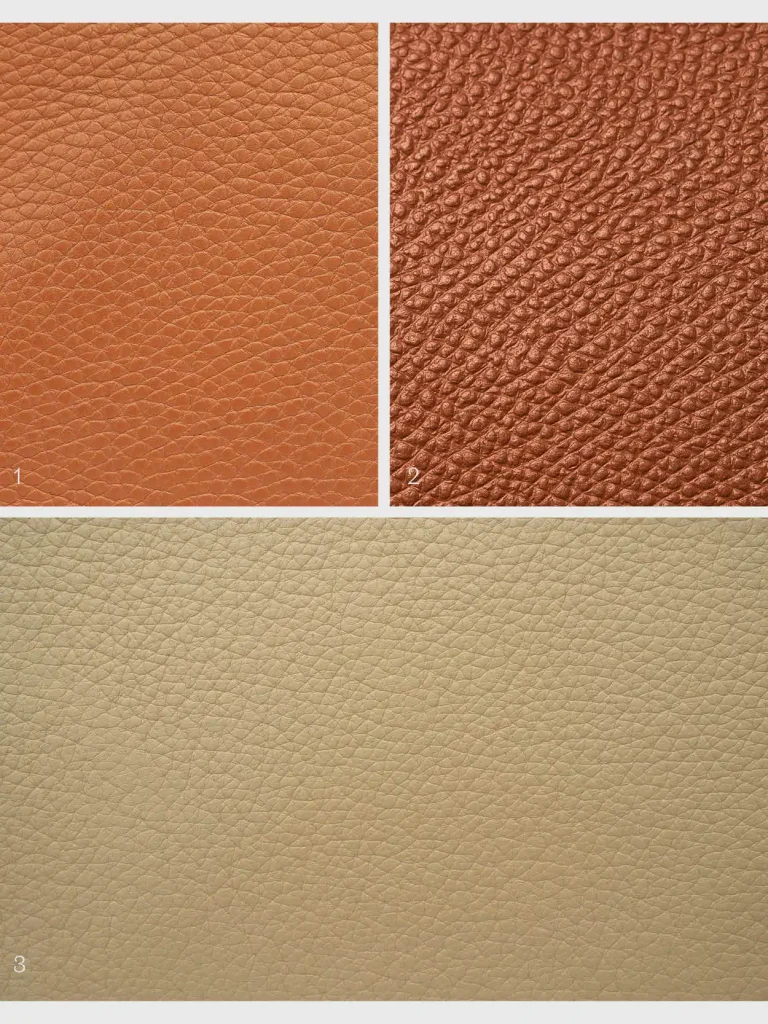 Colour
The world is your oyster when it comes to Hermès Colours. The 2023 collection, for instance, includes a range of delightful pastel hues like Limoncello and Vert Fizz. And alongside bold and bright shades such as the new Rose Pop or Vert Comics, a joyful green, neutrals prove the most popular. As such, Gris Meyer, Nata and Chai are more recent additions to established brand favourites like Gold, Etoupe and Etain. Everyday neutrals generally make long-term investment pieces.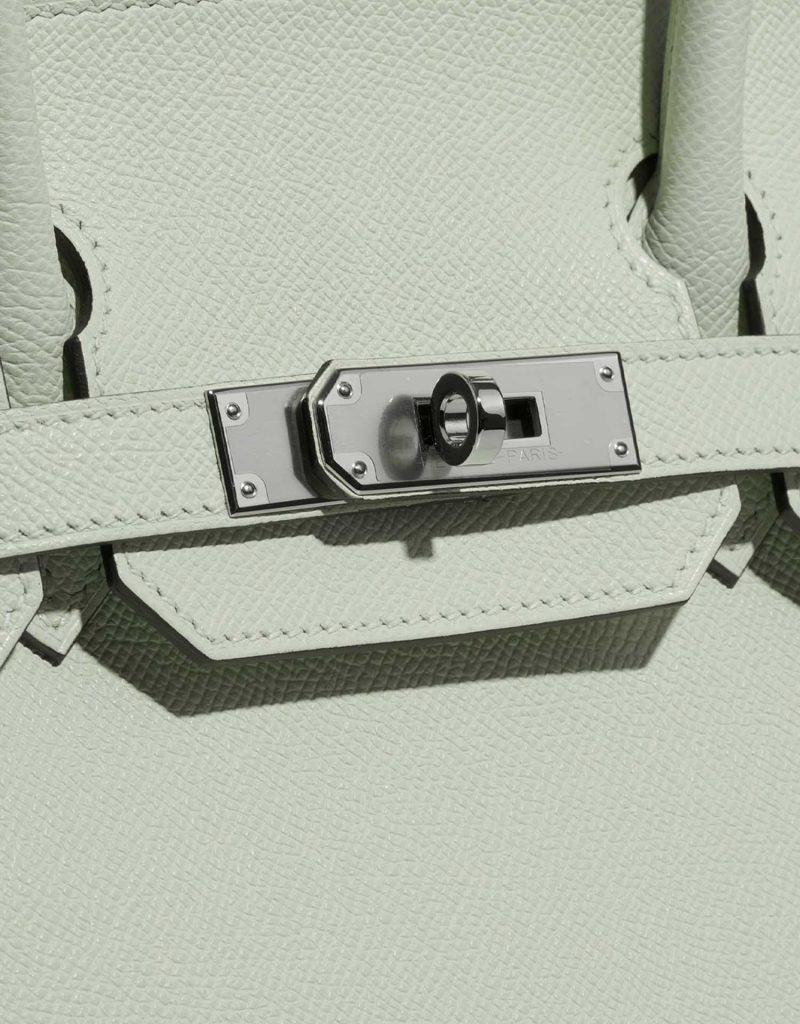 One more aspect to consider is the hardware. Palladium hardware has a silver-tone finish and offers a cool contrast to crisp, bright shades. Gold-plated has a glamourous, saturated shine and many collectors love it against classic navy blue, beige or brown tones. Discover all options in our complete guide on Hermès hardware.
You chose rather neutral colours for your personal collection of Hermès bags. What would you advise a first-time buyer?
Eileen: "I am a big neutral lover, so I do tend to gravitate towards this colour palette for all my wardrobe elements. However, even if you're not a neutral fanatic like me, I'll still recommend a neutral colour for your first piece. Something like black, Etoupe and Etain really will go with absolutely everything, so you will certainly get the cost-per-wear way down."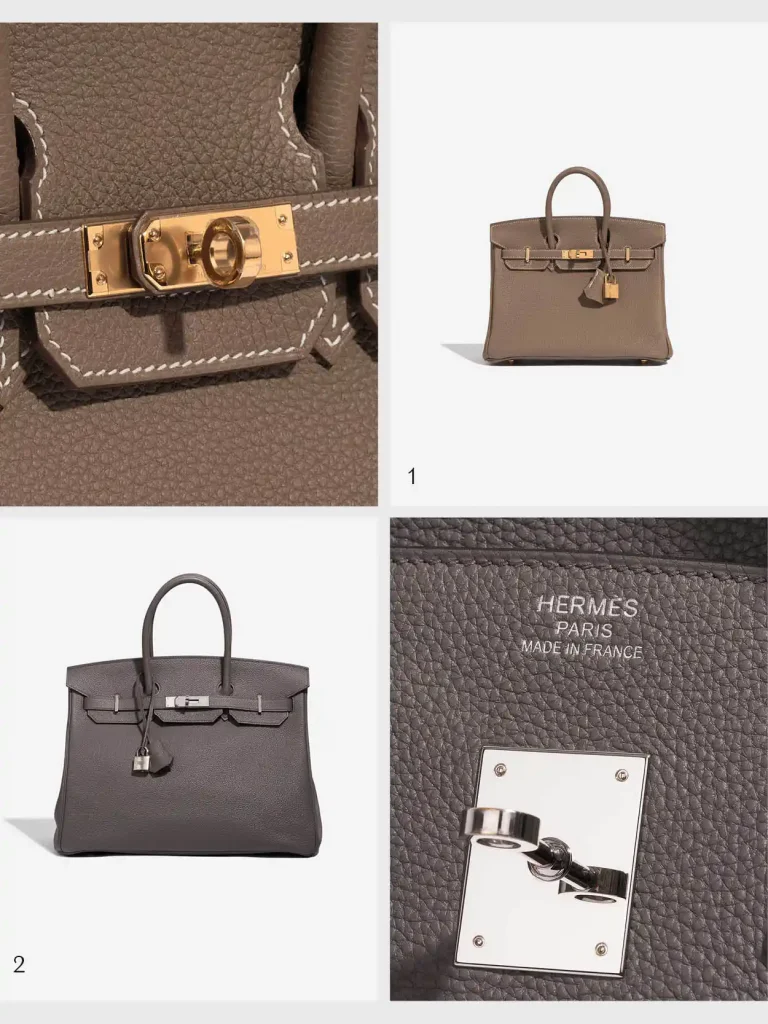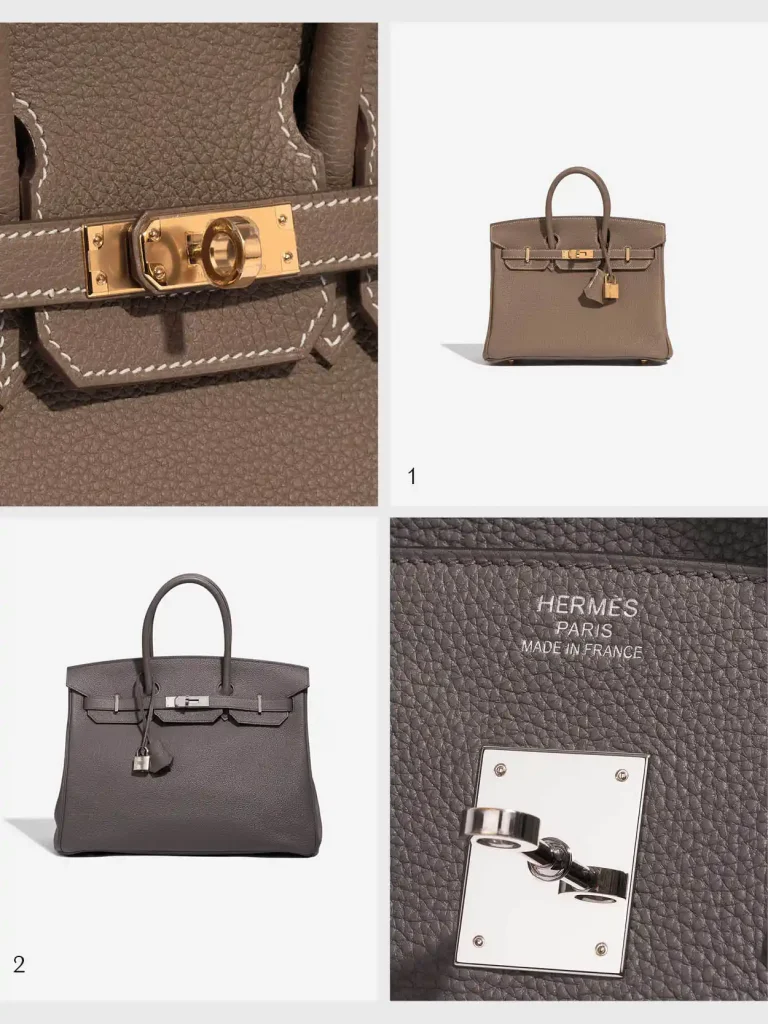 "Secondly, even if you decide not to buy another Hermès bag (they are expensive after all), you've had all bases covered."
How to buy a Birkin bag
As you may know, Birkin bags are not simply sold over the counter. Getting offered to purchase your first Birkin can take a lot of perseverance – and a lot of time. To track down the Birkin of your dreams, you should keep an eye on your preferred colour-, size-, and leather-combination on the resale market.
Sign up to our newsletter
Be first in line for our Birkin bag arrivals
Thank you! You've successfully subscribed.
Thank you! You've successfully subscribed.
It seems you are already signed up!
Please enter the correct email address
By subscribing I accept the data privacy policy and the indications specified on data handling.
If you do decide to buy from a luxury goods resale platform, make sure to only shop from trusted sources that offer expert authentication. At SACLÀB, it's our mission to make your shopping experience safe and straightforward, and just as special as buying from the boutique.
Would you recommend first-time buyers to shop their Birkin bag pre-loved?
Eileen: "Buying my Birkin bag from the Hermès store was a wonderful experience. However, a Birkin is rarely sold to a customer without a purchase history. Personally, I love many things from Hermès, especially their rose gold jewellery, so that kind of works in my favour (not my wallet, unfortunately). Regardless, I don't recommend shopping at Hermès boutiques just to get a bag offer. Buy what you love instead, and if that comes with a bag offer, then it's icing on the cake."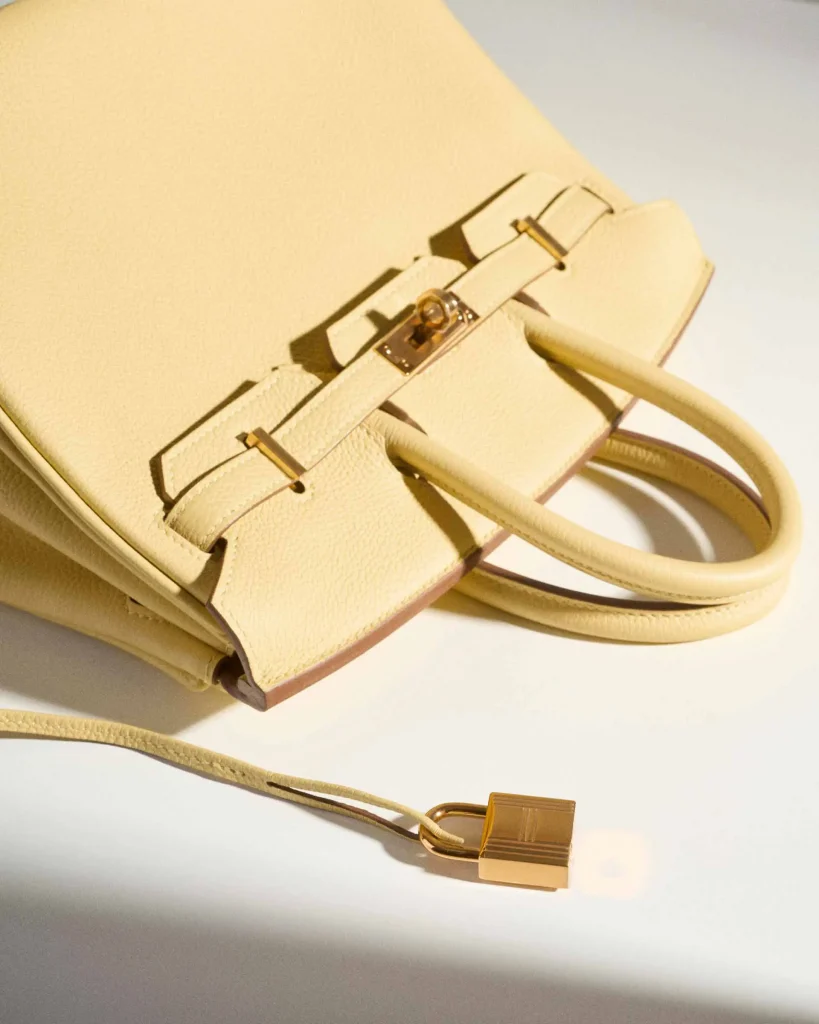 "Alternatively, buying from a reliable resale or consignment website is a fantastic option. In fact, buying pre-loved often gives you more options in terms of leathers, colours and sizes. However, do be aware that a Birkin on the secondhand market can cost more than its retail price. This might be hard to swallow but an Hermès Birkin quite often will retain its value extremely well over the long run."
Price
The Hermès Birkin bag is without doubt a significant purchase. Following the latest price increase in 2023 by around 9%, expect to pay € 8,900 for a Togo leather Birkin 30 in boutiques today. The good news: The investment pays off, even if you buy on the secondary market at a premium. Due to its limited availability (and given it's kept in immaculate condition), the Birkin bag's value basically never drops. Quite the opposite – the resale value of some models has increased by up to 78% within two years. Head to our Birkin bag investment guide for the full rundown.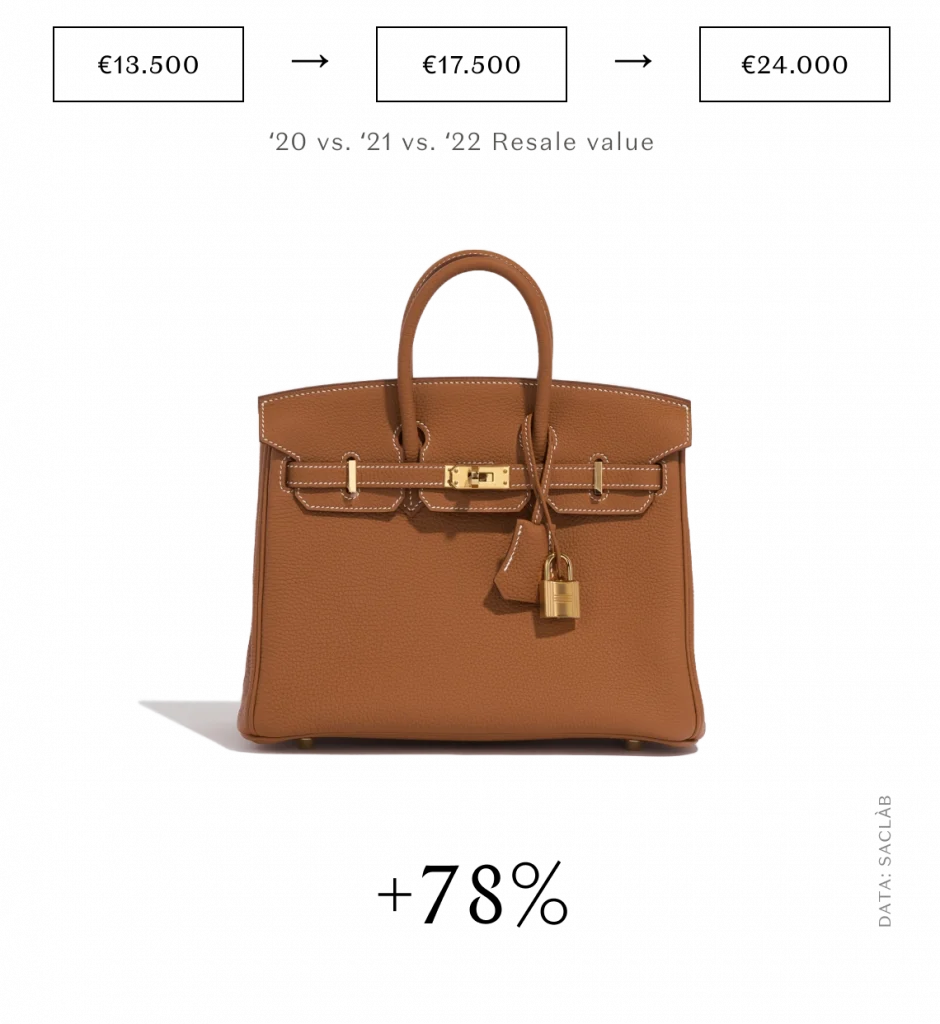 If you're shopping on a budget, keep an eye on vintage Birkin bags, larger styles or handbags in worn condition. Like this dreamy 2007 Birkin 35 Togo Gold-on-Gold that was sold for € 8,930 at SACLÀB.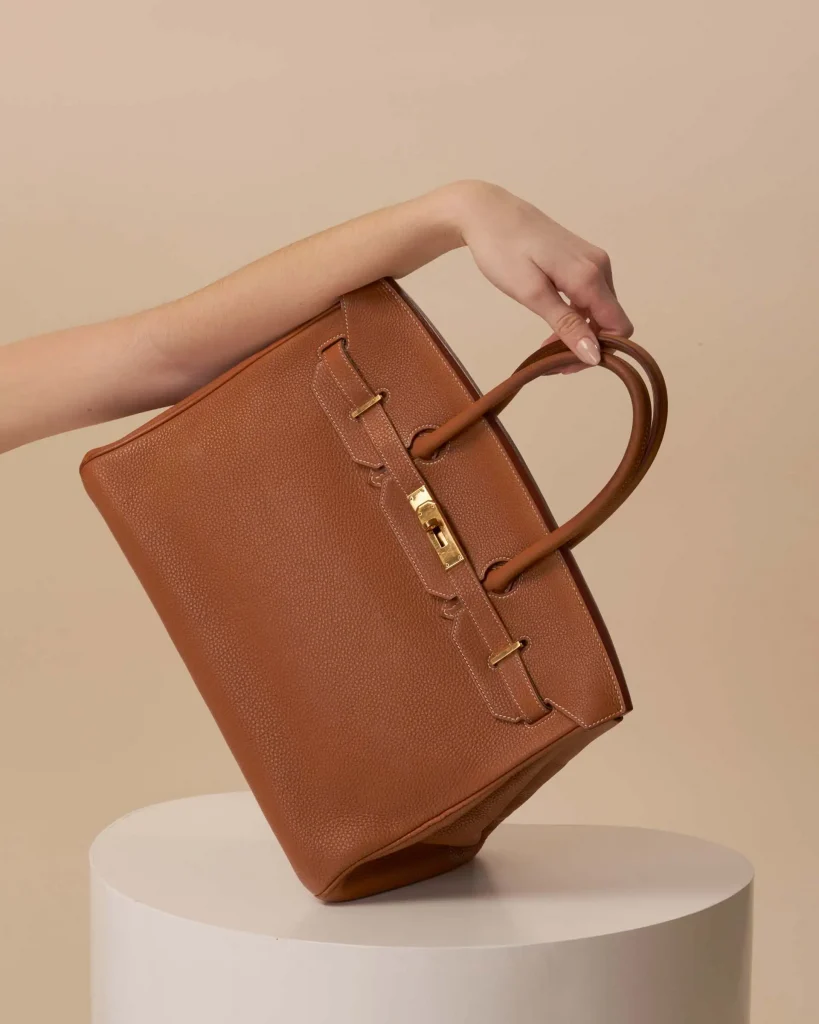 You have had your Birkin 25 for some time now – are you still happy with your choice 1.5 years after purchasing it?
Eileen: "I'm still absolutely in love with my Birkin 25! The price was hefty but for me, it's truly an investment piece. I've used it so much and I can see myself wearing it even in my 60s. In fact, even if I had to downsize my handbag collection today, I'd still keep the Birkin for sure. I've bought handbags from many luxury brands but to me, Hermès craftsmanship is truly second to none. When it comes to luxury handbags, quality triumphs quantity and less can certainly be more."
Spend it, smart
Now that you are fully prepared, browse our curated selection of pre-owned Hermès Birkin bags below. Can't find what you're looking for? Schedule a virtual appointment with our advisors and we'll source your wishlist item.
Looking to sell your designer handbag?
Get an offer today and start selling
Sign up to our newsletter
Be first in line for our latest arrivals, alongside journal updates, exclusive treats and more
Thank you! You've successfully subscribed.
Thank you! You've successfully subscribed.
It seems you are already signed up!
Please enter the correct email address
By subscribing I accept the privacy policy and the indications specified on data handling.
Make a Request
We do our best to find bags for our customers on request. However, this might take up to 6 months.
Warning!
You have reached the limited requests per customer.
Thank you for your enquiry!
Please check your email for further instructions.
You have reached the limited requests per customer.