Lady Dior: Your First-Time Purchase Guide
SACLÀB ICONS
The Lady Dior bag is one of Dior's most recognised and bestselling styles; it gracefully puts a modern-day twist on the house's long-standing heritage. From its royal namesake to practicality matters, we delve into the bag's anatomy and history of this timeless bag.
A very stylish state affair 
The Lady Dior bag was first introduced in 1994 under the creative direction of Christian Dior's successor, Gianfranco Ferré. Initially, this icon was nicknamed Chouchou – French for "the favourite" – and was only renamed a year after its first release.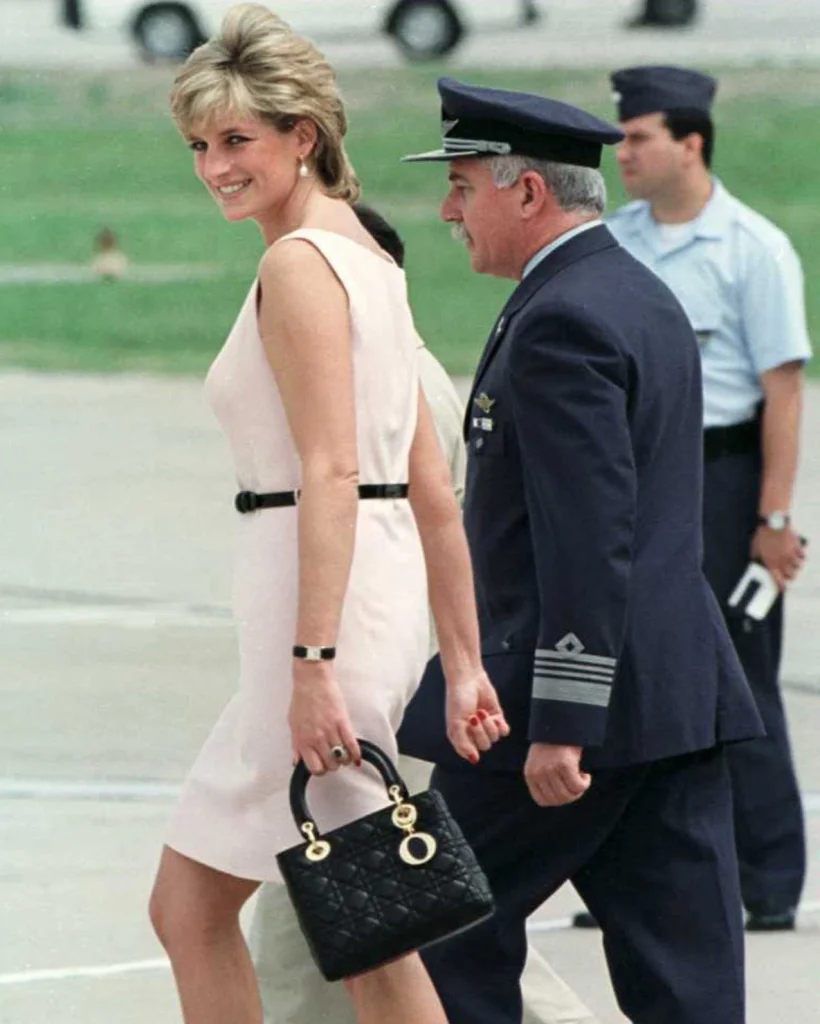 The story goes that France's former First Lady, Bernadette Chirac, sought advice from the Maison Dior on the hunt for an adequate gift for the upcoming state visit of Diana, the Princess of Wales. Lady Diana, thrilled by the gifted handbag, immediately ordered all available colourways. She was spotted carrying it on several occasions, publicly demonstrating her admiration. Dior soon changed the Chouchou's name to Lady Dior, a wordplay paying homage to the bag's most prestigious fan.
The Lady Dior is assembled from 144 parts in ateliers in Florence. The hardware alone is constructed from 43 metal parts – from charms to feet and eyelets. Ever since it came to fame in the mid-'90s, the Lady Dior has been released in different sizes, colours, materials, and seasonal special editions – from John Galliano's leopard-printed 1999 version to Maria Grazia Chiuri's opulent embroideries. When browsing for your first Lady Dior bag, consider the right size, material, and the design features you value.
Here's what you need to know
Are you thinking about taking the plunge? We have asked YouTuber and Dior-enthusiast Emma Anders for her personal advice. Here's what to keep in mind for your first-time purchase of the Lady Dior bag.
Size
Traditionally, the Lady Dior comes in four different sizes – Mini, Small/MyLady ABC, Medium, and Large. Over time, special shapes and sizes have been issued as well – the Micro version for Spring/Summer 2015, for instance, or the 2010 Extra-Large edition.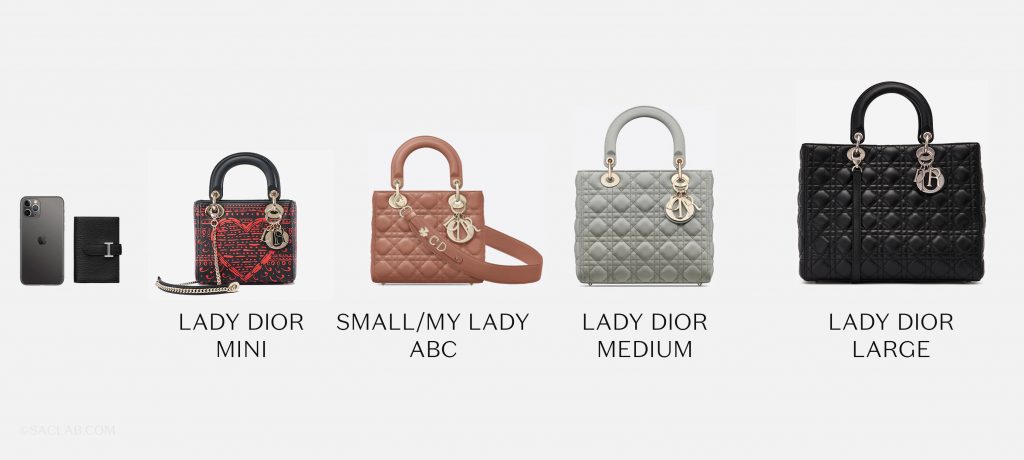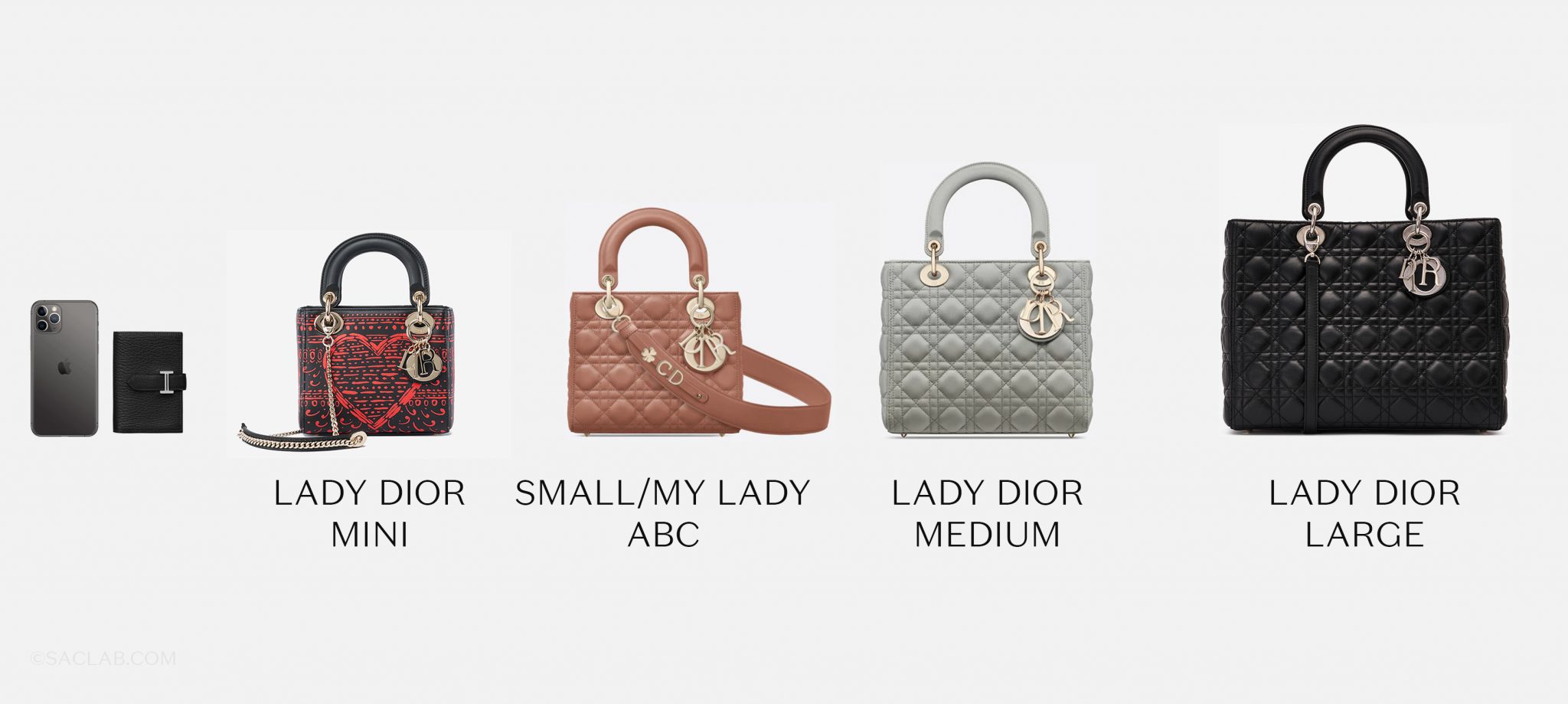 The Lady Dior: sizes and measurements
| | |
| --- | --- |
| Bag Size | Measurement in cm |
| Lady Dior Mini | |
| Lady Dior Small/MyABC | 20 x 16.5 x 8 cm |
| Lady Dior Medium | 24 × 20 × 11 cm |
| Lady Dior Large | 32 × 25 × 11 cm |
In 2022, the House did away with the square look by introducing the Lady D-Joy: a streamlined rectangular version of the classic style. This rendition comes in a micro, small and medium size. Its long, narrow shape is accentuated by cannage stitching and the familiar DIOR embellishment hanging from its top handle.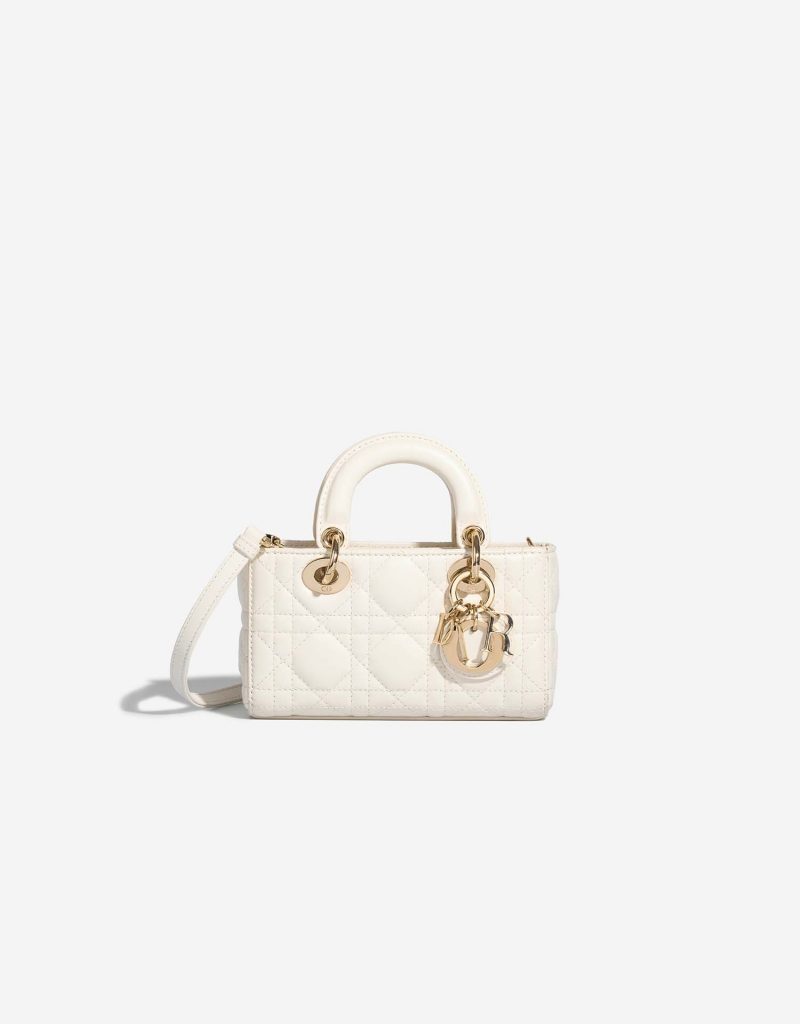 Emma, you have a gorgeous selection of Lady Dior bags and conveniently own all sizes from Mini to Large. If someone buys his/her first – and perhaps only – Lady Dior, which size would you recommend going for?
Emma: I bought the medium size first because, to me, it was the most iconic. I wasn't looking at functionality or how it would fit into my lifestyle. But if I was buying one now – especially if it was the only one – I would go for the large size as I could use it the most. My second choice would be the Mini or MyLady (Small) as they're just so cute, and both work very well as a crossbody and top handle.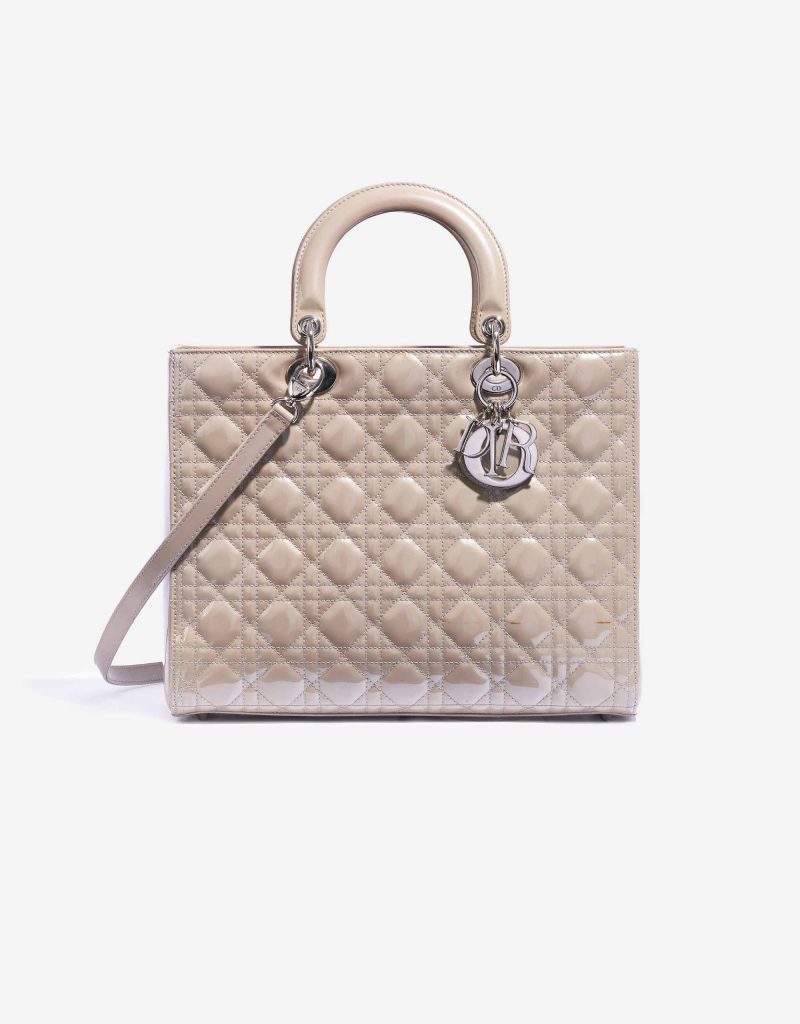 In one of your videos, you rank your entire handbag collection and mention your Lady Dior Large in black lambskin first – what makes this particular bag so special to you?
E: I like my larger bags, but sometimes as a bag gets bigger, it loses its delicacy. With the large Lady Dior, I don't feel I need to compromise on the beauty of the bag to get great functionality at that bigger size. It's also very versatile in the variety of ways that it can be worn.
Sign up to our newsletter
Be first in line for our latest handbag arrivals
Thank you! You've successfully subscribed.
Thank you! You've successfully subscribed.
It seems you are already signed up!
Please enter the correct email address
By subscribing I accept the data privacy policy and the indications specified on data handling.
Leather
Traditionally, the Lady Dior is crafted from cannage-quilted lambskin, adding to its timeless elegance. The expertly stitched cannage motif is a tribute to Christian Dior's Maison on Avenue Montaigne in France, as it resembles the Napoléon III and Louis XV chairs guests were seated on at runway presentations. You can also find editions made from calfskin, patent leather, exotics, or refined fabrics.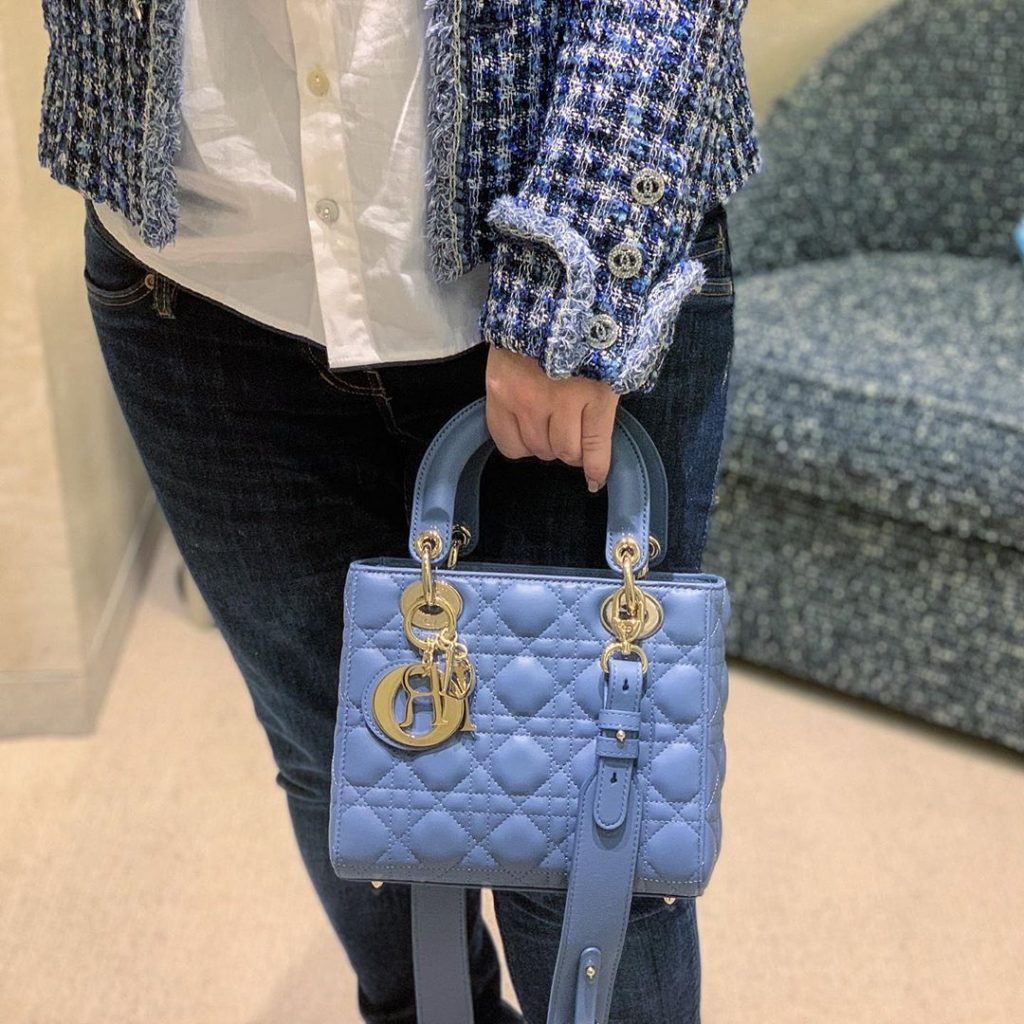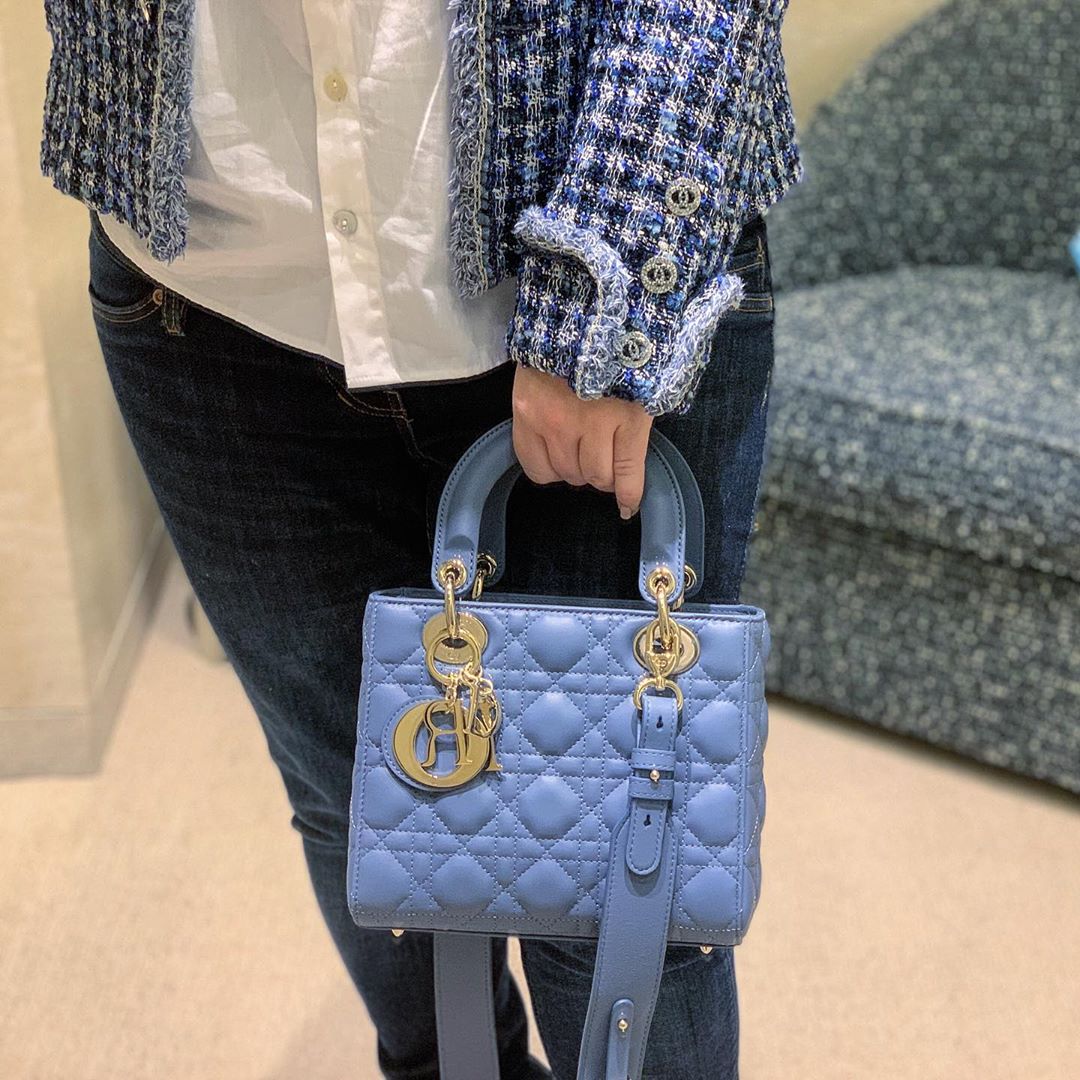 The classic Lady Dior is made from lambskin and features the famous cannage stitching. What's your experience with this leather and its maintenance?
E: As much as I love my bags – over time I've got much more relaxed in how I use them, and I'm not always the most careful (though I do try to be). Despite this, I've had very few marks or scratches on any of my bags. And I love the cannage! It's so intricate and is definitely my favourite feature of the Lady Dior. The great thing about Dior, though, is that if I did have a problem or need any repairs, I would feel very comfortable taking my bag to them.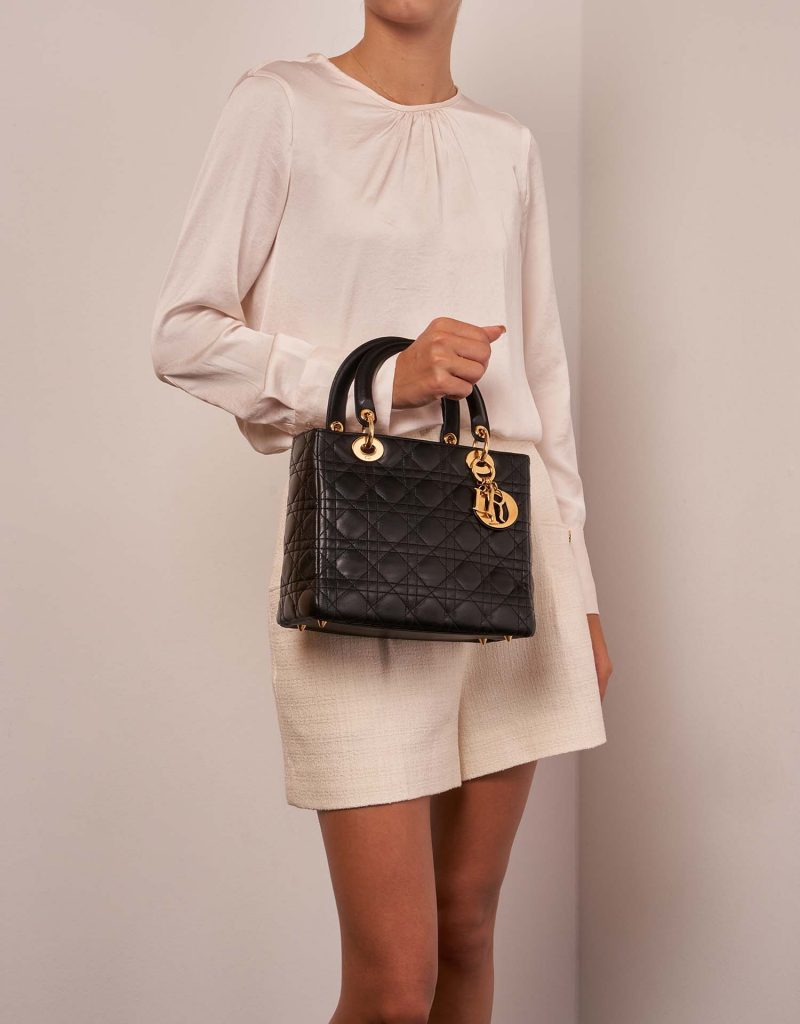 Have you ever thought about getting a Lady Dior bag crafted from a different material (canvas, satin, patent, embroidered…) or is lambskin your favourite choice? 
E: I like the simplicity of lambskin in combination with the cannage quilting. I did consider the pale blue satin MyLady Dior – especially as it has a gorgeous rhinestone charm. But I was unsure about how this would wear over time, given how relaxed I am with my bags. I would definitely consider a patent in the large size, and I am always on the lookout for that embroidered Lady Dior… I just haven't found it yet.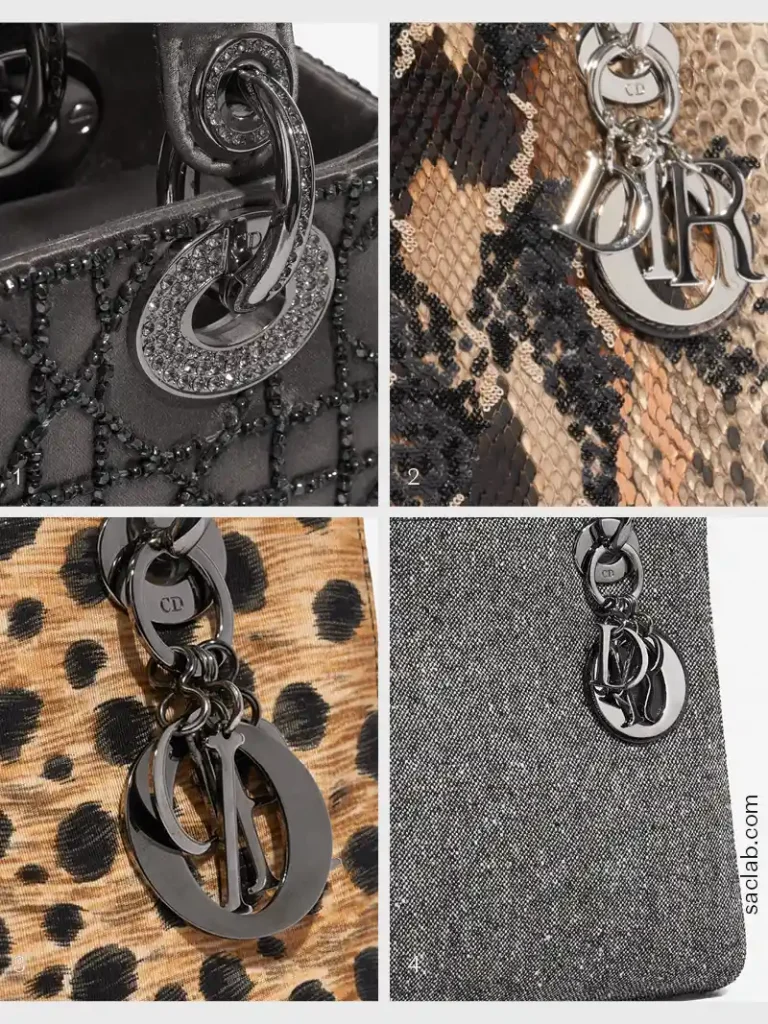 Hardware
The Lady Dior's hardware playfully hints at Christian Dior's alleged superstition. It's said he always carried talismans and lucky charms with him, inspiring the four dangling DIOR letters. The hardware is thought through down to the last detail; the zippers and plaques carry the couturier's initials.
Dior hardware generally comes in two timeless options – gold or silver. For the Lady Dior, you can also opt for champagne hardware, a light blend of pale gold. If you prefer an edgy twist, opt for the colour-coordinated Ultra Matte version.
The Dior charms are a beloved element of the Lady Dior. Is there anything a first-time buyer should know about the bag's hardware before purchasing a Lady Dior?
E: They scratch. It happens. I don't really notice it much but I imagine it could frustrate some people. I think it is much less noticeable on lighter hardware, and Dior can repair them, but it's not something that I really see on the bag when I look at it day-to-day. The charms are hand-shaped and stunning. I have all of mine in the light gold tone.
Top handle vs. crossbody
Good to know: All Lady Dior bag sizes come with a shoulder strap, so going hands-free is granted. With Maria Grazia Chiuri's wider and customisable guitar straps, you can also mix and match a variety of patterns and colours.
If you prefer to wear your bag crossbody, you should go for a smaller version – the Mini comes with a metal chain strap that is best worn crossbody, whereas the large size is made to be worn over the shoulder or by its handles.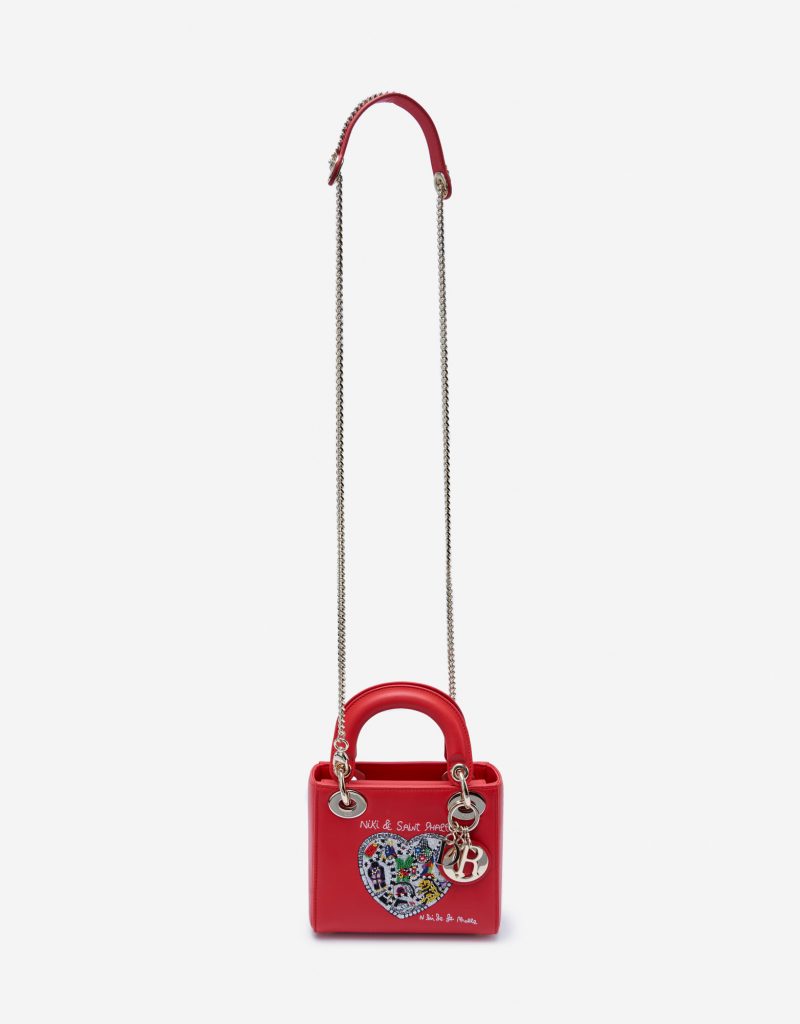 Do you prefer carrying a Lady Dior in the crook of your arm, in your hand by its handles, or do you usually opt for crossbody using the straps?
E: Ultimately, the Lady Dior is designed to be carried by the top handle and so this, and in the crook of my arm, are my favourite ways of carrying it. But realistically, I often need my hands free so the crossbody strap is essential.
Buying the timeless Lady Dior
Would you advise first-time buyers to also keep an eye on the secondhand market to find a Lady Dior?
E: Yes. Lady Dior bags don't hold their value very well so they sell for great prices on the secondhand market. That being said, I do think that Dior's popularity is growing, and so this may not always be the case.
And finally: You already have a remarkable collection of Dior bags. But what's next on your wishlist?
E: I'll know the pieces when I see them! I save up and have the money there for when I see the right piece.
Shopping time!
Dreaming of your first Lady Dior? Let our consultants know and we will help you find it!
Looking to sell your designer handbag?
Get an offer today and start selling
Sign up to our newsletter
Be first in line for our latest arrivals, alongside journal updates, exclusive treats and more
Thank you! You've successfully subscribed.
Thank you! You've successfully subscribed.
It seems you are already signed up!
Please enter the correct email address
By subscribing I accept the privacy policy and the indications specified on data handling.
Make a Request
We do our best to find bags for our customers on request. However, this might take up to 6 months.
Warning!
You have reached the limited requests per customer.
Thank you for your enquiry!
Please check your email for further instructions.
You have reached the limited requests per customer.