An Expert Guide to Investing in the Hermès Birkin Bag
SACLÀB INSIDERS
Crises, inflation, recession - despite uncertain times, demand for high-value fashion and lifestyle pieces is growing. As such, collector's items not only serve as asset diversification but also add a sense of personal joy to passionate individuals. And compared to art or wine, luxury handbags have proven to be profitable investments in recent years, even during the pandemic: In 2020, Hermès Birkin Bags generated an annual return of +38%, Chanel handbags of +11.8%*.
At SACLÀB, the curated online marketplace for buying and selling pre-loved luxury handbags, we are also registering increasing demand for prestigious super-luxury bags, which trade well above their initial retail prices on the secondary market.
The legendary Hermès Birkin bag is at the top of the list – a timeless handbag and celebrated cult object, unobtrusive in design without flashy logos or monograms. In an Hermès boutique, prices for a "standard model" made of calfskin start at around €7,000; while on the secondary market, it can be resold for €15,000 and up. A plus of almost 114%.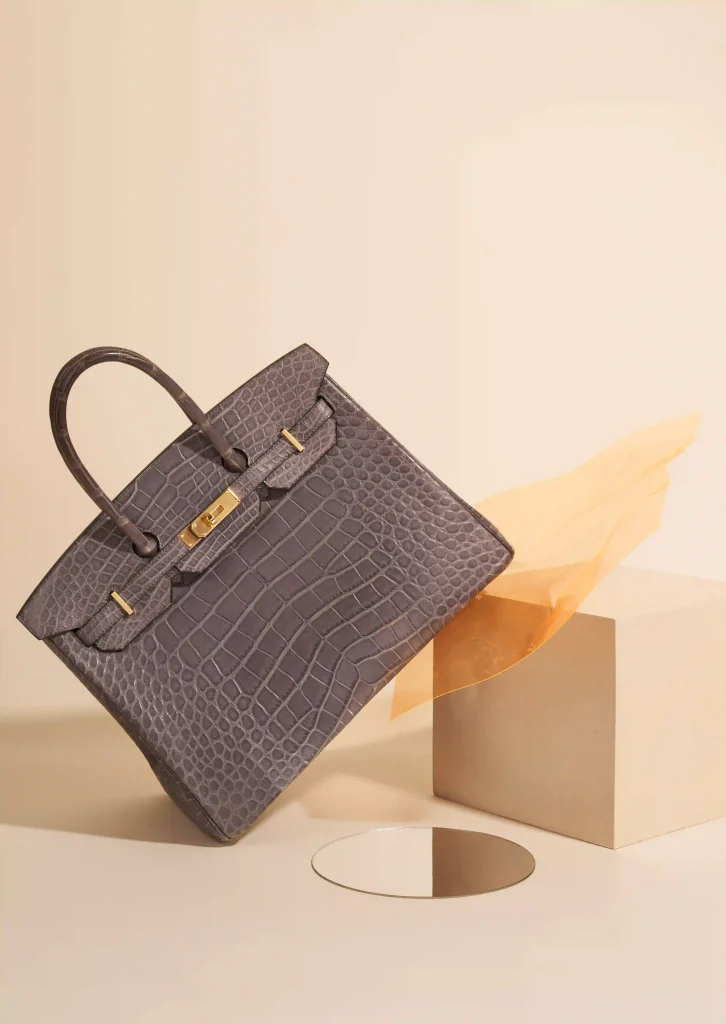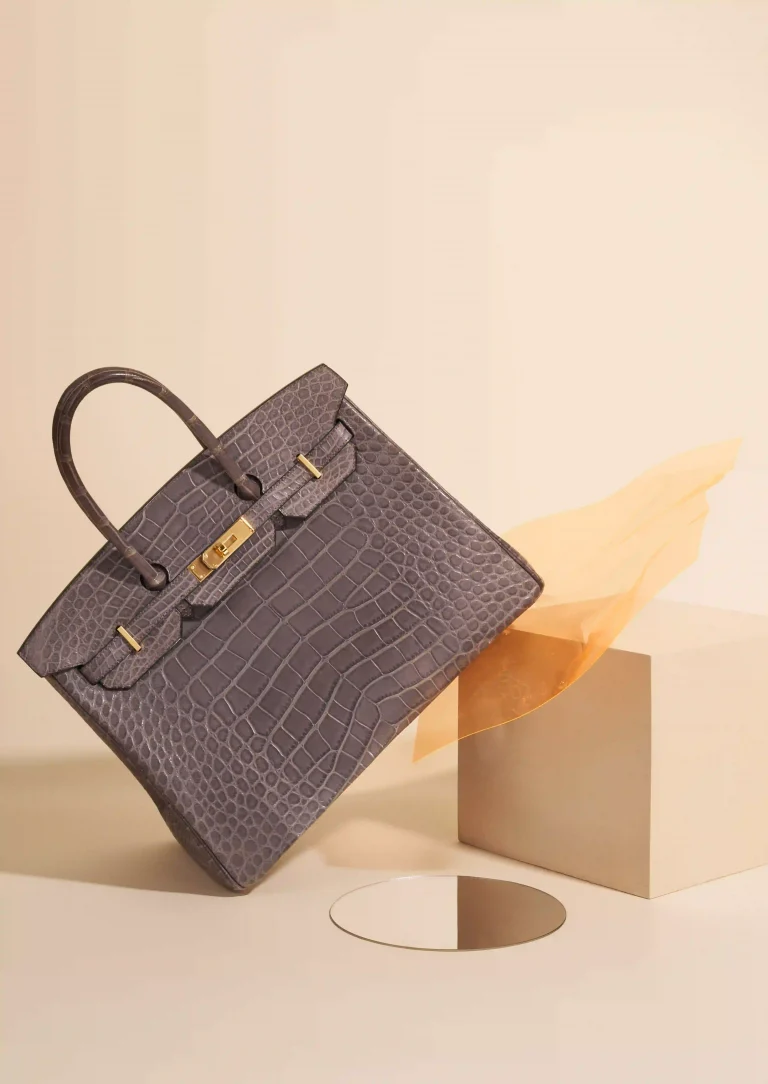 Here's why the Hermès Birkin bag is so expensive
The staggering price tag of the Hermès Birkin is partly due to the exceptional craftsmanship of the house, and partly due to the strictly limited availability of the bag. Plus a certain hype in pop culture manifested its reputation as the most famous handbag in the world – from celebrity collectors like Kylie Jenner and Victoria Beckham to dedicated storylines in Sex and the City.
Each Birkin bag is painstakingly handcrafted by a single artisan in the Hermès ateliers in France. From selecting and cutting the perfect pieces of leather to embellishing the bag with refined metal hardware, the process of making one Birkin takes up to 40 hours. A particularly noteworthy detail: When a bag is sent to Hermès for repair, it is refurbished by its original artisan. In this way, Hermès takes a uniquely personal approach to production that proves, naturally, both costly and time-consuming.
Moreover, unlike other luxury brands, the required budget is not the only factor that determines access to the coveted bags at Hermès. Most clients are only offered to purchase a so-called "quota bag" if they can demonstrate a loyal, long-standing purchase history. Additionally, the purchase of Birkin and Kelly bags is limited to two models per year per customer. And although one can express preferences regarding leather or colour, there is no guarantee to be offered the desired combination. That's why many choose to buy secondhand despite the markup – in short, demand exceeds supply.
The increase in value of the Birkin bag
When looking at the investment potential of the Birkin bag, you should consider two factors: the retail price in Hermès boutiques and the resale value on the secondary market. The retail price is set by Hermès itself (and experience shows that it is increased annually). In the early 2000s, for example, the Birkin bag would have cost around €4,000 in-store. Today it is priced from €7,000 up.
However, the value increase of the Birkin bag only becomes more apparent when you take pricing on the secondary market into account. Unlike the retail price, the resale value fluctuates: the willingness to pay depends heavily on the condition and rarity of the bag and is, not least, subject to the dynamics of current trends.
These Birkin bags promise the highest return
Although large designer bags are slowly re-emerging, at SACLÀB we still register the highest demand for the small 'Baby' Birkin 25. Made of the standard Togo calfskin, models in very good condition fetch an average of around €24,000 at SACLÀB in 2022 – last year, in 2021, their resale price was still around €17,500, in 2020 around €13,500. The highest prices are achieved by the classic caramel shade Gold in combination with gold-plated hardware.
Birkin 25 Togo resale value
Over the last 3 years, the resale value of a Togo leather Birkin 25 in immaculate condition rose by almost 80%.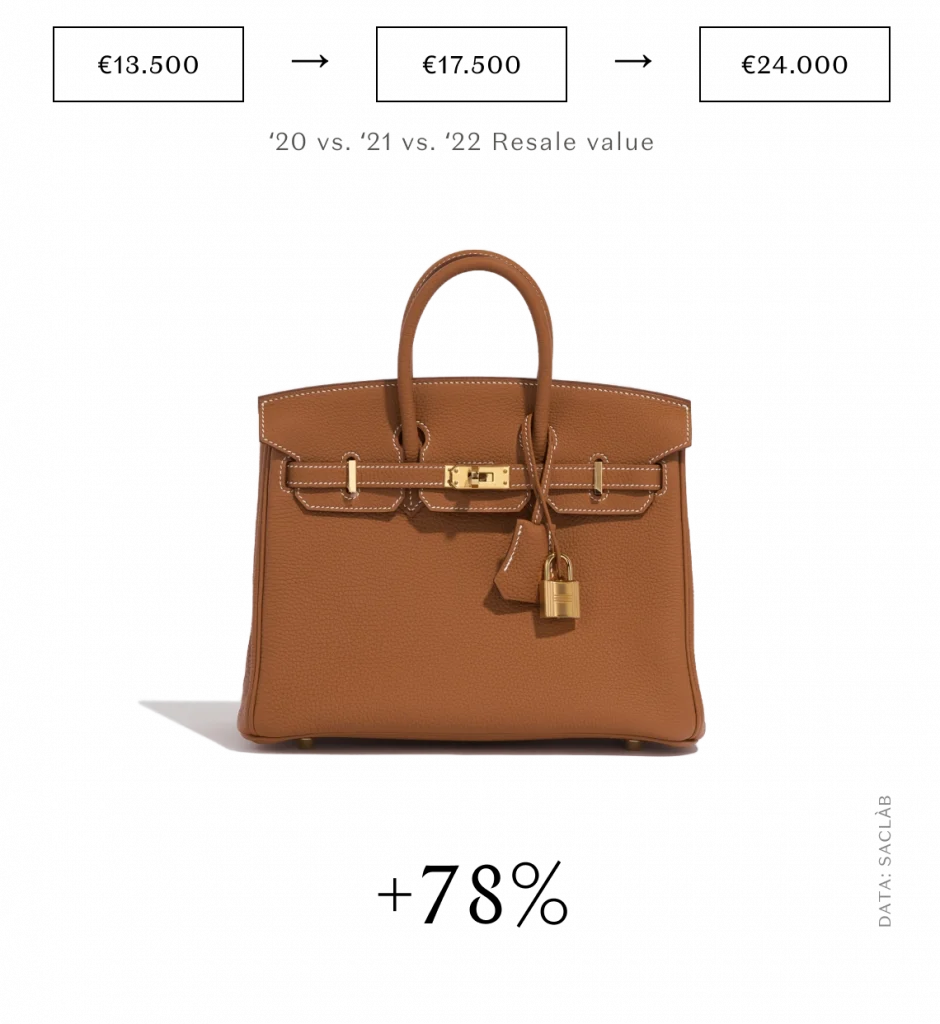 Classic colours and rare collector's items made of exotic leather generally record the greatest increase in value. Take, for example, the legendary Himalaya Birkin Bag, made from intricately dyed Niloticus crocodile leather to reflect the snow-capped mountains of the Himalayas. "The lighter the centre of the bag, the longer it takes Hermès artisans to achieve this result," explains Jan-Oliver Stück, Co-Founder of SACLÀB.
Value retention of the Hermès Himalaya Birkin
This Hermès Birkin 25 Himalaya has achieved a plus of 287% compared to its initial retail price.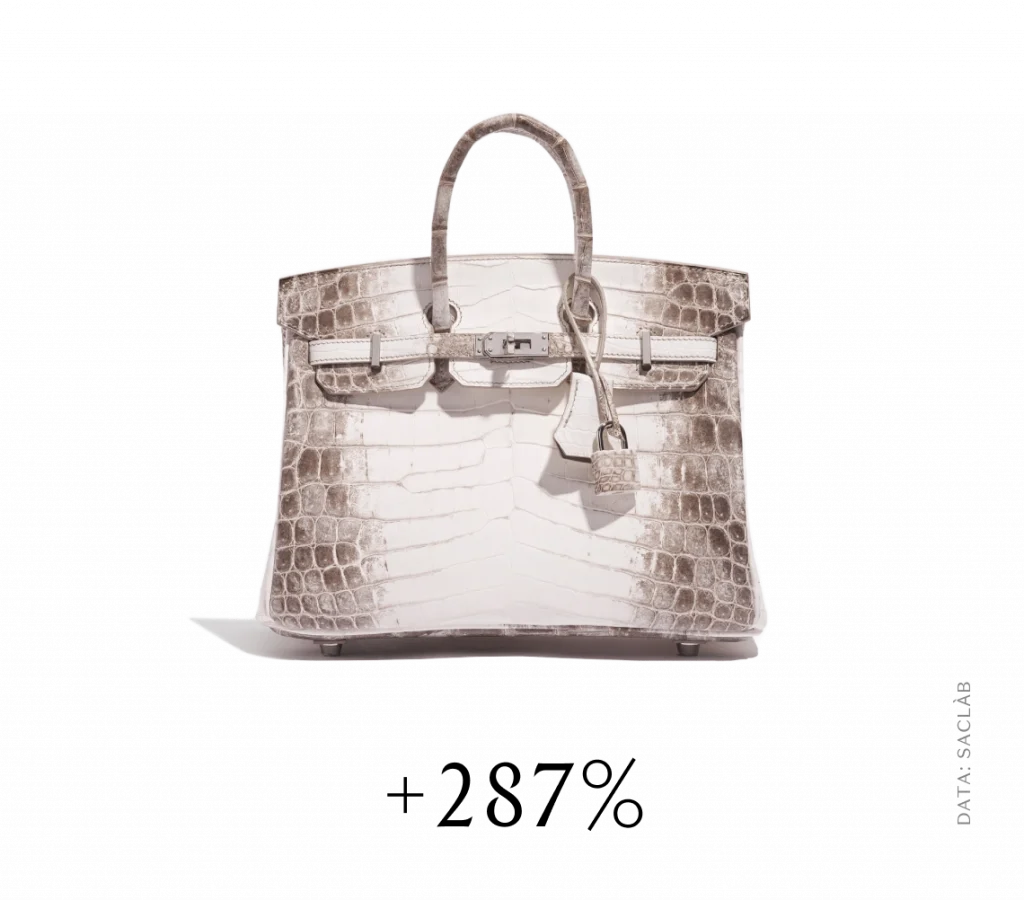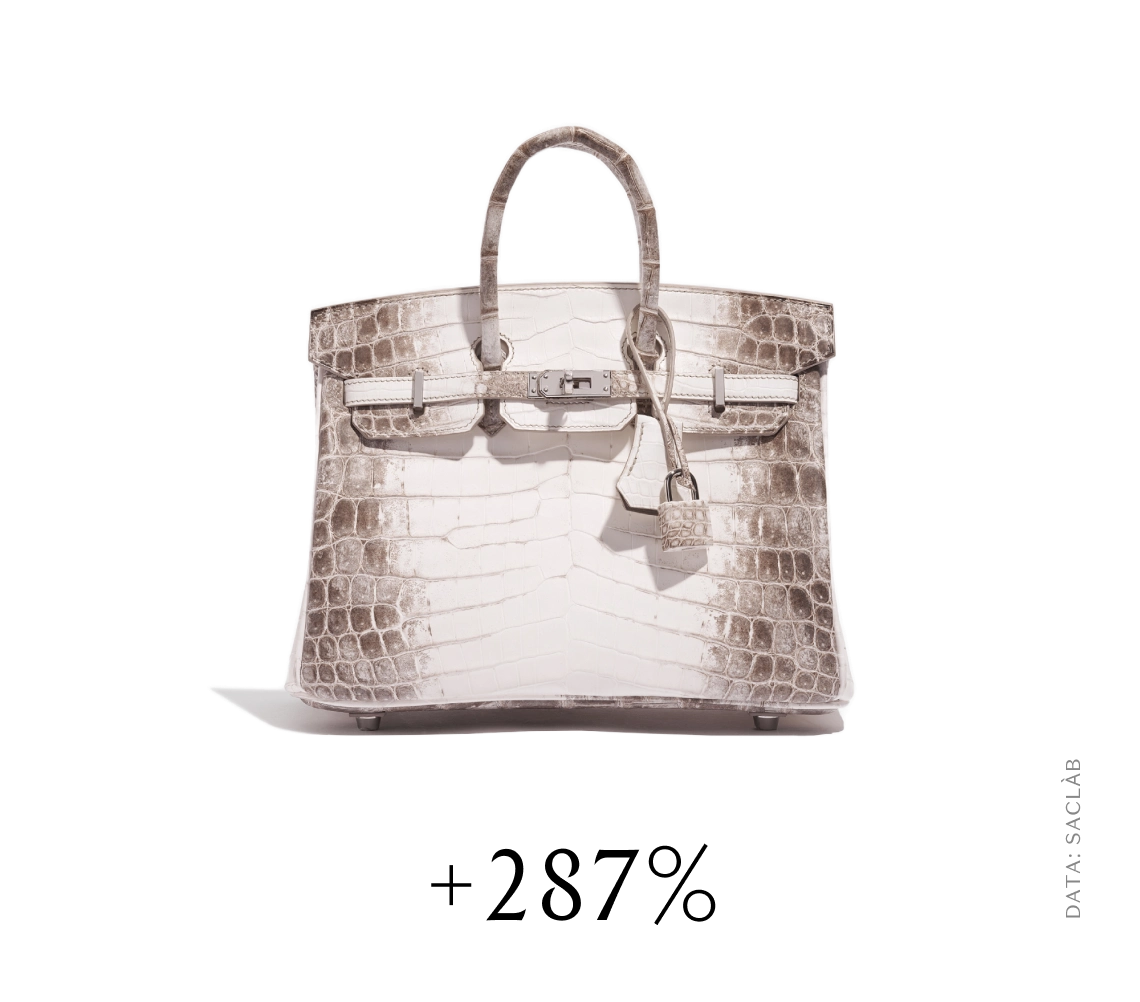 The tiny Birkin 20 Faubourg is one of the most expensive collector's items flaunted on the resale market. It was first created in 2019 as a tribute to the Hermès flagship store on Paris' Rue du Faubourg Saint-Honoré. A model in white sold for a record-breaking €265,000 at SACLÀB – the highest price ever achieved. Discover our ranking of the 10 rarest – and most valuable – Hermès bags.
Value retention of the Hermès Birkin 20 Faubourg
Currently the highest-value items on SACLÀB, limited-edition Birkin Faubourg bags re-sell for almost 800% above retail price.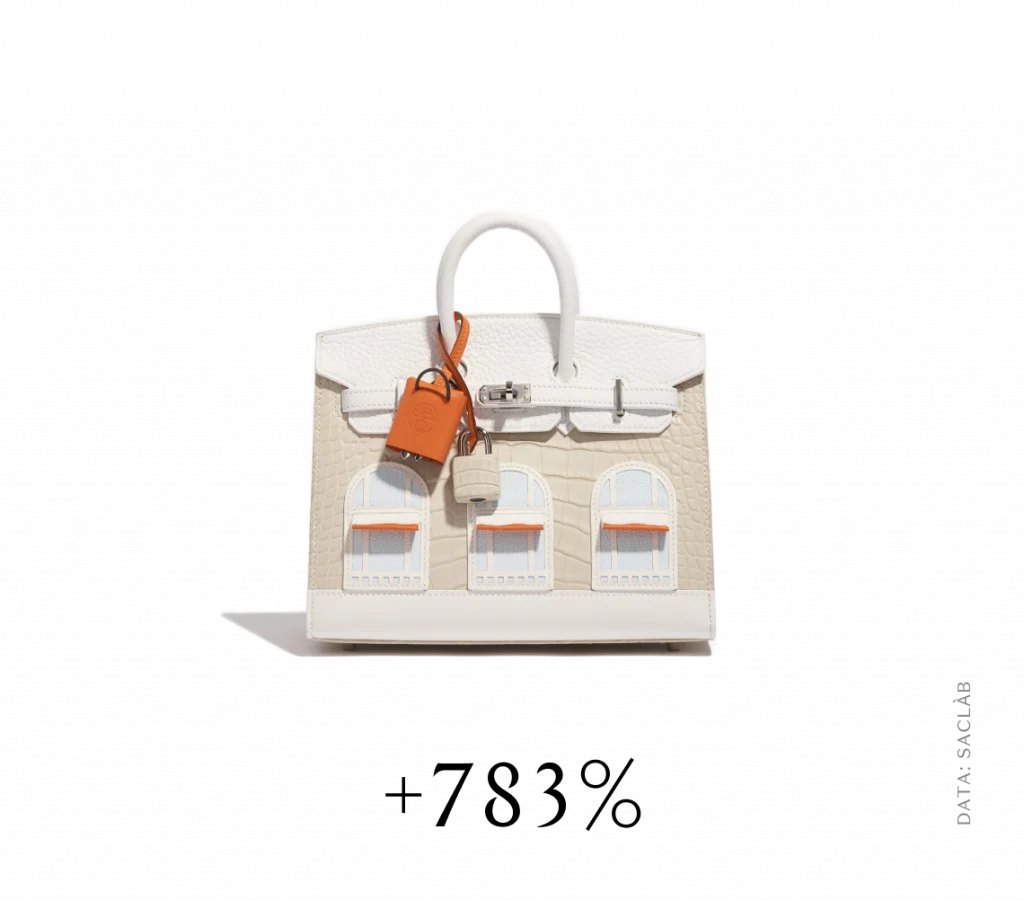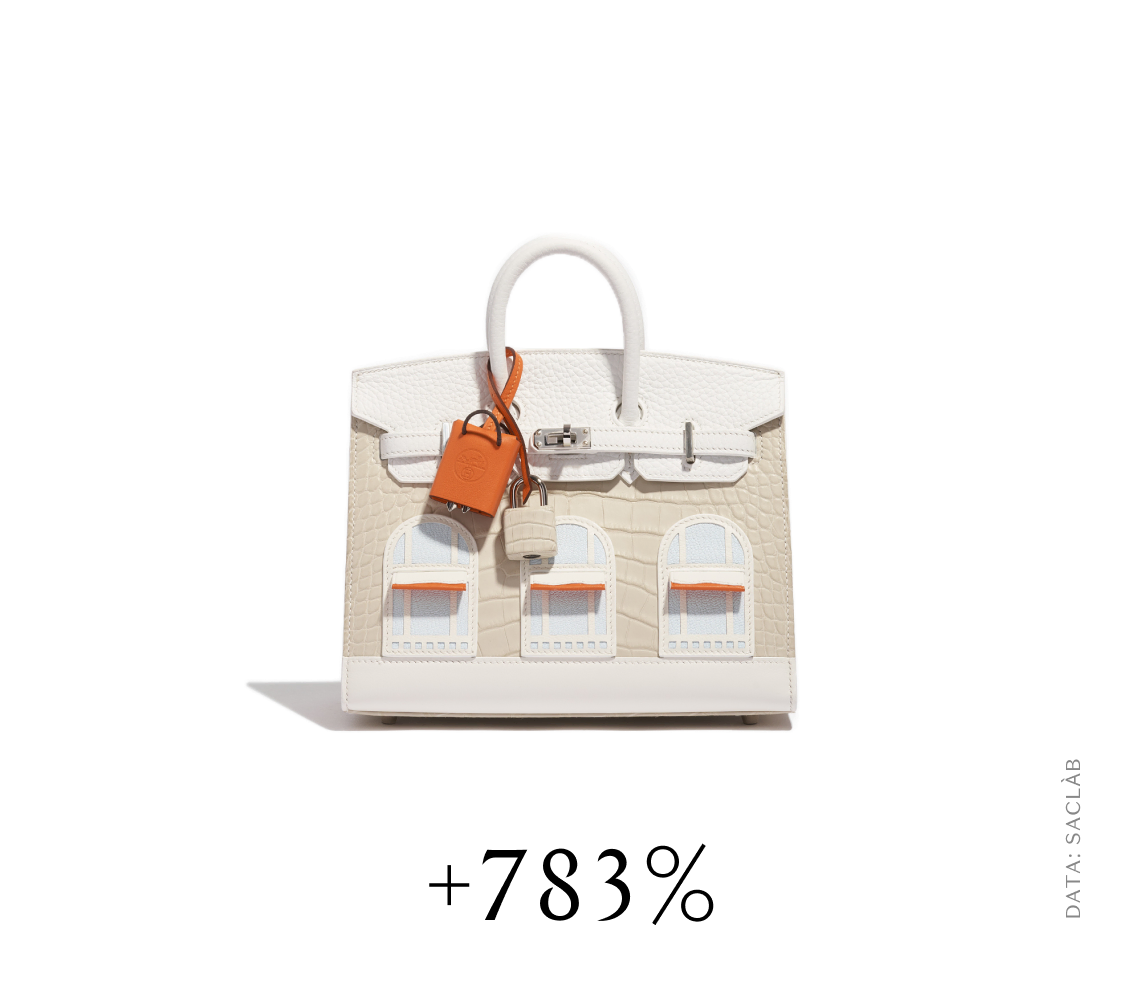 How to invest successfully
Generally speaking, even though the Birkin bag is an attractive investment on paper, we advise you to invest exclusively in a model that you actually like. After all, you should personally enjoy the purchase in the long term – Hermès bags are meant to be loved, worn and well cared for. Here are the most important tips from our experts:
Only buy from reputable resellers with an expert authentication process
When buying, note whether the bag comes with its original accessories (box, dust bag, invoice)
Invest in classic colours like Gold, Black and Etoupe or in precious exotic leathers
Employ proper leather care to maintain the condition of your Birkin bag
If you consider re-selling, consult experts to find the best price before and get the most out of your sale
Which Birkin Bag is on your wish list? Let us know what you're looking for, and we'll find the perfect investment piece for your budget.
*Source: Credit Suisse/Deloitte Private – Collectibles amid heightened uncertainty and inflation
Looking to sell your designer handbag?
Get an offer today and start selling
Sign up to our newsletter
Be first in line for our latest arrivals, alongside journal updates, exclusive treats and more.
Please confirm your subscription in the email you've just received.
Thank you! You've successfully subscribed.
It seems you are already signed up!
Please enter the correct email address
By subscribing I accept the privacy policy and the indications specified on data handling.
Make a Request
We do our best to find bags for our customers on request. However, this might take up to 6 months.
Warning!
You have reached the limited requests per customer.
Thank you for your enquiry!
Please check your email for further instructions.
You have reached the limited requests per customer.