A Deep Dive into the Hermès Kelly Doll
SACLÀB ICONS
For a heritage brand responsible for creating the world's most expensive and beautifully crafted handbags, Hermès is surprisingly light-hearted in nature. A dash of devil-may-care whimsy is an intrinsic part of its aesthetic: from playfully printed Twilly scarves to Surrealist handbags and fantastical window displays. Nowhere more so is this exemplified than in the Kelly Doll. Love it or hate it (and we stand firmly in the former camp), this anthropomorphic accessory is one of the rarest and priciest designer handbags on the secondary market — a unicorn of the Hermès universe.
With a new model, the Kelly Doll Picto, recently released, it's time to take a deep dive into this adorable bag's history.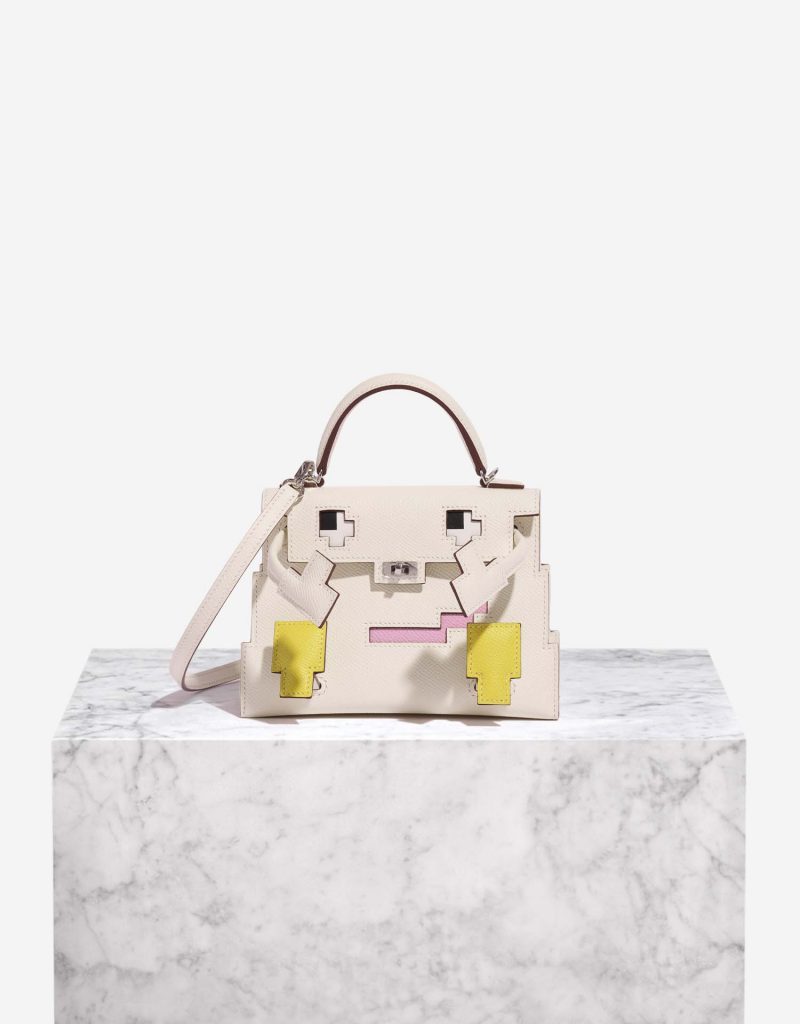 Elegant origins
The cartoonish charm of the Hermès Kelly Doll is perhaps so disarming because it stands in direct opposition to its foundational design. The Hermès Kelly, first launched in 1930 as the Sac à Dépêches, is the epitome of elegance. Its neat, trapezoid silhouette and short top handle exude grown-up sophistication. Its very name is inspired by royalty, referencing the iconic moment when the filmstar-turned-princess Grace Kelly carried the bag to disguise her growing baby bump.
Crafted in up to 20 hours by a single Hermès artisan, each piece of leather is carefully chosen and sewn together by hand — one of the reasons why the Kelly bag is so expensive. Following a price increase in early 2023, you can expect to pay €6,700 for a Mini Kelly bag and around €8,650 for a standard Togo leather Kelly 28 in boutiques today. This is only slightly cheaper than its legendary sister, the Hermès Birkin. Fuelled by limited production and a quota system for buyers, the Kelly bag's value increase on the secondary market shows no sign of slowing down.
2000–2005: The first Kelly Dolls
While Hermès' then-CEO Robert Dumas designed the original Kelly, it was his son and successor Jean-Louis Dumas (also the creator of the Birkin) who dared to reinvent it as the Kelly Doll.
Based on a sketch of a playful sitting character, Jean-Louis' novel twist on the Kelly was released in 2000 and made instant waves in Hermès collecting circles. Crafted in the 'Retourne' style, meaning that the bag is turned inside out after stitching for a rounded finish, the Kelly Doll measures a diminutive 15 centimetres at the base. Leather detailing outlines two arched eyebrows and a wry smile, complete with twinkling eye studs and a turnlock nose. Most delightfully, the bag's sangles are transformed into two bendable 'arms', with a pair of protruding feet completing the look. Jean-Louis named the bag the 'Kelly Doll', a pun on the phrase 'Quelle Idole', or 'What an idol'. Today, you'll see the bag interchangeably referred to as the Kelly Doll, Quelle Idole and Kellydole.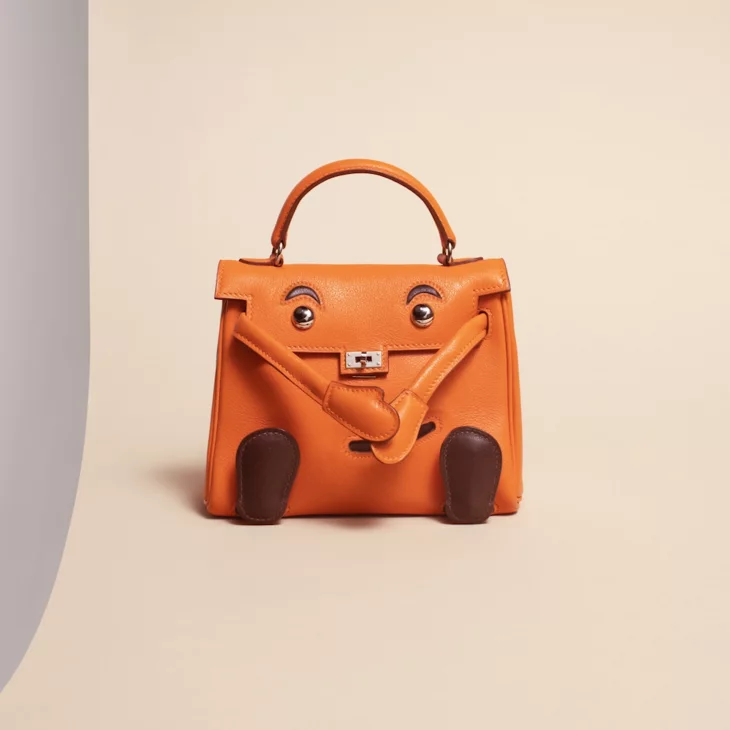 These original Kelly Dolls, available between 2000–2005, come in eight classic colours: Rouge H, Black, Orange H, Noisette, Blue Saphir, Vert Olive, Vert Cru and Rouge Vif. They are crafted in smooth, fine-grained Gulliver leather (later renamed as Swift leather) and finished with Palladium hardware.
2008–2010: Limited-edition Kelly Dolls
Having been discontinued in 2005, in 2008 the Kelly Doll was resurrected — and its reputation as a rare collectible began to grow. Hermès produced several ultra-limited runs of Kelly Dolls in exclusive colours to commemorate the opening of new boutiques. This strategy focused particularly on Asia, where the bag's kawaii aesthetic chimed with collecting tastes. Kelly Dolls from this time include Vermillion and Bleu Jean/Ébène versions for the launch of the Bellavita Taipei boutique in 2009, and Rose Sakura and Orange/Soleil bags for SOGO Hong Kong in 2010.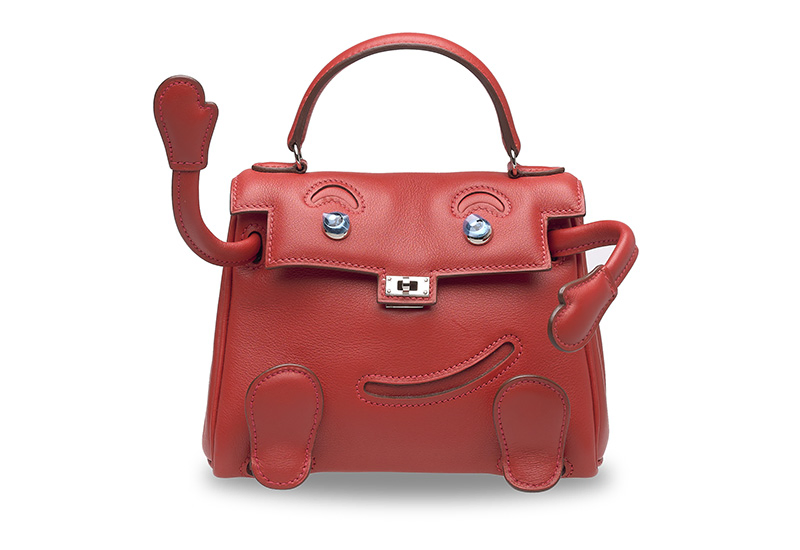 2015: Leather Forever Kelly Dolls
The Kelly Doll's next comeback came in 2015 as part of celebrations for Singapore's 50th anniversary of independence. Hermès artisans created five one-of-a-kind Kelly Dolls for the brand's Leather Forever travelling exhibition, each representing a different decade of the country's freedom. These were the most intricate Kelly Dolls yet: each one took seven months to craft, and brought together an eclectic mix of exotic materials, embroidery and embellishment. Hermès is said to have sold the bags in a private charity auction after the exhibition, but these unique creations haven't been seen on the secondary market since.
2017: Exotic and HSS Kelly Dolls
2017 marked a new era for the Kelly Doll. No longer confined to special events or store openings, Hermès began offering a steady (albeit very slim) stream of Kelly Dolls in vibrant colourways, exotic leathers and both palladium and gold hardware. It also made the Kelly Doll a special-order (HSS) option for the very upper echelons of its clientele.
Although still very rare (you won't see a Kelly Doll on boutique floors, or be offered one by your SA without building an extensive relationship first), from this year onwards you'll find a broader range of Kelly Dolls to choose from on the secondary market — including stunning bi-colour versions, where the hands, feet and facial features are in a vivid contrasting colour.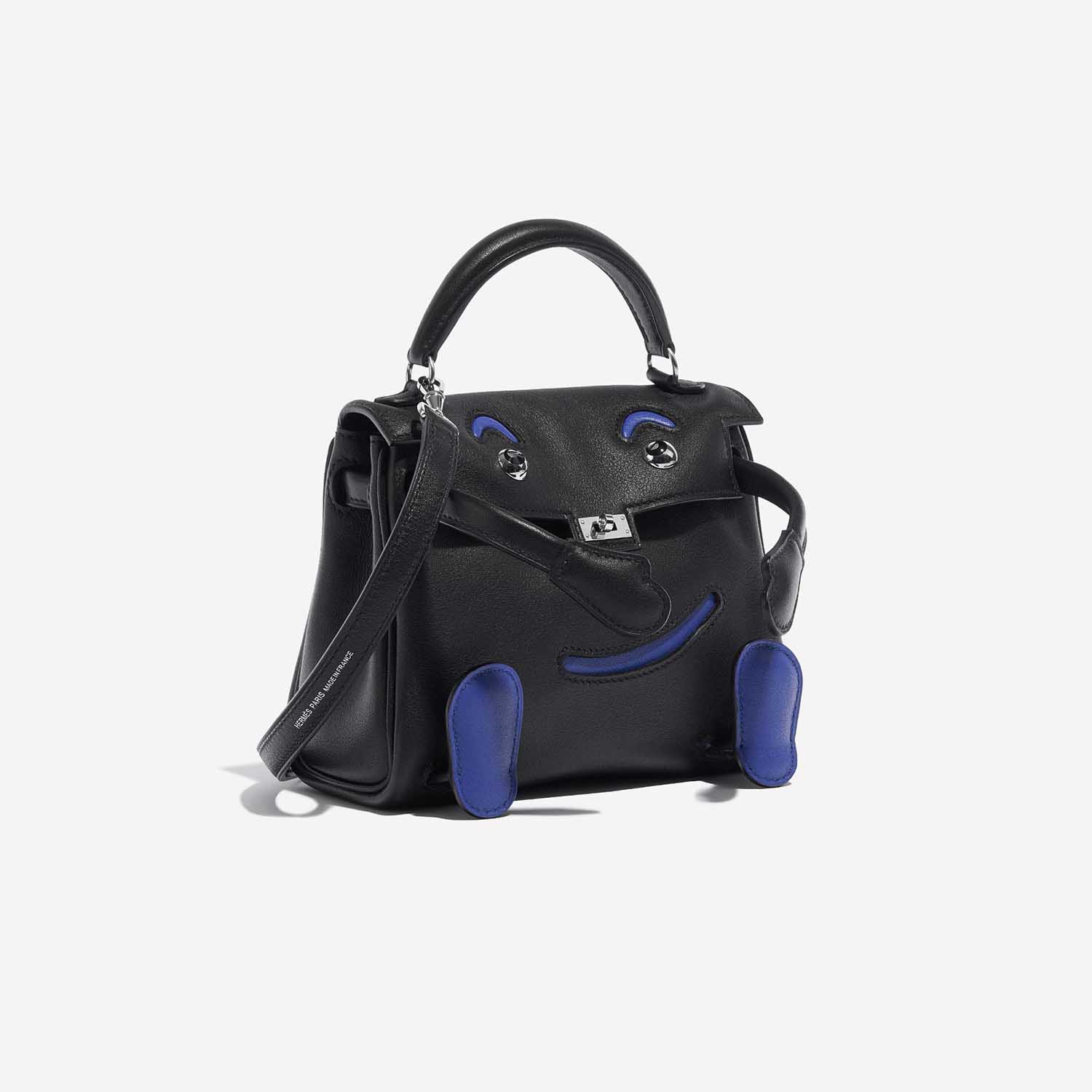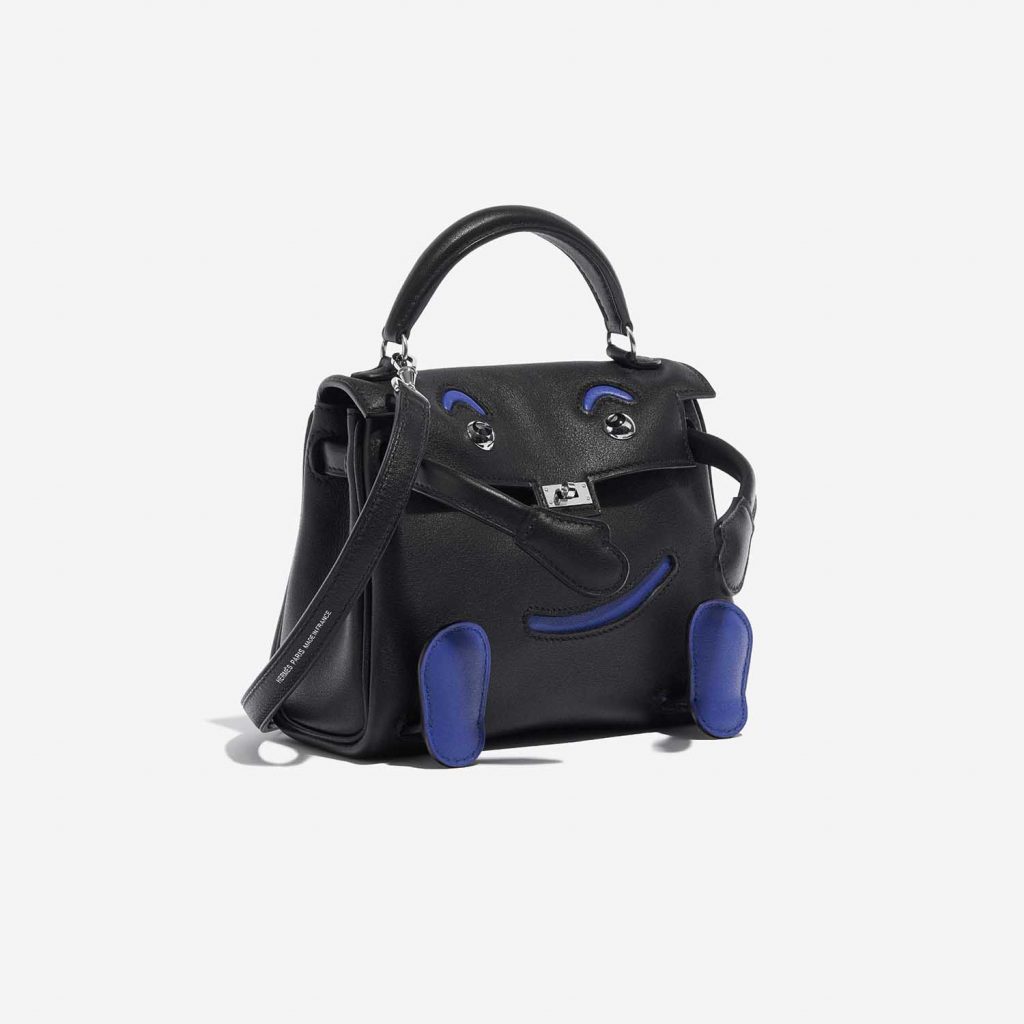 The most exceptional styles are those crafted in exotic leather. Kelly Doll Touches feature a Swift body with Matte Alligator accents. More expensive are those with a full Matte Alligator body, which regularly achieve sky-high prices at auction.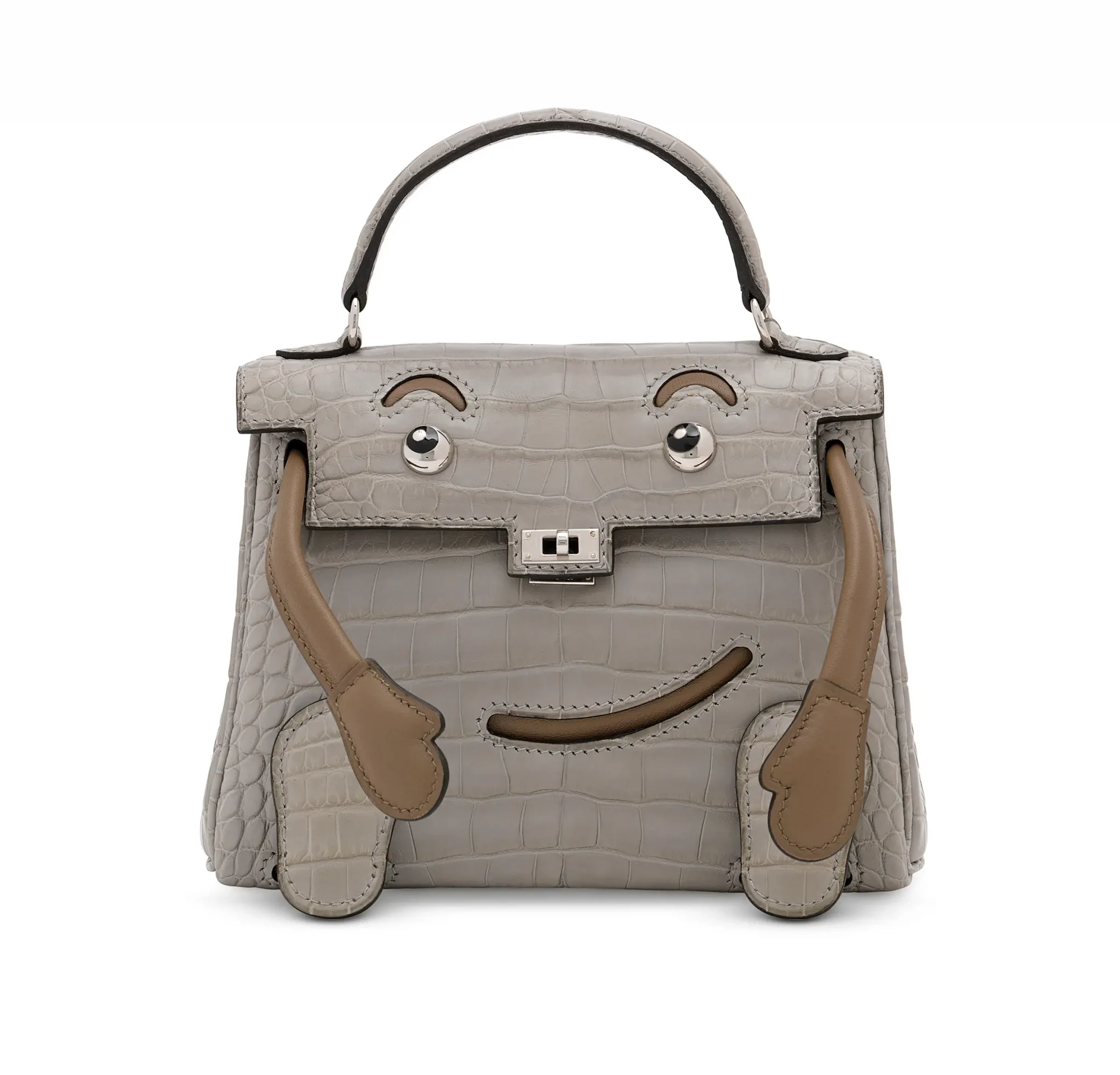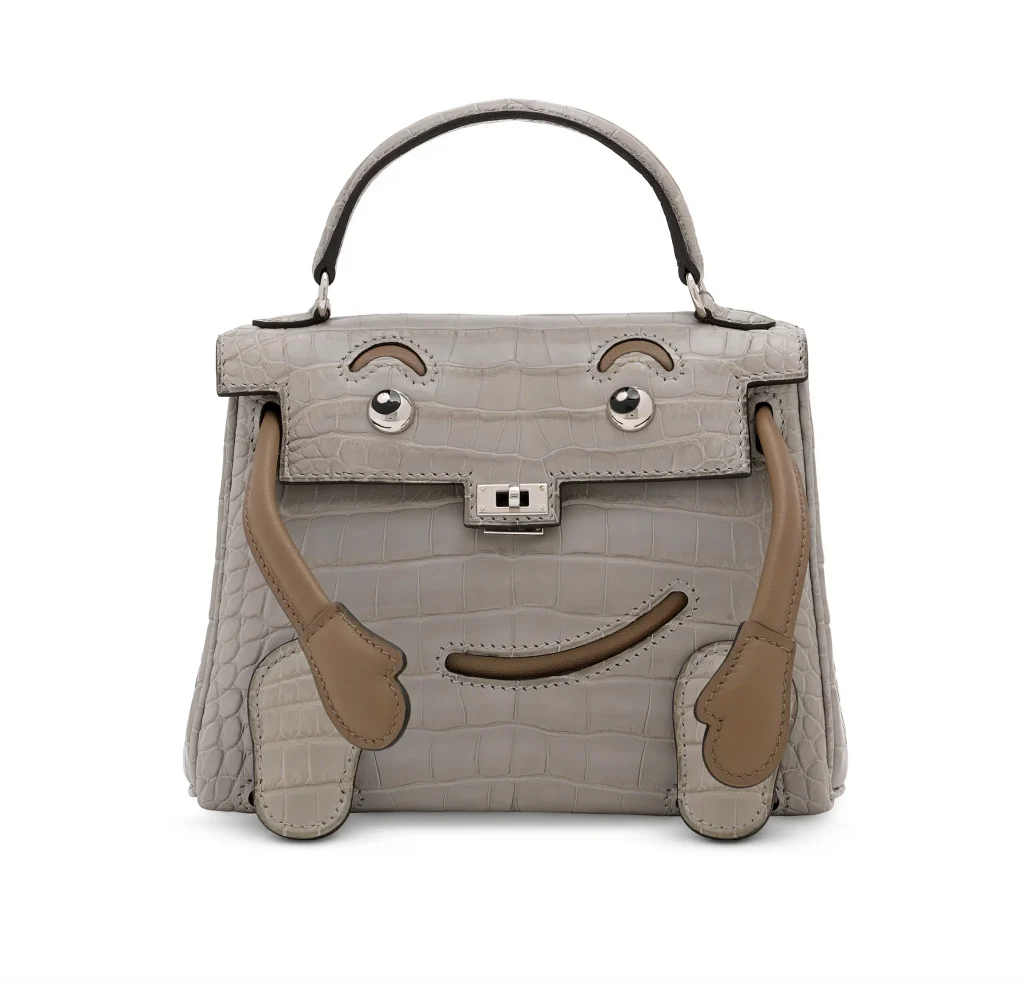 2021: Kelly Doll charms
In 2021, Hermès introduced a miniature Kelly Doll to its range of bag charms. This wasn't the first time the Kelly Doll had been seen in charm form — in 2011, Hermès partnered with Takashimaya Tokyo on a 2D Kelly bag charm in Orange H leather, while in 2018 a Space Invaders-style rubber version accompanied the brand's 'Jingle Games' event in Ginza.
However, the 2021 Kelly Doll charm is truly remarkable: an impossibly cute, exact replica of the full-size Kelly Doll, measuring just 6.5 centimetres at the base. Prices reflect the craftsmanship involved in their creation, with charms currently being snapped up for €5,000–6,000 on the secondary market.
2022: The Kelly Doll Picto
Hermès' SS22 collection saw an exciting new chapter in the Kelly Doll story — the Kelly Doll Picto. Reminiscent of the Takashimaya Tokyo bag charm, the Picto is a modern update on the original Kelly Doll, with a pixelated silhouette and facial features. Unusually crafted in Epsom leather, rather than the regular Swift, it's been seen in four fresh colours: Nata, Mauve Sylvestre, Bleu Royal and Chai. The Picto is also notable for having a practical shoulder strap, and a detachable mini 'backpack' which can fit your phone. Predictably for Hermès, the Picto is another incredibly limited-edition release — so it's no surprise that this new-gen collector's item is already retailing for €70,000.
Pricing
Thanks to their rarity and creative ingenuity, Kelly Dolls understandably sit on the upper-end of the secondary market for Hermès handbags. For a style in non-exotic leather, budget around €30,000–80,000 (a wide price range we know, but so much depends on a bag's condition and colour palette). For a Kelly Doll in Matte Alligator, prices climb to between €80,000–200,000. Ready to meet your Hermès Kelly Doll? Let us know which era intrigues you the most, and we'll take care of it.
Shopping time!
From seasonal collector's items to your classic black Hermès bag, browse our current selection of the brand's most sought-after handbags.
Looking to sell your designer handbag?
Get an offer today and start selling
Sign up to our newsletter
Be first in line for our latest arrivals, alongside journal updates, exclusive treats and more
Thank you! You've successfully subscribed.
Thank you! You've successfully subscribed.
It seems you are already signed up!
Please enter the correct email address
By subscribing I accept the privacy policy and the indications specified on data handling.
Make a Request
We do our best to find bags for our customers on request. However, this might take up to 6 months.
You can only create 3 requests at a time
Please remove one of your current bag requests to submit a new one.
Thank you for your enquiry!
Please check your email for further instructions.