Luxury Bag 101: How to choose your first high-end handbag
SACLÀB INSIDERS
Splurging on your first high-end designer bag is a major moment in your sartorial life. Once you have made the decision to spend a (let's face it) considerable amount of money, finding the right brand and model is the next big challenge. To navigate you through your journey, we have compiled everything you need to know before selecting your very first luxury bag.
Love at first sight?
Once you dive into research online, you will soon realize that buying a designer handbag can be more than a mere accessory. It can be an investment piece that dramatically increases in value, depending on its scarcity and future demand. It may seem tempting, but we advise a first time buyer to always go with a passion investment. Choose a bag you really love, not one that only looks promising on paper.
Think of it this way: The first luxury handbag you splurge on, save toward, or reward yourself with, will always have a special place in your heart (and in your closet). If you ask collectors today, they will most likely remember the first trophy bag they scored with a smile on their face.
However, it is smart to avoid one-season-only bags that are trending on Instagram. Instead, we recommend choosing one that is a little more universal and classic. Naturally, that doesn't mean you shouldn't opt for an exciting, colourful, mood-boosting piece – rather, imagine yourself wearing it ten, twenty, or thirty years from now.
Once you have a dream bag in mind, ask yourself the following:
Does it suit my budget?
Can I identify myself with the brand?
How many occasions do I have to carry it?
Do I see myself wearing it decades from now?
Does it combine well with my wardrobe?
Does it fit everything that I need?
1. Define your Budget
Arguably, this is the least fun but most important step when shopping for your first luxury handbag. You should clearly define what you are willing to spend, and make a hard-headed plan if you want to start saving up money to fulfil your bag goal. If you want to score a piece in the top-tier luxury niche – think Hermès or Chanel – you can expect four-figure price tags. To do the math and check the numbers, it can be extremely helpful to use a cost-per-wear calculator. It tells you exactly what your new bag costs in the long run, each time you wear it. Here you can also take resale value and maintenance costs into account. Good to know: If you purchase your first bag with SACLÀB, your first bag spa treatment is on us!
2. Choose a brand
With hundreds of luxury brands on the market, it can be tough to find exactly what you are looking for. You should bear in mind that quality always wins when it comes to handbags. Excellent craftsmanship and long-lasting materials are key to ensure you can wear it for years to come. Brands like Hermès, Chanel, Dior, or Bottega Veneta are well-established and coveted manufacturers of leather goods.
Hermès
To choose the right brand, think of values that appeal to you. If you appreciate heritage, prestige, and remarkable artisanship, Hermès might be the perfect fit for you. An Hermès bag surely is costly, but with some dedication you might score a budget-friendly option on the luxury secondhand market. The Hermès Birkin, Kelly, and Constance are much-admired as the "Holy Trinity of Hermès bags" – and pinnacle every collection.
Chanel
Hermès' fellow French couturiers Chanel and Dior are a little more affordable, but similarly rich in tradition. Both work with extremely refined yet timeless designs, and regularly re-invent their classics. Chanel stands for effortless Parisian chic, featuring whimsical and playful details. Chanel bags are most recognized for the leather's quilted diamond-stitching, "CC"-turn lock and interwoven leather-and-metal chain strap. Aside from the iconic Chanel Timeless and Chanel 2.55, the house has created an array of awe-inspiring collector's pieces.
Dior
Dior has epitomised ladylike elegance with a modern-day twist. In its long-standing history, the brand has released numerous it-bags that soon became sought-after classics – the Dior Lady, Dior Diorama, and the recently revived Dior Saddle, to name a few.
Bottega Veneta
Renowned for exemplary techniques and Italian artisanship, Bottega Veneta is another high-in-demand bag brand. Intrecciato, the famous leather weave that dates back to the 1960s, is for Bottega Veneta what diamond-quilting is for Chanel – the handwriting of the house. Opting for Bottega Veneta is a great choice for anyone who adores subtle design and extra-fine craftsmanship rather than flashy logos.
3. Choose a model
Once you fell in love with a brand, choosing the right model to invest in is a thrilling process. There are three things you should be aware of at all times: the bag's size, care requirements, and occasions. Already set on investing in an Hermès classic? Read our First-Time Purchase Guides for the Birkin Bag and the Kelly Bag for what you need to know before, in detail.
What's the occasion?
This question is closely related to leather care and bag size. Before committing to a bag, take into account at which occasion, how frequently, and with what attire you want to wear your new item. Do you need a bag to multitask, to jump from the office to the gym to dinner? Then a voluminous inside and shoulder strap come in handy. Do you want something timeless for the evening that fits every gown and cocktail dress, even decades from now? A sleek Clutch is what you're looking for. Or do you want a brand's signature bag to combine with anything, from jeans to evening wear? A neutral-coloured Chanel Timeless Medium or 2.55 Reissue 226 is the right size to go from day to night.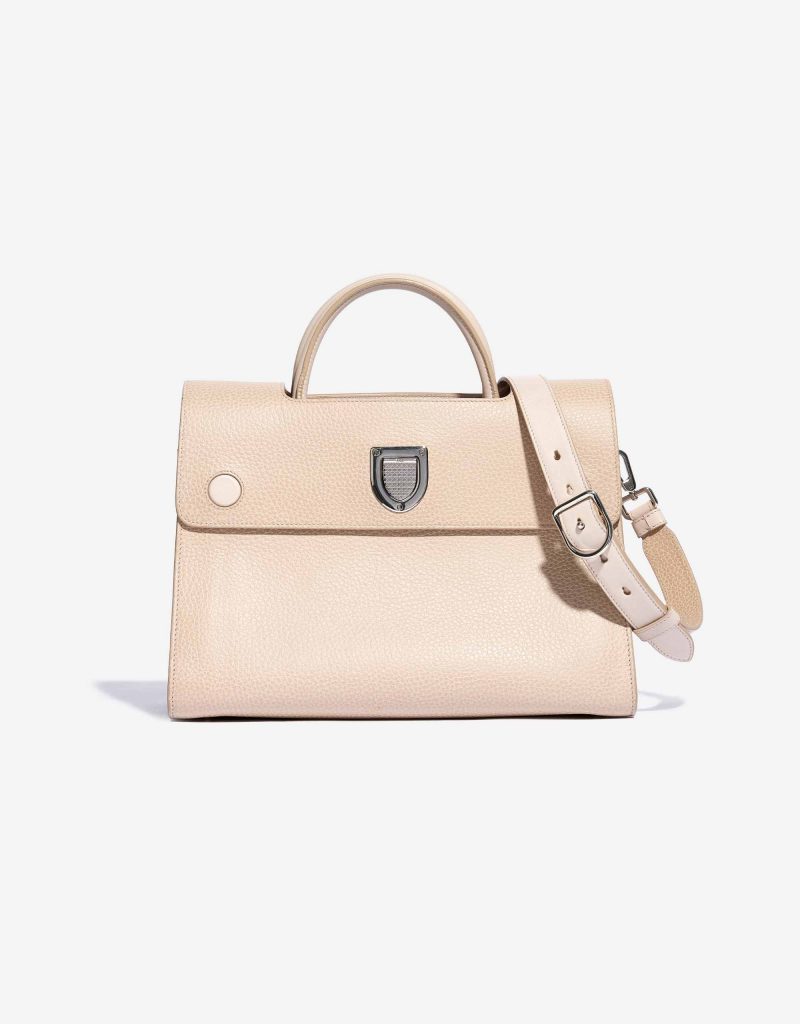 Shop the right bag size
For sizes, think about everything you want to carry with you and don't compromise. For instance, if you don't like leaving the house without a portable charger or backup cosmetics, avoid micro and mini bags – no matter how adorable they may look. On the other hand, if all you need is your keys, phone, and cardholder, there's no need for a grande shopper. Our advice: For mini bags, always double-check the measurements to make sure your smartphone (especially newer iPhone generations) will fit. Still unsure about the right size for you? Our full guide on how to find the perfect bag size may have the answer.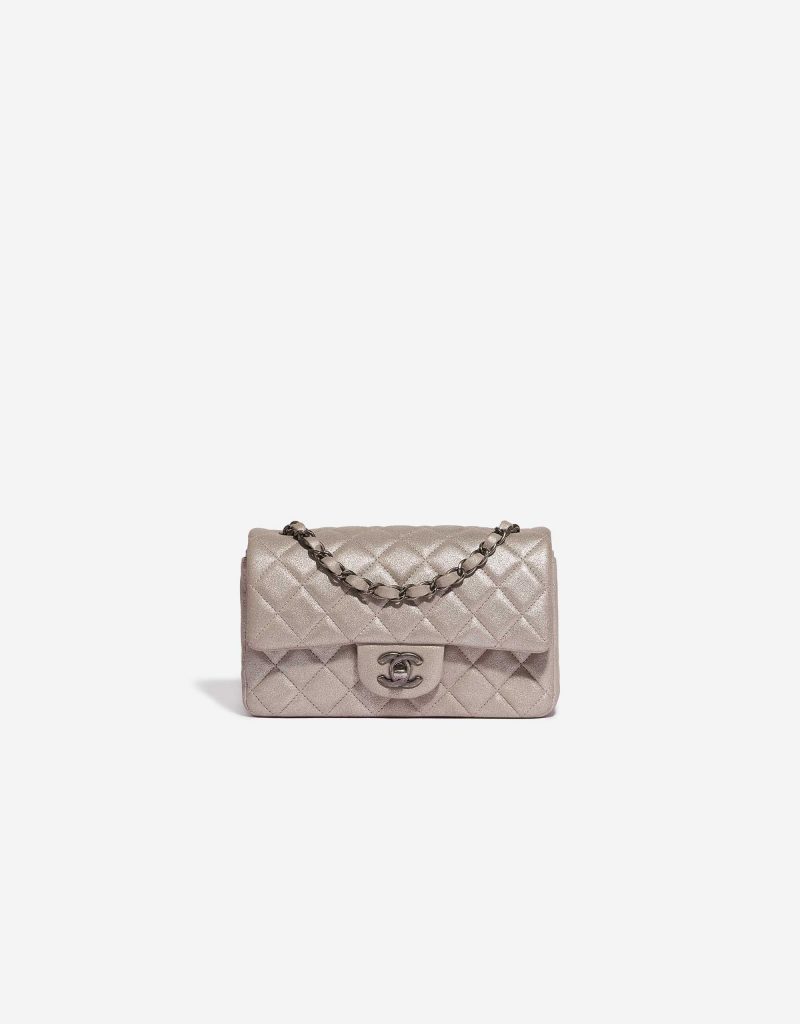 Care requirements
Think about how much time you want to spend caring for and cleaning your new bag, and whether your schedule allows it. You should also reflect on your own lifestyle and environment – do you need a bag that has to stand daily chores, or are you happy with a treasure you only take out of its dust bag every now and then? When it comes to care requirements, the leather is key. At Chanel, for example, pebbled Caviar is a low-maintenance and sturdy leather and popular choice for first time buyers. You can read all about Chanel's different leathers and how to properly pamper each one in our Chanel Care Guide.
Among Hermès leathers, Epsom and Togo are resilient options that are rather scratch-resistant. Discover the house's different leathers in our Hermès Leather Guide, and learn all about the right care.
4. Act sustainably, buy pre-loved
If you're on the hunt for your first-ever luxury handbag, we recommend browsing the luxury secondhand market. Not only does buying pre-loved contribute to a circular economy of luxury fashion and sustainable consumption, but you will also find great, budget-friendly options and unique models that are no longer in store. Plus: If a bag is pre-loved, it doesn't necessarily mean it's heavily used – at SACLÀB, we carefully inspect every bag's condition and authenticity before accepting it, to make sure its future owner will enjoy it for years to come.
Ready to take the plunge? Shop our selection for your very first luxury bag or reach out to our SACLÀB Consultants for any questions or inquiries you might have.
Looking to sell your designer handbag?
Get an offer today and start selling
Sign up to our newsletter
Be first in line for our latest arrivals, alongside journal updates, exclusive treats and more
Thank you! You've successfully subscribed.
Thank you! You've successfully subscribed.
It seems you are already signed up!
Please enter the correct email address
By subscribing I accept the privacy policy and the indications specified on data handling.
Make a Request
We do our best to find bags for our customers on request. However, this might take up to 6 months.
Warning!
You have reached the limited requests per customer.
Thank you for your enquiry!
Please check your email for further instructions.
You have reached the limited requests per customer.