The Hermès Bolide: Beauty in Simplicity
SACLÀB ICONS
This is the story of the Hermès Bolide bag, an understated item in the Hermès collection. It traces its pioneering zipper origins to the diverse leathers, colours, and sizes that have made it an indispensable and functional accessory for every facet of your life. Join us as we dive into the world of Bolide style and sophistication.
The Bolide's Origins
It has been long confirmed that the history of Hermès is rich and extensive. And after Thierry Hermès' initial foray into fashion, the illustrious empire, now led by his sons, continued to bring the fortunate few power piece after power piece. Hence, when grandson Emile-Maurice Hermès – who has quite the portfolio – went on a transatlantic journey to Henry Ford's pioneering automobile factory, he found himself face to face with an ingenious contraption that would soon transform the realm of fashion – the zipper.
A few years later, fuelled by the spirit of innovation, the House filed a patent proposing the audacious idea of incorporating the revolutionary zipper into the fabric of their bags.
Thus, the Hermès Bolide, a trailblazing handbag, became the world's inaugural handbag with a zipper closure.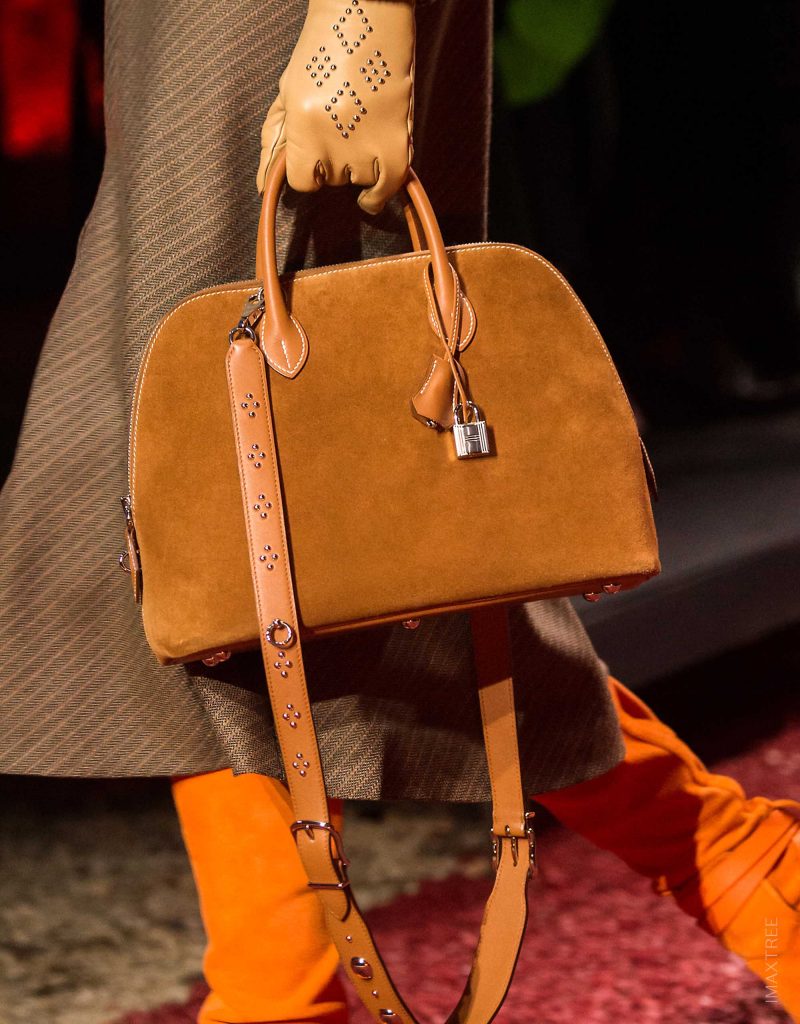 Christened initially as "le sac pour l'auto," which translates to "the bag for the car," it was later rechristened the "Bolide". The name was at first a poignant homage to the burgeoning sports car industry. Still, the change was a nod to the swift pace of technological progress of that time, drawing inspiration from a term dating back to the 16th century that referred to a celestial wanderer – a comet.
The 1920s was also a time with a growing demand for travel gear. Hermès – and the Bolide bag – deftly met the people's needs. The spacious bag was originally designed as the optimal travel companion, with its zip closure ensuring the bag's contents remained safe and in place, ensuring its customers a better experience while going abroad.
Details
The Bolide bag is recognisable by its dome shape, two sturdy handles, a removable shoulder strap, and a large zipper reaching almost from the bottom to the other side. However, unlike the iconic Birkin or Kelly, it takes a fashion maven to spot this Hermès collectable.
Available in two different styles, the Bolide caters to a wide variety of people. The Mou style is known for its relaxed, more casual appearance due to the use of soft leather, such as Sikkim or Clemence. If you prefer the structured look of a Kelly more, the Rigide style might be more suitable with its solid feel and upright shape.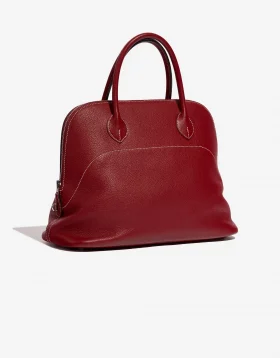 1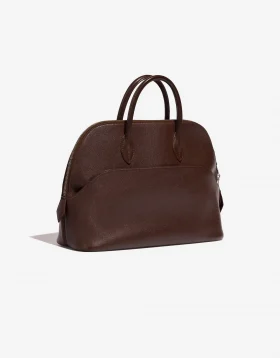 2
This versatile bag is also available in different renditions or limited editions. In this way, the Bolide Secret has the body of a regular Bolide bag, but it features an extra zippered compartment underneath, perfect for storing small and easily lost appurtenances.
Further building on its rich travel history, Hermès released a limited edition Bolide On Wheels in 2022 that mimics the look of a luggage bag on wheels. Another new addition was named the 1923 Bolide 25 En Desordre, which features an exterior pocket, and the oval patch has been repositioned to the base with a slight angle. Another fun rendition is the sporty Bolide 1923 with deep red baseball stitching on the grey-coloured body. Perfect as sports bag or travel bag with a touch of adventure.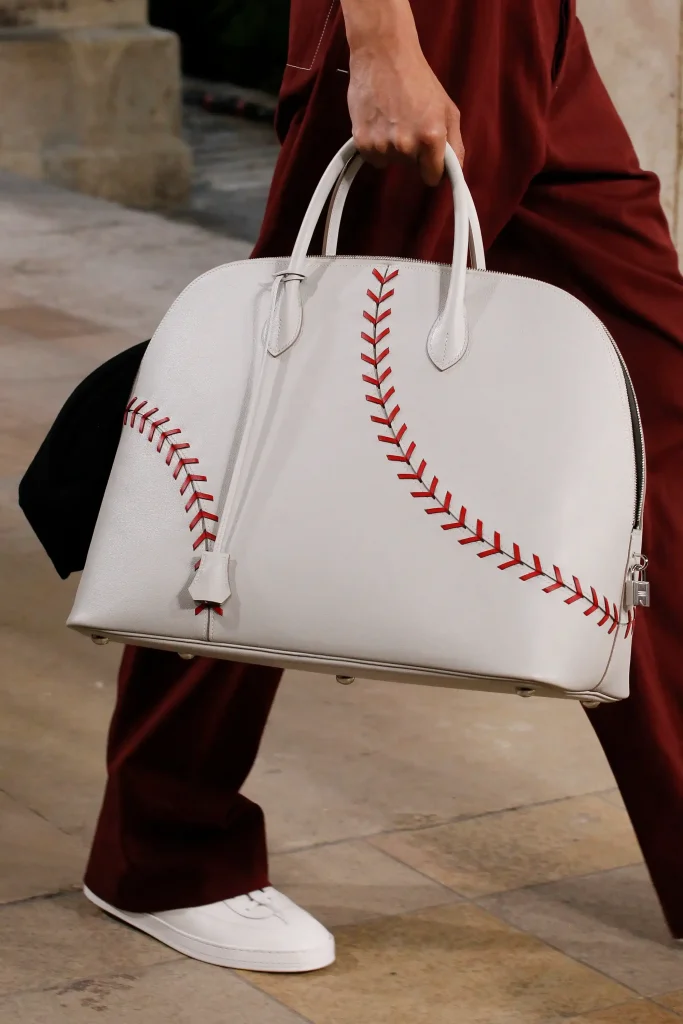 Leathers
Regular Leathers
Since the fashion House has a vast array of Hermès leathers, the Bolide comes in several regular leathers that have become fan-favourites over the years. Especially the matte, flat-grained, scratch-resistant Clemence leather is a durable option.
For a more lightweight feel, Epsom leather, which is embossed calfskin, is a viable choice. Do note that the grain is more rigid compared to Clemence.
1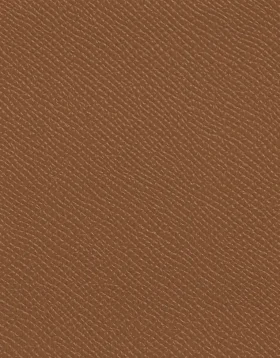 2
A less well-known but buttery soft leather is Sikkim. It has minimal grain, and because this leather is relatively thin and lightweight, it exudes that relaxed "Mou" effect. Perfect for a casual coffee date.
Exotic Leathers
However, if you want to make your Bolide exude a touch more luxury, the handbag also comes in treasured exotic leathers such as alligator and crocodile. For the bold spirits among us, there are some rare variations with mixed materials such as leather trim and pony hair or Toile.
Colours
As for the right shade, you're spoilt for choice with the colours of Hermès. Depending on the season, Hermès will likely release this bag in any of their new shades. A pop of colour makes this simple bag stand out, while a neutral shade transitions from day to night in the blink of an eye.
You can combine your two favourite hues for a more personalised look – or if you can't seem to pick a single colour. This Bolide Mini was released in the enigmatic Vert Bosphore – a blend of green and blue inspired by the colouring of the Bosphorus strait in Turkey. However, the inside featured a deep pine green coordinating perfectly with the dark exterior.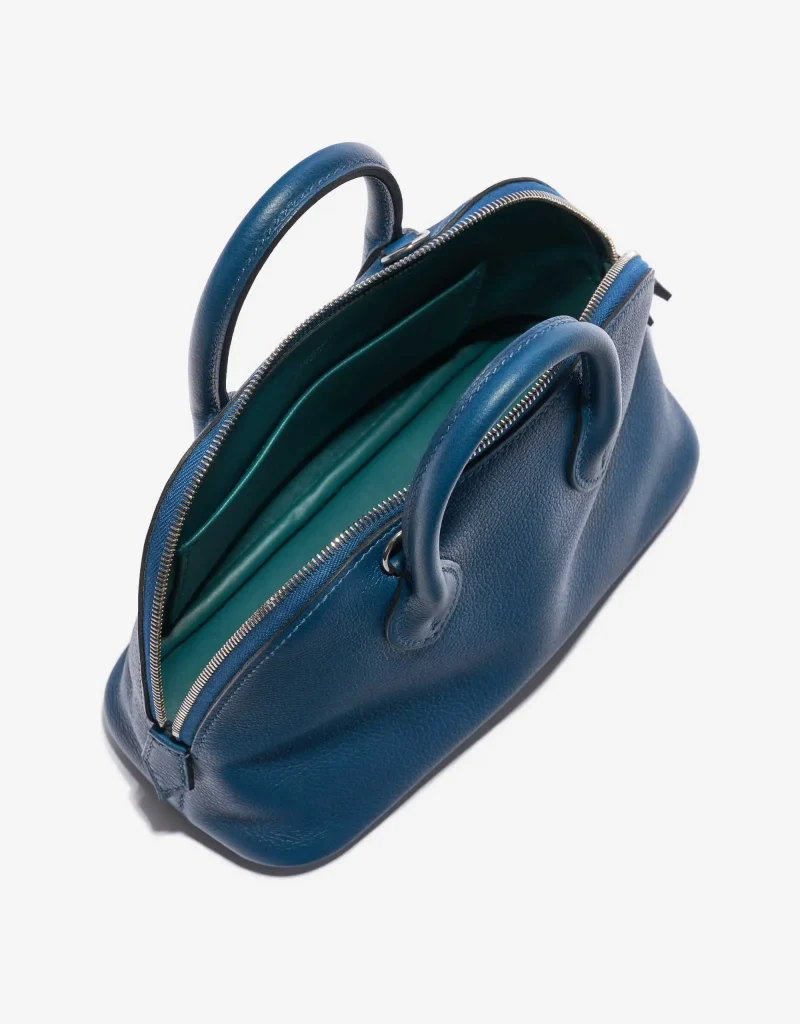 Hardware
Unlike the famous Birkin or Kelly, this functional bag has no ornate hardware. However, most Bolide bags have the iconic lock (box 2561) attached to the zipper, engraved with a simple "H".
You can mix and match your preferred leather in the vast array of Hermès colourways with any of Hermès' prestigious metals. We suggest the durable, silvery-white palladium hardware for a modern, cool-toned look. This metal is part of the platinum group of metals and is favoured by Hermès over pure silver, as it is more resistant to tarnishing and will maintain its shiny sheen as years pass.
Gold-plated hardware is a fine choice for a classic and more luxurious touch. Especially with darker colours, gold is the perfect complementary colour. If you want to keep that elegant touch of gold but elevate it to a more unique look, keep an eye out for the hard-to-find ruthenium hardware. This dark, gunmetal-grey lends a rare, contemporary feel to your accessory.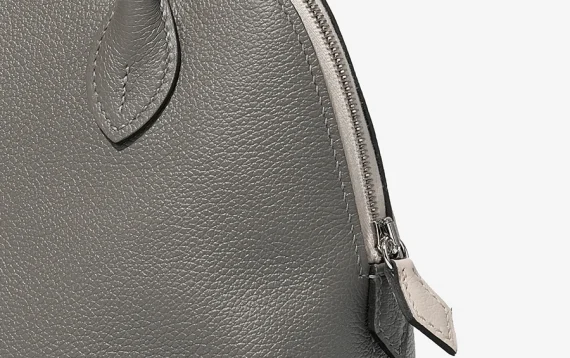 1
2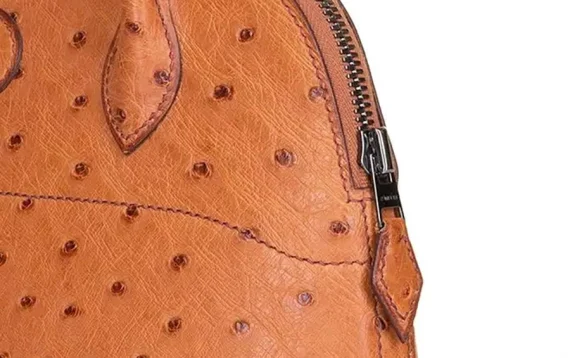 3
Sizes
The Hermès Bolide collection offers handbags in a range of dimensions that cater to a broad spectrum of tastes and needs, ensuring that there's a Bolide for every discerning fashion enthusiast.
The original Hermès Bolide line encompasses four sizes: Bolide 27, Bolide 31, Bolide 35, and the spacious-optimal-for-travel Bolide 45.
In contrast, the newer Hermès Bolide 1923 collection – in reference to the original Bolide's year of release – introduces three sizes: the petite Bolide Mini 1923, the compact Bolide 1923 – 25, and the slightly larger Bolide 1923 – 30.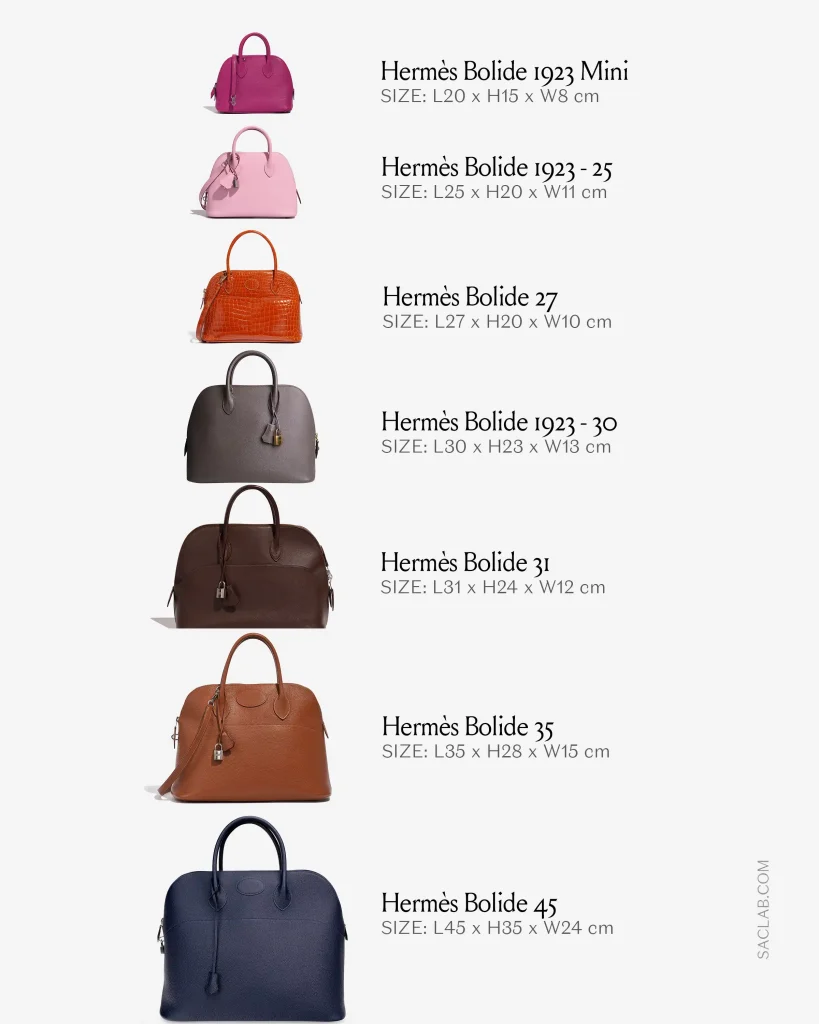 A notable distinction lies in the design details. The original Bolide features an oval exterior patch designed for personalised monogramming, adding a touch of individuality. Meanwhile, the Hermès Bolide 1923 does away with the patch and opts for a cleaner look.
Furthermore, the majority of Hermès Bolide bags are equipped with a lock and keys, offering both security and a timeless aesthetic. However, it's important to note that the smallest family member, the Hermès Mini Bolide, does not include this lock feature.
How to Style
Styling all depends on your personal philosophy of mixing and matching. However, a smaller bag like the Bolide Mini can be easily worn crossbody and will successfully fit your evening necessities like eyeliner, cardholder, keys, and a phone.
And the bigger you go, the more casual it gets. Perfect for storing your laptop, notebook, and stationary, the Monday-through-Friday Bolide 31 or 35 will elevate your office attire significantly. Wear the bag over your forearm or, for better weight distribution, use the detachable strap to sling it over your shoulder and you're ready for business.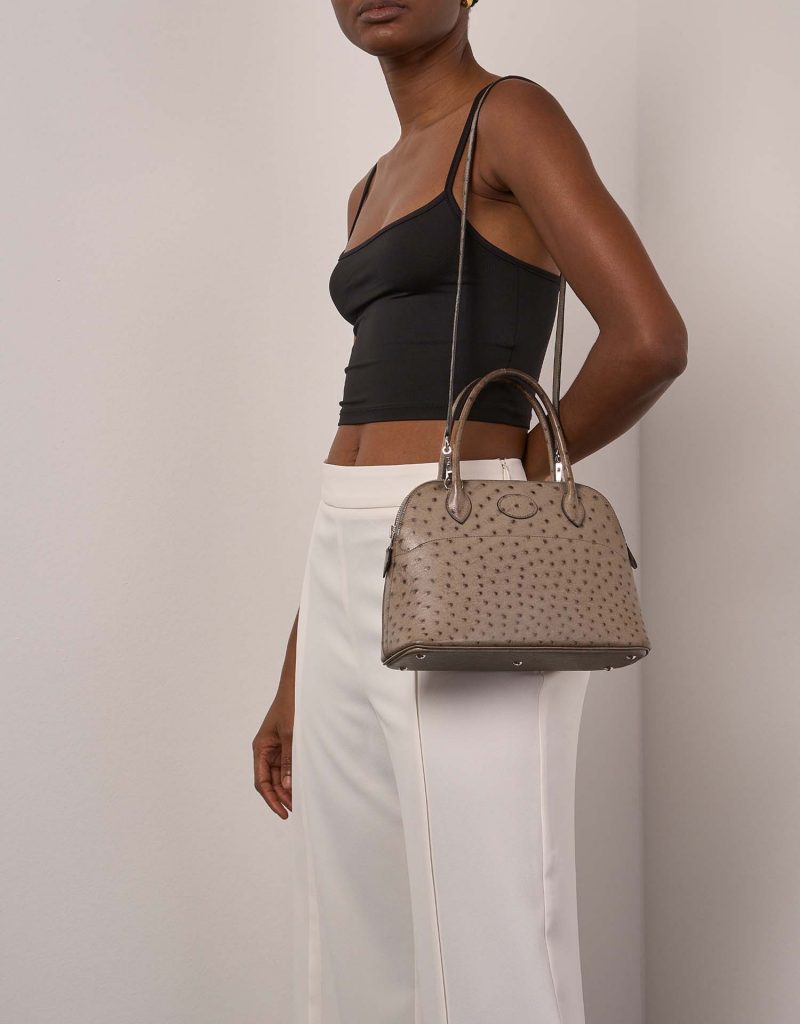 Even so, to do its history justice, the Bolide is optimally used for those transatlantic adventures. The largest in the series – the Bolide 45 – will house a good weekend's worth of items and all the essentials for your 10-hour flight. Alternatively, pick the Bolide Secret with its zippered compartment that stores your passport and travel documents safely and securely.
Pricing
The Bolide is definitely a more affordable option compared to other Hermès bags, but the price on the secondhand market will still depend on availability, size, material, and condition.
On average, the Bolide bag sells for € 3.100, while exotics are typically around € 7K, or € 8K. But limited edition prices can range anywhere between € 15K to € 18K.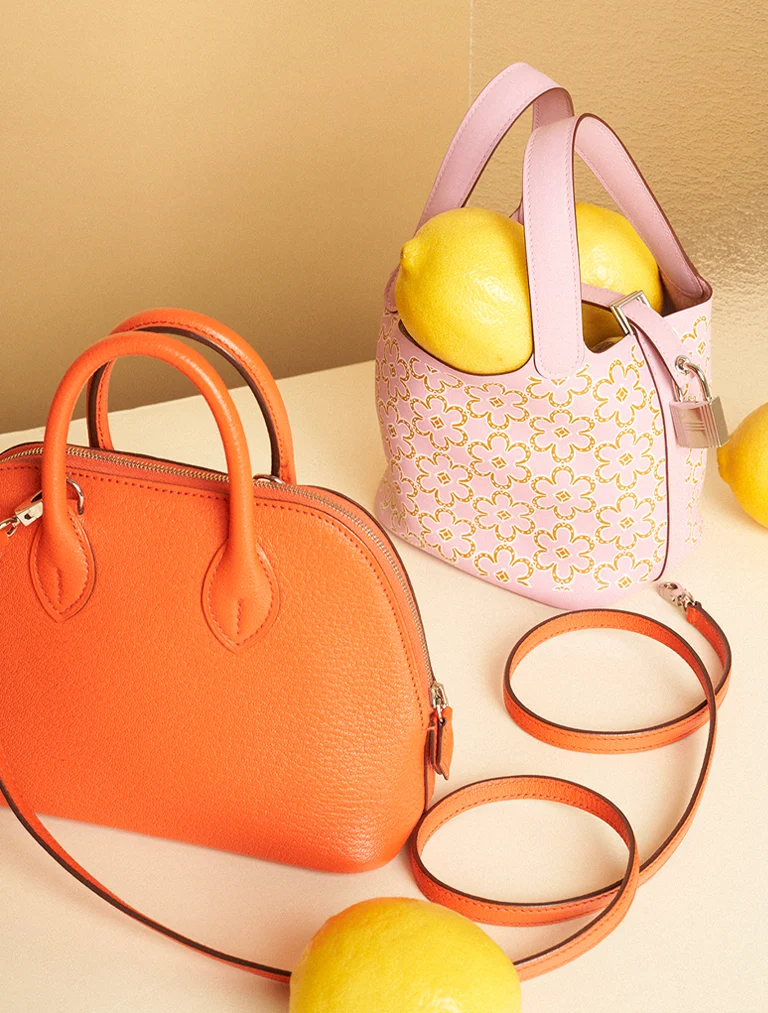 The simplicity and functionality of Bolide bags reflect the House's wide array of expertise. While originally designed as a travel bag, the Hermès Bolide has transformed into so much more over the years, and it's become a staple piece for practical-minded women.
Combine your favourite elements to make this discrete beauty your own. Shop the whole Hermès collection on SACLÀB!
Looking to sell your designer handbag?
Get an offer today and start selling
Sign up to our newsletter
Be first in line for our latest arrivals, alongside journal updates, exclusive treats and more.
Please confirm your subscription in the email you've just received.
Thank you! You've successfully subscribed.
It seems you are already signed up!
Please enter the correct email address
By subscribing I accept the privacy policy and the indications specified on data handling.
Make a Request
We do our best to find bags for our customers on request. However, this might take up to 6 months.
Warning!
You have reached the limited requests per customer.
Thank you for your enquiry!
Please check your email for further instructions.
You have reached the limited requests per customer.