The Chanel Vanity Case Deep Dive
SACLÀB ICONS
Looking to stand out in a sea of 2.55s and Boy Bags? Chanel's line of Vanity Cases offers an enchanting alternative to the classic Chanel silhouette. First introduced in the '90s, this ever-evolving family of bags has in recent years exploded in popularity with the launch of the Chanel Filigree Vanity Case — a typically chic twist on an accessory that dates back to Ancient Egypt. Before you take the plunge on a Chanel Vanity Case for yourself, read our essential guide to the different styles, sizes and rarities to search for.
An ancient accessory
Decorative boxes for cosmetics and toiletries have been around since ancient times — a vanity case containing a hand mirror, perfumes and ointments was even found in the 3,000-year-old tomb of an Egyptian pharaoh. In 14th-century France, a 'travelling box' to store items for personal grooming was an essential accessory for any journey. By the 18th century, these boxes had evolved into ornate, luxury items called 'nécessaires de voyage'. Nécessaires were ingeniously crafted, with multiple compartments and tiers to store everything a lady or gentleman would need on their travels. Such dressing cases became increasingly popular with the masses during the 19th and 20th centuries, and finally gave rise to what we now recognise as the vanity case.
The Chanel vanity makeover
It was, naturally, the great Karl Lagerfeld who was behind the next evolutionary leap of the vanity case. Inspired by the retro-glamorous designs of the '50s and '60s, Karl reinvented the vanity case for a new generation, transforming it from travel accessory to everyday handbag. Unlike other Chanel handbag styles, there are a real variety of Chanel Vanity Case iterations to be found on the secondary market, but they all have certain hallmarks in common: a boxy shape, a zip that goes all the way around its perimeter and a short top handle.
'90s rarities
The first Chanel Vanity Case handbags were released in the early '90s. These original designs were more closely aligned with the traditional look of a vanity case: a petite, cuboid box of diamond-quilted patent leather with a wraparound zip and fixed top handle.
Karl also designed circular and heart-shaped Vanity Cases with a supersized CC logo at the front and curved chain-link top handle — these models are particularly rare and command prices as high as €25,000–35,000 on the secondary market.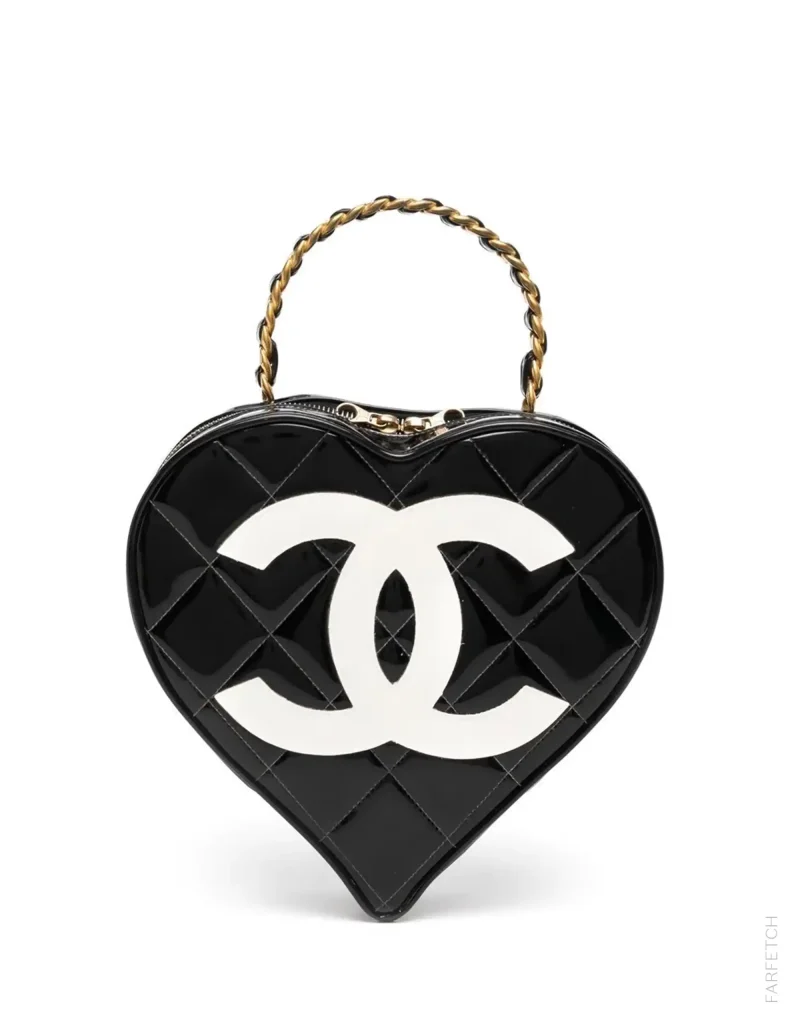 The Filigree Vanity Case
The SS16 'Chanel Airlines' runway show, which saw the Grand Palais turned into the chicest airport terminal the world had ever seen, provided the perfect opportunity for Karl to revisit the vanity case. His new design, since nicknamed the Filigree Vanity Case by collectors, saw the style playing up to its globetrotting heritage, with a suitcase-like rectangular shape and two luggage tags hiding a CC charm and key.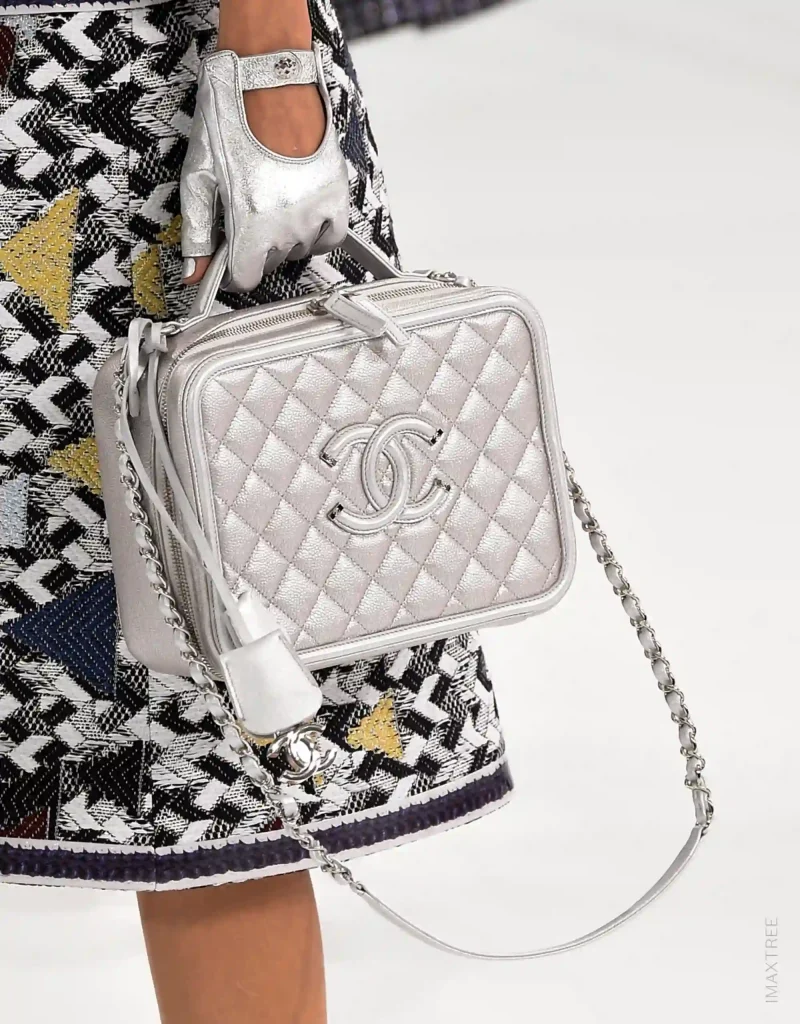 The Filigree Vanity Case has been a runaway hit for Chanel, and is now part of its regular stable of bags, reinvented each year in a dazzling array of colours and materials.
Details and sizes
The Filigree Vanity Case has quilted leather panels on the front and back surrounded by a ribbed border, giving the bag a reassuringly sturdy structure. It has a long chain and leather shoulder strap alongside a curved top handle. The large CC logo at the front can be decorated with chain-link detailing, or simply have metal tips. It has a wraparound zip, which opens up a roomy, leather-lined accordion interior with two main compartments and a zipped pocket.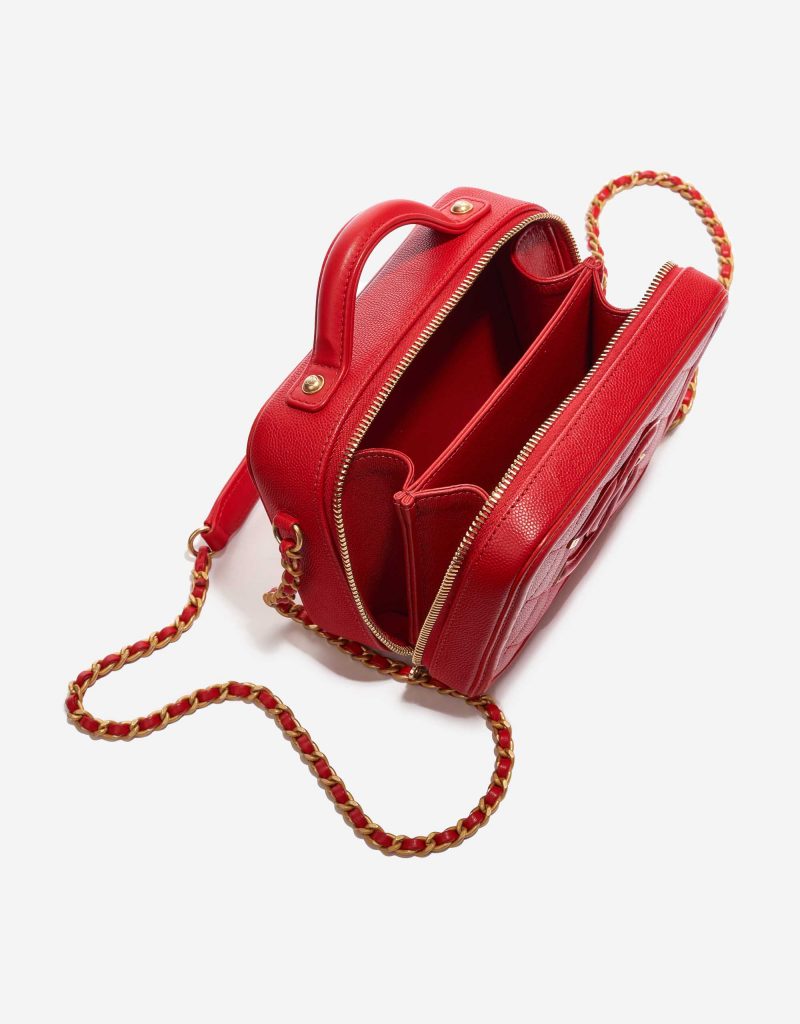 The bag comes in three regular sizes: small (measuring 17cm across), medium (21cm) and large (24cm). The small size has the perfect proportions for a cross-body bag, and just about fits your phone, lipstick, cardholder and keys. The medium size sits shorter on the body and is more spacious, accommodating a larger wallet and makeup bag. It also contains card slots. The large Filigree Vanity Case is capacious enough to even fit an iPad mini, and also has the pleasing ability to open up fully like a suitcase, revealing a compartment with an extra slip pocket and detachable mirror. You can button this compartment so it doesn't fall open every time you unzip it.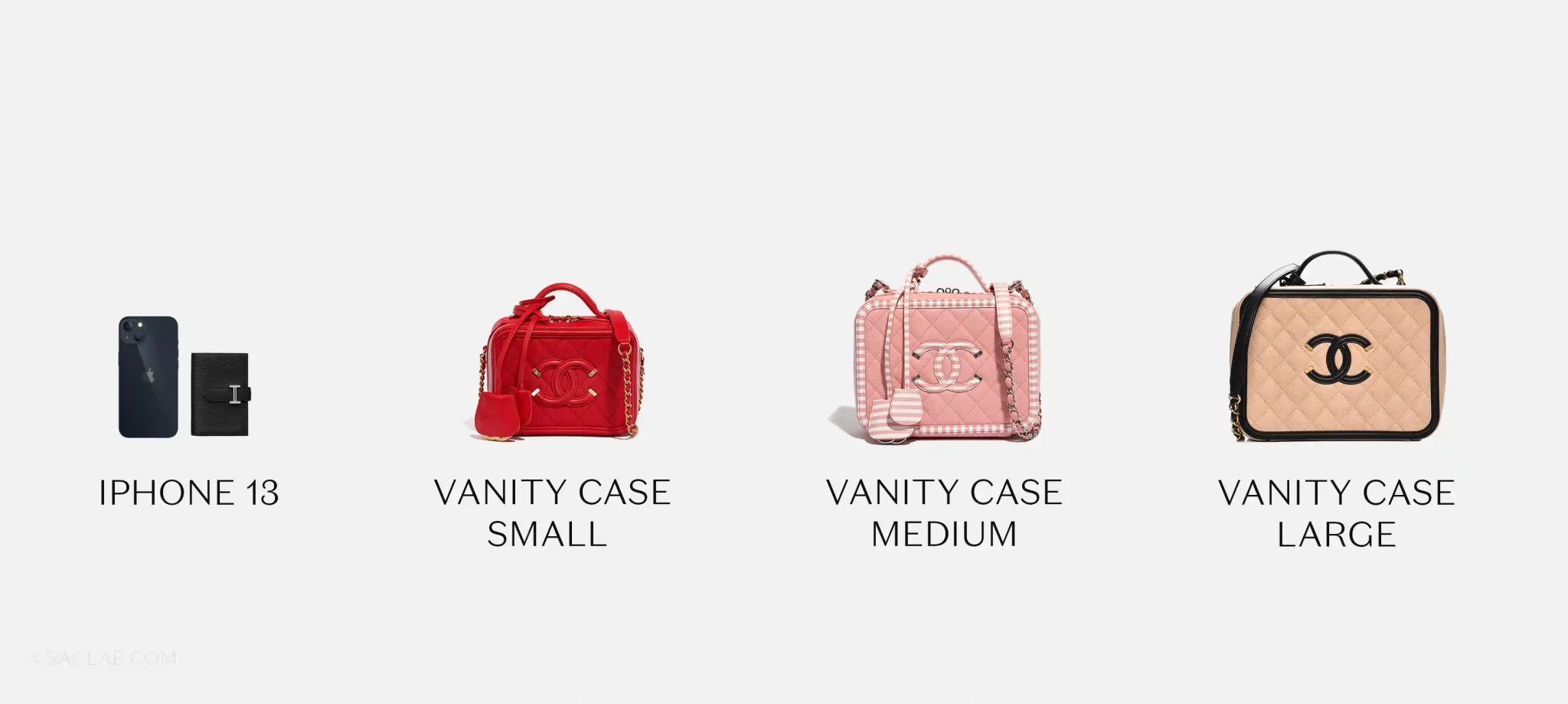 | | |
| --- | --- |
| Size | cm |
| Chanel Vanity Case Small | 17 x 13 x 7 cm |
| Chanel Vanity Case Medium | 21 x 16 x 8 cm |
| Chanel Vanity Case Large | 24 x 17 x 10 cm |
Rarities
The Filigree Vanity Case's playful design has invited endless experimentation from Chanel. In 2019, as part of their beach-themed spring/summer show, they released this rattan style with a luxe gold trim — dubbed 'the lunchbox' by some. They've also experimented with iridescent patent leather with a transparent PVC front for a futuristic finish. Amongst the more classic iterations of the bag, the Filigree Vanity Case in beige caviar leather with a black trim is prized amongst Chanel lovers for its iconic two-tone colour combination.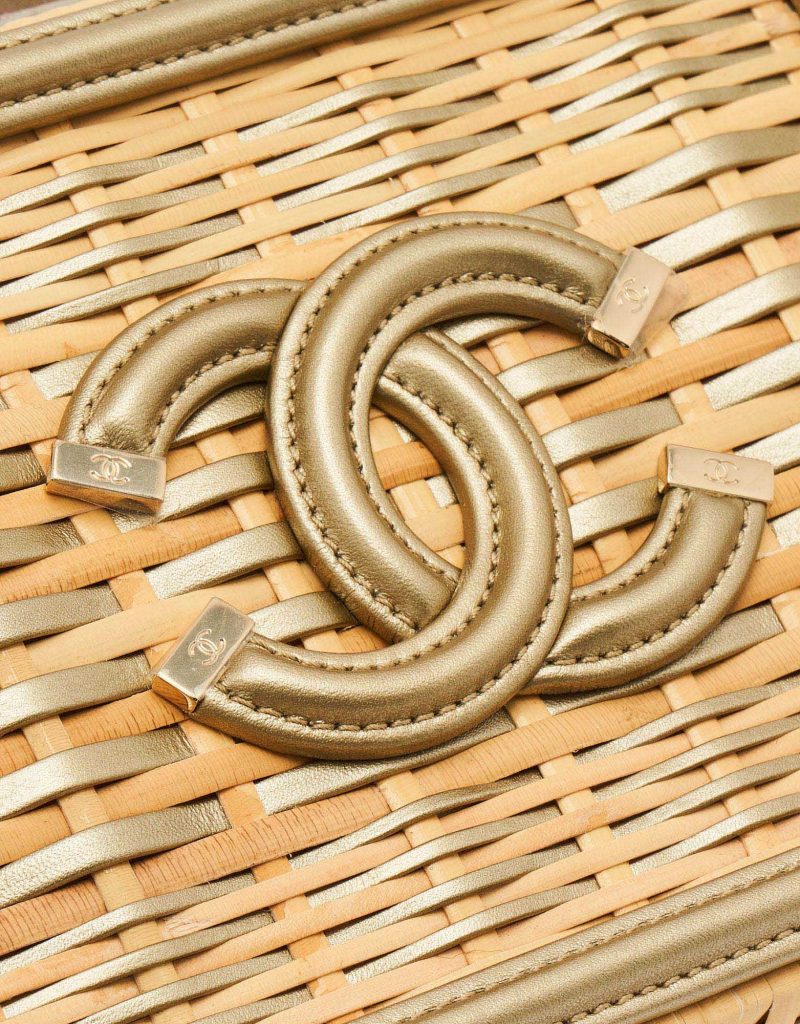 Prices
For a Filigree Vanity Case in a standard leather such as caviar, you can expect to pay in the region of €2,500–4,000 on the secondhand market — like this exquisite medium silver bag for €3,830. For rarer models, budget for around €4,500.
The Vanity With Chain
If you prefer the vintage vanity case silhouette, search for a Chanel Vanity With Chain instead. These sophisticated styles are more box-like in shape, with the zip placed around the top of the bag. As well as a top handle, they have a long chain and leather strap, and a very minimal, open interior, with a mirror built into the lid. They can be just as playful in design — case in point, this picnic-ready wicker number — but you'll often find the Chain Vanity in classic jet-black leather, like this micro delight. Prices are roughly €2,500–3,000 secondhand for a standard version, depending on the size and shape.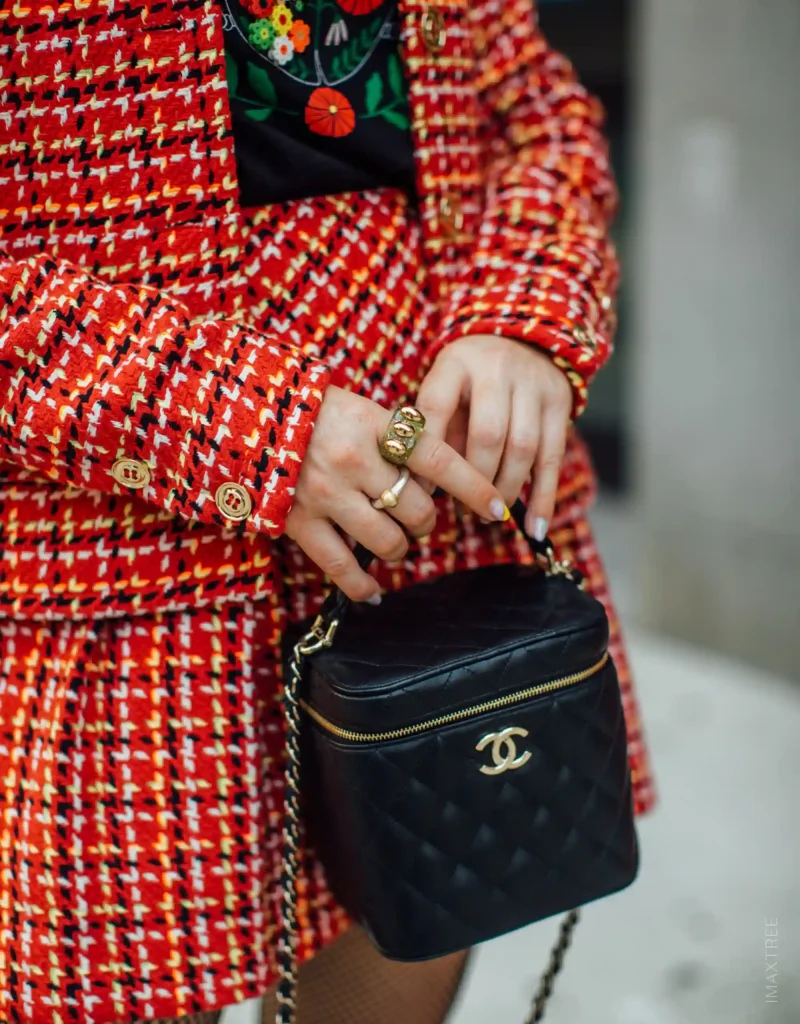 Ready to choose your Chanel Vanity Case? Let us know what style, size and colour are on your wishlist, or shop all pre-owned Chanel bags.
Looking to sell your designer handbag?
Get an offer today and start selling
Sign up to our newsletter
Be first in line for our latest arrivals, alongside journal updates, exclusive treats and more
Thank you! You've successfully subscribed.
Thank you! You've successfully subscribed.
It seems you are already signed up!
Please enter the correct email address
By subscribing I accept the privacy policy and the indications specified on data handling.
Make a Request
We do our best to find bags for our customers on request. However, this might take up to 6 months.
You can only create 3 requests at a time
Please remove one of your current bag requests to submit a new one.
Thank you for your enquiry!
Please check your email for further instructions.