Meet the Founders
SACLÀB INSIDERS
A conversation with Oliver and Alexandra Stueck, the sibling duo behind SACLÀB
Tell us a little bit about yourselves. What were you both doing before SACLÀB?
Alexandra: I studied Design at the Design Academy Eindhoven, and during my studies worked for the renowned interior designer Ilse Crawford in London, creating designs presentations for restaurants, retail spaces and private houses. After my graduation I worked at Kvadrat, a leading Danish interior textiles company, where I helped to design and develop rugs and floor coverings. I also worked in trend forecasting and interior design. I'm very vision-driven and hands-on – one of my bigger challenges at Kvadrat was to learn how to turn a design concept into a commercially successful product that fits with their target audience.
Oliver: During my last undergraduate year, I developed a particular interest in start-ups and founded Yourmagazine – a company focused on aggregating articles from different magazines into one feed. Sort of like Spotify for reading. However, both the idea and our approach were not mature enough to make this a big success. I went on to study Technology Entrepreneurship at both UCL and London Business School. After graduating, I worked at a young London-based company called TRULY Experiences, and another start-up, optile. It was a great opportunity for me to learn how young companies, e-commerce and especially the premium market work.
It was during this time that I discovered my passion for luxury vintage goods. I opened a sole-trader company in Munich to trade handbags from Givenchy, Celine, Prada and Bottega Veneta. In 2016, I realised that this side business in selling handbags had big potential, so in mid-2017, Alex and I sat down together and brainstormed how we could grow such a company even further. We founded SACLÀB in 2018, specialising in high-value brands such as Chanel and Hermès.
Why did you begin SACLÀB?
A: I've always had a keen eye on fashion and trends, while being a huge supporter of upcycled and secondhand fashion. I was eager to explore this business within the luxury market, where the incineration of garments and accessories has been a hot topic since Burberry admitted to burning over £28 million of stock in an effort to protect its brand image and exclusivity. Today, we're not just wondering 'Who's making my clothes?' but also, 'What's happening to what's already out there?' Handbags are, when well made, not only long-lasting but can also become collectable and highly sought-after. Why should their life come to an end when the first owner doesn't like them anymore?
O: I also have a passion for vintage goods and high-value craft pieces. I myself often wear vintage watches, accessories and clothing. I like the idea of having something of high value passed on and restored.
What are your roles in the team?
O: As SACLÀB's Managing Director, I make sure that the business runs as planned and grows. I think of strategies and how to implement them. In this regard, I take care of sales, operations and, of course, the culture and atmosphere in the Munich office. At the moment, I've been focused on developing our business so clients can easily sell their treasures directly to us. Customers can now upload images and details of their bag to our website, and we will reach out to them with a price offer for the bag along with a shipping label. Once they have shipped the item to us, we inspect it, adjust our offer and, if accepted by the seller, we pay out the money right away. This offers a huge advantage to sellers as they don't have to go through the process of finding a buyer through existing platforms, which can take weeks or even months. We'll save you 90% of your time.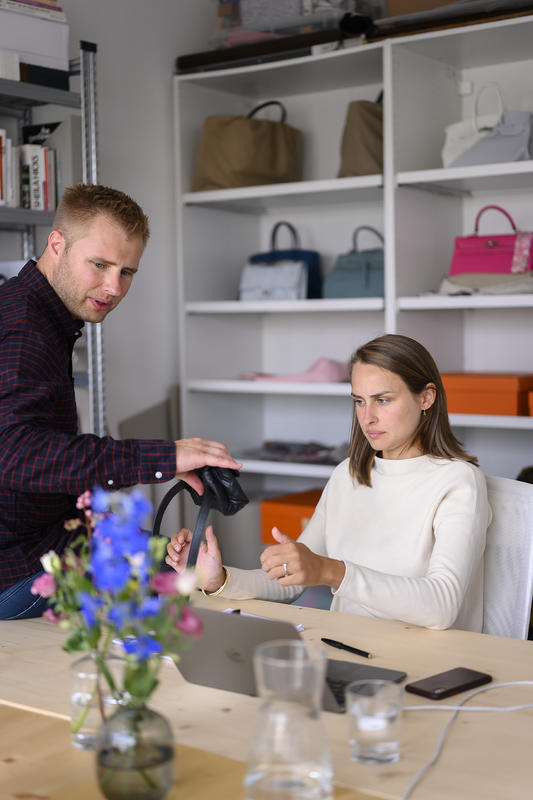 A: I'm the Creative Director for SACLÀB, focusing on the look and feel of our brand. Working from our Amsterdam office, I direct and style photoshoots and oversee our digital marketing channels, from the functionality of our website to social media and ideas for our online journal. I try to enhance the brand and everything connected to it. One of my original guidelines was to ensure that the brand image did not become too girly and cheap, but instead had integrity and thought behind it. Our clients are well-educated and know what they want, so I wanted to focus on these needs. I did not want there to be too much distraction from what we sell.
What does your average day look like?
A: My days are always different and not very average. But as you might guess, that would bore me anyway! But generally, I always check my emails and schedule calls at the beginning of the day when my energy is sharp. Then I commit to the long-term projects and challenges I'm currently working on. But really, it can all be very different from what is planned – there is always stuff that 'happens'. I also check in with the people that work for us, like freelancers or interns, and see how they are doing.
O: My schedule varies hugely depending on the tasks at hand. I basically work at any time that the business needs my attention. This may even be in the middle of the night, on weekends and on holiday. My fiancée helps me with my work-life balance, especially when my enthusiasm about the company causes some sleepless nights. During weekdays I try to schedule my day into 30 one-hour blocks with tasks and allow myself some short breaks in between. Obviously, this doesn't work all the time, but I try to stay in the rhythm. I also recap every morning what I have to do and analyse in the afternoon how much of my work I actually did. It gives me the chance to predict how long I will need to complete tasks. I'll often speak with potential clients, and I travel sometimes to meet customers.
What's it like working with your sibling?
A: It's nice in the moments where I know I need to trust Oliver and when we talk about our visions and plans. Generally, I'd say that I'm the soft and emotional side of the company, and he is practical and driven. I really appreciate the excellence in his work. We do not need to convince each other often, but if we do, it's often worth the discussion as we arrive at new and unexpected results. But if there are challenges and conflicts, they can sometimes become personal in a brother-and-sister setting. So I'm always careful to try and avoid that.
O: It's a lot of fun working with Alex. You can rely on strengths you know already and joke around on the same level. She helps the company very much in terms of design and creativity, building up customer trust, which is a key role for SACLÀB. If you work with family, you obviously need to apply a few rules, for instance, having a strict line between our personal and professional lives. If we have tense discussions, this is obviously a work thing and should not be dragged into our personal relationship as siblings. These are things that we had to learn.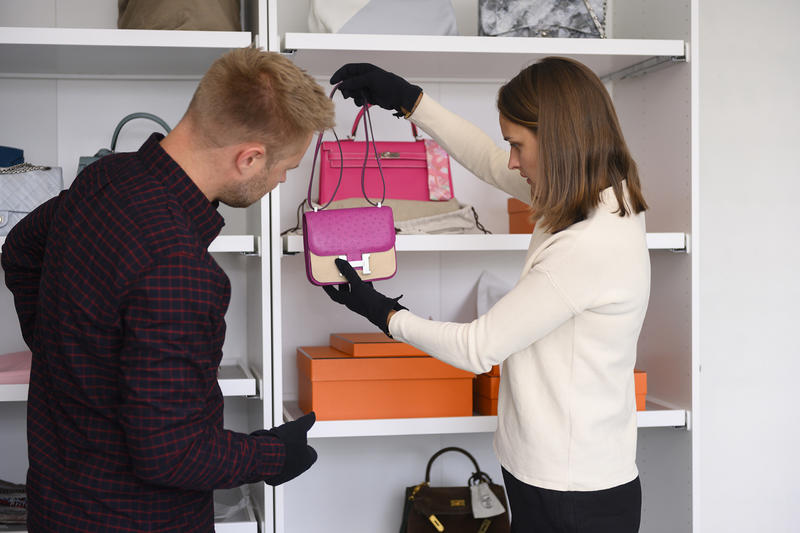 What bag are you currently wearing?
A: My practical bag is the Frame Bag designed by Konstantin Grcic. I love it because it fits everything I need, is spacious and sportive – I like to mix elegance with a sporty touch. Other than that, I wear a special-edition Bottega Veneta Nodini, which my partner gave me as a lucky charm when we started the business. I really cherish this bag. My other favourite is my vintage red Lizard Celine shoulder bag. It actually has the logo of Celine that is used again today by Hedi Slimane, but is from the 1980s.
O: For business meetings, I have a vintage Burberry leather messenger. My fiancée wears a Kelly 25 Epsom Gris Mouette with silver hardware.
If you could own any bag, what would it be?
A: I'm actually very low profile when it comes to handbags for myself, so it would be a Bottega Cabat shopper. It's very practical and smooth. But as an investment, I would go for a custom Hermès Birkin 25 made in three different colours with exotic leather. Or a bespoke Hermès Kelly 28 Picnic – and then keep it in my safe!
O: I guess it would be a bag I would give to my fiancée… A vintage Hermès Kelly 28 feathers special edition. This bag was not really ever on sale – it was a window display in 2011 and was only offered to Hermès VIP customers afterwards. I think there were only about 20 bags ever made – a great collector's item.
What's been your proudest moment so far at SACLÀB?
O: Every sale makes us proud, but even more so the feedback of clients who message us to say thank you for the good service and the incredible bag. Some have already told us that these purchases and the unpacking are very intimate and memorable moments for them.
A: When you go from almost nothing to launching a company, there are a ton of things to be proud of. I am always proud when I see the results of a photoshoot that I styled up on the website. And of course, orders make me very proud too. The other day I interviewed some of our clients about their customer journey and it was really cool to hear that they would come back or recommend us. These are the small but significant perks of running a business.
What's the most memorable handbag that you've sold so far?
O: A Birkin 25 Himalaya Crocodile handbag. It was sold within an hour and never even made it up on the website!
A: Agreed – the logistics around this sale were tremendous and many people were involved, from picking it up to the photoshoot to the delivery. But I am so often amazed by what passes my desk – Hermès' colour range is just stunning and the result of so many years of impressive research.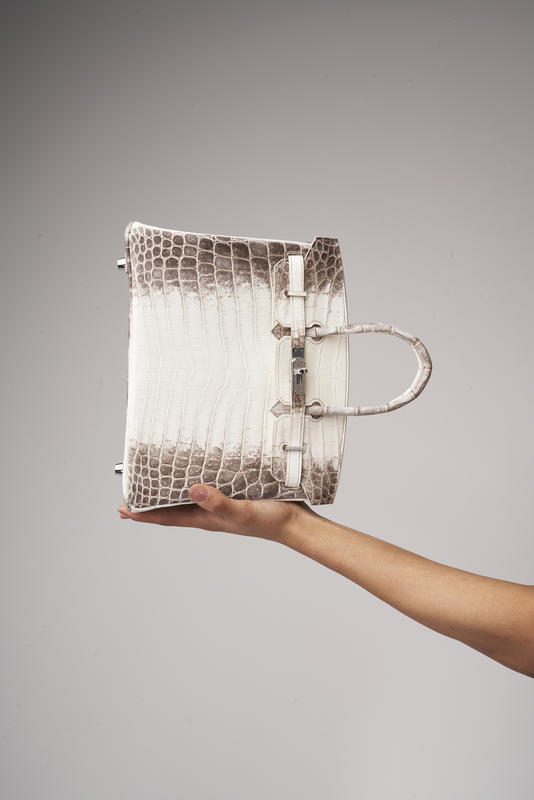 What makes SACLÀB different from the competition?
O: Basically, whether you're looking to buy or sell a bag, we can take care of it. All of the bags that we sell are in stock and verified in terms of quality, condition and authenticity. We can therefore guarantee all of these aspects and ship a bag to you within 24 hours. As I mentioned before, we also PURCHASE BAGS DIRECTLY FROM OUR CUSTOMERS. SELLING AN HERMÈS BAG can take a considerable amount of time on listing platforms. Lots of time can pass until the bag finds its potential new owner. Before it sells, the seller will get a storm of questions about additional photos, year, condition, and many more aspects. With SACLÀB, all you need to do is fill out a CONTACT FORM ON OUR WEBSITE to get the process started, send the bag to us, and we'll take care of the rest. If a bag needs refurbishing, we can handle this too. As far as I know, there is no one in the market who offers such a straightforward service.
What's been your biggest learning so far about running your own business?
A: Customers need to be assured that we are trustworthy, especially when it comes to the authentication of these bags and paying for them. Building trust takes time, so we concentrate on clear and transparent communication.
O: I think the biggest learning is that not everything you plan for actually works out. You can have a bulletproof plan and sometimes it won't work as your customers don't think the same way. Your main job is then to test further, tweak your plan and try again. Agile thinking is key. Be open-minded: learn, test, fail and adapt.
What's next for SACLÀB – do you have a vision for the long run?
O: We would like to become the central touchpoint in Europe (and then, globally) for premium pre-owned bags, as well as services around them. There are many services we plan to launch within the next two years that will help our customers with such high-value products. These could include a purchasing service, care service, a storing option or even special insurance packages – more to come soon!
A: We are looking for investment to grow our business and implement these new ideas. We would like to add brands other than Hermès and Chanel and also partner with these brands for refurbishment. Alongside this, I want to grow our bag customisation department into bespoke experiences.
And finally, what do you like to do outside of SACLÀB?
A: Me and my fiancé love travelling and spending time with our families and friends. Travelling opens my mind and brings me new ideas and perspectives on what I am doing. It's a great tool to reflect. When I am off, I try to read about things that interest me or that I want to improve in. I also recently started to train for a sailing licence for international coastal and offshore waters. I find it a very calming and beautiful way to navigate from A to B without any additional help. I can't wait to have it!
O: When this year my girlfriend said yes to marrying me, we both got a new hobby: preparing our wedding. We dedicate lots of our time to this topic – choosing locations, wine and decorations. Outside of SACLÀB, I love seeing family and travelling. Finding new places and being in nature is what I like the most. Besides this, I also enjoy cooking. I almost always prepare dinner from fresh at home and often these are not the standard, easy-to-cook type of dishes.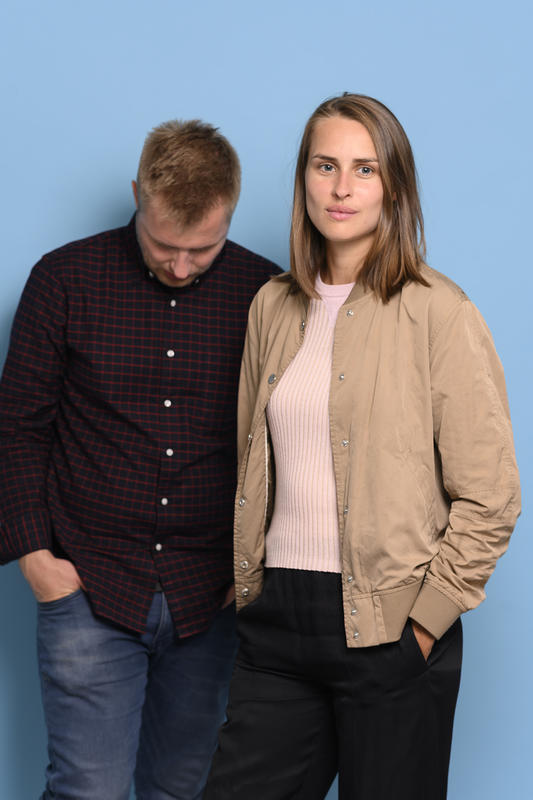 Looking to sell your designer handbag?
Get an offer today and start selling
Sign up to our newsletter
Be first in line for our latest arrivals, alongside journal updates, exclusive treats and more.
Please confirm your subscription in the email you've just received.
Thank you! You've successfully subscribed.
It seems you are already signed up!
Please enter the correct email address
By subscribing I accept the privacy policy and the indications specified on data handling.
Make a Request
We do our best to find bags for our customers on request. However, this might take up to 6 months.
Warning!
You have reached the limited requests per customer.
Thank you for your enquiry!
Please check your email for further instructions.
You have reached the limited requests per customer.