An Ode to the Chanel Backpack (In Its Many Forms)
SACLÀB ICONS
Chanel is a fashion house that loves to celebrate its history while at the same time ripping up the rulebook. In its boutiques, the quiet elegance of Coco Chanel's original oeuvre lives on in classic tweeds and quilting, ladylike pearls and snow-white camellias. But there's also a modern, rebellious spirit seeking to subvert this legendary aesthetic: weathered chains, neon Plexiglass bags and runways reimagined as supermarkets and airports.
This iconoclastic approach to fashion lore was pioneered by the late Karl Lagerfeld, and is exemplified in Chanel's coveted range of backpacks. Injecting unexpected luxury into a typically casual silhouette, a Chanel backpack deserves a place in every great designer bag collection. Before you start shopping, here's everything you need to know about the styles to search for.
The backpack backstory
Firstly, a word on the history of designer backpacks. It wouldn't be right if we didn't acknowledge Prada's part in the glow-up of this utilitarian style. When Miuccia Prada joined her family's firm in 1978, her first design was a revolutionary backpack, crafted in light and durable nylon. Released in 1984, Prada's hit backpack transformed the designer bag landscape. Here was a style that mixed old-world designer luxury with sporty insouciance. Not long after, the new creative director of Chanel, Karl Lagerfeld, also began producing backpacks of his own design.
Vintage Chanel backpacks including the Duma
Unusually for Chanel, perhaps the most in-demand of all their backpacks today are the brand's vintage styles, in particular those dating back to the '90s. There are a few variations available, but the Duma backpack is particularly prized. Quilted in silky-smooth lambskin leather and accented with 24-karat gold-plated hardware, vintage Dumas have noticeably chunky leather and chain straps.
They feature two CC twist-locks at the front, one for a roomy pouch and another to fasten over the drawstring top. The base hides a large CC embossing. These bags can mainly be found in the classic Chanel colours — black, beige, red and (occasionally) tweed. A vintage dream or what? You can expect to pay around €5,000–8,000 for a good quality vintage Duma, which is the top end of the secondary market for Chanel backpacks.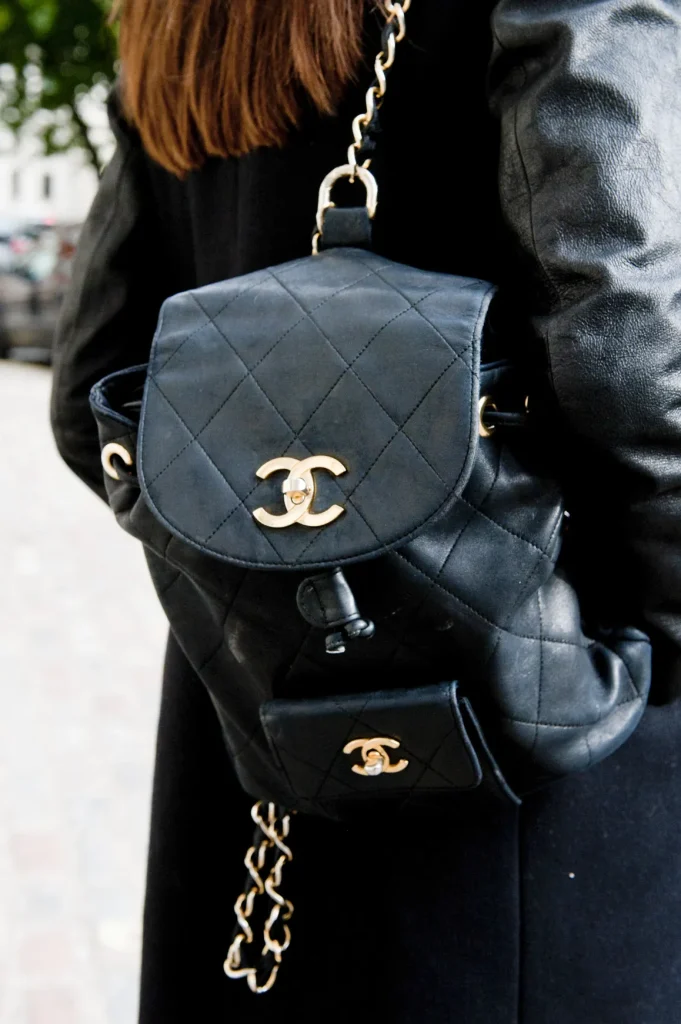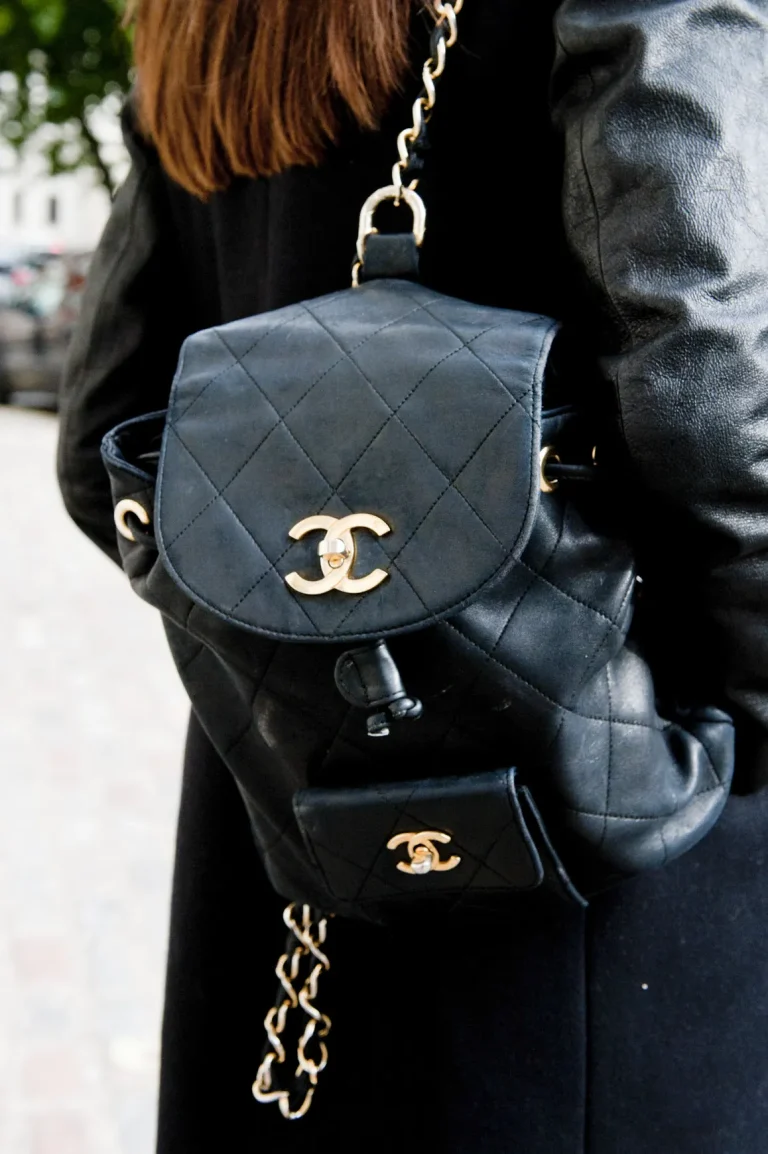 Recently, Chanel quietly reissued the Duma backpack (a shrewd move given its popularity). Available in mini, medium and large, the new Duma Reissue backpacks are just as charming as their vintage counterparts, although there are some small differences — the smooth lambskin has been replaced with waxed and slightly aged caviar leather, and the chain and leather straps slimmed down and made adjustable. There's also a bonus chain top handle for carrying it on the go.
The Chanel Gabrielle backpack
If you love Chanel's Boy Bags, the Gabrielle backpack is for you. Launched for Chanel SS17, it has a similar cool-girl energy about it. It's made from quilted aged calfskin, giving it a vintage feel, with a contrasting smooth (and reassuringly solid) base. The Gabrielle backpack is striking in that it doesn't have a flap top, simply a chain drawstring closure. As such, it's reminiscent almost of a bucket bag, and you can even customise the straps to wear it as a shoulder bag or cross-body.
One of the Gabrielle's best assets is its mixed-metal hardware — the straps fade from ruthenium to shiny silver, and aged gold to shiny gold. This makes it an incredibly versatile accessory to have in your wardrobe. Although not entirely practical, with its open top and lack of pockets (other than one slip pocket on the interior), collectors have flocked to this modern interpretation of the backpack.
The Chanel Business Affinity backpack
For a backpack with a more practical ethos, opt for the Business Affinity. This bag is crafted from durable caviar leather in a similar silhouette to the Duma. The two adjustable back straps are also made predominantly from leather, which some might find more comfortable to wear than chains. Like the new Dumas, it has a chain top handle.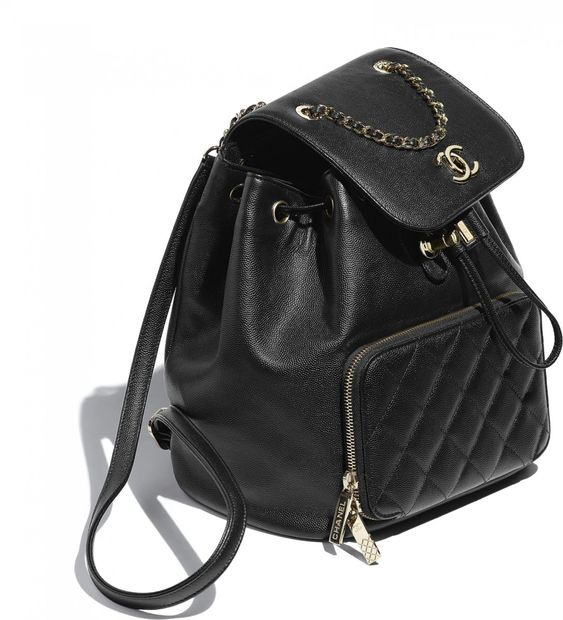 The quilted zipped front pocket is especially useful — the size of a wallet, it can easily hold a large smartphone or other essentials. It also has a quilted back slip pocket. Inside, the Business Affinity is forgivingly roomy, with an internal zipped pocket and even a key chain. This backpack really does mean business.
The Chanel Urban Spirit backpack
For those who appreciate the classic Chanel aesthetic, set your sights on the Urban Spirit backpack. This boxy bag takes its style cues from the Chanel Timeless Flap, with a single flap across the top fastened with a CC turnlock clasp. It mainly comes either traditionally quilted, or quilted in sporty chevrons (although this rare mustard-yellow python number was a particular favourite when it came through SACLÀB's doors).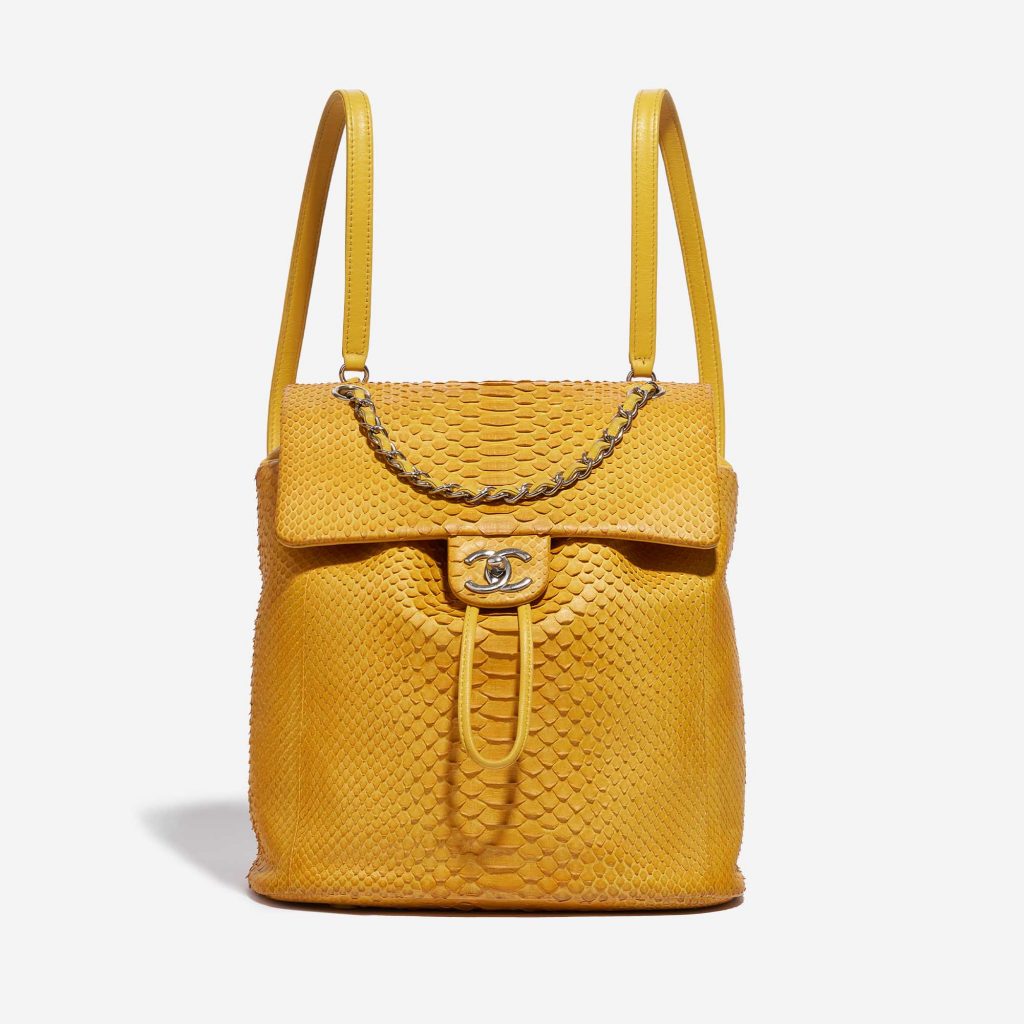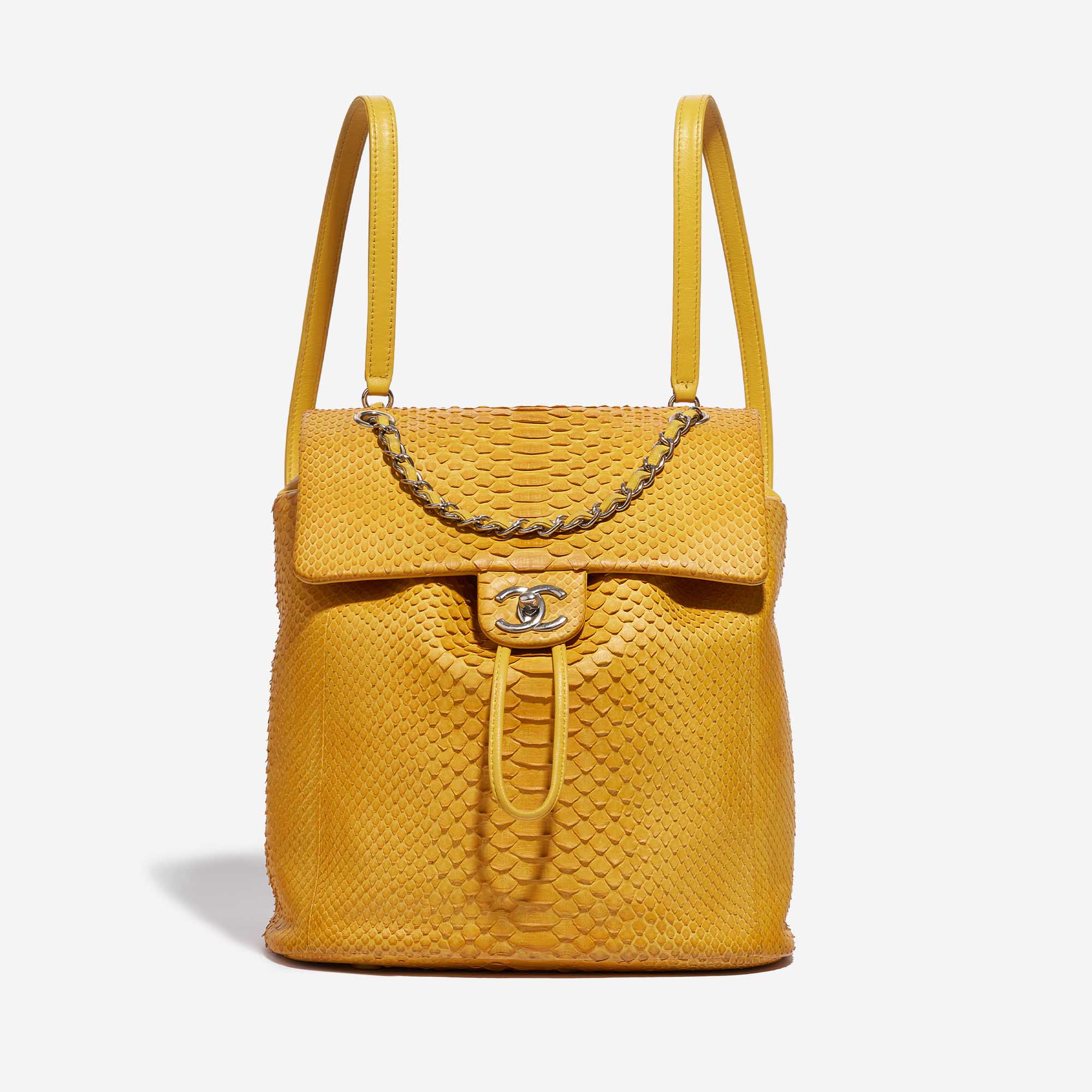 The slim leather straps are adjustable, with a chain top handle, and one back slip pocket. It also has a zipped internal pocket. The Urban Spirit has proved very popular, thanks to its roomy interior and instantly recognisable Chanel look.
The Chanel Graffiti backpack
The Chanel 'Art School' Graffiti backpack holds a special place in many collectors' hearts. Released for Karl Lagerfeld's SS14 collection, which was a tribute to the art world, this canvas creation is embellished with stencilled CCs, neon braids, dangling charms and frayed edging — a backpack that embodies the subversive spirit of Karl's tenure at Chanel. Spotted on celebrities such as Khloe Kardashian and Lily Allen at the time, we can understand why you now see this limited-edition style going for as much as €10,000 on the secondary market.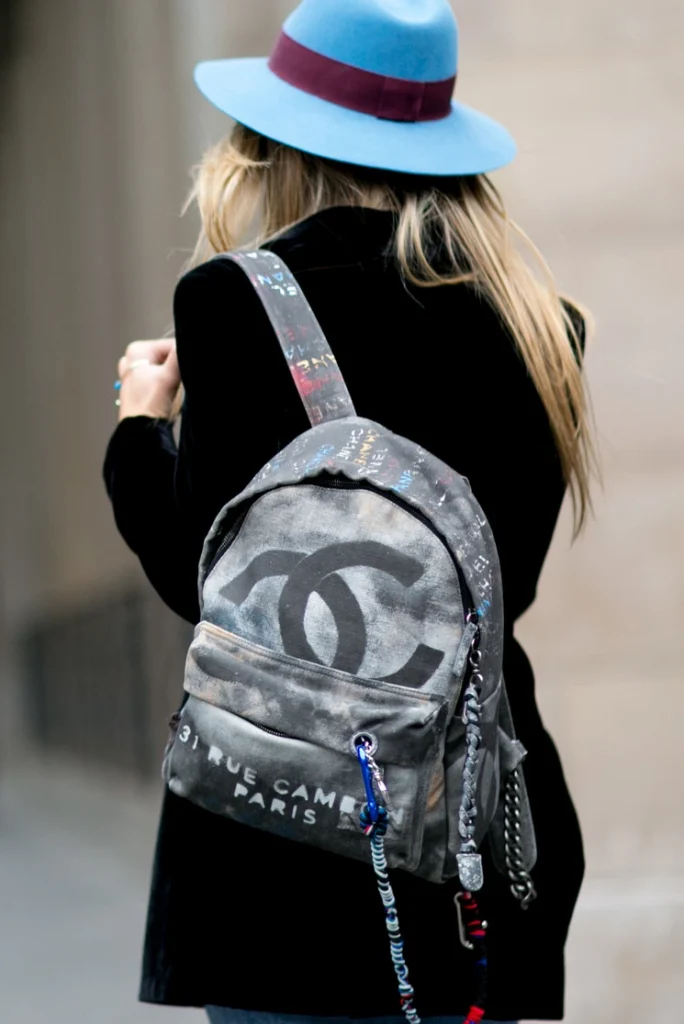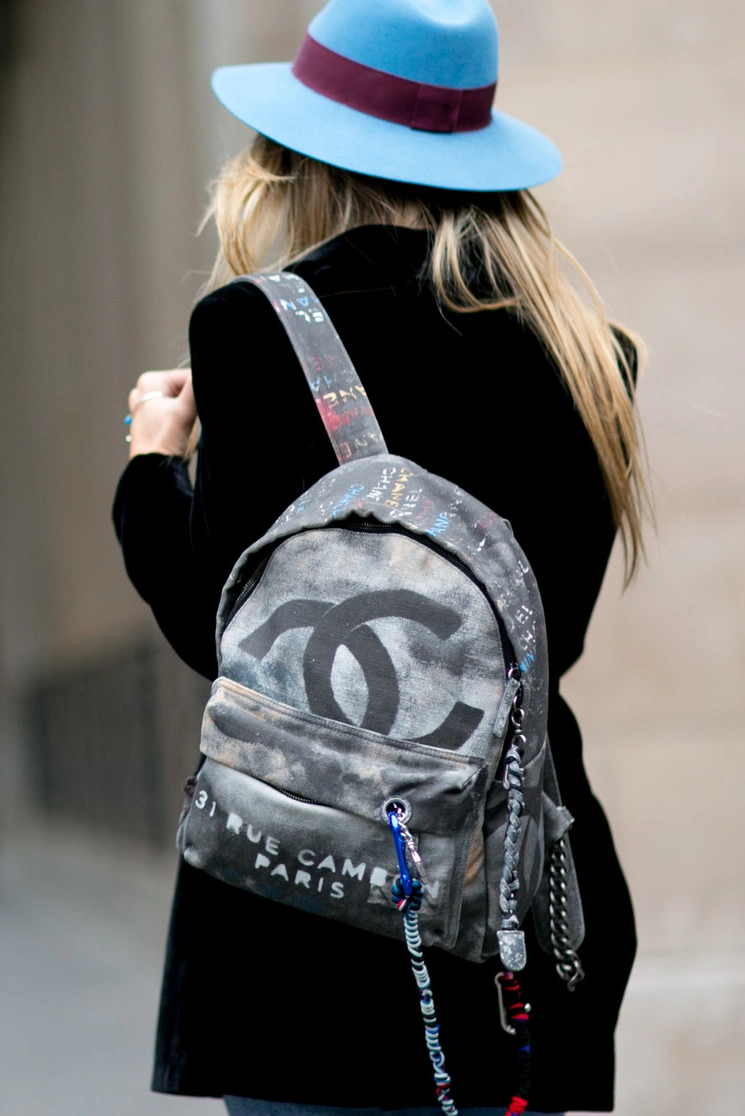 Special mentions
One of the great things about Chanel's backpacks is the variety of styles and sizes available. The Deauville backpack incorporates the casual canvas material of the original Deauville, and is perfect for summer trips. The Filigree backpack combines the metal-tipped oversized CC of this insta-famous bag. Or for something more avant-garde, the Aquarium backpack has a transparent PVC top and a vanity case-style quilted zippered base. Don't forget to look out for rare runway collectables, too — this sequined Coco Club variety recently stole our hearts at SACLÀB.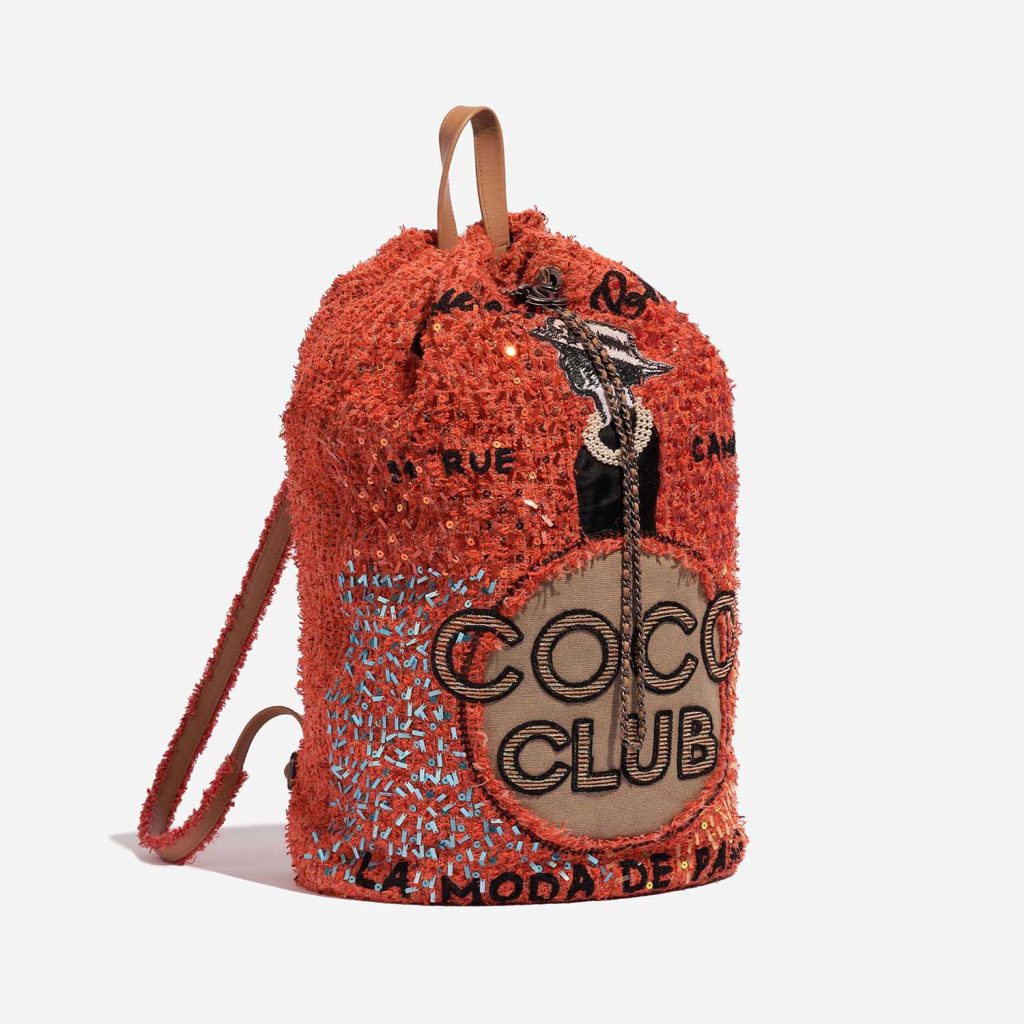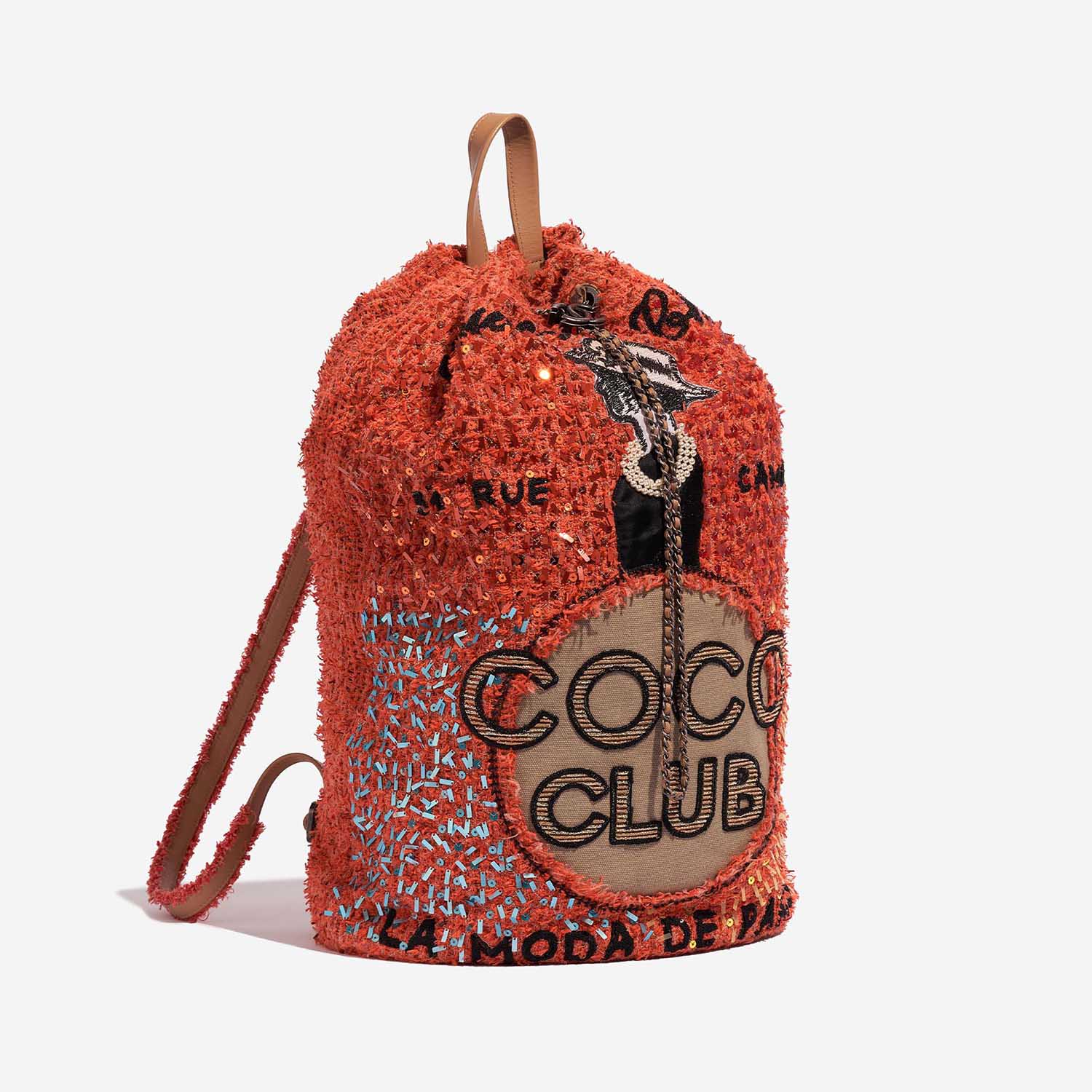 Ready to find your dream Chanel backpack? Discover our curated selection of pre-owned Chanel bags.
Looking to sell your designer handbag?
Get an offer today and start selling
Sign up to our newsletter
Be first in line for our latest arrivals, alongside journal updates, exclusive treats and more
Thank you! You've successfully subscribed.
Thank you! You've successfully subscribed.
It seems you are already signed up!
Please enter the correct email address
By subscribing I accept the privacy policy and the indications specified on data handling.
Make a Request
We do our best to find bags for our customers on request. However, this might take up to 6 months.
Warning!
You have reached the limited requests per customer.
Thank you for your enquiry!
Please check your email for further instructions.
You have reached the limited requests per customer.