5 of the Most Popular Designer Handbags to Invest in 2023
SACLÀB INSIDERS
Finding the right designer handbag to invest in, can be quite a challenge. Some spend a lifetime pursuing the perfect one, others are willing to invest right on the spot. Everyone has a different approach to buying the ideal standout designer bag, and it has become a hot debated subject in the fashion industry. However, there are a couple of factors that come into play that can be helpful to know in advance for soon-to-be handbag owners: Style, versatility, longevity, and timelessness of the bag are crucial when it comes to deciding which one's the best to invest.
Which designer handbags are trending right now? From classics like the Chanel Timeless and Chanel 2.55 to retro resurrections like Dior's iconic Saddle bag: we navigate you through the best designer handbags at SACLÀB and signature styles to invest in 2023.
Chanel Classic Flaps & Reissue
Timeless, iconic and effortless. No other bag has garnered so much traction in the past decade than the Chanel 2.55. Some even spend a lifetime pursuing the iconic bag, due to its unique and effortless design that stretches back to the 19th century. First-time buyers, who are on the hunt for a statement bag, should keep an eye on typical classics of the French fashion house. The Classic Flap and the 2.55 Reissue are great designer handbags and showcase the traditional Chanel hallmarks such as the chain-link shoulder strap, CC-turn-lock and the signature diamond quilting. Bonus: The value of Chanel classic flaps such as the Timeless increases in price each year and never goes out of style.
Dior Saddle Bag
Some call it the It-girl's staple bag, others the resurrection of the phenomenon of the John Galliano Spring/Summer 2000 collection. This year, the funky-shaped Dior Saddle Bag of the 00s is celebrating an even bigger comeback, due to the continuous growth of "nowstalgia" and Y2K fashion. The original designed by Galliano features a kidney-shaped silhouette, a signature CD buckle and a short detachable leather strap that allows the bag to be worn close to the body. The updated version from 2018 by Maria Grazia Chiuri was increased in size to fit daily gadgets such as smartphones and wallets. Newer models also vary in style and feature a soft calfskin leather finish. The newly updated oblique pattern and a luxe denim-canvas have become street style staples and make great purchases for first-time buyers.
Bottega Veneta Cassette
Practical and timeless in design is the most recent addition by Daniel Lee to the Bottega Veneta family, the Bottega Veneta Cassette. Fashion insiders around the world refer to it as the most desirable bag to wear out and about, due to its 90s thickly padded leather silhouette that features the brand's iconic intrecciato weave. The adjustable cross-body strap gives its wearer the possibility to go hands-free, but can also be worn as a clutch. The Italian calf leather adds a beautiful luxe finish to the soft and puffy bag and allows for a smooth transition from day to night look. For handbag lovers who love a good classic – the Oversized Cabat tote too is perfect for every day and makes a brilliant investment piece.
Gucci GG Marmont Matelassé Mini Bag
A quilted design and the iconic GG hardware are one of the most significant characteristics of Gucci's GG Marmont matelassé mini bag. As the name already reveals, the bag features a soft matelassé chevron leather and GG zigzag stitching on the back and comes in a soft, structured silhouette. The convenient flap closure allows for easy access on the go, making it a practical yet timeless bag to wear on any occasion. The antique-gold toned chain strap can also be worn in multiple ways – as a top handle or shoulder or cross-body bag and offers Logomania lovers endless styling possibilities.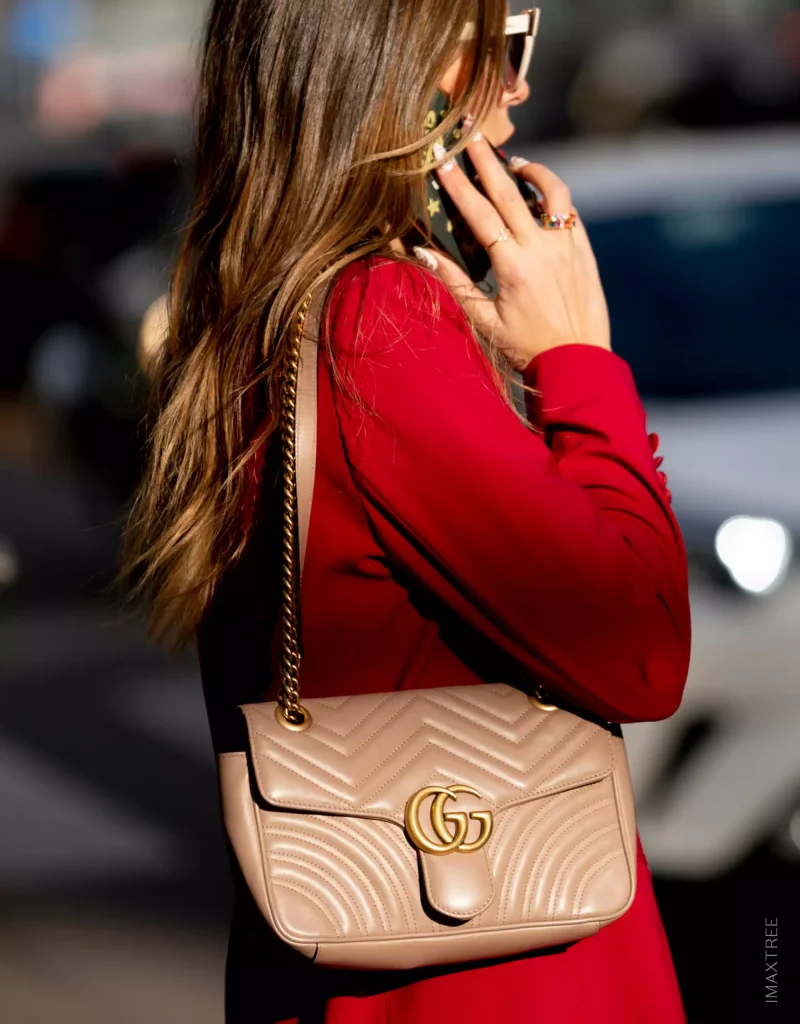 Hermès Birkin
Only a few know that the design of the iconic Hermès Birkin was born in the sky on a flight from Paris to London in 1984. In fact, British actress Jane Birkin complained to then Executive Chairman Jean-Louis Damas that she couldn't find a bag that would suit both her needs as an actress and a mother. The genius creator of the French fashion house swiftly sketched up the spacious rectangular bag with its recognisable palladium hardware, which is nowadays known as the Hermès Birkin.
The It-bag comes in four different sizes also known as the Birkin 25, 30, 35 and 40 and is available to buy with many different types of leather finishes, mainly Togo, Clemence, Epsom and an all-new Barenia Faubourg calfskin leather. Togo and Epsom leather are more robust and scratch-resistant, making it the ideal choice for first-time buyers. Choosing the ideal bag also depends on one's lifestyle and personal preference. However, the Birkin 30 has become a classic and every handbag lover's dream item.
Which designer handbag has taken your fancy?
Let us know what's on your WISHLIST, and we'll take care of it. Our team of experts and consultants is here to help if you wish for personal advice or have any questions. Simply REACH OUT and let us take care of all the rest.
Looking to sell your designer handbag?
Get an offer today and start selling
Sign up to our newsletter
Be first in line for our latest arrivals, alongside journal updates, exclusive treats and more
Thank you! You've successfully subscribed.
Thank you! You've successfully subscribed.
It seems you are already signed up!
Please enter the correct email address
By subscribing I accept the privacy policy and the indications specified on data handling.
Make a Request
We do our best to find bags for our customers on request. However, this might take up to 6 months.
You can only create 3 requests at a time
Please remove one of your current bag requests to submit a new one.
Thank you for your enquiry!
Please check your email for further instructions.