An Essential Guide to the Chanel 19
SACLÀB ICONS
In March 2019, a new handbag was unveiled as part of Chanel's Fall/Winter runway show: the Chanel 19. Combining some of Chanel's most recognisable design codes with a softer, contemporary silhouette, the bag was an instant hit with collectors when it arrived in boutiques later that year. With exquisite iterations selling out each season ever since, the house shows no sign of stopping production, which invites the question — is the Chanel 19 a new fashion classic? If you're thinking about making an investment in one, read on to find out everything you need to know about this next-generation icon of the handbag world.
A Chanel Swansong
The Chanel 19 origin story is an especially poignant one. It formed part of creative director Karl Lagerfeld's final collection for Chanel, which was revealed in an emotional runway show a mere month after his death in February 2019. Karl had designed the bag in collaboration with Virginie Viard, his longstanding 'right-hand woman', who was swiftly appointed his creative successor following his passing.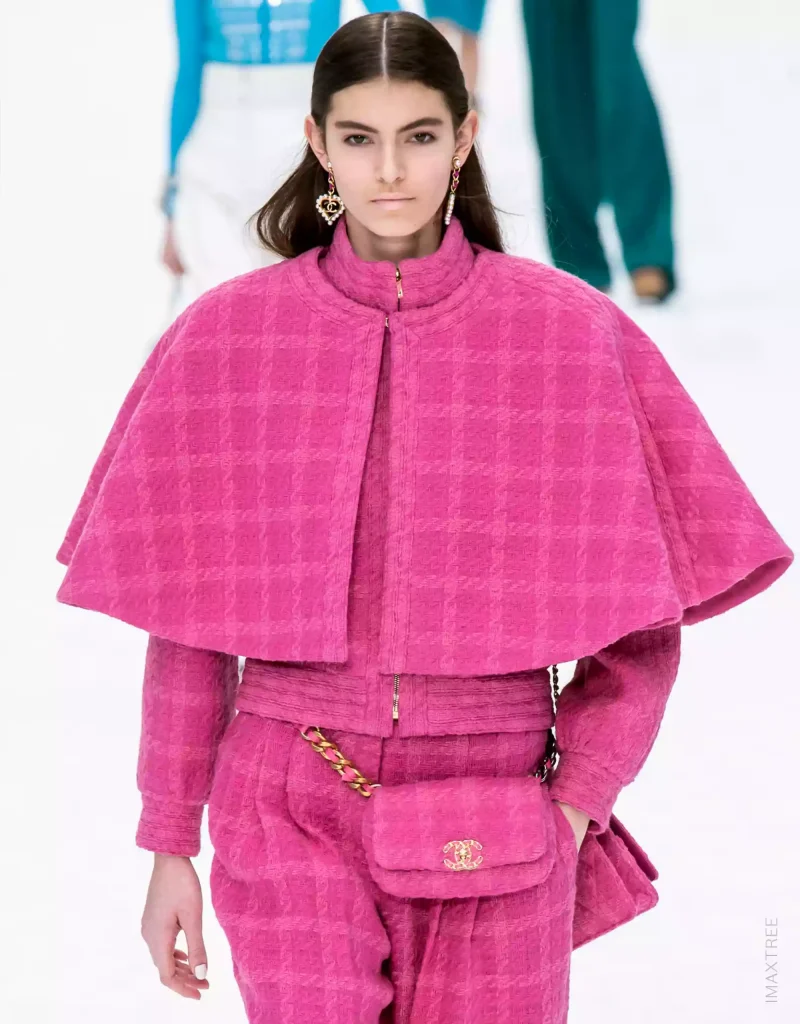 As such, the Chanel 19 represents a baton passing between two ages. It's a piece that harks back to the house's illustrious history while simultaneously looking forward to a new era. Naming it the 'Chanel 19' after the year of its release (and Coco Chanel's birthday on 19 August) can be seen as a statement of intent by Chanel. It aligns it in sartorial importance with the 2.55 bag, which was so called by the numerically-superstitious Coco because of its release date in February 1955. This indicates that Chanel regards the Chanel 19 as a major player within their future accessories offering.
Down to the Details
The Chanel 19 echoes the classic rectangular silhouette of the 2.55, but with a modern, relaxed finish. The 2.55's iconic diamond quilting is exaggerated in a larger pattern here, with sleek, supple leather providing a pillowy texture. In comparison with the structured 2.55, this gives the Chanel 19 a youthful aesthetic which draws parallels with recent innovations by other fashion giants such as Bottega Veneta, who in 2019 supersized their signature intrecciato weave for the similarly plush 'Cassette' bag.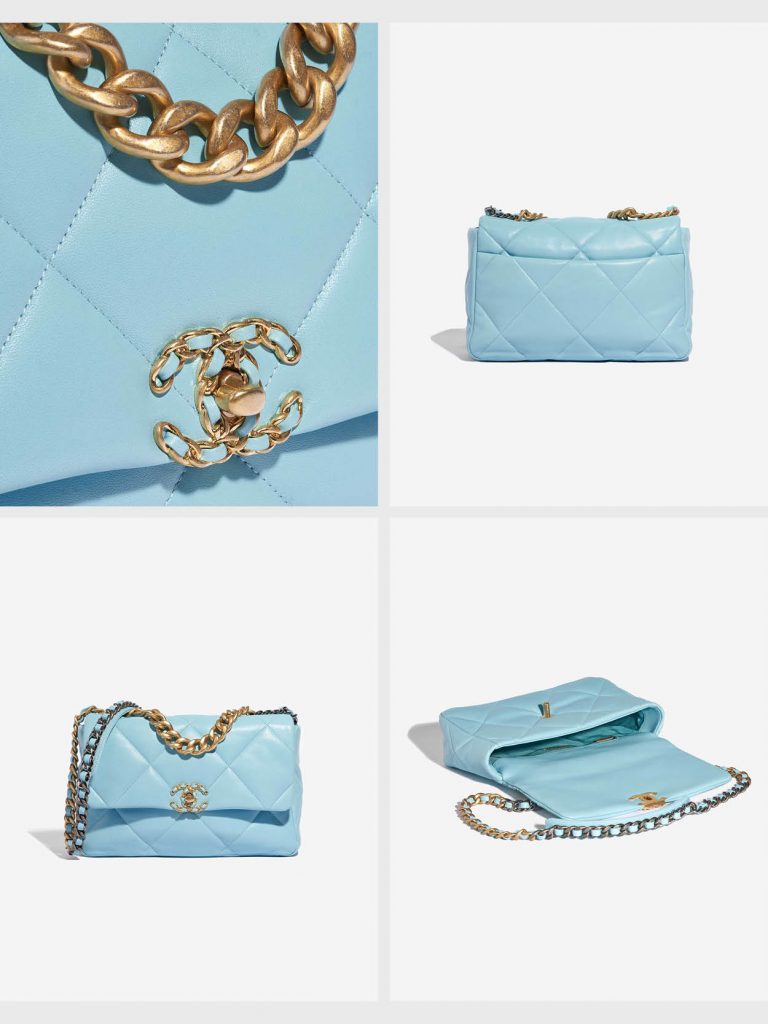 The Chanel 19 has a single flap with softly rounded edges, setting it apart from the sharper lines of the 2.55. At the front, it has a boldly enlarged CC twist clasp, which has been crafted to resemble Chanel's historic leather-woven chain strap in miniature. Inside, it has a fabric lining, and one zipped interior pocket. Because of its soft structure, the Chanel 19 has the advantage of being surprisingly roomy, with the ability to fit all your essentials. Most styles also have a handy slip pocket at the back with a magnetic fastening, perfect for storing your phone on the go.
One unique aspect of the Chanel 19 is its glamorous tri-colour hardware. The luxuriously chunky chain-link shoulder strap is a mix of silver, aged gold and ruthenium, making it a versatile accompaniment to whatever outfit or jewellery you're wearing. In standard Chanel 19s, the gold hardware is the most prominent metal colour on the bag, however Chanel has recently been producing Chanel 19s with reversed hardware, where silver becomes the leading colour.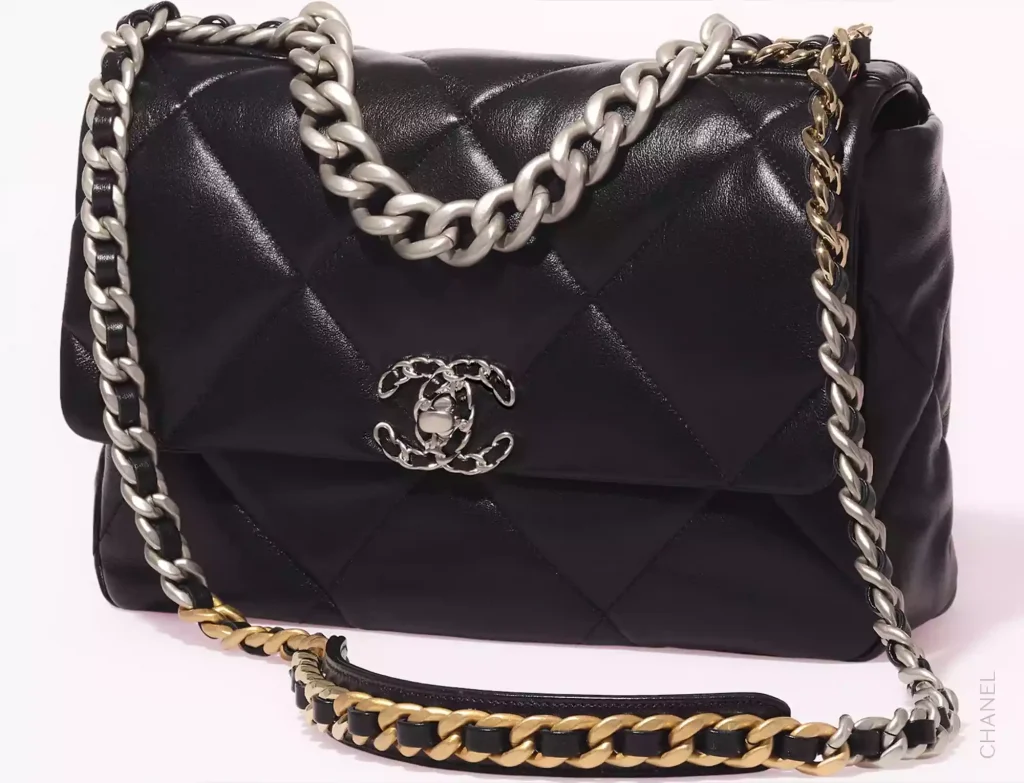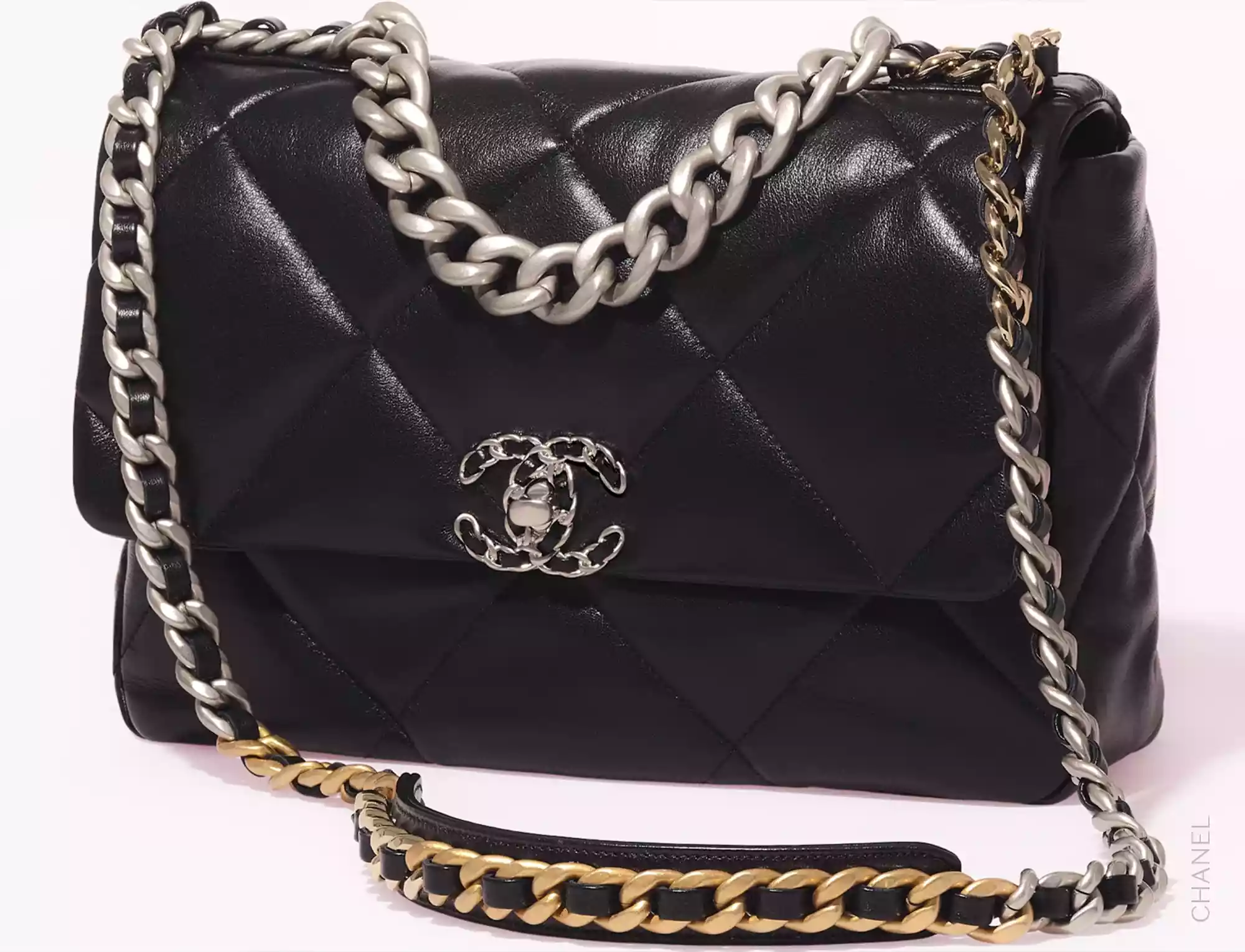 As well as a long strap, which is cushioned at the top with a leather panel, it has a shorter chain top handle, perfect for when you want to carry it in the crook of your arm (you can tuck in the longer strap or leave it hanging). For a fashion-forward alternative, you can also carry your Chanel 19 under your arm as a clutch. As a note of caution, the Chanel 19's abundance of luxe hardware does make for a heavy bag, so some collectors prefer sticking with a smaller size to save their shoulder!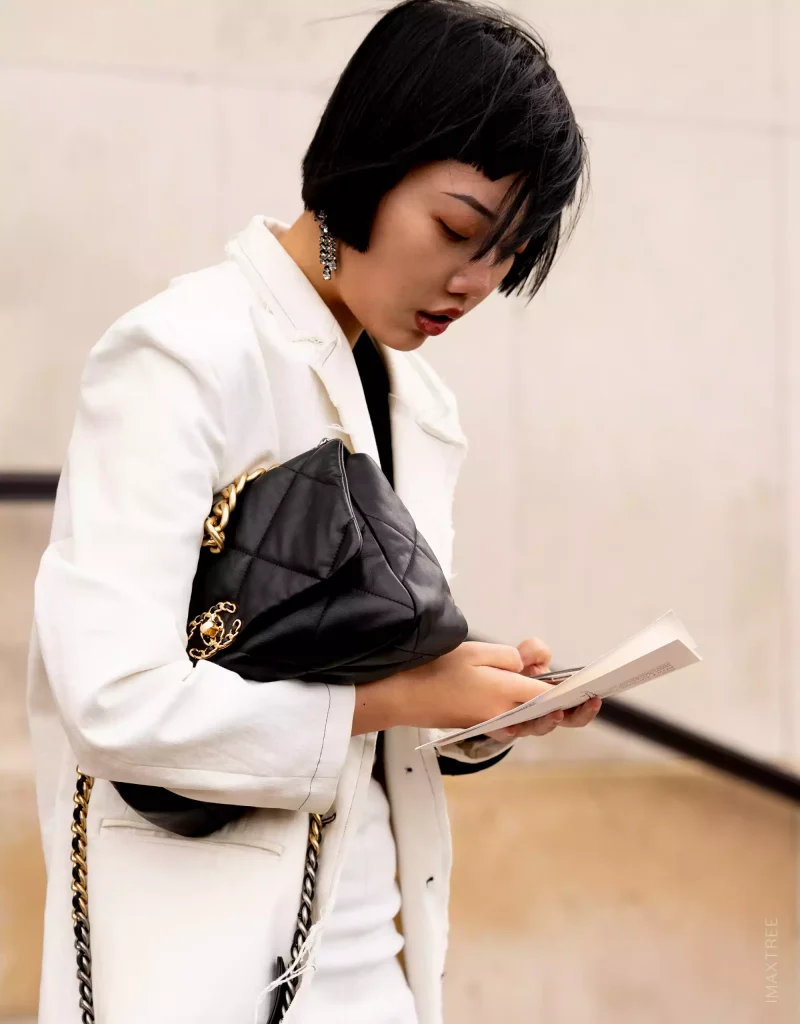 Smooth Operator
One of the most alluring aspects of the Chanel 19 is the silky-smooth leathers it is crafted in. When shopping for one, you'll mainly be choosing between goatskin or lambskin, both of which have a soft, shiny finish which lends itself well to the bag's puffed-up quilting. As with so many of their handbags, Chanel isn't afraid to experiment with materials — we've seen fabulous Chanel 19s pass through SACLÀB crafted in tweed, iridescent metallic leathers, denim, wool, velvet, sequins and shearling.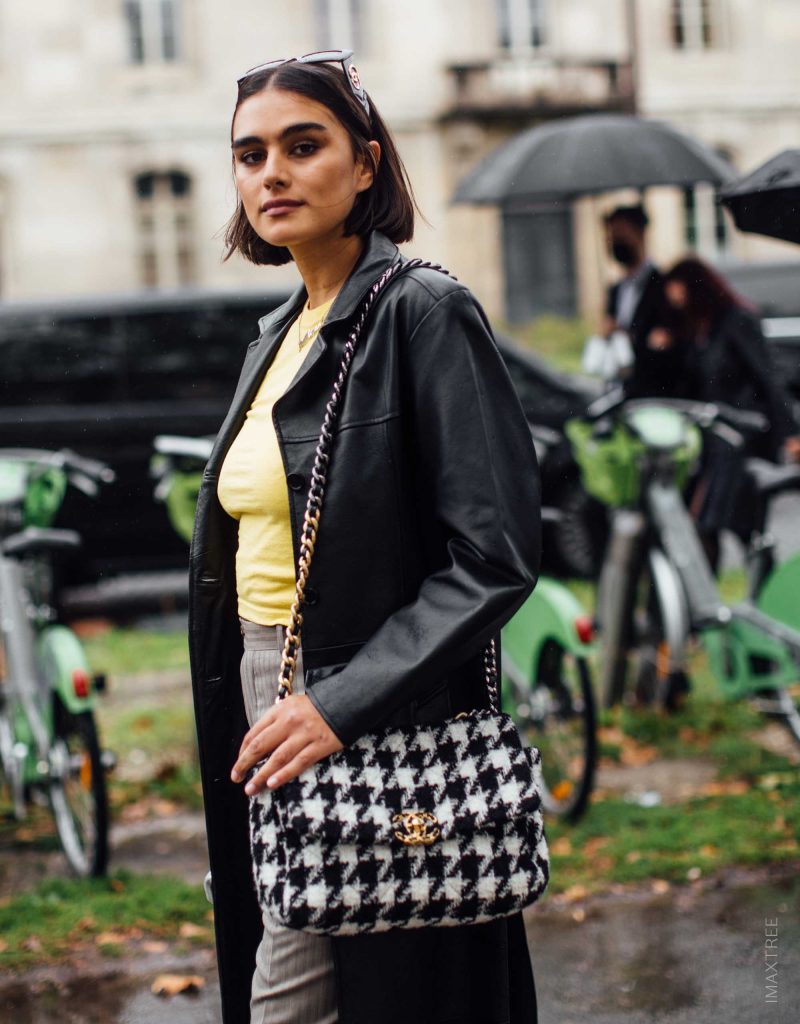 Due to the Chanel 19's slouchier shape, it's important to take good care of it. The leather is soft and fragile, and is not supported by any piping or base studs, meaning it is more at risk of sagging and scratches than other styles. Make sure not to overload it when wearing it, and stuff it with acid-free tissue paper when storing (you should also tuck the chain inside the bag to avoid any imprinting).
Sizing Up
The Chanel 19 comes in four standard sizes. The smallest Chanel 19 is the wallet on chain (WOC), which measures 19.2cm across at the base and has just enough room to fit your bare essentials — a phone, cardholder and lipstick, perhaps. Next up is the 'standard' Chanel 19 Flap Bag, measuring in at 26cm. The Large Flap Bag comes in at 30cm, while the Maxi Flap Bag measures 36cm. Chanel has also produced waist bags, mini clutches on chains and wallets featuring the Chanel 19 hallmarks.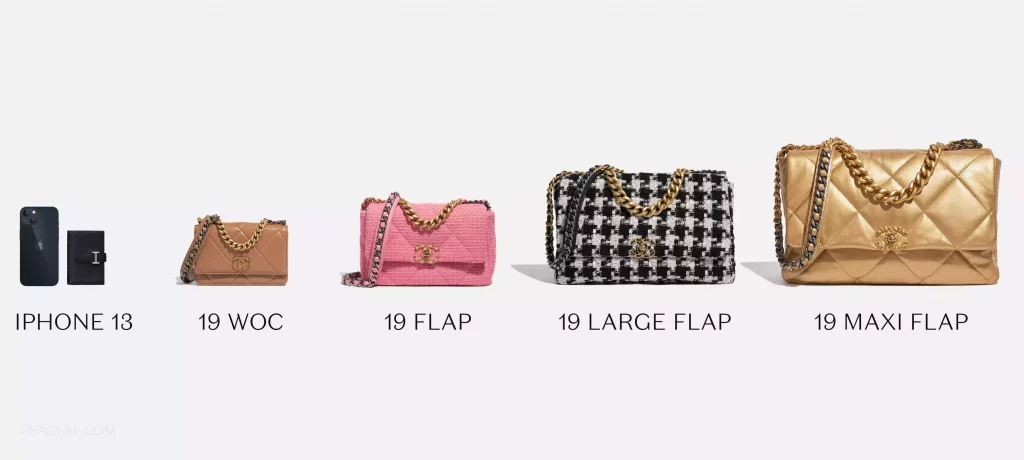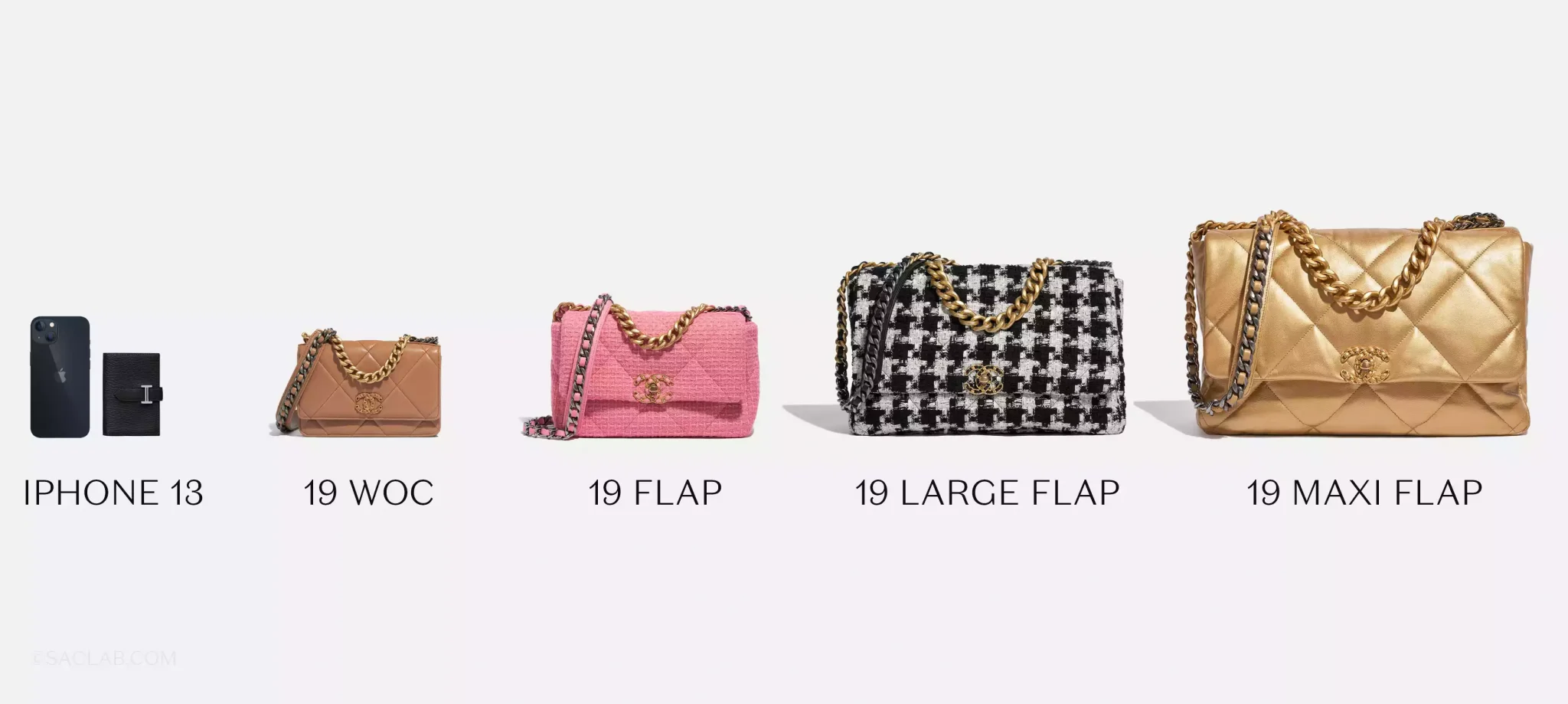 To note, the shoulder strap is non-adjustable and varies between each bag, so if you're unsure about which style might suit your body shape, get in touch with our experts and we can advise.
Pricing
For a good quality large or maxi Chanel 19, expect to pay between €5,000–6,000 on the secondhand market. This gleaming metallic-gold maxi style and Barbie-pink large bag both went for €5,530 on SACLÀB. For a medium or WOC Chanel 19, your budget will stretch a little further, with prices ranging between €3,400–5,000. This gorgeous tweed WOC style was available at €3,405, while this classic black and gold standard size was snapped up at €4,910.
Worth It?
Will the Chanel 19 stand the test of time? Some collectors have expressed doubts at its longevity due to the 'of the moment' aesthetic of the bag. We suggest looking at the Boy Bag for an indication of future success. Launched by Chanel in 2011 with a similarly intense marketing push to a new generation of millennial shoppers, and with multiple versions produced every season, the Boy Bag is now a standard bearer for the house and is positioned alongside the 2.55 and Flap as a classic, with resale prices that are continuing to climb.
We predict the same for the Chanel 19 in years to come. For now, secondhand prices are holding up well, suggesting that the Chanel 19 will indeed make a solid and stylish long-term investment. Sounds like a winner to us!
Ready to invest in a Chanel 19? Let us know which size, material and colour are on your wishlist or shop our selection of pre-owned Chanel bags.
Looking to sell your designer handbag?
Get an offer today and start selling
Sign up to our newsletter
Be first in line for our latest arrivals, alongside journal updates, exclusive treats and more.
Please confirm your subscription in the email you've just received.
Thank you! You've successfully subscribed.
It seems you are already signed up!
Please enter the correct email address
By subscribing I accept the privacy policy and the indications specified on data handling.
Make a Request
We do our best to find bags for our customers on request. However, this might take up to 6 months.
Warning!
You have reached the limited requests per customer.
Thank you for your enquiry!
Please check your email for further instructions.
You have reached the limited requests per customer.