The Best Monogram Bags
SACLÀB INSIDERS
In the ever-evolving landscape of the fashion industry, Logomania stands as an enduring force. As "quiet luxury" continues its meteoric rise, propelled by the power of platforms like TikTok, we reflect upon the resilient bag trends that have weathered the fashion cycles and are poised to thrive for years to come. Delve into the realm of the best monogram bags to invest in!
What does 'Monogram' mean on a Bag?
Like most non-English terms, the word "monogram" finds its origins in the Greek language. More precisely, from the two words: "mono," meaning "single" or "one," and "gramma," meaning "letter" or "written character." Combined, the term refers to a design made up of one or more letters, typically a brand's initials, intertwined or combined into a single symbol or pattern. This pattern is then printed on clothes, wallets, and, of course, handbags.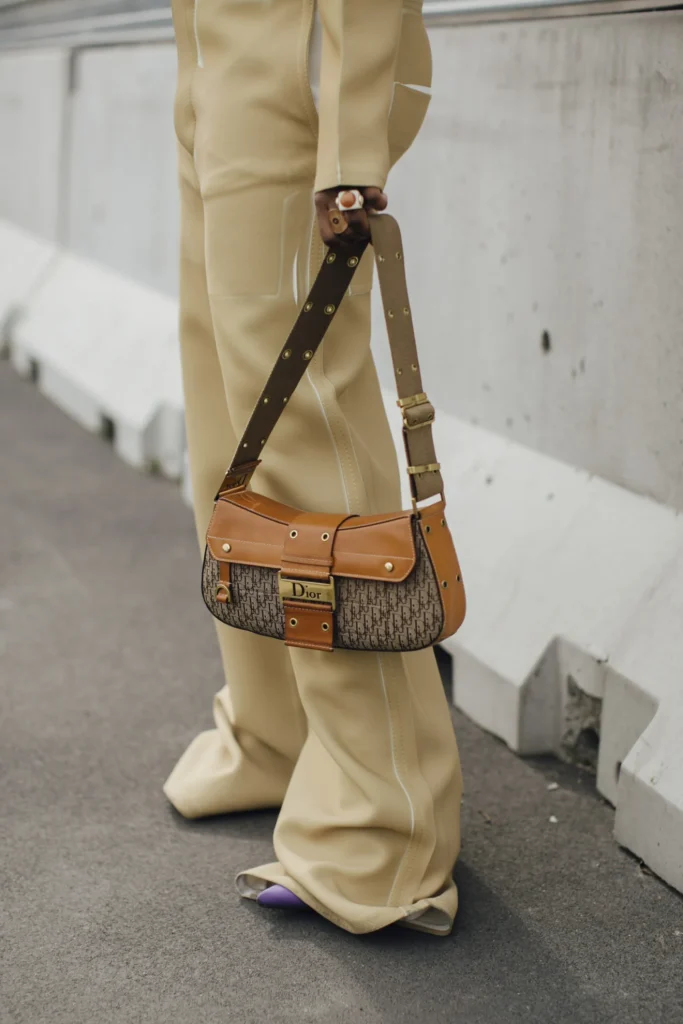 How did the Monogram Style Originate?
As early as 350 B.C., monograms appeared in Greek cities, which issued coins featuring the first two letters of a city's name. Throughout history, this decorative pattern has been used to identify, decorate, or signify ownership or affiliation – quite similar to how brands use monograms nowadays.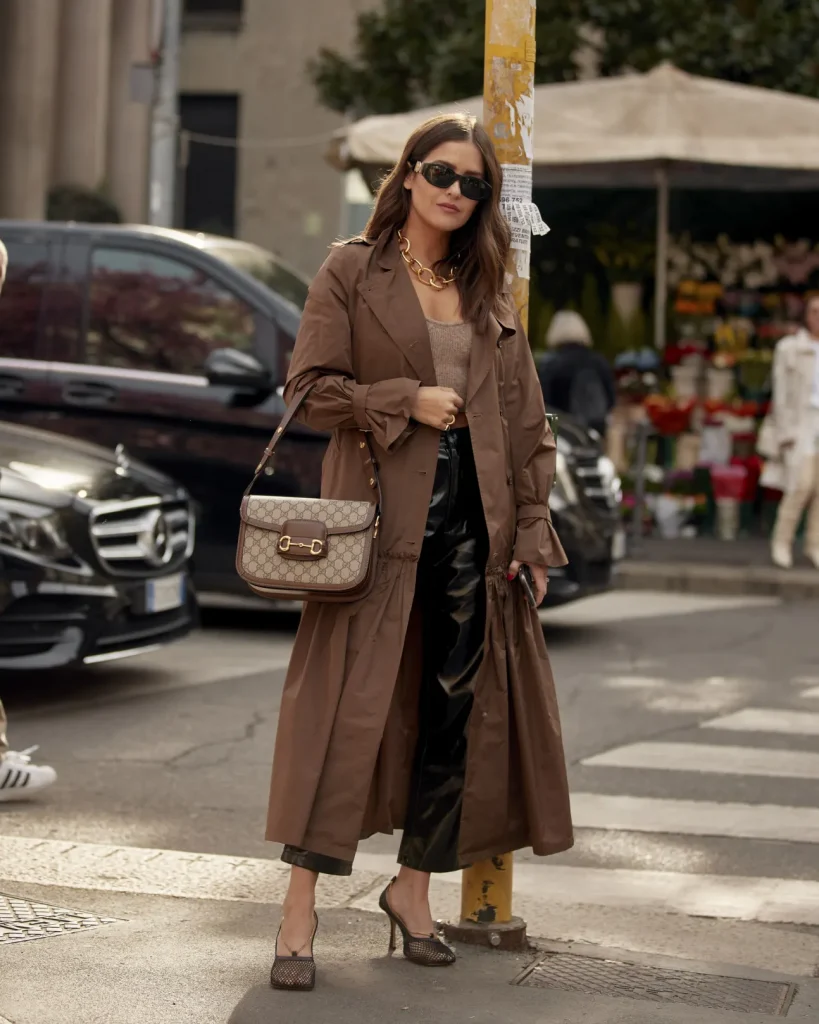 In the context of designer bags, a monogram typically represents the initials or logo of the brand or the individual owner, but they come in a variety of shapes and sizes. It serves as a distinctive mark, making the bag easily recognisable and associated with a particular brand or person. Louis Vuitton is widely regarded as the first designer brand to incorporate monogram designs in their products to combat counterfeiting and establish brand recognition.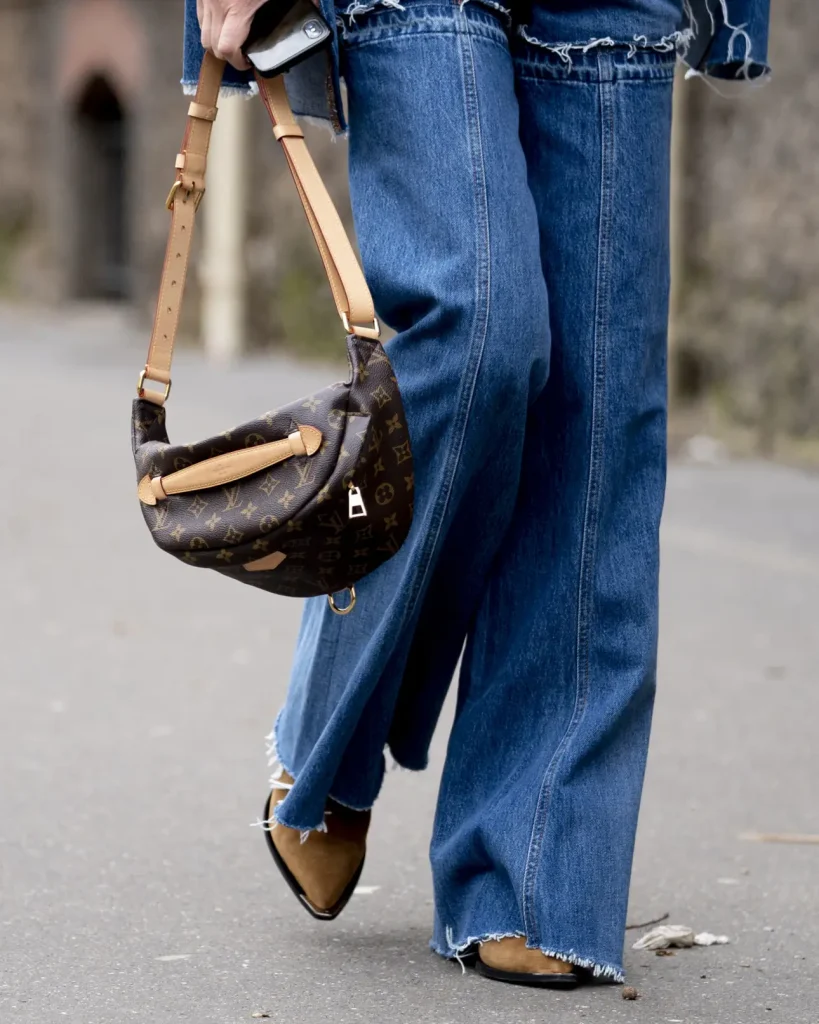 At a deeper level, it functions as a marketing tactic since the bold patterned design makes a bag less understated and more visually associated with the brand. While other brands like Hermès intentionally waive monogrammed canvas bags to pristine leather bags, letting only a trained eye spot their unobtrusive bag styles, like the Hermès Herbag or infamous Birkin.
The 6 Best Monogram Bags
There are various brands famous for their logo-centric approach. We will give you a short list of the best and most well-known designs in the luxury industry.
The Dior Saddle Bag
The "Trodat" monogram by Dior, now known as the "Oblique" pattern, has made a significant impact in fashion. Inspired by Dior's heritage, it was originally created in 1967 by creative director Marc Bohan, who incorporated the House's initials into a distinctive CD graphic.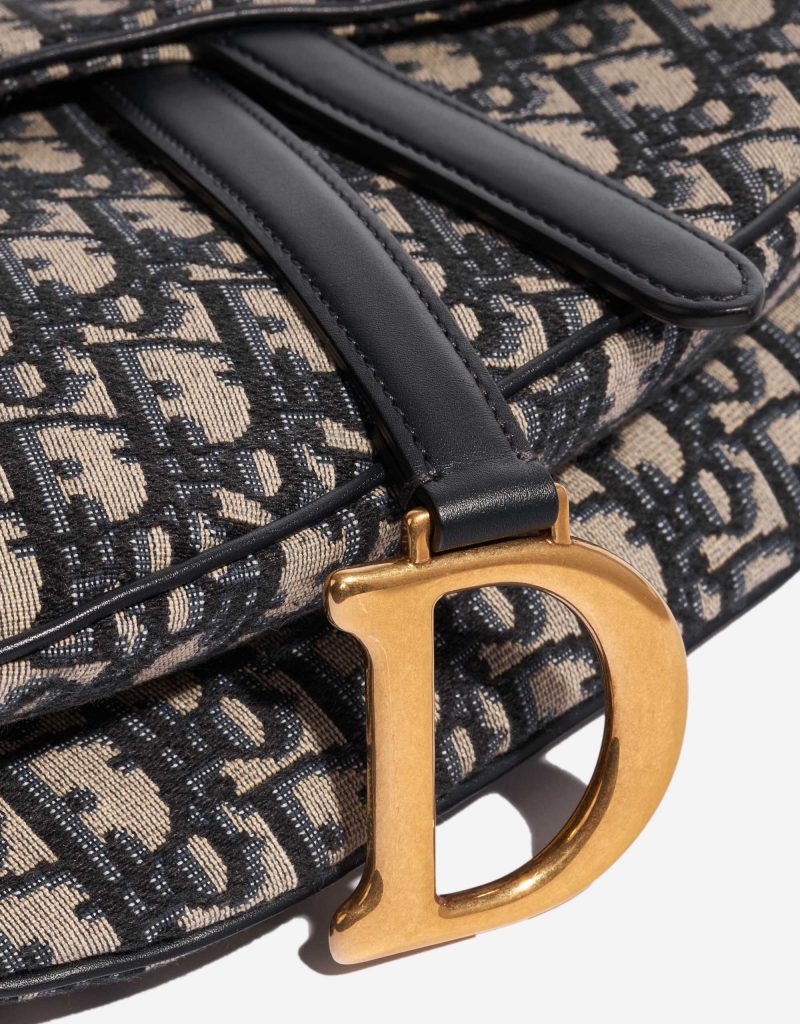 Although it experienced a decline in popularity after the logomania of the 70s, it was revived and reinvented by John Galliano, resulting in the recognisable "Oblique" pattern we see today.
One of Galliano's most notable creations, the Saddle Bag, has not only withstood the test of time but has also become an iconic staple of the Dior brand. This handbag often showcases the House's logo, exemplified in this stunning woodsy-green Saddle Bag.
The Dior Book Tote
The monogram's latest reinvention was done by Maria Grazia Chiuri, the current artistic director at Dior, who modernised the traditional print by incorporating larger, squarer "D" s, giving it a contemporary twist.
If you are interested in a bag with a bit more space, the Dior Book Tote is another fan favourite featuring the new "Oblique" pattern. It's the perfect versatile luggage bag for a weekend away, but it can just as easily be your beach-day companion.
The Dior monogram, with its rich history and reinvention, has garnered a special place among fashion enthusiasts. It represents the fusion of heritage and modernity, blending traditional monogram elements with contemporary design aesthetics. Dior's ability to adapt and evolve its patterns showcases the brand's attention to innovation and staying relevant in the ever-changing fashion landscape.
The Louis Vuitton Speedy
As the speculated initiator of the monogram technique, Louis Vuitton is known for their extensive monogram bag collection that has become iconic in the fashion industry. From the classic and versatile Neverfull to the travel-friendly Keepall, these roomy handbags share a common feature—the entwined LV motif.
One of the most coveted Louis bags is the elegant top-handled Speedy. It is a stylish companion for city life but intriguingly spacious for such a small bag.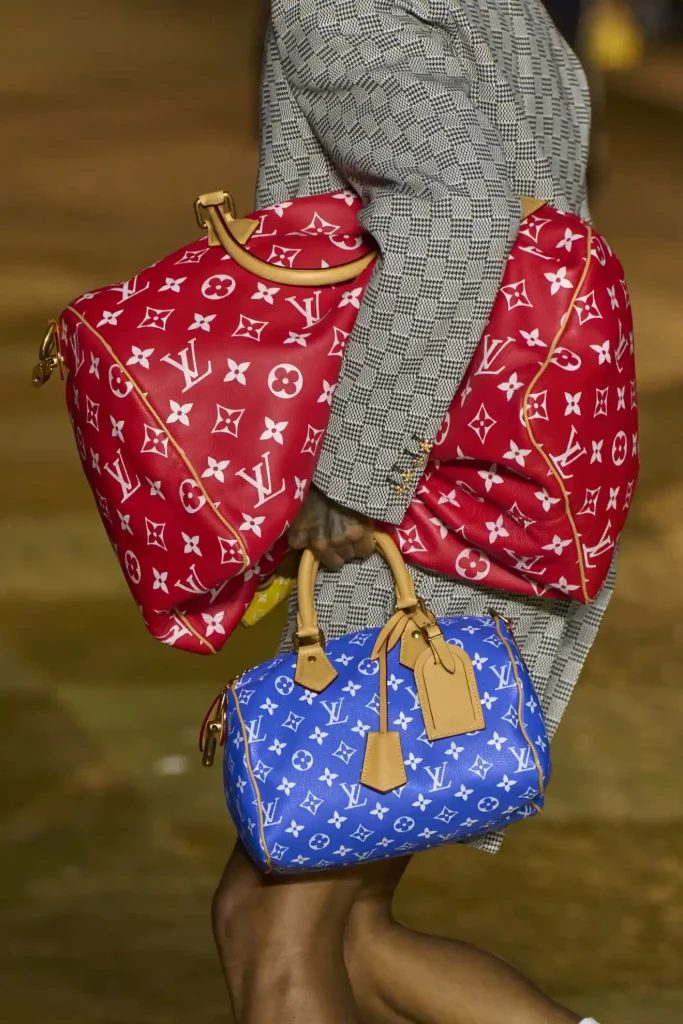 The Chanel Timeless Flap Bag
The interlocking double-C logo, conceived by the visionary founder Gabrielle "Coco" Chanel in the early 1900s, stands as an esteemed and prestigious emblem in the fashion industry. This iconic logo exudes a timeless appeal and represents a pinnacle of perfection. It has remained untouched since its creation. Rightfully so, because why would one tamper with perfection?
While most of Chanel's iconic bags showcase the timeless diamond-quilted stitching, occasional designs highlight the CC-monogram print. A notable example is the Chanel Timeless Jumbo bag crafted from caramel-coloured Saddle leather. This exquisite bag features interlocking CC logos, skillfully incorporated into the design, and proudly bears the name of the fashion house.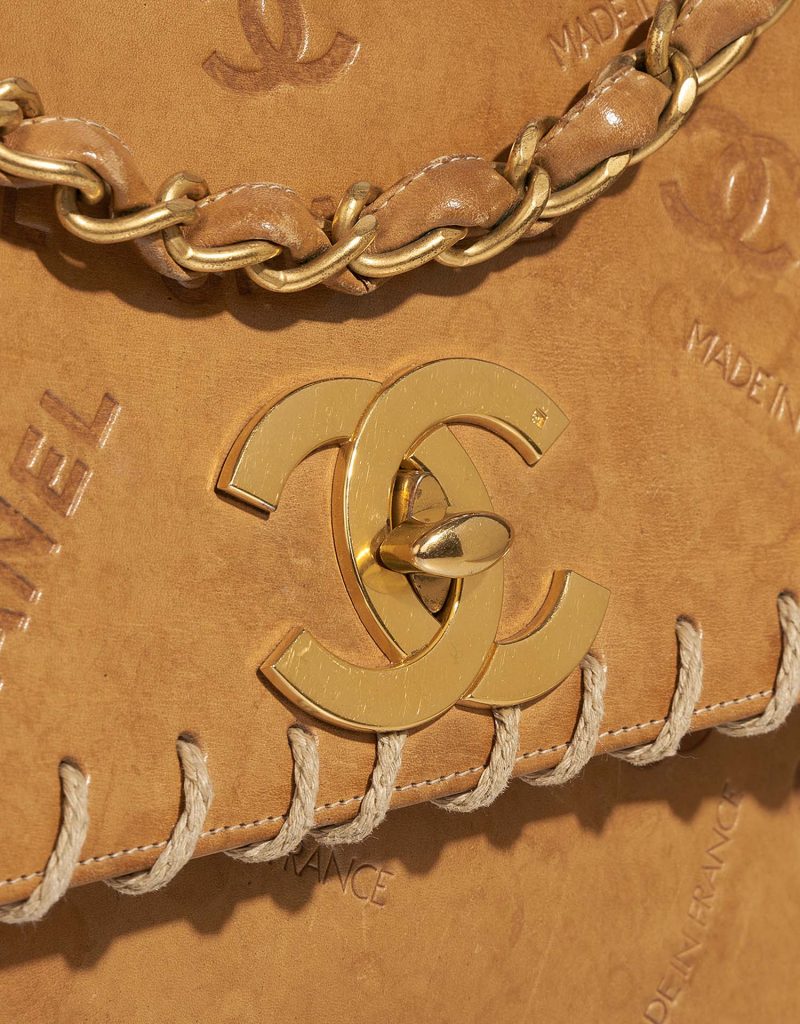 The Gucci Jackie Bag
Gucci's boldly printed logo is difficult to miss. Known for its distinctive style and high-quality craftsmanship, Gucci's canvas bag collection typically showcases a beige-toned foundation adorned with the iconic interlocking double-G monogram in a darker brown shade.
Former creative director Alessandro Michele has had quite a hand in revamping Gucci so it could, once again, enjoy its spot in the fashion limelight. Unlike Chanel, Gucci's logo has changed infinite times to an emblem sound with its time. In 2019, Michele proposed repositioning the double-G characters from facing each other to a right-oriented position. Yet, the monogram print has stayed the same throughout.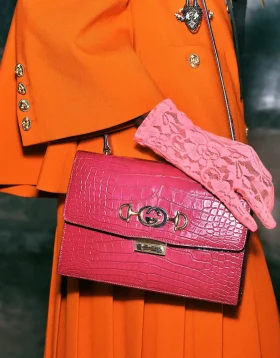 1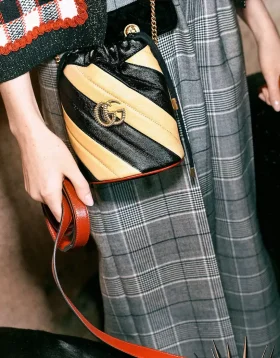 2
The logo's modern alteration coincided with a change in Gucci's focus from an outdated jet-set lifestyle to a more gender-fluid, romantic feel congruent with Michele's own brand.
However, the trendy Jackie bag is a vintage gem if you prefer a more classic look. With hobo-bag styles all the rage, we recommend scouring the secondhand market for this pre-loved piece.
The Fendi Baguette Bag
A Y2K classic is the Fendi Baguette, with its double-F monogram a highly sought-after rendition. The "FF" logo, also called the inverted "Zucca," was first envisioned by Karl Lagerfeld in 1965. The late fashion designer has said the logo initially stood for "fun furs".
A few decades later, the emblem was removed from the official Fendi logo. Now it's mainly used for prints on fabrics and leather.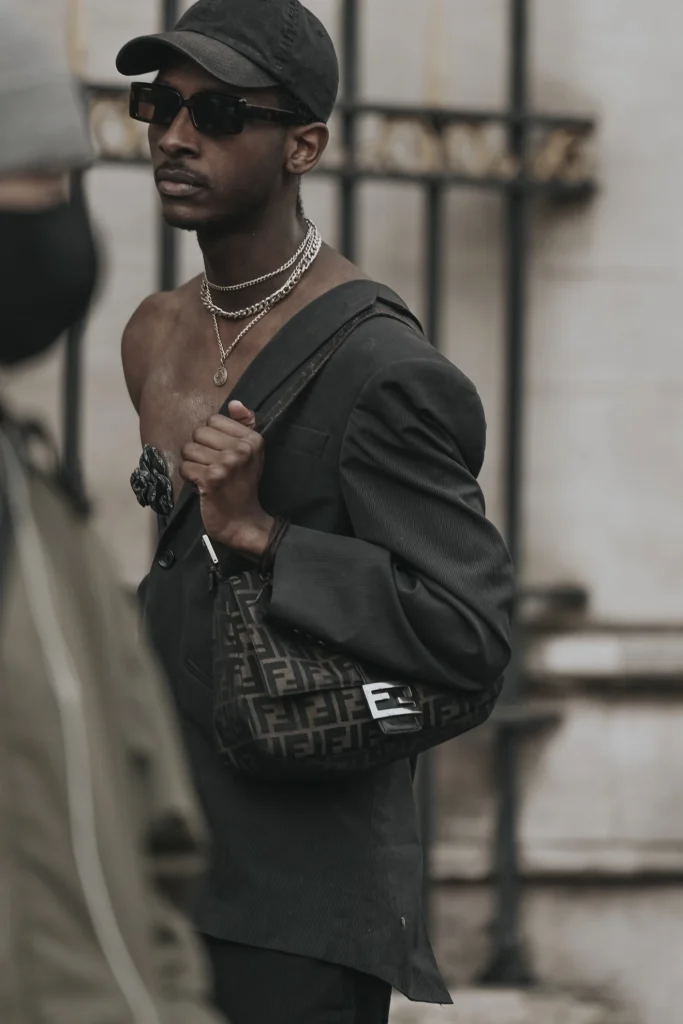 Introduced in the late 1990s by Silvia Venturini Fendi, the Baguette quickly became a sensation, revolutionising the concept of a compact shoulder bag. Its unique shape, reminiscent of a French baguette, plays on your imagination. Adorned with the "FF" logo, it's a must-have piece for your collection.
What to Look for when Buying a Monogram Bag
Style
The first aspect to consider when buying a monogram bag is a model that resonates with your taste and complements your style. Select a brand that aligns with your preferences and that you would be excited to invest in. Think whether you prefer a larger, statement-making bag like the Book Tote, a compact and trendy option like the Saddle Bag, or Chanel's practical crossbody bags.
Quality
Another crucial factor to assess is the bag's quality and the craftsmanship involved, particularly the way the logos are stamped on the canvas. Examine the materials used, the attention to detail, and the overall construction of the bag. Investing in a well-made and durable monogram bag ensures longevity and satisfaction with your purchase.
Personalisation
If you decide to purchase a pre-owned monogram bag from an online marketplace, it is advisable to check whether the previous owners haven't added any personal monogramming. Louis Vuitton aptly refers to this as a "Mon Monogram," where individuals customise their handbags with their own unique touch.
Personalisation options can range from hand-painted initials to choosing the colour of the interior canvas lining or adding decorative stripes. However, the availability of personalisation features depends on the specific bag and brand. If you plan to resell the bag in the future, avoiding irreversible personalisation might be a prudent choice.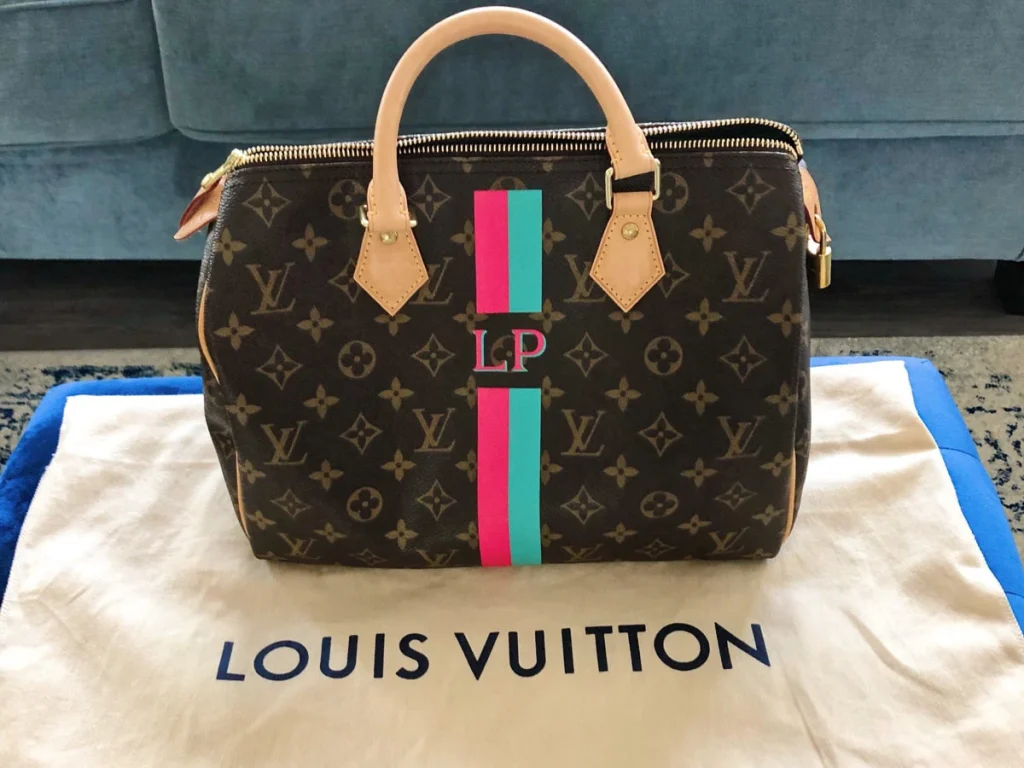 On the other hand, if you intend to cherish the bag as a personal keepsake for years to come, adding a personal touch can enhance its uniqueness and sentimental value.
Price
Lastly, consider the price of the monogram bag and how it fits within your budget. Depending on the brand and type of bag, you can score vintage canvas designer monogram bags like this 2003 Dior Saddle for well below € 1,000. While the price for sought-after styles such as the Chanel Classic Flap Bag usually demands more than € 5,000 on the resale market.
We hope these tips will help you make an informed decision when purchasing a monogram bag that aligns with your style and meets your quality standards, personalisation preferences, and price expectations.
Choose a pre-owned designer bag from SACLÀB's curated portfolio, and make it uniquely your own.
Looking to sell your designer handbag?
Get an offer today and start selling
Sign up to our newsletter
Be first in line for our latest arrivals, alongside journal updates, exclusive treats and more
Thank you! You've successfully subscribed.
Thank you! You've successfully subscribed.
It seems you are already signed up!
Please enter the correct email address
By subscribing I accept the privacy policy and the indications specified on data handling.
Make a Request
We do our best to find bags for our customers on request. However, this might take up to 6 months.
Warning!
You have reached the limited requests per customer.
Thank you for your enquiry!
Please check your email for further instructions.
You have reached the limited requests per customer.