Karl Lagerfeld's Life Through Design and Legacy
SACLÀB ICONS
New York cultural institution, The Metropolitan Museum of Art, announced the 2023 theme of the notorious Met-Gala ball, spearheaded by iconic tastemaker; Anna Wintour. 'Karl Lagerfeld: A Line of Beauty' will pay homage to the Godfather of luxury fashion. SACLÀB investigates the man behind the name.
A Star is Born
Some people are just born for something – and for Lagerfeld – his journey to fashion immortality was inevitable. Born in Hamburg in the 1930s to a wealthy German father and Swedish mother, he quickly took to learning to sketch before moving to Paris when he was 14 years old. His first foot in the door of fashion came when he won the 1954 International Wool Secretariat design competition (other notable winners were Valentino Garavani and Yves Saint Laurent). His winning sketch of a coat allegedly caught the eye of Pierre Balmain, who hired him as an apprentice soon after.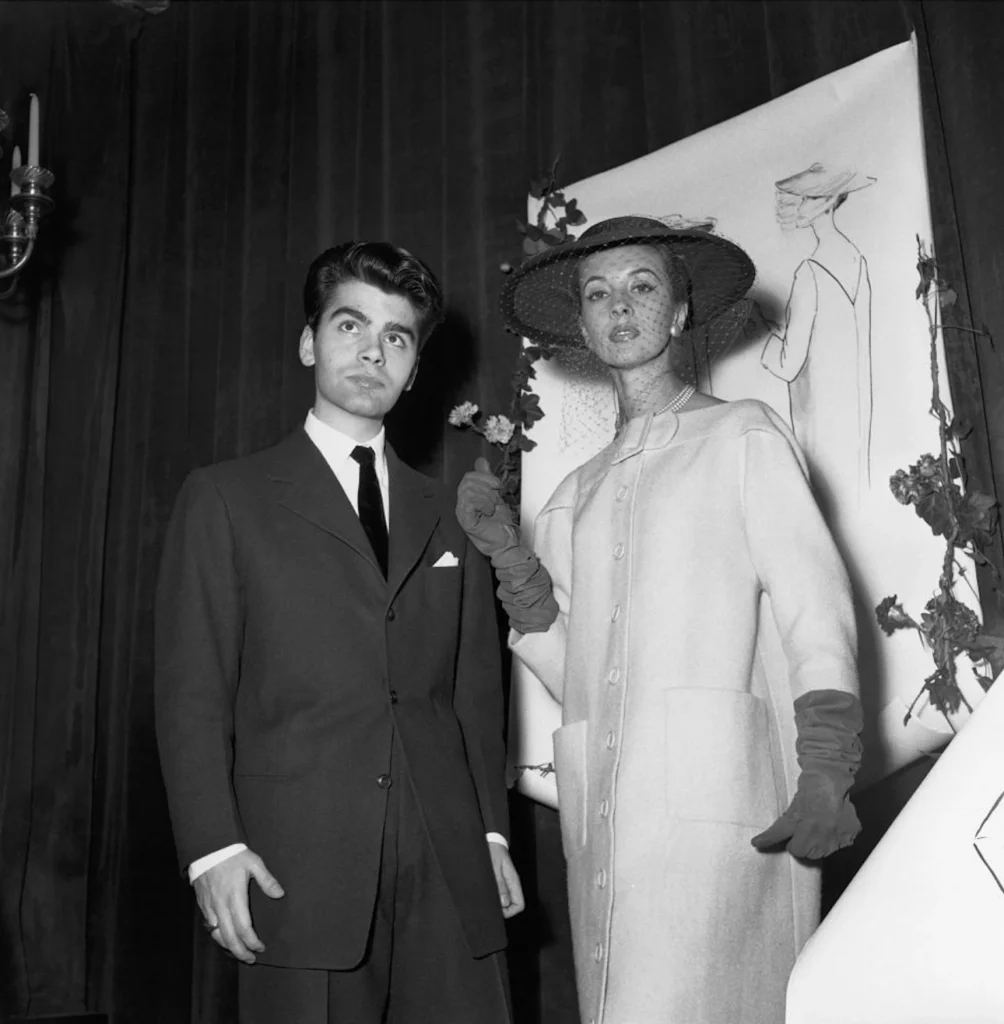 It became clear from hereon that Karl Lagerfeld had something that other designers just didn't. He became the art director for Jean Patou at only 20 years old (now known as Patou). This four-year stint ended as he was no longer satisfied with designing haute couture. Particularly in the 60s – the aesthetic was structured and strict, and there was no fluidity in design (or much else). He became one of the first freelance luxury designers, and went on to work with Gaby Aghion, founder of Chloé. At this time, it was a brand that only Parisians were familiar with, but once he had worked his magic, it was a global institution of design excellence – a part of the brand makeup which has still not faded.
Karl Lagerfeld 'FFor' Fendi
The first of the 'big' brands for Lagerfeld was Fendi, and in 1965 he began his work with the 'Fendi sisters' (Paola, Franca, Carla, Anna and Alda) as they struggled to bring the brand back to its once glorious status. His role morphed from Creative Director of Furs to the same of Leather Goods and Accessories. He spent six years catapulting Fendi into global fame with their specialist focus on fur goods. Though approaches to exotic furs and leathers have since changed – Fendi is still one of the few brands to stop production of these. His major contribution to the brand was the creation of the 'FF' logo to create the interlocking emblem, originally standing for "Fun Furs". However, it was later repurposed as the logo, which still adorns most of today's leather goods.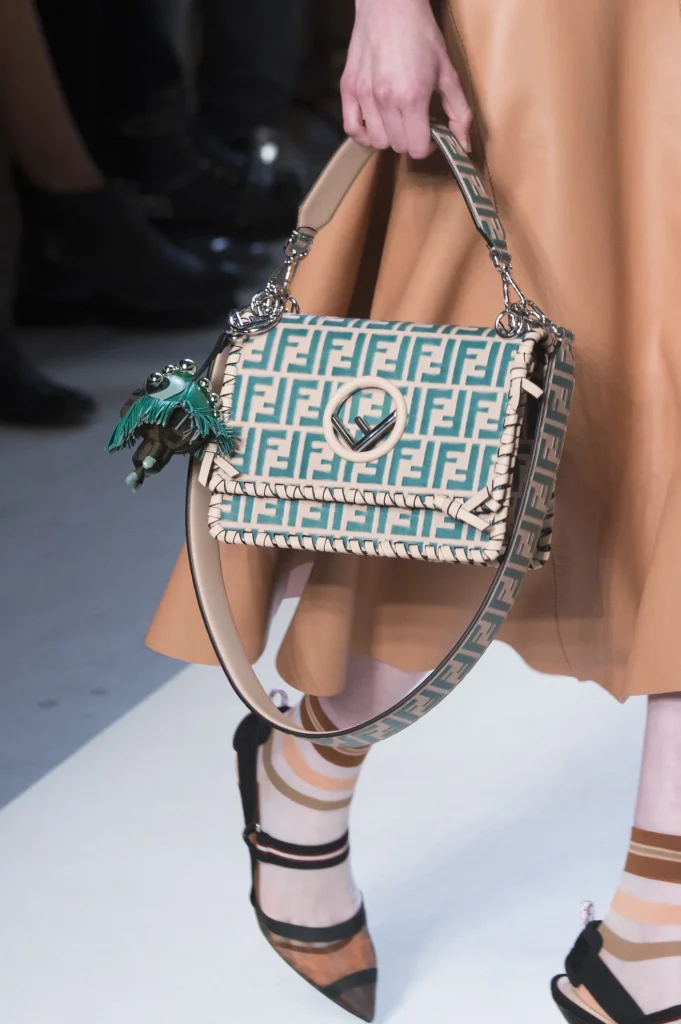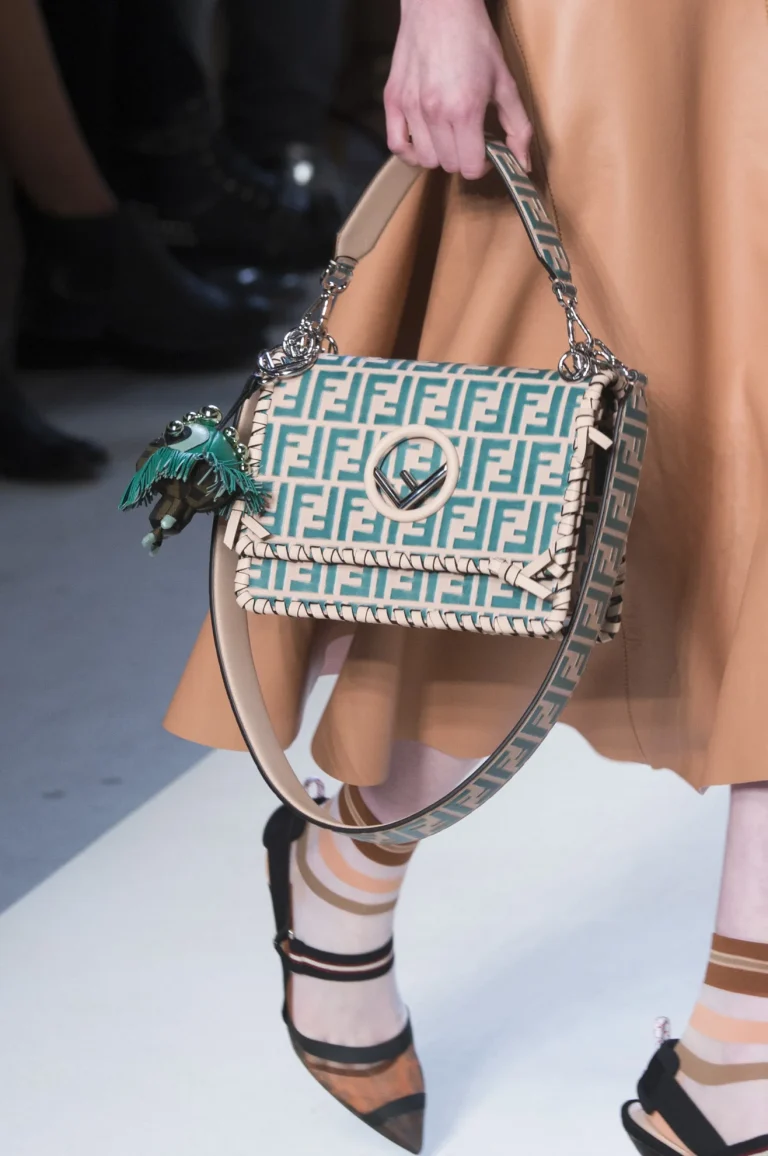 It's easy to forget that behind the iconic white ponytail, and monochrome outfits was a man who lived for the inhibitions of design. At one of his shows with Fendi, he had cast an adult entertainment star and a crew of strippers to walk in the show. Naturally, it outraged show-goers, even causing Anna Wintour to walk out (oh, how times change).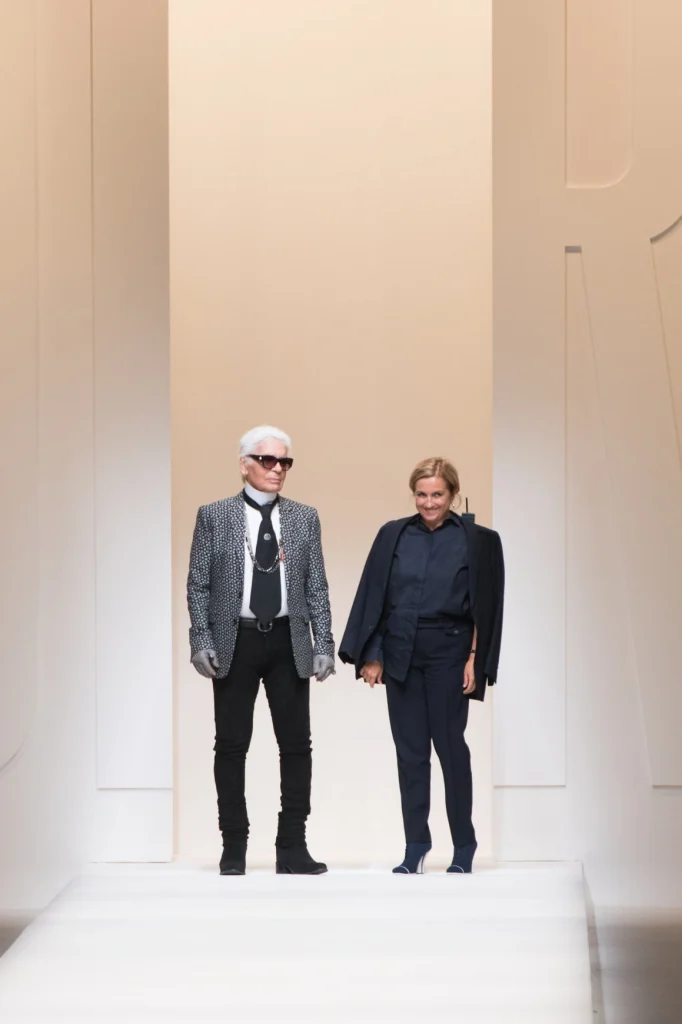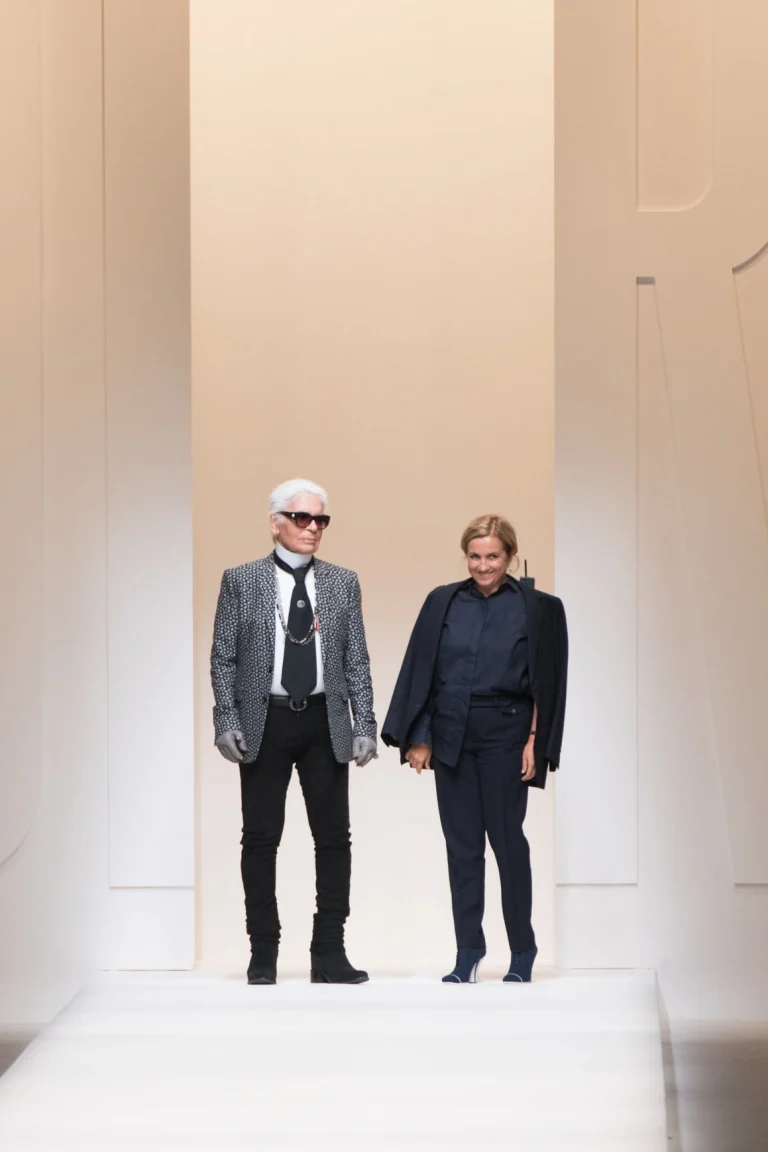 Karl Lagerfeld's Reign at Chanel
Lagerfeld was, however, still freelance, and when his contract matured with Chloé in 1983 – snapped up by the Chanel chairman, Alain Wertheimer – he began his creative director role, one he held until his demise. It was reported at the time that other than Wertheimer, the rest of the brand was not as enthusiastic about the news of his appointment. Lagerfeld was more trendy than couture. But he defied expectations, and his tenancy at Chanel is the most iconic addition of any creative director across the luxury brands.
Yes, it was filled with commercialisation, but also decisions and designs which took the brand to new heights. During his inaugural year, he took what he learned from the Fendi leather accessories department, and reinvented the 2.55 bag, replacing the square lock with the interlocking CC logo, and adding the iconic leather woven chain to create the Classic Flap. Not forgetting other innovations like the boucle jacket and Chanel suit with golden gilt buttons, the little black dress, the precious Chanel tweed, two-tone shoes, the pearls and costume jewellery.
Innovation meets Haute Couture: Karl Lagerfeld for Chanel.
Lagerfeld understood better than anyone that genuine quality and design were innate to the brand. In 2003 he introduced the notorious Chanel's Métiers d'Art, an annual show designed to highlight the craftsmanship of their associated artisanal partners and push the boundaries as he liked to do. In fact, his last Métiers d'Art show was held at The Metropolitan Museum of Art in 2018. It took inspiration from Egypt and was aptly titled 'Temple of Dendur', and so was presented around the structure which now sits in the museum.
A Lasting Effect
His effect was felt on every brand he worked with, no matter how short. Lagerfeld's influence was less on the designs, and more so on the direction those designs led the brands. He was not a snob and wanted fashion to be for the mass audience. His forward-looking style is why his designs, including the iconic handbags, will stand to be the most recognised of any in the luxury ring – long after his passing on February 19, 2019. Perhaps his legacy will be the most fitting Met Gala theme we have seen yet.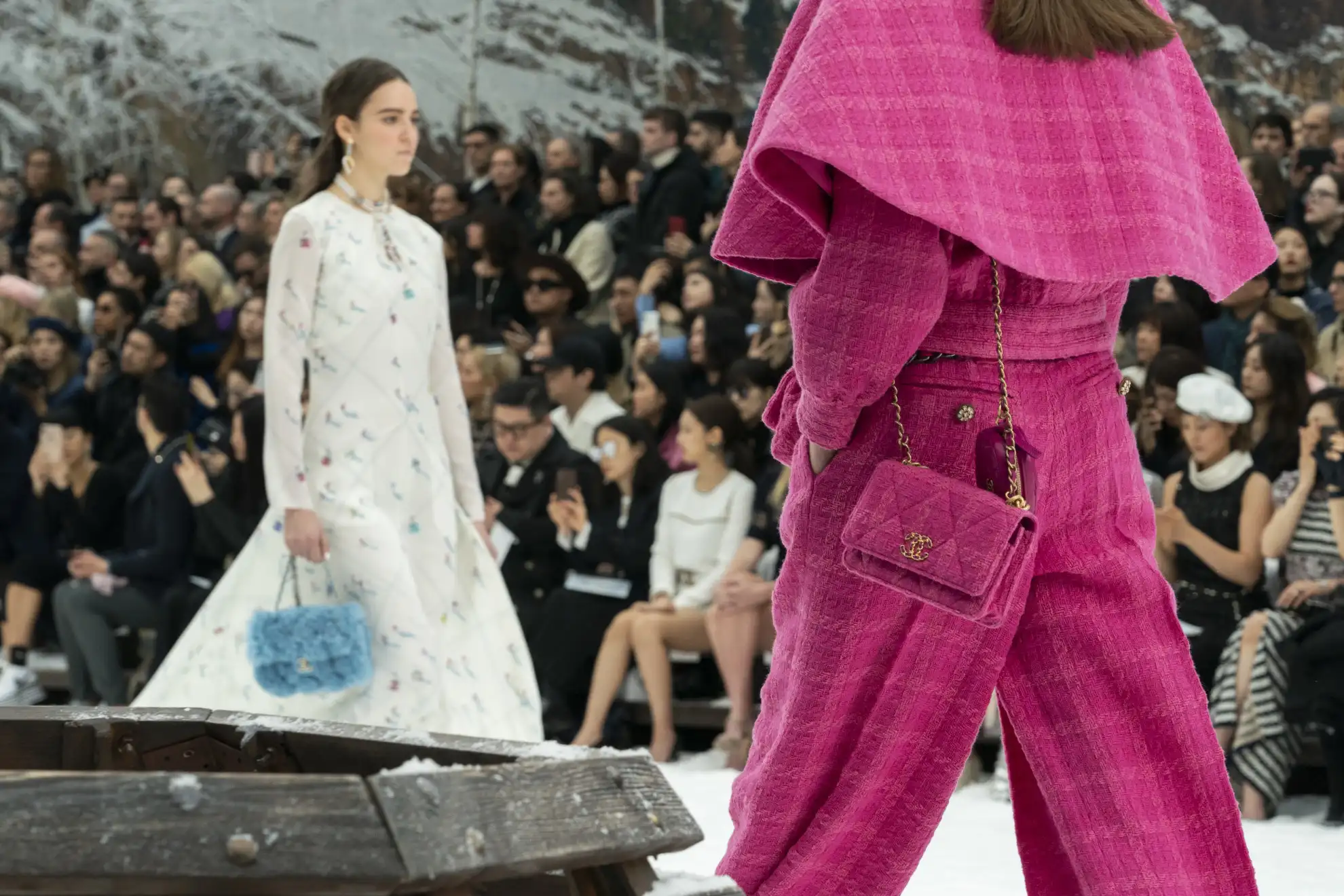 Karl Lagerfeld's Most Iconic Chanel Bags
Chanel Classic Flap
When Lagerfeld took over as Chanel's creative director in 1983, he made an item that pushed Chanel through the ranks of the luxury hierarchy; the Chanel Classic Flap. The now 'Classic' is firmly in the hearts of all luxury lovers and continues its success by being reconfigured through new collections.
Shop the Chanel Classic Flap
One of the most famous quilted handbags ever created, the Chanel Classic Flap bag.
Chanel 2.55 Reissue
Lagerfeld was a romantic in a way. Though he made bold decisions, he was mindful of the past life of the brands he worked with and wanted to use the old to create the new. In 2005, he re-introduced the original '2.55' Reissue (now sold as the '2.55). Prior to 2008, the gold clasp was adorned in 24-karat gold, making 'vintage' bags even more desirable than brand new.
Shop the Chanel 2.55 Reissue
Inspired by Coco Chanel herself: The reissued 2.55 bag with silver-tone or gold chains.
Chanel Boy Bag
In 2011, Lagerfeld made a daring decision for Chanel, the Boy Bag. Until then, Chanel was a fairly 'feminine' brand; it was all tweed, cashmere and ballet flats. His inspiration came from founder Gabrielle 'Coco' Chanel, and her unique style of wearing a cartridge pouch as a handbag, and was named after her first love; Boy Capel.
Shop the Chanel Boy Bag
Pop culture meets cool-girl aesthetic. Enter: the Chanel Boy bag.
From Coco Chanel to the Karl Lagerfeld era to contemporary designs: Which pre-owned Chanel bag have you set your sights on?
Looking to sell your designer handbag?
Get an offer today and start selling
Sign up to our newsletter
Be first in line for our latest arrivals, alongside journal updates, exclusive treats and more.
Please confirm your subscription in the email you've just received.
Thank you! You've successfully subscribed.
It seems you are already signed up!
Please enter the correct email address
By subscribing I accept the privacy policy and the indications specified on data handling.
Make a Request
We do our best to find bags for our customers on request. However, this might take up to 6 months.
Warning!
You have reached the limited requests per customer.
Thank you for your enquiry!
Please check your email for further instructions.
You have reached the limited requests per customer.