The 2021 Luxury Bag Gift Guide
SACLÀB INSIDERS
Turn to our unique selection of pre-owned designer handbags for inspiration and luxury gift ideas. We navigate you through the gifting options here at SACLÀB and introduce wishlist-worthy key bag styles.
The first-ever Luxury Handbag
To turn the dream of the first-ever designer handbag into reality truly is a milestone. Many cherish it for decades to come, as the foundation of their sartorial evolution. That's why – for someone who is just starting their handbag journey – we recommend looking beyond the classics. Not only can you score impeccable pieces at a lower price point, but also find a bag that perfectly corresponds to your loved one's lifestyle.
Add Chanel Wallet on Chain or Hermès Picotin to your search queries to find entry-level options that tick all the brands' boxes – think Chanel's "CC" logo or Hermès' iconic padlock. Moreover, these smaller bag styles are ultra-versatile and work from AM to PM.
Another favourite is Dior's iconic Saddle Bag. Buying second-hand, you can come across some truly unique vintage gems crafted in all-denim, gold-metallic ostrich leather or oblique canvas under John Galliano's creative direction. The perfect gift for anyone who loves the early '00s aesthetic.
The ultimate Trophy Bag
A sophisticated choice with investment value – at one point or another, the Hermès Birkin and Kelly are high on any handbag lover's agenda. The Kelly's sharp silhouette exudes ladylike elegance whereas the Birkin bag is slightly more casual in appearance.
For gifting, we always recommend looking closely at your loved one's wardrobe: Are they wearing gold- or silver-tone jewellery (this might determine the hardware choice)? And is their style rather toned-down or extravagant? For someone who regularly wears pop-bright colours, the secondary market offers a plethora of Hermès shades. On the other hand, to match minimalistic neutrals, classic colours such Noir, Etoupe or Gold will never go out of style.
Moving on to Chanel, its Classic Flap leapt into the trophy bag league following dramatic price hikes – all while rising demand and limited in-store availability make it a safe-bet investment. Created by Karl Lagerfeld in the logo-centric '80s, its most recognizable feature is the interlaced "CC" turn-lock. If you're looking for something special, we recommend browsing the resale market for seasonal material options – from rattan and tweed to glossy patent leather.
Collector's Favourites
At SACLÀB, we pride ourselves in sourcing difficult-to-find collectibles – and, as you surely know, rarity is key when it comes to gifting a true handbag connoisseur. To top off their collection, opt for an exquisite exotic piece.
One of the most special pieces we've seen here at SACLÀB is this Birkin 35 customized by Jay Ahr, the brand founded by Belgium-born artist Jonathan Riss that specializes in intricate bespoke embroidery of pre-owned Birkin bags. This collector's piece has been carefully deconstructed, customized and sewn back together using the original yarn. A gift like no other.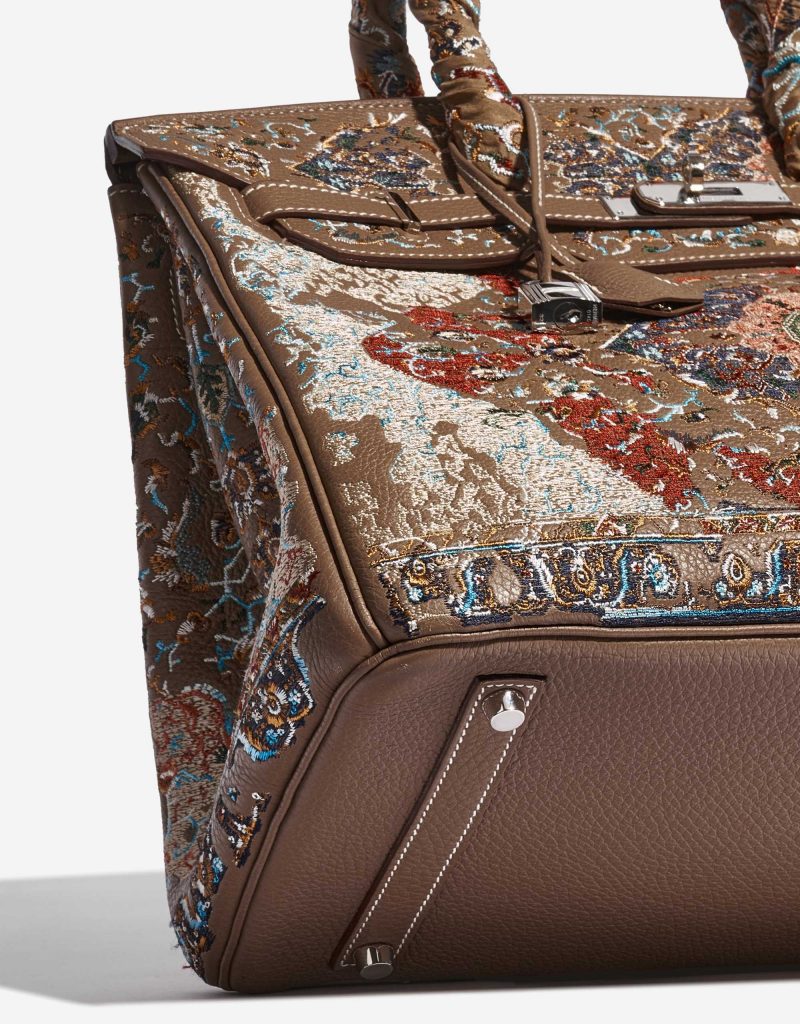 Why gifting pre-loved is a win for all
In gifting a pre-owned handbag, you extend the item's lifespan as it brings joy to its new owner. Discover more about the circular fashion revolution in our insider guide to find out how the face of luxury is changing – for the good. Moreover, through carefully curated marketplaces like SACLÀB, you get access to limited editions, seasonal bag styles and vintage pieces that are no longer in production or simply unavailable in-store. Rest assured that each bag goes through our rigorous authentication process and is transparently graded from 1 to 5 according to its condition. Plus, we offer a 14-days return period, so you can shop at ease and risk-free.
Our team of experts is here to help if you wish for personal advice on gifting or have any questions. Simply reach out and let us take care of all the rest.
Looking to sell your designer handbag?
Get an offer today and start selling
Sign up to our newsletter
Be first in line for our latest arrivals, alongside journal updates, exclusive treats and more
Thank you! You've successfully subscribed.
Thank you! You've successfully subscribed.
It seems you are already signed up!
Please enter the correct email address
By subscribing I accept the privacy policy and the indications specified on data handling.
Make a Request
We do our best to find bags for our customers on request. However, this might take up to 6 months.
Warning!
You have reached the limited requests per customer.
Thank you for your enquiry!
Please check your email for further instructions.
You have reached the limited requests per customer.