The 7 Best Designer Clutch Bags
SACLÀB ICONS
There's something irresistible about the pure frivolity of a designer clutch bag. It's an accessory that makes a point of its impracticality: too small to fit anything other than the good-time essentials (your phone, cardholder, keys and lipstick) and no shoulder strap that might otherwise free up your hands for run-of-the-mill tasks. As such, designers really go to town with their designs, making clutch bags delightfully dainty, super sleek or totally surreal (hello, JW Anderson Pigeon Clutch). So, cast off your everyday duties and forego that spare pair of flats — let's go designer clutch shopping!
The Hermès Kelly Pochette and Kelly Cut
For an elegant addition to any evening look, you can't go wrong with an Hermès Kelly Pochette or Cut. These two darlings of the clutch world are graced with the ladylike details of an Hermès Kelly Sellier in miniature. Both feature a front flap fastened by two sangles and a twist-lock clasp, with a small top handle to thread your fingers through. First seen in 2004, the Kelly Pochette is the most 'handbag-like' of the two, more closely related to the Mini Kelly — we love this Rose Azalee style with an all-white party look.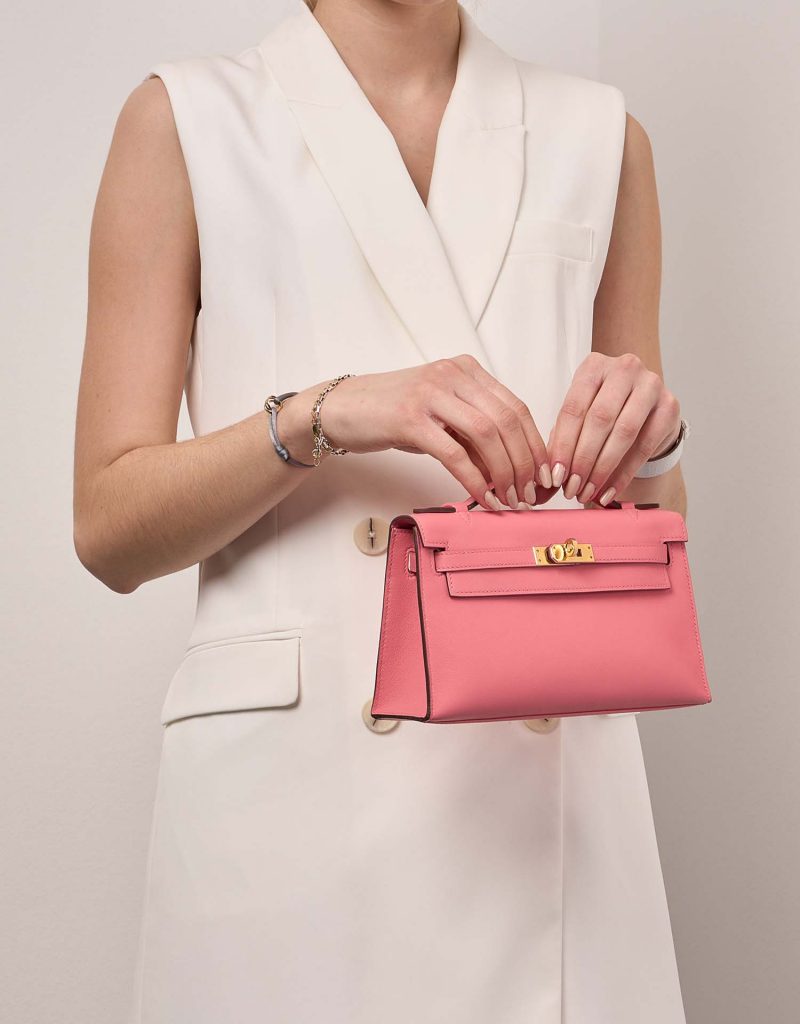 For a more dramatic silhouette, opt for the Kelly Cut. Launched in 2008, this designer clutch style has an extravagantly elongated shape measuring 31 centimetres at the base, which really makes it stand out from the crowd whether carried by hand or tucked under your arm. This Mauve Pale number exudes modern femininity.
The Bottega Veneta Knot Clutch
Minaudière designer clutch bags have a history stretching back to the 1930s. A small, solid case with a hinged opening, they are often exquisitely embellished and designed to be carried by hand, making them a real focal point to any party look. Bottega Veneta's Knot Clutch has to be one of the most iconic iterations of the minaudière today. Then-creative director Tomas Maier introduced the Knot in the 2001 collection, taking inspiration from a 1978 box clutch from Bottega's archive.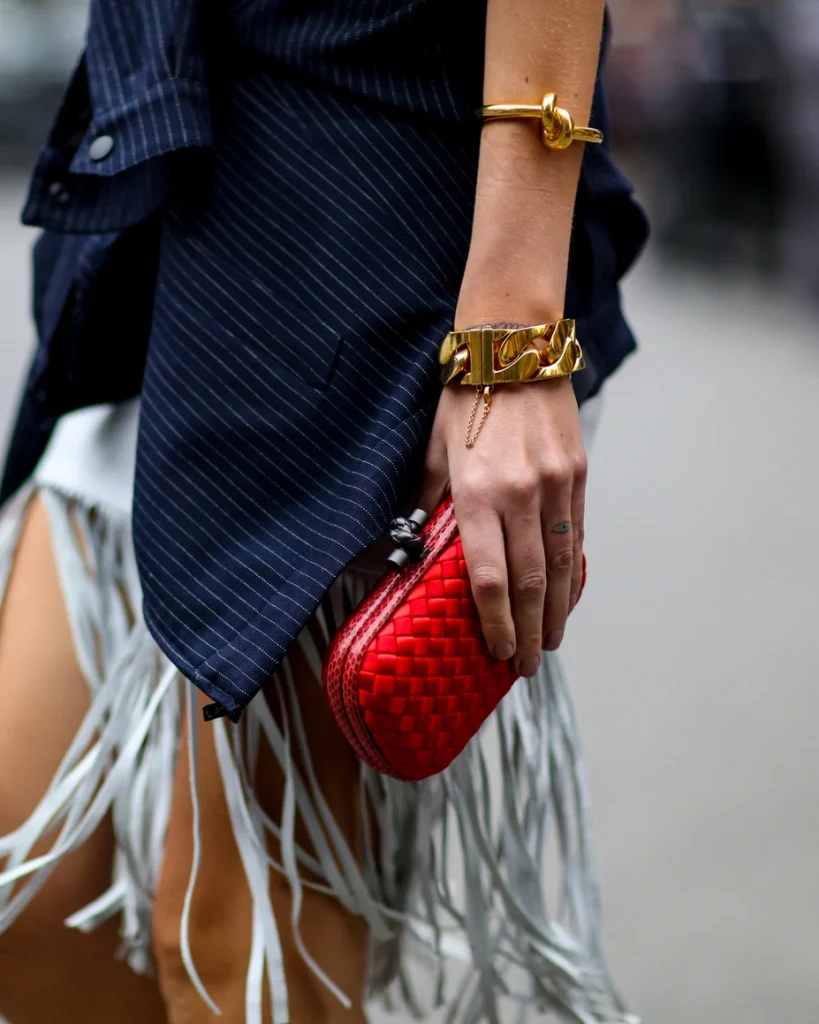 Its minimal oblong case features the signature interlocking intrecciato weave of the house, topped with a metal clasp shaped like knotted nautical rope. The Knot comes in an array of materials and colours each season — this black satin version with an antique-brass clasp is the epitome of understated evening glamour.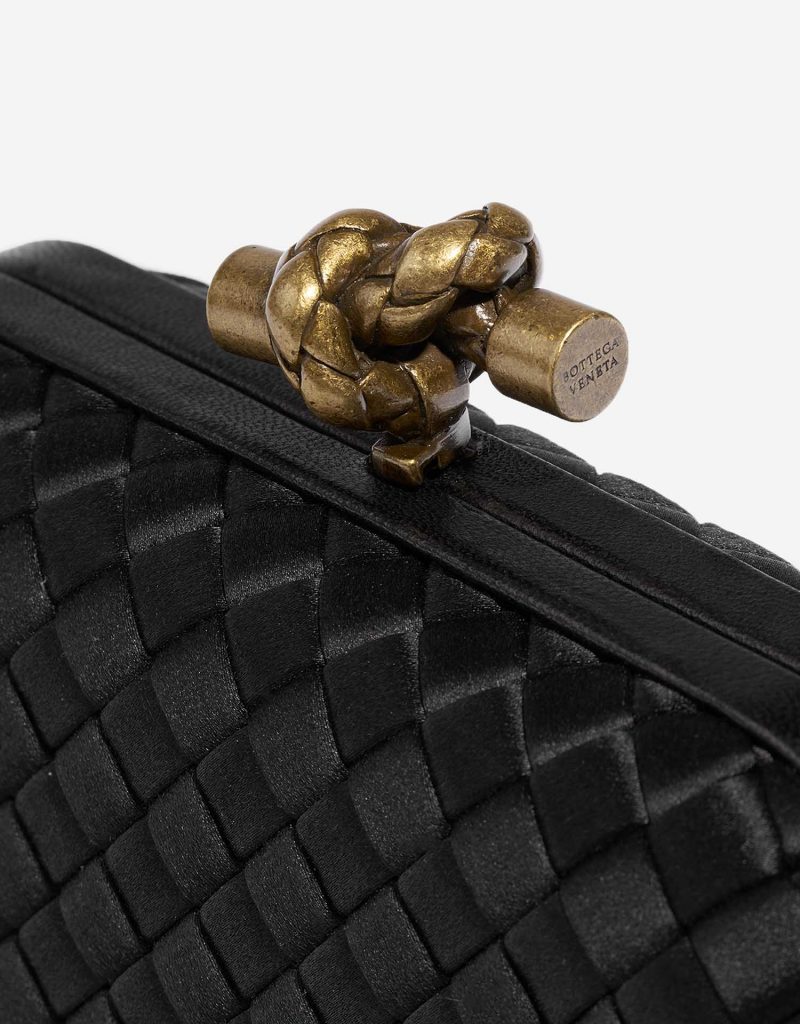 The Saint Laurent Uptown Pouch
You can easily imagine Saint Laurent's Uptown Pouch forming the cornerstone of your after-hours wardrobe. An envelope clutch from the house's wider Uptown collection of accessories, the Uptown Pouch has steadily gained momentum among bag collectors for its pared-back aesthetic and surprising versatility.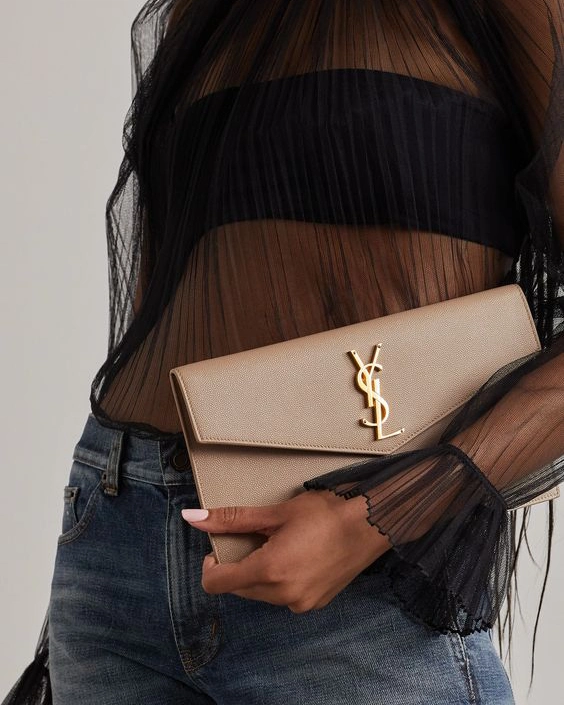 Adorned simply with a gleaming YSL logo at the front — adding a hint of '80s allure — it comes in a huge variety of finishes, from canvas to patent and croc-embossed leather. Although it's very slim in profile, the Uptown Pouch's clever construction ensures that it doesn't appear too bulky when filled, easily fitting the (bare) essentials.
The Chanel Runway Minaudière
A minaudière from a Chanel runway show is one of those true trophy clutch bags. A tradition begun by the late Karl Lagerfeld, each season at Chanel sees a new theme take over the catwalk, with extraordinary sets ranging from spaceships to supermarket aisles. The accompanying seasonal collection of minaudières, imaginatively crafted in Plexiglass, Lucite or other unusual materials, have become collector's items on the secondary market.
In particular, the matryoshka dolls, oversized pearls, 'Lait de Coco' milk bottles, Chanel No.5 perfume bottles and robot minaudières all command sky-high prices (and gasps of envy). This angular Plexiglass capsule sold on SACLÀB was inspired by the dial of Chanel's signature Première watch.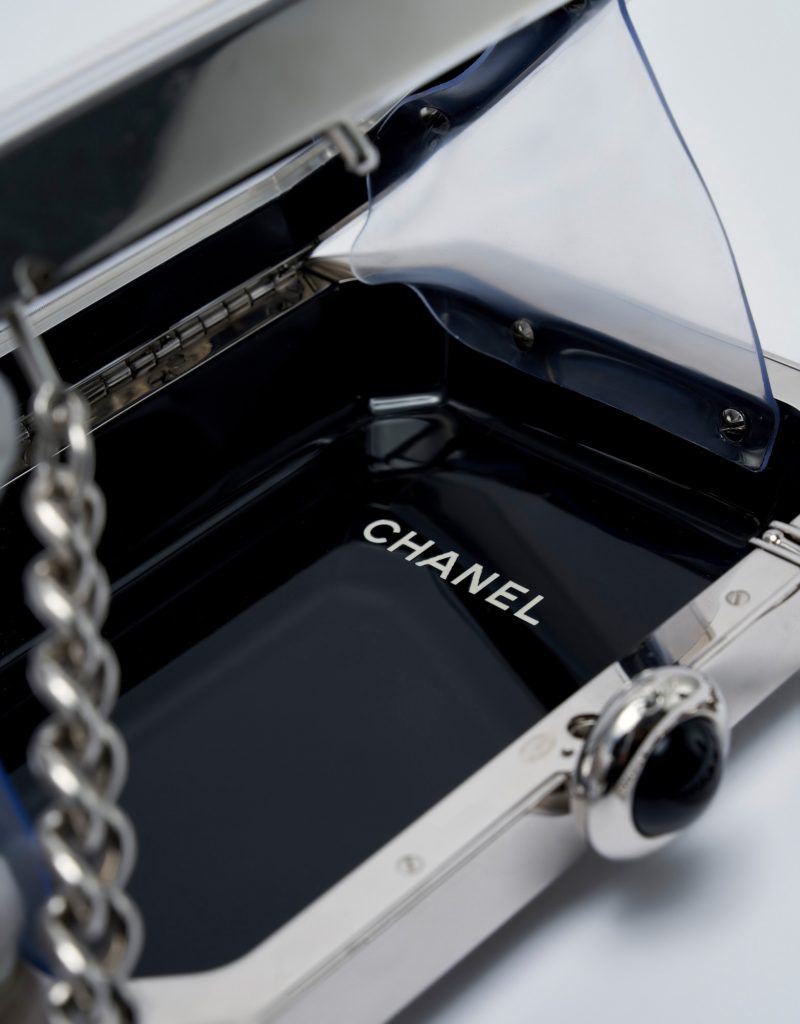 The Dior Saddle Pouch
Once the last word in '00s fashion, the Dior Saddle Bag has garnered a whole new legion of fans since its relaunch in 2018. The recently introduced Dior Saddle Pouch echoes its undulating curve on the front flap, with a slim rectangular body. Two straps dangle at the centre of the designer clutch, finished with a large 'D' charm. Available in leather or Dior's signature Oblique canvas, we love how this clutch incorporates a touch of the Saddle Bag's eclecticism in a sleek evening occasion format.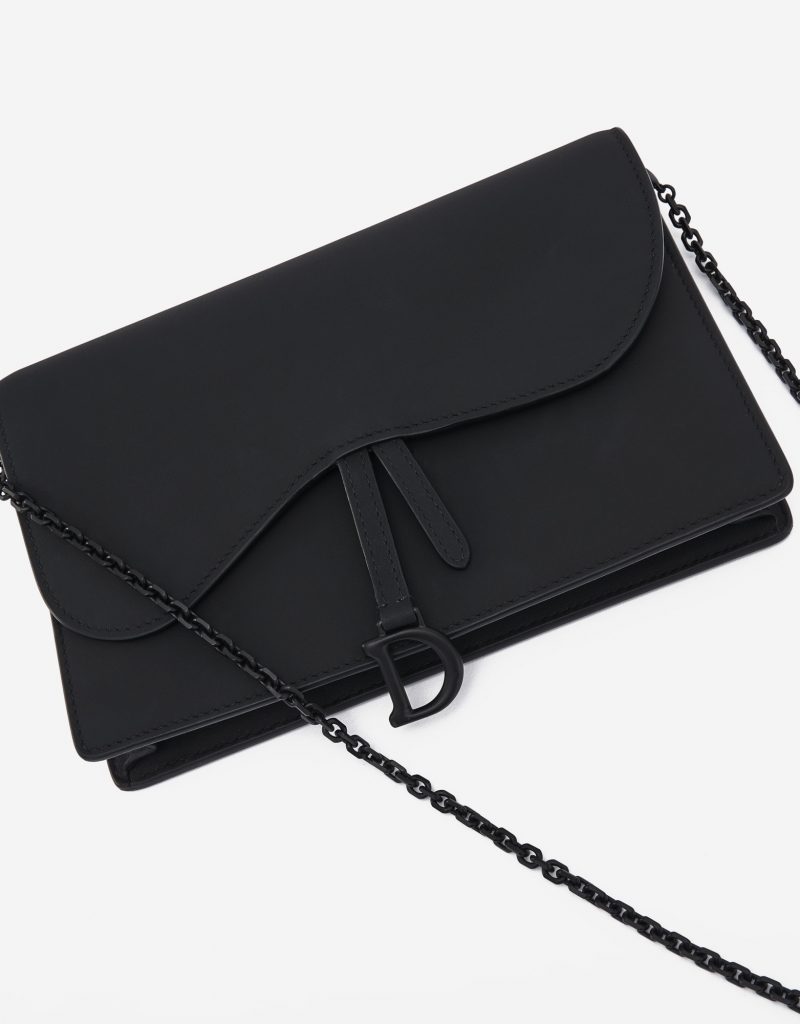 Another winning point is its interior — compared to other clutches, the Saddle Pouch is pleasingly practical, with six card slots, a zipped compartment and slip pocket. It also includes a detachable strap, if you'd like to convert it into a cross-body bag style.
The Bottega Veneta Pouch
If the Bottega Veneta Knot is one of the classiest designer clutch bags around, the house's Pouch clutch has to be one of the most avant-garde. The Pouch was an instant hit with the fashion set when it was introduced in 2019 by then-creative director Daniel Lee. It manages to feel both minimalist and maximalist at once, crafted from voluminous swathes of leather softly gathered into an amorphous clutch shape.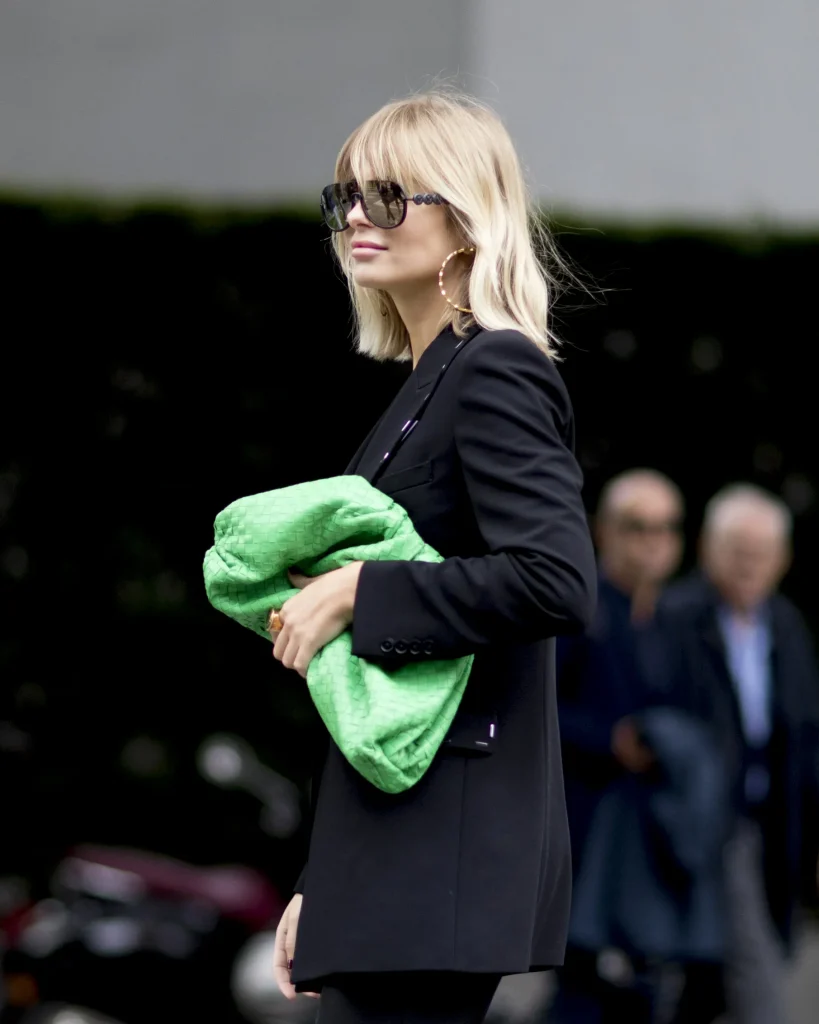 True to Bottega's ethos of discreet luxury, the Pouch is logo-free, imbuing any party look with 'if you know, you know' fashion kudos. With a hinged magnetic closure and roomy interior compartment, you needn't worry about overstuffing it, either. The Pouch is available in two sizes — the original, indulgent maxi size (measuring 40 centimetres at the base), and the Mini Pouch (measuring 22 centimetres).
The Alexander McQueen Knuckle Clutch
Launched in 2009, Alexander McQueen's Knuckle Clutch is the ultimate in tough-luxe accessorising. It combines a classic oblong minaudière shape with four 'knuckle duster' rings to thread your fingers through as you clasp the bag — an accessory and jewellery piece in one!
Each iteration of the designer clutch bag has a different mix of chunky rings, crowned with giant skulls, spikes and more, embodying the rebellious punk spirit that Lee McQueen was known for. Knuckle Clutches often come decadently strewn with crystals and fringing, although you can also find unadorned leather and python versions. An accessory with attitude.
Shopping time!
Ready to find your next night-out piece? Choose one of our curated designer clutch bags or let us know what's on your wishlist, and we'll take care of it.
Looking to sell your designer handbag?
Get an offer today and start selling
Sign up to our newsletter
Be first in line for our latest arrivals, alongside journal updates, exclusive treats and more.
Please confirm your subscription in the email you've just received.
Thank you! You've successfully subscribed.
It seems you are already signed up!
Please enter the correct email address
By subscribing I accept the privacy policy and the indications specified on data handling.
Make a Request
We do our best to find bags for our customers on request. However, this might take up to 6 months.
Warning!
You have reached the limited requests per customer.
Thank you for your enquiry!
Please check your email for further instructions.
You have reached the limited requests per customer.