Handbag Dilemmas: Hermès Kelly Sellier or Retourne?
LÀB REPORT
In our new series, SACLÀB Handbag Dilemmas, we're addressing some of the thorniest conundrums facing collectors today, equipping you with all the information you need to buy the designer bag of your dreams. 
When you're making a purchase as thrilling as a new designer handbag, one thing's for certain: the details matter. Deciding on the style of your future handbag is only the first step in the process. What about the leather type? The colour of the hardware? The size?
First up is one of the most common questions that crops up for clients at SACLÀB: should you choose an Hermès Kelly Sellier or an Hermès Kelly Retourne? While the two styles share the same elegant, timeless and structured design, there are some important aesthetic and functional differences to consider. Let's dive in – here's our complete guide for all Kelly lovers.
A brief history of the Kelly bag
The Kelly bag is one of the world's most iconic handbags. It holds the current record for the most expensive handbag ever sold at auction, with Christie's selling a Himalaya Kelly with 18k white gold and diamond hardware for HK$4 million in 2021.
Its origin story can be traced back to the very foundations of the house of Hermès. The first iteration of the Hermès Kelly emerged in 1852 as the Haut à Courroies, a capacious leather bag for carrying saddles and riding boots. In the 1930s, this design was reinterpreted by Robert Dumas, the son-in-law of Émile Hermès, as the 'Sac à Dépêches'. This is the Kelly as we know it today: a ladylike trapezoid shape with a short top handle, a detachable shoulder strap and two sangles that fasten at the front.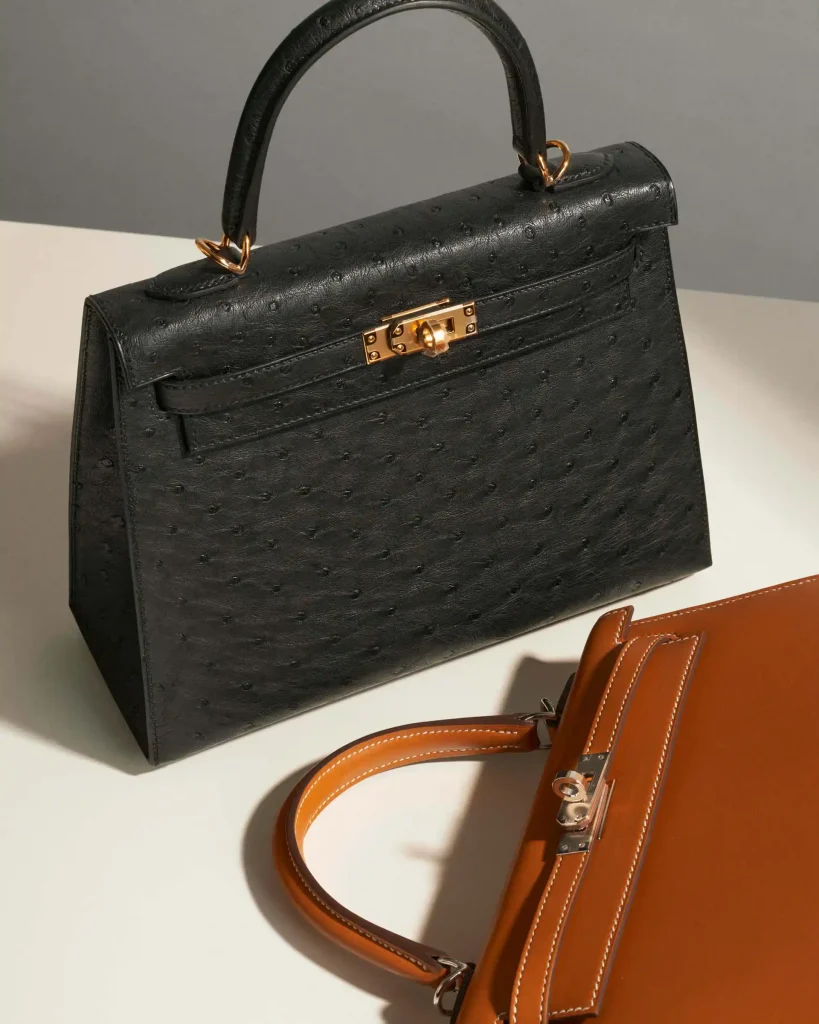 It wasn't until 1956 that Kelly bags shot to stardom, when Grace Kelly, Princess of Monaco, used her Sac à Dépêches to hide her growing baby bump from the paparazzi. Rather unsuccessfully, it turned out — as the resulting photographs made global news and the cover of Life magazine. In homage to Grace Kelly, Hermès officially renamed the Sac à Dépêches as the Kelly bag in 1977. A royal fairytale in the history of Hermès.
Crafting the Kelly bag
The construction of a Kelly bag is a feat of craftsmanship. Made by a single artisan in one of Hermès' dedicated ateliers, it takes between 18 to 20 hours to complete, with 36 separate pieces of leather to hand-stitch together. The handle — one of the trickiest parts of the process — requires four hours to construct alone!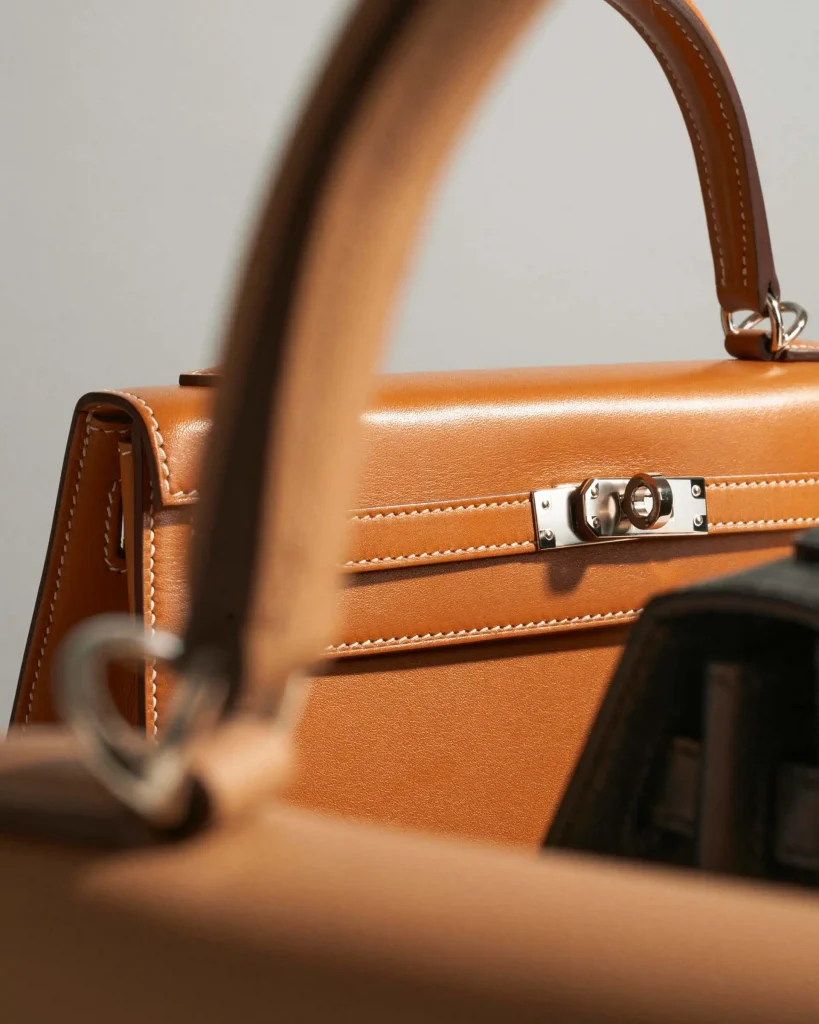 It's near the end of this painstaking process that the difference between the Sellier and Retourne styles emerges. For Kelly Retourne bags, the artisan turns the bag inside out ('retourne' means 'reversed' in French), so the stitching is hidden from view. A Sellier-style Kelly bag on the other hand remains as is, with there's visible stitching and the edges simply glazed.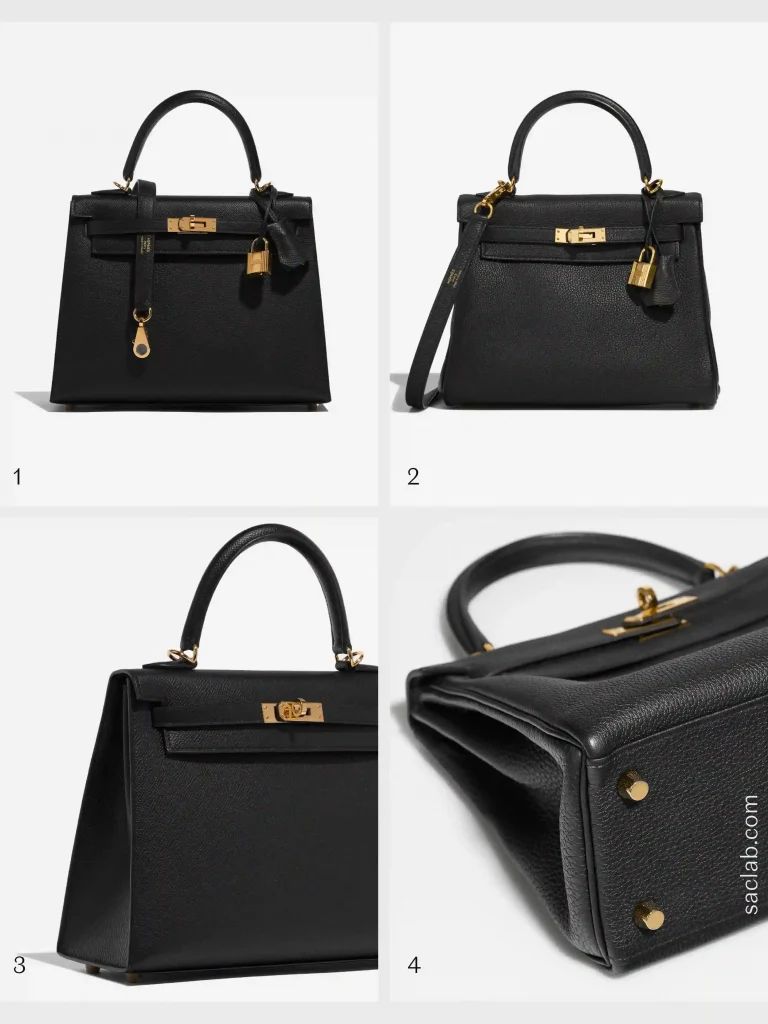 An easy way to remember the difference between the two is to think 'Relaxed' for Retourne and 'Stitches' or 'Structured' for Sellier.
Comparing the Hermès Kelly Sellier and Retourne
Structure
There's a lot to admire about the Kelly Sellier style. It has a crisp, architectural silhouette, with sharp edges that emphasise its classic trapezoid shape. Intricately designed with visible stitching, the stunning craftsmanship of the more formal handbag takes centre stage. You'll notice that each side of the bag has a firm fold that isn't flexible, lending it a rigid structure. If you err on the side of dressy, or envision taking your Kelly bag out for drinks and dinners, a Sellier might be more suitable for you.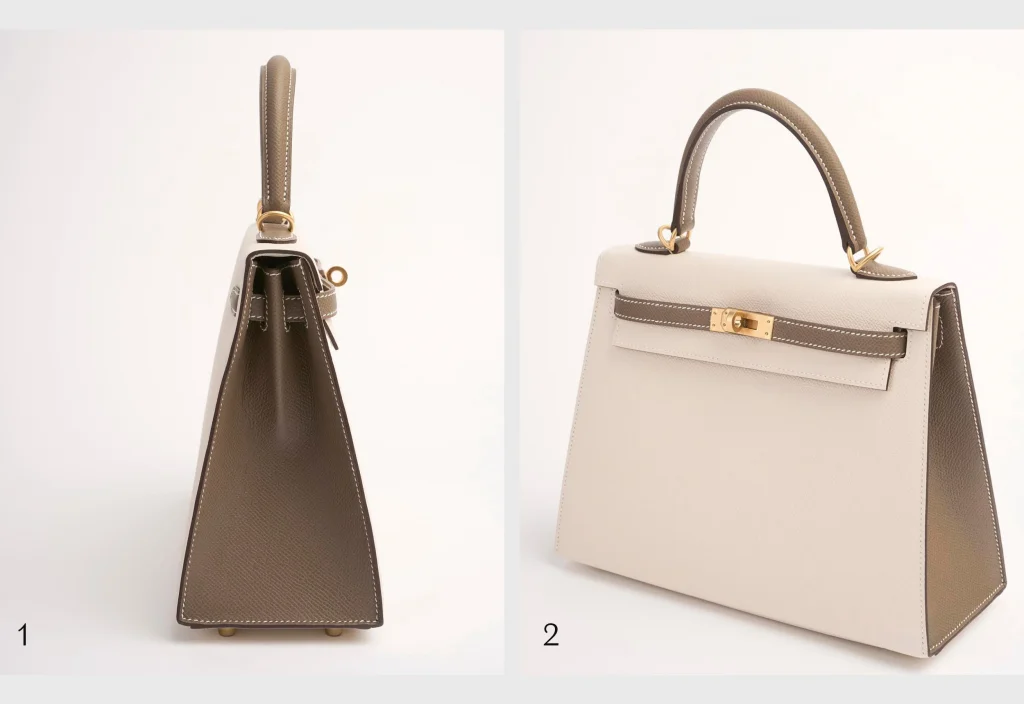 In comparison, the Hermès Kelly Retourne offers a more relaxed aesthetic – making it a luxurious everyday bag to match with casual outfits. By turning the bag inside out, the inner leather piping at the seams is exposed instead. Overall, the leather on the bag is softer, giving it some gently voluptuous curves. The Retourne Kelly doesn't have the same set fold as the Sellier on its sides — this allows you to 'wing' them out for a different silhouette (and a more roomy bag!). All of this makes Retourne Kellys a great option for the daytime, or if you just prefer a slightly less formal look. Contrary to popular opinion, Grace Kelly's original Sac à Dépêches was a Kelly Retourne in Calf Box leather, so you'll be in good company.
Leathers
The Sellier Kelly tends to come in Hermès' structured, durable leathers: most commonly Epsom leather, as well as Tadelakt, Box and Sombrero. The artisan also adds an additional stiffened layer between the lining and the outer leather to help keep its boxy shape. You can occasionally find Sellier-style Kelly bags in softer Hermès leathers such as Togo, particularly if they are an HSS bag.
In comparison, the Kelly Retourne is made from supple, softer leathers — no surprises, given it has to be flexible enough to be turned inside out! This is most often Togo, but also Swift leather, Clemence and Evercolor. You can also (rarely) find it in Epsom leather.
Both Sellier and Retourne Kelly bags are available in exotic skins such as lizard and ostrich, however only the Sellier style can be made in shiny crocodile and alligator. You can purchase a Retourne Kelly in matte crocodile and alligator though, like this Niloticus Crocodile version in Jaune Mimosa, and the world-famous Himalaya style.
The world's your oyster when it comes to Hermès colours for either version, but the Kelly Sellier is particularly beautiful in natural shades such as Gold and Etoupe, which can feature contrast stitching. HSS orders can also have contrast stitching, such as this Kelly Sellier 25 in Rose Azalee. Similarly, we'd recommend keeping your eye out for a HSS Kelly Retourne, as these can have custom visible piping in contrasting colours at the seams.
Sizes
Both the Kelly Sellier and Kelly Retourne come in sizes 25, 28, 32, 35 and 40 (the number relates to the measurement in centimetres at the base). However, only the Kelly Sellier bags are available in the smallest size, the Kelly Mini, which measures just 20cm. Hermès also recently released the delightful and diminutive 15cm Kelly Doll Picto, which combines the sharp Sellier style with adorable facial features and limbs – a sought-after Kelly style among Hermès lovers and collectors.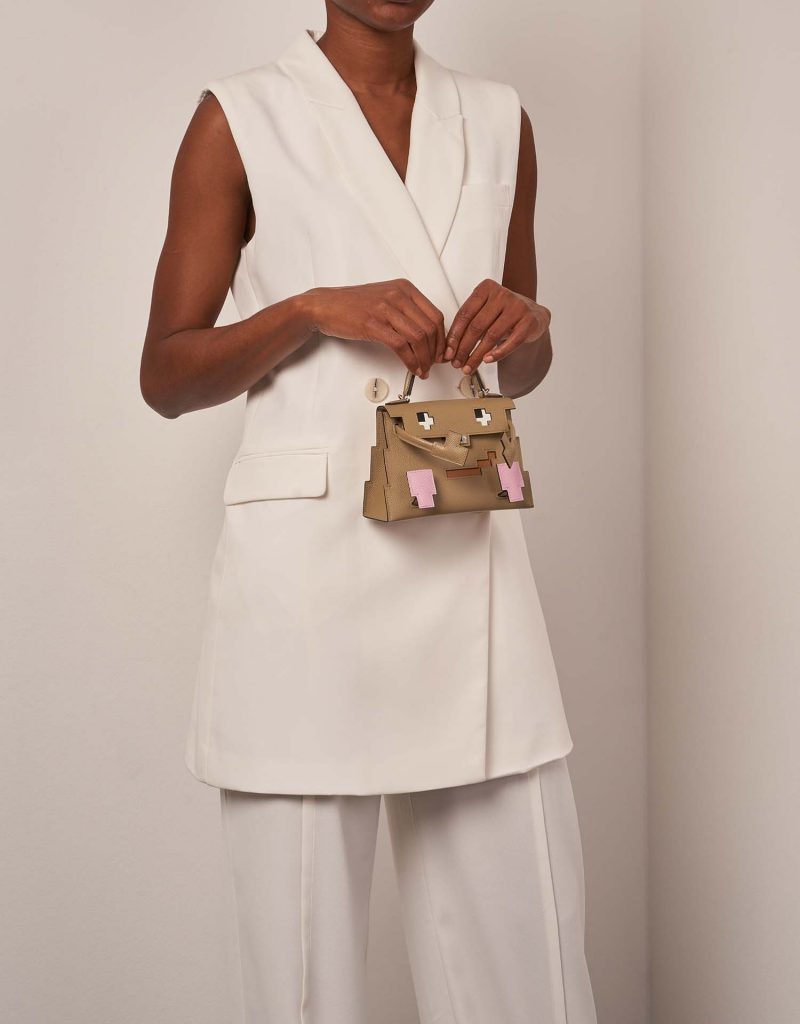 One thing to consider with Kelly sizes is that Sellier bags can carry less than Retournes due to the rigidity of the structure — so a Kelly Sellier 28 won't feel quite as roomy as its Retourne equivalent. While the daintiness of the smaller Kellys suit a sharp Sellier finish, some collectors find in larger sizes such as 40 that the Retourne feels more appropriate — a Sellier can begin to feel very boxy.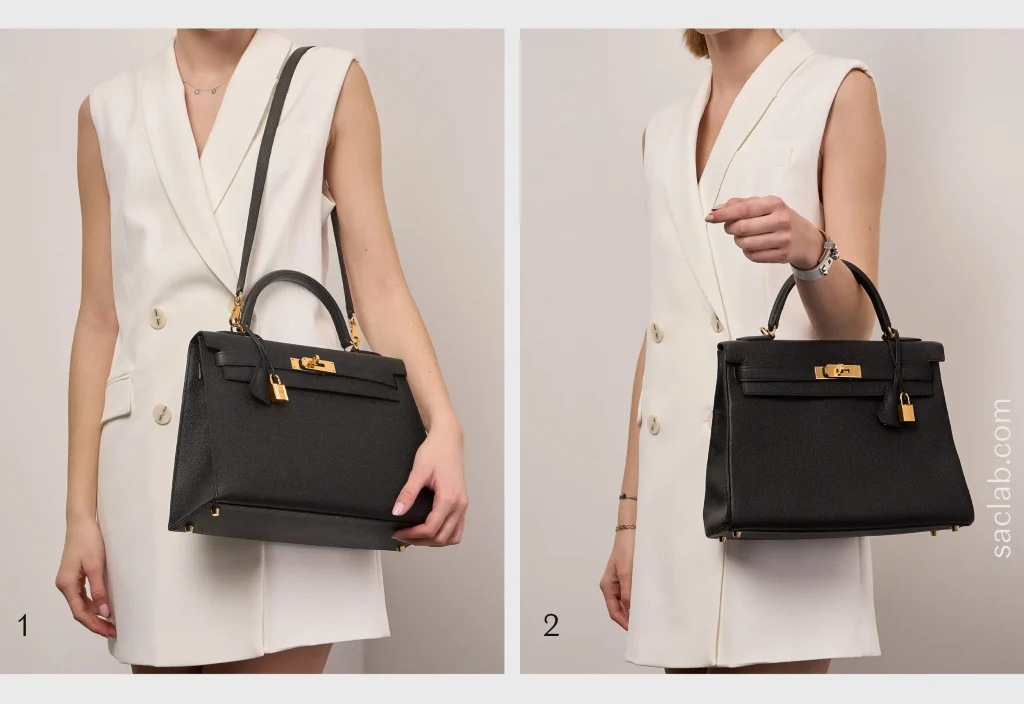 Condition over time
With the right love and care, an Hermès Kelly bag will last you a lifetime. But is there a difference between how a Sellier and a Retourne age? The rounded corners of a Retourne make it slightly less prone to wear at the edges compared to the Sellier; however, the soft leather and looser structure of the Retourne means that over time it can sag. To prevent this, make sure to store your Retourne lightly stuffed with acid-free paper or a bag organiser to retain its shape. It also pays not to overfill it when you're using it.
Pricing
So which is more expensive, the Hermès Kelly Sellier or the Kelly Retourne? Because of the extra care required on the stitching of a Sellier, they tend to cost a little more than a Retourne. However, this difference is marginal — for 2023, Hermès was charging €8,650 for a Kelly Sellier 25, and €8,050 for a Kelly Retourne. On secondary marketplaces such as SACLÀB, this difference is negligible, with prices instead dependent on the rarity and condition of each bag. So whichever style you favour, there's sure to be an Hermès Kelly for your budget.
Ready to shop?
Ready to choose between a Kelly Sellier or a Kelly Retourne? Let us know which Kelly bag is on top of your list, and we'll take care of it.
Looking to sell your designer handbag?
Get an offer today and start selling
Sign up to our newsletter
Be first in line for our latest arrivals, alongside journal updates, exclusive treats and more
Thank you! You've successfully subscribed.
Thank you! You've successfully subscribed.
It seems you are already signed up!
Please enter the correct email address
By subscribing I accept the privacy policy and the indications specified on data handling.
Make a Request
We do our best to find bags for our customers on request. However, this might take up to 6 months.
Warning!
You have reached the limited requests per customer.
Thank you for your enquiry!
Please check your email for further instructions.
You have reached the limited requests per customer.