Your Summer 2023 Bag Trends Report
LÀB REPORT
As champions of circular fashion, one thing we're sure of is what goes around comes around. Hang on to a designer handbag for long enough, and it will have its moment in the sun again (we're looking at you, Dior Saddle Bag). As such, you can see our SS23 bag trend report as an excuse to invest in a new bag (from SACLÀB, naturally), or simply as inspiration for reevaluating your existing bag collection — it's surprising how many vintage styles fit with today's aesthetics. Whichever the case, there's a host of fresh and fabulous shapes, textures and colours to embrace this season. Dive in…
Picnic perfect
Balmy summer days hold the promise of lazy picnics and languid strolls in the sunshine. Thankfully, the SS23 runways were brimming with bags in natural materials and woven textures that fit the brief perfectly. Opt for accessories made from raffia, wicker or crochet, or go extra girly with gingham prints.
Bags from Hermès' aptly-named Picnic collection are top of our list for this trend. Expertly crafted in wicker by an artisan basket weaver, this Garden Party Picnic bag is made for carefree weekends. Keep your eyes peeled for Kelly Picnics too, which are alluringly rare. Hermès' woven 'Toile Quadrille' fabric is another search term to save, like this delightfully checked Kelly. For a more avant-garde approach to the trend, try the supersized intrecciato weave of a Bottega Veneta Cassette.
Barbie's back
With Greta Gerwig's hotly-anticipated Barbie film scheduled for release this summer and Pantone pronouncing their colour of the year as Viva Magenta, pink is officially having a moment. This is one of the easiest and funnest bag trends of the season to experiment with, thanks to a plethora of pink bags on the secondary market.
Hermès' diverse family of pinks is already legendary. Go full Barbiecore with a Bubblegum Bolide or Garden Party in Rose Sakura, or delve into more dramatic fuchsia hues, such as a Rose Extreme Kelly or an exotic Birkin in Rose Scheherazade or Rose Pourpre. Hermès has also launched a completely new pink for 2023: Rose Pop, a deeply saturated jolt of neon.
Looking to Chanel, we suggest dialling up the prettiness with a pink bag crafted in tweed. This Timeless Classic Flap weaves white, peach and magenta threads into a frothy, feminine concoction.
Tiny top handles
For the last few years, cross-body bags have reigned supreme as the street-style accessory of choice. While there's still a place in our heart for this practical style, SS23 collections are awash with handbags that revert to a more ladylike silhouette, with dainty top handles for toting by hand or in the crook of your arm.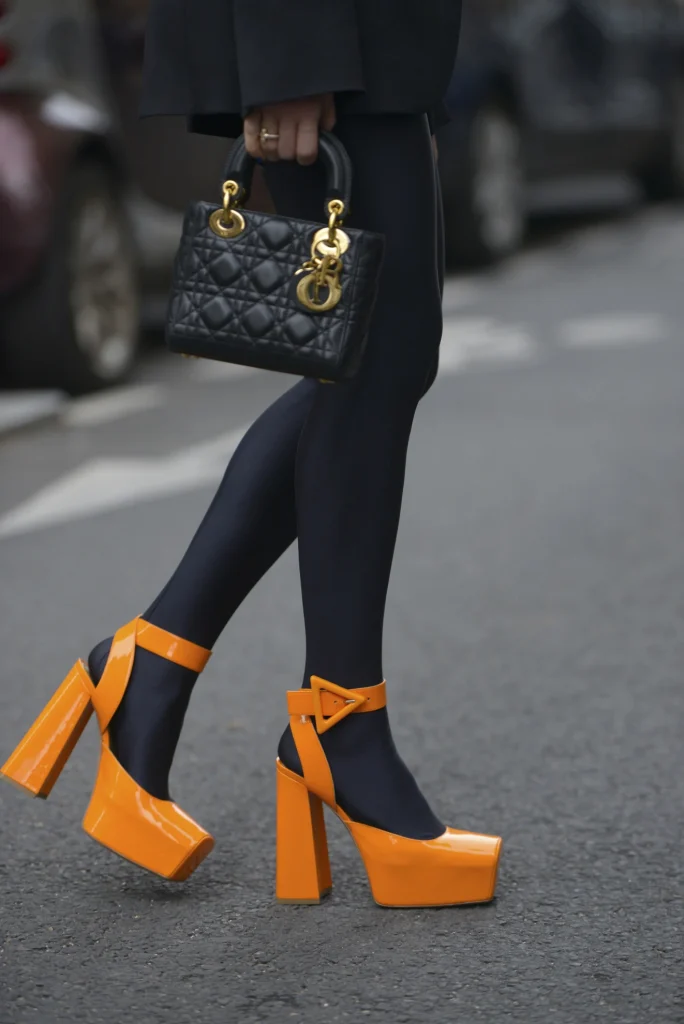 The Lady Dior is the OG tiny top-handle bag: we love this mini version for drinks and dinners. The slim, prim top handle of an Hermès Kelly Pochette offers a more delicate approach. If you aren't quite ready to let go of a shoulder strap, Chanel's Timeless Handle bag has both a top handle and a detachable long chain strap. For a vintage feel, this limited-edition (and Barbie pink!) Dior Babe bag combines a tiny top handle with an old-school coin purse.
Y2K OK
The nostalgia-filled redux of all things noughties shows no signs of abating this season, with Prada's crystal-encrusted Cleo bag a particular hit with A-listers. Add denim, cargo pockets, charms and sparkling embellishments to your hit list when searching for secondhand styles.
Thanks to its seasonally-themed runway collections, vintage Chanel is a particularly good source of Y2K-ready accessories. Case in point, this camellia-adorned denim WOC, metallic silver keyboard clutch or any bag from the Lucky Charms series. Elsewhere, this washed-denim Bottega Veneta Cassette bag recalls the heady days of Juicy Couture velour and ultra-low-rise jeans, but thankfully with far chicer results.
Prada Cleo bag spotted in Paris. Image: Launchmetrics Spotlight
Baguette silhouettes, which fit snugly under the arm, are another easy way to ace the Y2K look. With its short strap and undulating shape, Dior's resurrected Saddle Bag encapsulates the trend perfectly. Try this canvas-green number, or for extra style points track down an original noughties version (you can spot them by their Velcro fastening).
Sign up to our newsletter
Be first in line for our latest handbag arrivals
Thank you! You've successfully subscribed.
Thank you! You've successfully subscribed.
It seems you are already signed up!
Please enter the correct email address
By subscribing I accept the data privacy policy and the indications specified on data handling.
All the zest
If Barbie pink isn't your thing, citrus-fruit shades are also making an impact this season. Handbags in juicy hues of orange, lemon and lime add a burst of energy to any outfit. They're especially striking as a pop of colour against all-white or beige looks.
Look to Hermès to get your dose of Vitamin C: the house's new colours for 2023 include Orange Minium (a ripe and bright orange), Limoncello (a pale yellow with a hint of green) and Vert Comics (a cheerful lime). You can't go wrong with the classic Orange H either — this zesty wallet is a favourite of ours — or try a crocodile Kelly in thirst-quenching Mimosa.
Oversized Totes
The micro-mini bag has been in the spotlight for several seasons, so SS23's predilection for supersized totes is a refreshing and somewhat more sensible change in direction. Look for a tote that you could almost imagine climbing into (we're picturing that iconic Victoria Beckham x Marc Jacobs campaign) and you're on the right track.
With an open top and artisanal intrecciato weave, the Bottega Veneta Cabat is a masterclass in luxurious simplicity — a timeless investment for this season and forever. Hermès' Haut à Courroies is another capacious classic: the first bag designed by the house in the early 20th century. It was originally made for carrying a saddle and riding boots, so just imagine what it can fit today! We adore the playful proportions of this satin drawstring bag by Chanel — the perfect way to rock the OTT tote trend for the evening, and roomy enough to easily fit a spare pair of flat shoes.
Yves Saint Laurent Icare Shopping Tote. Image: Launchmetrics Spotlight
Bucket bonanza
Practical and playful in equal measure, the bucket bag made a return to the runways for SS23. A distinctly '90s shape, this versatile style works well for both day or night, adding a touch of joie de vivre to any look.
Based on the shape of a horse feeder bag, the Hermès Picotin encapsulates the bucket bag's quirky personality. Snap up this Nata/Sesame number for breezy summer vibes, or the Micro Lucky Daisy limited-edition Picotin for a feminine twist. Bottega Veneta's Twist bag is a more casual take on the trend, while for a luxe approach, opt for Chanel's black lambskin bucket bag, with classic chain and CC detailing.
Which SS23 bag trend is top of your list? Browse our curated selection for a unique pre-loved designer bag to carry throughout the season.
Looking to sell your designer handbag?
Get an offer today and start selling
Sign up to our newsletter
Be first in line for our latest arrivals, alongside journal updates, exclusive treats and more
Thank you! You've successfully subscribed.
Thank you! You've successfully subscribed.
It seems you are already signed up!
Please enter the correct email address
By subscribing I accept the privacy policy and the indications specified on data handling.
Make a Request
We do our best to find bags for our customers on request. However, this might take up to 6 months.
Warning!
You have reached the limited requests per customer.
Thank you for your enquiry!
Please check your email for further instructions.
You have reached the limited requests per customer.