Playful yet Chic: The 6 Biggest Bag Trends for Fall/Winter 2023
SACLÀB INSIDERS
As the seasons change, so does what we wear – especially when it comes to handbags. The Fall/Winter 2023 runways brought an exciting array of bag trends that will elevate your seasonal wardrobe. These new handbags go beyond mere accessories, seamlessly blending style and functionality to make a statement. From eye-catching designs to practical innovations, winter 2023 offers new trending bag styles that will have you eagerly awaiting the chill in the air.
Bag Trends for Winter 2023
This season, designers often drew inspiration from iconic bag designs of previous eras, infusing them with modern elements to create a nostalgic yet contemporary appeal. From sleek, '90s minimalism to bolder styles inspired by the 80s – vintage-inspired yet modern bags with a touch of nostalgia seemed to be a big inspiration on the runway. These are the six handbag trends that are set to dominate this winter and will complement our outfits with a playful yet chic twist. Let's dive into the handbag trends for the upcoming season.
1. Supersize 
When it comes to functionality and versatility, oversized totes have been leading the way for quite some seasons now. And they are not going anywhere for Fall/Winter. Brands like Loewe, Saint Laurent, The Row and Bottega Veneta bring an emphasis on large, spacious bags that can hold more than just your essentials.
Loewe Fall/Winter 2023. Image: Launchmetrics Spotlight
Look out for roomy totes in rich, earthy tones or eye-catching patterns. Carrying your laptop and more, these statement bags effortlessly combine practicality and style – making them ideal for both work and weekend outings. Add a pre-owned Birkin bag 35 or a vintage Chanel Shopping Tote (GST) to your wishlist if you want to embrace the trend without buying brand-new.
2. Ravishing Red
If you thought red was just a spring colour – think again. This fall a deep red seems to be the one stand-out color, a ravishing hue that took over the 2023 bag trends. From striking red camellias on red patent leather mini bags at Chanel to captivating red combined with gold details at Bottega Veneta.
But it was foremost Ferragamo that set the tone for the colour trend, which is now often dubbed as 'Ferragamo red'. Red might be seen as a bold colour, this season it seems to be one of the go-to shades that perfectly blend with understated fall hues. Pair it with matching shoes or lipstick for extra style points.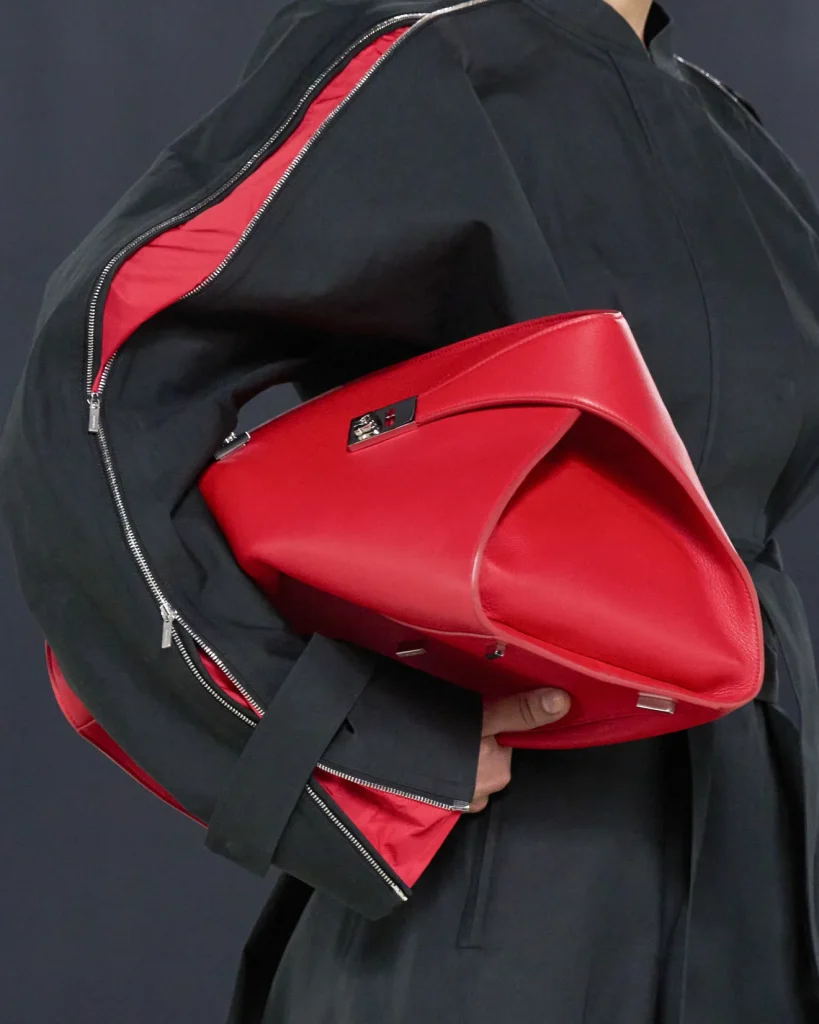 3. Chunky Chains
Add a touch of edginess to your outfit with bags featuring chunky chain straps. Brands like Dion Lee, Givenchy and Roberto Cavalli are embracing this trend, incorporating oversized metal chains into various bag styles. Whether adorning a sleek shoulder bag, handle bag or a chic clutch, these bags with additional chunky hardware add a bold and modern element to your accessory collection. Opt for shiny metallic or more subtle matte finishes to suit your personal style.
4. Iconic Top Handles
Channelling retro vibes, top-handle bags are taking centre stage this season. These structured bags, featuring a single top handle offer a sophisticated and refined aesthetic. At Ferragamo, Louis Vuitton, and Givenchy, everything from boxy shapes to curved silhouettes made an appearance that makes it once and for all clear that the classic top-handle bag exists in various styles to suit different occasions.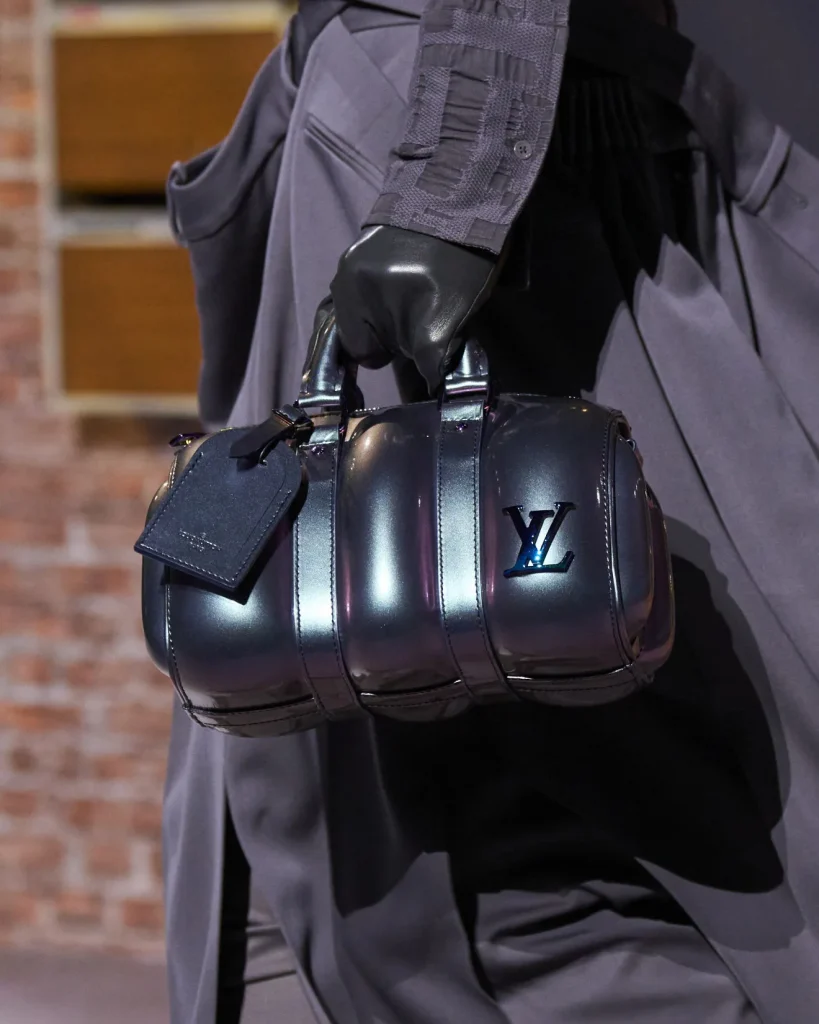 Look for textures like crocodile or snake prints for an extra dose of elegance or go the minimalistic way with muted colors and structures. Yet, the iconic top-handle handbags like the Hermès Birkin and Kelly bag or the Lady Dior will be a forever timeless addition to your wardrobe. If you prefer the comfort of crossbody bags, turn to a Mini Kelly or Mini Lady Dior – both are equipped with a detachable shoulder strap.
5. Going in Circles
When it comes to a night out on the town that calls for a compact bag, designers have introduced a fresh twist: circular mini bags. This chic and whimsical accessory is making its mark, adding a touch of uniqueness and playfulness to outfits.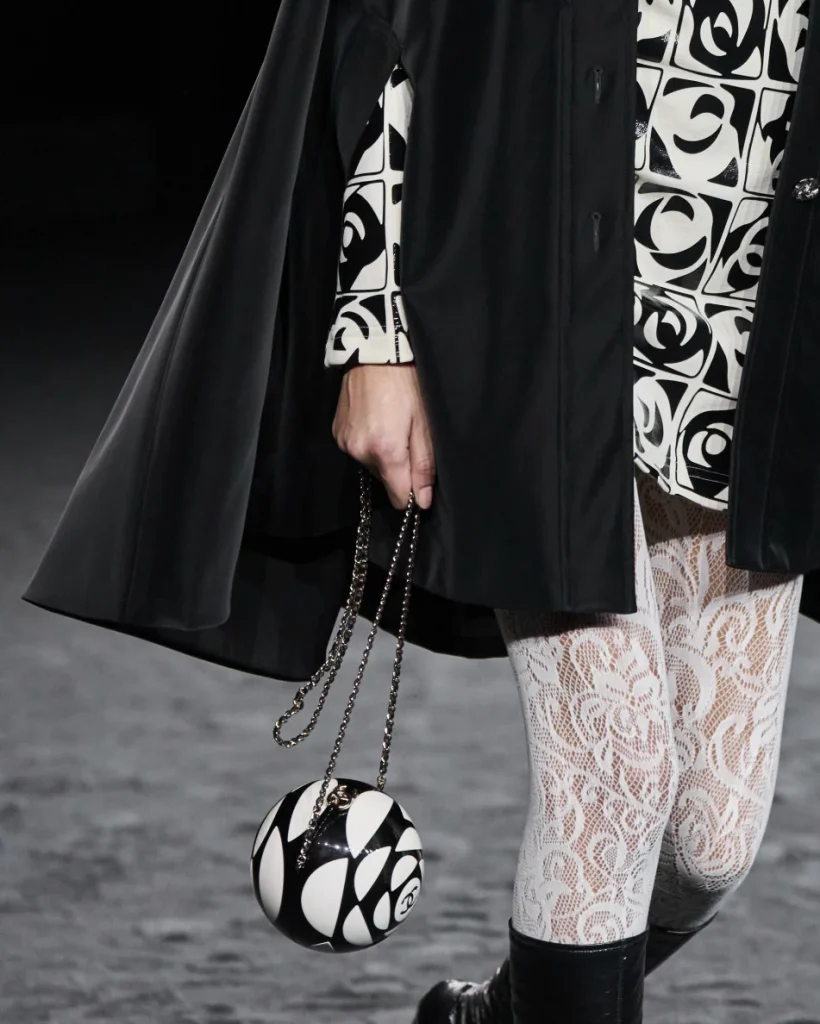 Chanel opted for a black and white bag inspired by the elegance of the camellia flower, featuring the iconic double C logo synonymous with the brand's heritage. GCDS showcased round styles adorned with sequins, reminiscent of playful cartoon characters. A mini circular or crescent-shaped bag is a delightful addition to your evening looks, combining style and charm in a compact form.
6. Furry Accents
As the temperature drops, cosy accessories take the spotlight. Winter 2023 introduces furry accents on bags, creating a luxurious and tactile experience. Designers are embracing their playful instincts, as evident in the cosy bags showcased by Givenchy, Chloé, and Khaite.
Chloé Fall/Winter 2023. Image: Launchmetrics Spotlight

Givenchy Fall/Winter 2023. Image: Launchmetrics Spotlight
Shearling trims, handles, or even entirely covered exteriors grace the bag styles, providing a touch of warmth, comfort and fun to your ensemble. Whether you prefer the elegance of sophisticated neutrals or the daring allure of vibrant hues, these handbags are guaranteed to leave a lasting impression.
Runway to closet: Which winter 2023 bag trend did you set your sights on? Shop our curated additions below.
Looking to sell your designer handbag?
Get an offer today and start selling
Sign up to our newsletter
Be first in line for our latest arrivals, alongside journal updates, exclusive treats and more
Thank you! You've successfully subscribed.
Thank you! You've successfully subscribed.
It seems you are already signed up!
Please enter the correct email address
By subscribing I accept the privacy policy and the indications specified on data handling.
Make a Request
We do our best to find bags for our customers on request. However, this might take up to 6 months.
Warning!
You have reached the limited requests per customer.
Thank you for your enquiry!
Please check your email for further instructions.
You have reached the limited requests per customer.